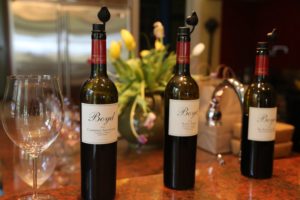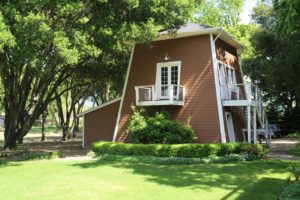 Boyd Family Vineyards (never to be confused with the winery/vineyard of the same exact name down in Argentina) is located in the heart of the Oak Knoll district just north of the town of Napa and was founded by Stan and Joan Boyd (with their first vintage from 2000). Conveniently using their last name for their wine, Stan likes to joke that Boyd also stands for "Big Old Yellow Dog" – which would make sense when you saw his dogs (at the time of our first visit many years ago).
Stan used to work in San Francisco for Fairmont Hotels & Resorts (when they were headquartered in San Francisco) and would often visit the Napa Valley. He began a search for property here that lasted 5 years before he located and purchased this property in 1998. He recalls the property at that time was planted to old plum trees (which were in bad shape). At that time, the property needed some significant upkeep; they soon planted Merlot, Syrah, Cabernet Franc, Malbec and Cabernet Sauvignon (today they also grow Viognier). While they produced their own wines from the estate, they continue to sell about 50% of the grapes produced from their vineyard to other local producers.
And like the wine bug, even after retiring from Fairmont, Stan was involved in local hospitality; he was one of several partners for a number of years in the Holiday Inn Express and Suites located in American Canyon, slightly south of the city of Napa. Today along with running Boyd Cellars, Stan is an avid cyclist having cycled across the United States several times with friends.
Today their estate property is very well cared for; they built a picturesque home for themselves with a nearby structure modeled after a 'water tower' which partly services as a wine storage facility. About half of their grapes are sold to other wineries each year, but they do hold back a certain amount of fruit for their own wines.
All their wines were literally made "next door" at the very hands-on small Robert Biale Winery. However, in 2015 they moved their production slightly further away – simply a mile to the north at a state of the art winery (also in Oak Knoll).
For a small producer (currently around 2,000 cases annually), Boyd specializes in a number of wines – both reds and whites. Much of the fruit for their wines comes directly from their estate; the grapes they selectively source from other vineyards are all from the Oak Knoll District.
A hallmark of their wines is balance regardless of whether it is a lighter white wine or one of their richer reds. And they make a nice balance of both white and red wines (a welcome change from small Napa Valley based producers who often just focus on red varieties – especially those located further up valley). In part their wines are a showcase of the diversity and flexibility of terroir in the Oak Knoll District.
Select Wines
Their Syrah which unlike many Napa Syrahs has been blended slightly with a white grape, (Viognier). This variety helps provide some of the floral aromas and during co-fermentation actually helps extract some of the color from the red Syrah skins.
The 2006 Boyd Family Vineyards Ruby Tuesday Rosé sold out on the day it was released so they doubled the production for the next year! This delightful light summer wine is named after a cat they inherited when they purchased the property. The 2016 is superbly balanced (made from 100% Syrah) – shows pretty notes of raspberry on the bouquet.
The 2013 Boyd Family Vineyards Cabernet Sauvignon is very reasonably priced (by Napa standards for this particular variety) and over delivers on the quality of the wine. This vineyard designate (Mogambo Vineyard from the western side of Oak Knoll) shows blackberry and plum aromas on the bouquet with notes of mocha – somewhat savory in it's aromatic approach. Dense and very well layered on the palate – it shows mostly darker fruit. It is well rounded – the intensity of flavor is complemented nicely by the structure. Not overbearing on the finish.
Boyd Cellars also produces Libertad, a non-vintage Port-style wine.
—
And in 2018, Boyd Cellars received approval to build a winery on site (after producing their wines at several nearby wineries over the years).
All of their wines are priced quite reasonably by Napa standards. Wine club members gain additional benefits besides discounts on the wines – a guest cottage on site can be rented by wine club members on a weekly basis. This is quiet location within the southern part of the valley with easy access to the city of Napa. And if Stan happens to be doing wine related work during your stay here, you are welcome to join him.
If you are interested in learning more about these excellent wines, ordering the wines and winery events join their mailing list. Visit: www.boydwine.com
NOTE: this review has been identified as needing a *major* update.