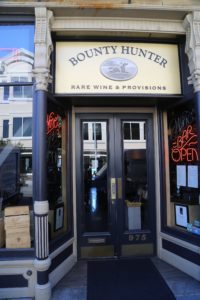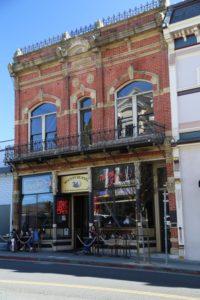 Bounty Hunter is a wine bar and bistro located on the west side of the Napa River just down the street from the Napa Town Center shopping area. Parking in front is 24 minutes from 8 to 5, Sundays excepted, but there is side street parking and nearby parking garages. The "bounty hunter" was founder Mark Pope.
Mark began this wine bar and shop in 1994 as at that time he was worried that people were being intimidated by fine wine and wanted to open a facility where people could relax and enjoy wine in a social context. He has certainly done this as Bounty Hunter is now one of Napa's "hot spots" for nighttime social action, wine and food.
In 2014, Mark sold the Bounty Hunter to Argentinian Alejandro Bulgheroni (Alejandro is from Argentina and also owns a winery near Meadowood in St. Helena). After the sale, Mark stayed on as CEO of the company until he retired at the end of June in 2017. And since the transition in ownership, based on Alejandro's ownership of wineries in select parts of the world, Bounty Hunter offers a variety of hospitality choices ranging from Uruguay and Argentina, to France and Italy, to Napa and Amador County.
Alejandro has been extremely successful in a number of business ventures. His father founded Bridas, an oil and gas company in 1948. Along with his brother Carlos, Alejandro successfully grew and developed the company's assets. After selling 50% of his company in 2010, Alejandro began to acquire a variety of wineries. Today he owns an impressive international collection of winery properties in Argentina, Australia, Italy, France, Uruguay and in California (including this estate), Napa based Bounty Hunter and Renwood Winery in Amador County.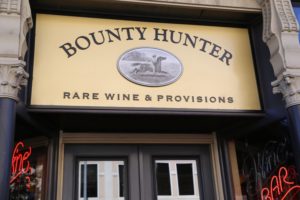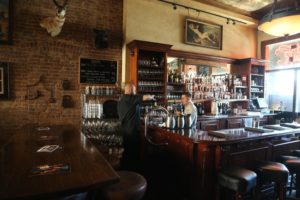 Alejandro's Bodega Garzón in Uruguay, located about 3 hours from the capital city of Montevideo (up the coastline) is a formidable piece of property, an agricultural hacienda if you will. At 5,400 acres it contains a winery (the first LEED certified winery in all of South America), vineyards, olive & almond orchards, cattle and horses, wind turbines, a private club and a restaurant. And they even have their own hot air balloon giving visitor's a bird's eye view of their sprawling property.
In 2016 Alejandro purchased a 15-acre piece of property from Bill Harlan (Harlan Estate) in the hills of the Vaca Mountain range just east of the town of St. Helena. Rather then purchasing an existing brand, acquiring this property gave them a blank slate to start with in the Napa Valley – allowing them to build a wine portfolio and a premium brand from scratch. This is now the home to Alejandro Bulgheroni Winery.
Bounty Hunter pours 40 wines by the glass and they have over 400 wines by the bottle. These are the wines that have made their "cut" as they taste thousands of different wines each year. In fact their team of "scouts" reject about 95% of the wines they taste out of often 5,000 to 6,000 wines tasted each year. This lineup is constantly changing so you never really know what will be available for tasting on any visit. The wines represented here are some of the top wines in the Napa Valley. They have a good number of mostly smaller Napa wineries represented with Sonoma and other California wines also. An excellent wine list and bar/bistro menu rounds out their selection.
Collectors should take note of their Holy Grail – a coveted selection of extremely rare and coveted wines located in the back of their wine bar. Their case contains both Napa premium wines such as Screaming Eagle, Harlan and Eisele Vineyard but also some international favorites including Domaine de la Romanée-Conti and Château Latour.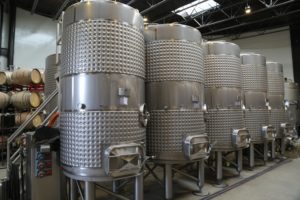 In addition to selling Napa wines among their vast collection, Bounty Hunter also makes nearly 20 of their own wines bottled under various names including some of their original labels Broken Spur, Pursuit, Tin Star and Waypoint. Well known winemaker Marco DiGiulio made some of their wines for a number of years; today Timothy Milos is their head winemaker.
The 2003 Bounty Hunter Beckstoffer To Kalon Cabernet Sauvignon. Beckstoffer is a prominent vineyard management company in the Napa Valley, run by long time Napa resident Andy Beckstoffer. Known for some of the valley's most premiere vineyards including their six self titled "Heritage Vineyards" a selection of thei most special and historical vineyard sites in their portfolio. This wine was made from fruit sourced from their To Kalon Vineyard in Oakville (arguably the most famous vineyard in the USA). This is a delicious Cabernet – the tannins are soft and you only feel them on the front and mid palate. The nose is appealing and elegant. This wine has some subtle herb and cedar flavors with a light finish tasting slightly of tobacco.
All wine offered for tastings are pre-screened and tasted by Bounty Hunter. Tough job eh?! Their Rare Wine & Provisions Catalogue has been published since 1994 – you can signup for this online or pick up the latest copy at the wine bar. There are usually several hundred wines offered in each issue. Initially what sounds like a lot of copies were published – 40,000 in the first year. However compare this to today where they publish about 2 million copies. A plethora of wine clubs are offered – choose one to fit your taste and budget. Yes, they offer a wide range of price options.
They also serve a bistro style cuisine (we've been told the ribs and beer can chicken are excellent). The atmosphere is relaxed and pleasant although the wine bar and dining area can become really crowded especially Friday & Saturday nights (they are open late on Friday nights). For more information or to join one of several wine clubs (or their spirit club), visit: www.bountyhunterwine.com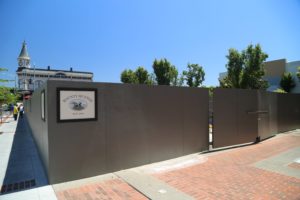 Note 1: Bounty Hunter has acquired several lots in a prime part of downtown Napa on the corner of First and Main Streets. The plan is to eventually build a four-story building and move the existing restaurant and bar and offices to the new location.
Currently the space is fenced off until construction begins and has been so for quite a few months. We will update this review in the next several years once this impressive new addition to downtown Napa is completed.
NOTE 2: this review has been identified as needing a major update.