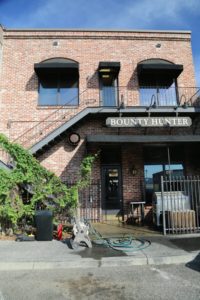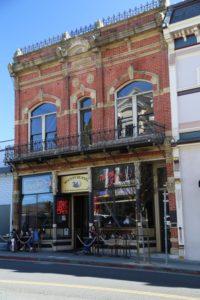 Bounty Hunter is a wine bar and bistro located on the west side of the Napa River just down the street from the Napa Town Center shopping area. Parking in front is 24 minutes from 8 to 5, Sundays excepted, but there is side street parking and nearby parking garages. The "bounty hunter" was founder Mark Pope.
Mark began this wine bar and shop in 1994 as at that time he was worried that people were being intimidated by fine wine and wanted to open a facility where people could relax and enjoy wine in a social context. He has certainly done this as Bounty Hunter is now one of Napa's "hot spots" for nighttime social action, wine and food.
In 2014, Mark sold the Bounty Hunter to Alejandro Bulgheroni (Alejandro is from Argentina and also owns a winery near Meadowood in St. Helena). After the sale, Mark stayed on as CEO of the company until he retired at the end of June in 2017.
They pour 40 wines by the glass and they have over 400 wines by the bottle. These are the wines that have made their "cut" as they taste thousands of different wines each year. In fact they reject about 95% of the wines they taste out of often 5,000 to 6,000 wines tasted each year. This lineup is constantly changing so you never really know what will be available for tasting on any visit. The wines represented here are some of the top wines in the Napa Valley. They have a good number of mostly smaller Napa wineries represented with Sonoma and other California wines also. An excellent wine list and bar/bistro menu rounds out their selection.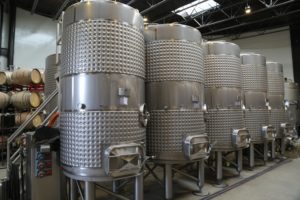 Bounty Hunter makes several of their own wines, Broken Spur, Justice, Pursuit, Tin Star and Waypoint. Well known winemaker Marco DiGiulio made some of their wines for a number of years; today Timothy Milos is their head winemaker.
We tried the 2003 Beckstoffer To Kalon Cabernet Sauvignon. Beckstoffer is a major vineyard management company in the Napa Valley and they have some very high end vineyards. This wine was made from fruit sourced from their To Kalon Vineyard in Oakville. This is a delicious Cabernet – the tannins are soft and you only feel them on the front and mid palate. The nose is light and elegant. This wine has some subtle herb and cedar flavors with a light finish tasting slightly of tobacco.
All wine offered for tastings are pre-screened and tasted by Bounty Hunter. Tough job eh?! Their Rare Wine & Provisions Catalogue has been published since 1994 – you can signup for this online or pick up the latest copy at the wine bar. There are usually several hundred wines offered in each issue. Initially what sounds like a lot of copies were published – 40,000 in the first year. However compare this to today where they publish about 2 million copies. Nice! A plethora of wine clubs are offered – choose one to fit your taste and budget. Yes, they offer a wide range of price options.
They also serve a bistro style cuisine (we've been told the ribs and beer can chicken are excellent). The atmosphere is relaxed and pleasant although the wine bar and dining area can become really crowded especially Friday & Saturday nights (they are open late on Friday nights). Be sure to also check out what they call the "Holy Grail" case; it contains very high end wines from around the world. Visit: www.bountyhunterwine.com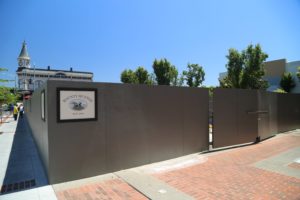 Note 1: Bounty Hunter has acquired several lots in a prime part of downtown Napa on the corner of First and Main Streets. The plan is to eventually build a four-story building and move the existing restaurant and bar and offices to the new location.
Currently the space is fenced off while construction continues. We will update this review in the next several years once this impressive new addition to downtown Napa is completed.
NOTE 2: this review has been identified as needing a major update.