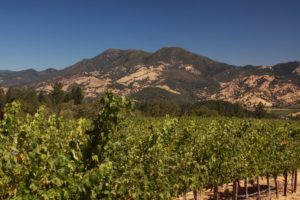 " Napa Valley is home to nearly 1000 unique producers, including physical and virtual wineries. 95% of the valley by numbers are small boutique wineries producing under several thousand cases of wine per year. There is an amazing diversity in such a small geographical region ranging from owners, to vineyards to soils and micro-climates.
The wine is known world wide. We don't make much of it but what we make is buoyed by the commitment to quality that vintners here have across the board. We are known for our wine – yet we are a major culinary hub in California. It is very unusual for a rural location to have the culinary standards of excellence that we have here. It is absolutely a beautiful part of the world to visit and even more so to live.
For some it is a lot of hard work, for many it is their passion and primary business, for others it is a hobby and for some, it is somewhere in between. For all, it is a lifestyle. The valley is small – you get to know your neighbors. This is a business where you help out others and the wine-making and vineyard management side of the operations is not necessarily cutthroat like in other businesses.
Come anytime of the year – spring and harvest are my favorite times – there is a renewal of energy on the hillsides and with the vines. Harvest is a bustle of activity and the excitement that comes from seeing the prior 12 months come to fruition. We welcome you here and you will be richer for the experience if you pick up just a sliver of the passion we have for what we do."