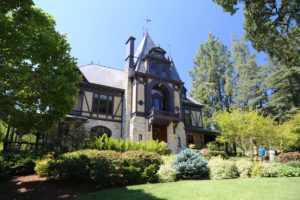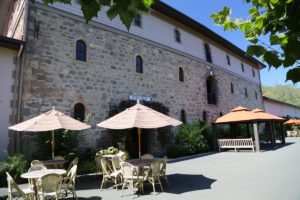 Beringer Vineyards is a historic winery in St. Helena established in 1876 after brothers Jacob and Frederick Beringer purchased 215 acres in this part of the Napa Valley from David Hudson. Jacob was Hudson's foreman at the time.
Hudson was born in Missouri, and at the age of 25 left the state on a wagon train – the first wagons to cross the Sierra Nevada on what was known as the Overland Trail. The group arrived in the Napa Valley later that year and spent a winter in what is now Calistoga. Their timely arrival allowed them to participate in the Bear Flag Revolt in the town of Sonoma in 1846.
The winery has never missed a vintage throughout decades of making wine – during prohibition (when wineries were shuttered, they dried most of their grapes – usually the varietal Petit Sirah). This makes Beringer the oldest continuously operating winery in the Napa Valley (despite the fact there are older wineries in the Napa Valley). Beringer is also the first Napa winery to offer public tours starting in 1934.
Note the "Avenue of Elms" found in front of this winery – the original Elm trees lining both sides of the Highway in front of the winery were supposedly planted in 1885 by the Beringer brothers.
Once you arrive at the winery stop at the Hospitality Room located near the parking lot before climbing the stairs up to the actual winery. Here you can acquire information about tours, the winery and pick up a free self guided Estate map. A path winds its way around near the historical Rhine House you pass as you drive in – this is a good area to take some photos.
A variety of tours are given several times a day and you can signup for these at the time of your visit. The Beringer Introduction tour takes you through the old hand dug caves – most of which have been enlarged and sealed over with gunnite but there is one small cave still preserved. A library wine room is seen on this tour which has bottles dating back 50+ years. Incidentally a scene from the Walk in the Clouds movie was filmed in front of this small room within the cave (with Anthony Quinn and Keanu Reeves). The reserve room is decorated very nicely and is intimate. Photos of famous mostly older movie stars hang on the walls behind the tasting counter.
Beringer has enjoyed a long history with Hollywood – Elvis stopped in while filming "Wild in the Country" in the Napa Valley in 1961. Clark Gable visited Beringer several times a year for a period including spending part of his honeymoon at a vineyard on Spring Mountain that Beringer has sourced fruit from for several decades. And in 1959 Rock Hudson was part of several scenes filmed on property for the movie "This Earth is Mine".
The Beringer family sold their iconic winery in 1971 to Nestlé Corporation. As a side note, after the sale of the winery, Fred and Cathy Beringer purchased an existing wine shop in downtown St. Helena called The Bottle Shop. They renamed it to St. Helena Wine Center in 1992 – and it remains family owned and operated.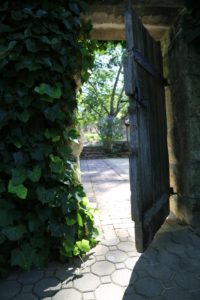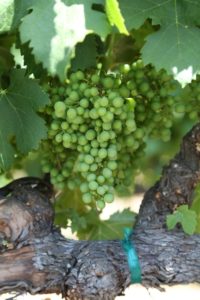 Photos of all their winemakers sit on top of barrels in the cave. Most of the barrels you see in this cave are empty and are for show rather than for wine making. The tour typically includes three wines, a small production white, a red and often a sweet fizzy wine to finish the tour.
A contemporary gift shop and reserve tasting room are located in the main stone winery building. The gift shop sits in what used to be a huge tank room and if you look on the walls you can still see the written tank numbers.
Two historic homes on site are of note. The centerpiece home on the estate, the Rhine House was built in 1884 and was formerly Frederick Beringer's home. A glass conservatory used to stand in front of the home and a tall brick chimney was destroyed in the 1906 earthquake. Today this stately beauty functions as a premium hospitality center and offers small inventories of boutique and reserve wines, including some older vintages of select wines (as well as the opportunity to taste some of these rarer wines).
The more modest looking (but more historic) Hudson House was built in 1850 and stood where the Rhine House stands today. Named after its builder, David Hudson – the house was pulled from it's original location by horses on heavy logs to it's current location. David was also involved in the Bear Flag Revolt of 1846 in Sonoma (about a 50 minute drive from Beringer in neighboring Sonoma County). Today the Hudson House is home to the Beringer Culinary center – where their chefs create meals for special and private events (hosted both inside the home and weather permitting, outside in a beautiful circular redwood grove). Note the picturesque 150+ year old walnut next to the redwoods; one of their labels is called "leaning oak" named after a leaning oak on the estate – perhaps this walnut can grace the label of a Beringer wine in the future.
In the "old days" Beringer ran a distillery and several of their long time customers (now in their 80's and 90's sometimes ask for Beringer Sherry when they visit!)
Beringer produces a wide variety of wine – winery exclusive wines are not found in the retail marketplace and are available only at the winery or for club members (often you can also find older vintages of select wines available for sale at the winery).
Beringer has select partnerships with a number of excellent family owned vineyards in the Napa Valley – and the wines they produce from these vineyards are often made in limited quantities. One such vineyard they have worked with since 1986 is the 89 acre Bancroft Ranch Vineyard at 1,800 feet on Howell Mountain. This vineyard is planted to several varietals, namely Cabernet Sauvignon and Merlot and fruit from the vineyard goes into their Private Reserve Cabernet Sauvignon.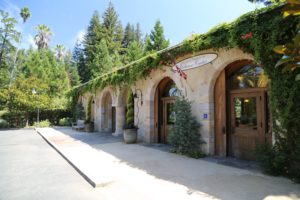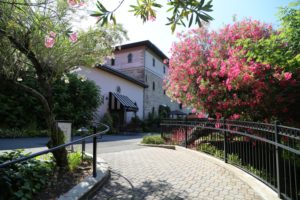 The soils (if you can call them that) from the Bancroft Vineyard are composed of compressed ash which has essentially become rock. There is typically between 0 and 24 inches of topsoil – the grapes have to struggle for nutrients and root space in these difficult growing conditions. The micro-climate at this elevation produces temperatures that are often lower then the valley floor on average – as a result the growing season here is longer (one year they picked during the first week of November). At a glance the rows of vines may look like one continuous vineyard – however the vineyard management team does not simply pick the entire vineyard at once. Rather they separate the vineyard into numerous smaller blocks – each of these blocks is picked only when ready. And based on the different varietals and micro-climates within even this vineyard – picking can take weeks to complete.
A tasting in the Rhine House focuses on their premium wines and includes your choice of 4 wines from the tasting menu. This menu is heavily weighted towards vineyard designate and reserve Cabernet Sauvignons although if you enjoy Chardonnay, do not ignore their "Private Reserve" Chardonnay. Weather permitting, tasting is outside on the wooden porch surrounding part of the home.
A 'hidden' part of the Beringer property is located behind the Rhine House. There are a number of chairs, a bocce ball court and a corn-hole game situated in a very peaceful and often quiet part of the property under the stately oak trees. On the weekends in the summer there is often live music and the reasonably priced 'sandwich' box otherwise known as the Sherry Shack (located in a tiny wooden building) open for service. Great place to relax with some Beringer wines.
We have enjoyed several vintages of the "Private Reserve" Cabernet Sauvignon over the years. This wine tends to be big, rich, chewy – a full bodied Cabernet that will age very well for many years. It has also been very highly rated by the most respected wine writers in the industry (the latest vintage we tried, the 2012 earned a 96 points from Robert Parker's Wine Advocate).
The Nightingale Sauvignon Blanc/Semillion is a special Sauterne-style dessert wine that was started by their legendary winemaker Myron Nightingale and his wife Alice (with their first vintage from 1980). We had the rare opportunity some years back to tour the production area needed to create this wine at the winery across the highway from the main Beringer property. The botrytis cineria spores are cultivated, kept cold in a refrigerator and when needed are sprayed on trays of grapes. Rather then being subjected to most vintages where the conditions are not optimum to product natural botrytis cineria, these wines can be made every year in the winery. Earlier vintages used to be produced in 750ml bottles (we've seen some of these for sale at the winery); today they are produced in the 375ml bottles. This wine can age remarkably well – and compared to similar style wines is available at a reasonable price to quality ratio.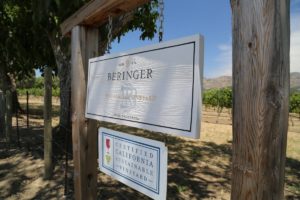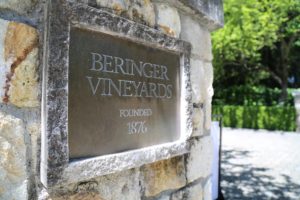 Beringer has employed a number of well-known winemakers throughout it's history. In 2015 Mark Beringer was hired as head of wine making, founder Jacob Beringer's great-great-grandson. Mark is well-respected in the industry having worked at Napa notables Duckhorn Vineyards and Artesa Winery. Incidentally during high school he worked on the family property.
Beringer's wines range from inexpensive to premium pricing for current single vineyard or private reserve wines. As a result there is a diversity of wines for all types of tastes and budgets ranging from their sweet popular sparkling white Zinfandel to hand crafted single vineyard Cabernets.
Famed American now retired football star, Joe Montana used to have a label produced under his name here – he teamed up with Beringer's winemaker at the time Ed Sbragia to produce Montagia.
Note that Beringer's huge winery & production facilities are located across Highway 29/128 but are not open to the public. Also note that left hand turns out of their driveway across the highway requires your full concentration due to somewhat limited visibility.
Beringer offers a number of more intimate events to club members including special tastings, vineyard tours paired with lunch prepared by their in-house chef or sometimes bring in noted food or wine guest authors. There are plenty of benefits to joining the wine club here. For more information, visit: www.beringer.com
Rhine House

Hudson House

Hospitality Center

Grounds

Original Caves

Bancroft Vineyard

Steinhauer Ranch

Production
We have taken a tour of part of their production facility before – photos coming soon.