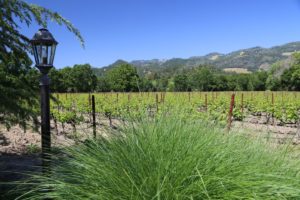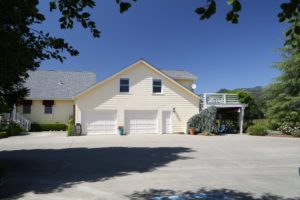 Benessere Vineyards is located at the end of the quiet peaceful Big Tree Road, just north of Lodi Lane and the town of St. Helena. Their vineyards sit next to the Napa River. This winery was purchased out of bankruptcy in 1994, the existing vines had been neglected for too long and were completely replaced with new plantings. Because the current vineyard location used to be a thoroughbred horse ranch, vineyard workers sometimes run across old horseshoes. Obsidian is found in their vineyards – this rock was used by local Indian tribes to make arrowheads and other tools – they appropriately named their Zinfandel Vineyard "Black Glass."
Their first vintage was merely 135 cases of a Sangiovese in 1995. Owners John and Ellen Benish are from Chicago and ran a successful school bus company before falling in love with wine during a trip to Italy. Benessere means "well being" or "prosperity" in Italian which can easily apply to those living and working in the wine industry in the gorgeous Napa Valley. There is even a rumor that drinking Benessere Wines will bring you good luck, prosperity and fortune.
Benessere's core is specializing in Italian style wine and grape varieties. As of the time of this review they produce Pinot Grigio, Moscato di Canelli, Sagrantino, and Aglianico. They also make two red blends, Sorridente ("smiling"), and Phenomenon.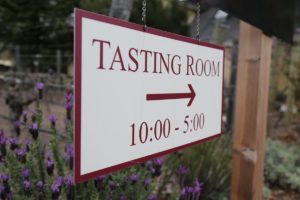 As a result tasting here is a bit different from the almost obligatory Cabernet Sauvignon you will find in most area tasting rooms. This is uniquely refreshing as you will be tasting mostly Italian varietals and various unique blends. Their wines are mostly produced in fairly limited quantities and some of the wines typically available for tasting are their Rosato di Sangiovese which is a wonderful Sangiovese Rose, a "Black Glass" Zinfandel and their "Phenomenon" which represents the pinnacle of their winemaking and is a blend of Cab Sauvignon, Sangiovese, Merlot and Syrah.
A "fun" wine that you won't find at any other Napa wineries is the Muscat di Canelli Frizzante – a semi sparkling Muscat wine. This wine is not overly sweet. Their winemaker often makes "fun wines" typically in quantities of 100 case or less and sometimes they are available for tasting in the tasting room – usually during the winter holidays.
In addition to their Napa based winemaker, they also work with several Italian consulting winemakers. In Napa but can't make it to their winery for some reason – not to worry, Benessere is extremely well distributed at local Napa area restaurants. Oh we haven't yet mentioned their prices – for a small winery – their wines are among the more reasonably priced wines in Napa. Visit: www.benesserevineyards.com
NOTE: This review has been identified as needing a major update.