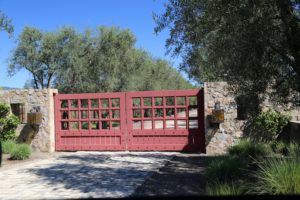 Bello Family Vineyards was founded by proprietor Michael Bello in 2004. Michael comes from Orange County in Southern California where he founded Bello Construction Co., a residential home sub contracting business. Two of his dreams were to make world class wine and get into the horse racing business. He began to take steps towards the former of these two interests in 2000 when he purchased a piece of premium vineyard real estate in Rutherford (near St. Supery winery). Soon after, he built a beautiful French styled farmhouse and began to plan on making wine. He hired some of the most sought out individuals in the valley to help him pursue his goals. David Abreu managed their original estate vineyard and Aaron Pott was hired to make the wine (Aaron is no longer the winemaker).
Michael has been involved in horse racing for many years; in 2001 he located and purchased a small thoroughbred racehorse in the UK called Megahertz. He brought her back to the USA; this filly became a winner from her first race in 2002 at Santa Anita Park and would ultimately win 14 races before retiring. And every year they produce a wine in this horses honor. Today, Michael remains heavily involved in horse racing and owns a number of race horses.
The focus of their wine-making has always been on Cabernet Sauvignon (with a focus on the Rutherford Appellation in Napa Valley) – however they also produce Chardonnay every year – and in years past produced a delicious Marsanne.
The 2009 hillside grown Marsanne is blended with 25% Viognier. Aromatically this is a pretty wine, revealing stone fruit – white peach, honeysuckle, vanilla and just a hint of oak on the bouquet. The entry on the palate is rich – this is a balanced wine with no trace of oak on the finish. It has good acidity, is not too crisp and not too heavy either.
The 2009 Megahertz Cabernet Sauvignon is reasonably priced by Napa standards with fruit from several premium area vineyards including from Michael's own estate in Rutherford. The nose is very aromatic – somewhat floral with a hint of smokiness. The palate is lighter in style, notes of cranberry and raspberry with delicate tannins anchor the clean finish.
The 2009 Cabernet Sauvignon is blended slightly with Petit Verdot and Malbec. This wine is dark in the glass with a sweet nose featuring ripe dark fruit – blackberry, black cherry. There is a core of sweet fruit throughout the palate – with a finish decidedly bigger than the Megahertz. Smoke, leather and dark fruit show on the palate. This wine is well layered on the palate and as it opens it becomes much more expressive on the bouquet.
During the first few years of their production most of their wine was sold through their mailing list and select restaurants without a retail outlet. That changed however, in August 2012 when Bello Family opened an opulent tasting room and retail outlet in the south part of the town of St. Helena – however Bello Family closed and moved out of this tasting room in early 2016.
Michael's former wife, Nancy had her own food line under the label "Nonna Nunzi" and these items were available at one point for purchase via their website including olives, tomato basil spread, artichoke spreads and more.
Today, Michael's son Christopher has taken over as the winemaker and manages all the day to day operations. His wife Chloe runs Alexandrie Cellars – and in Spring 2017 they released their first wine, a sparkling brut – for more information visit: www.alexandriecellars.com
NOTE: the former St. Helena located Bello Family tasting room was purchased by Yao Ming of Yao Ming Wines. Tastings at Bello Family are now by appointment only – after the sale of their tasting room, we heard very limited tastings were being held at their estate in Rutherford (but as of our most recent update, we heard their property has since sold and have noticed the sign on the gate at the entrance to the properties' olive lined driveway has changed names).

This review has been identified as needing a **major** update.
The total production each year of Bello Family Vineyards is around several thousand cases. For more information and or to join the appropriately named Megahertz Wine Club, visit: www.bellofamilyvineyards.com