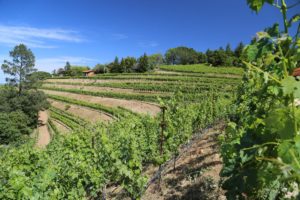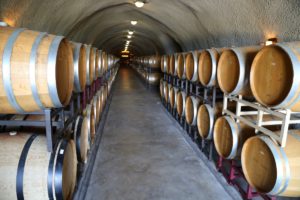 Barnett Vineyards is located off of the narrow windy Spring Mountain Road which connects Napa and Sonoma Counties – about 1.5 miles in. We call this side road located at the Sonoma/Napa County line, the "summit wine road" as it leads to numerous Spring Mountain wineries. It is wineries such as this one where it pays to do your homework if you are trying to get off the "beaten path" in the Napa Valley. Barnett is one of furthest in wineries on this road – the road keeps forking and look for their sign and address at each of the forks. Punch in the office number on the gate keypad once you get close to the actual winery. Groups are limited to no more than 8 as the tastings are meant to be intimate.
A tasting will begin in the barrel room and weather permitting will proceed over to the entrance to the cave or up to the observation deck. This winery has some of the best views on Spring Mountain especially from the aforementioned deck on top of the hill at about 2,000 feet. Views are offered of Mt. St. Helena and directly down into the northern Napa Valley floor all the way across the valley to the other ridge tops including Howell Mountain.
It took almost 2 years to clear and plant the vineyards despite having planted only 7 acres to vine. You will see why it took so long when you visit – steep rugged hillsides dominate and are covered with thick brush; some of the vineyards are located on very steep hillsides with slopes up to 35%. In addition, it is clearly evident when you walk up to the observation deck, just how rocky the soils are! Their wines use both estate fruit as well as purchased fruit.
This small estate winery was founded in 1983 by Hal & Fiona Barnett. Hal grew up in Stockton, California and built a successful career in residential real estate development. Fiona was born in England, lived in Mexico City for a few years as a child and grew up in Vancouver; today she is a CPA. Their original intent was never to build a winery but rather to have a weekend private getaway location from San Francisco. For a fairly small production they make a wide variety of wines – as of our latest visit, 11 different wines are made here. They are strong believers in unique terroir sites and will source fruit from a variety of locations (not necessarily within Napa) based on where specific varieties grow best.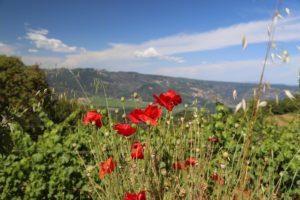 David Tate has been their winemaker and General Manager since 2007. The wanderlust gene caught him early on – leaving his native Victoria Island in British Columbia in 1994 he hitch hiked for 6 months on an epic trip southward – eventually ending up in Peru. Looking to further expand his horizon and taking advantage of the benefits of being in the commonwealth, he turned his sights to Australia. Securing an Agricultural visa he was given two choices for work – at a pig farm or at a vineyard in the Barossa Valley. He chose Barossa and the vineyards and ended up gaining valuable vineyard management experience at several wineries including at Rockford Wines. While in the Barossa he met a Frenchman whose family owns Domaine Richeaume in Provence, France – at an invite from the family, David packed up and moved to southern France and spent a year working for the family.
Realizing he was more then intrigued by the world of wine, he returned to North American and earned his Bachelors Degree in Viticulture and Enology at Brock University in Ontario. While working in New Zealand following graduation a friend called and offered him a job in California at Ridge Winery (their Montebello property). It was at Ridge that David was introduced to mountain grown Cabernet Sauvignon. He spent five years there and was their assistant winemaker.
Ready for a change, and realizing he wanted three criteria in his next job – full control over the vineyards and winemaking, work with a small producer and continue to make mountain grown wines. In 2007 he was introduced to Hal and Fiona Barnett – who offered him control of his desired criteria.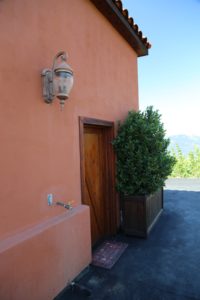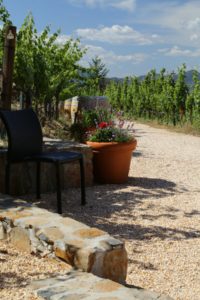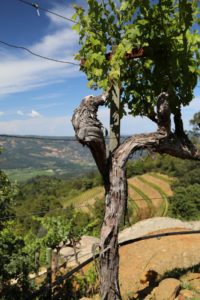 The 2006 Barnett Vineyards Chardonnay is sourced from Anderson Valley in northern Mendocino County. This wine is all about the balance – not one aspect dominates. The bouquet is very aromatic and somewhat floral – the mouth feel is smooth and rounded with some minerality and toasted almond nuances.
The 2006 Barnett Vineyards Pinot Noir is sourced from the same vineyard as the Chardonnay and has some nice raspberry notes interwoven with various spices. It is a softer style wine with less tannic structure than some Pinots you will find.
Their Merlot is delicious – however it was sold out during one of our later visits, fortunately we still have one aging in our cellar! It is noteworthy as it exhibits slightly different flavors and spices then most Merlots grown in the actual Napa Valley floor. It almost has a few characteristics that you often find in a Napa Cabernet. Barnett also produces several Cabernet Sauvignons including their much coveted Rattlesnake Hill and also a Spring Mountain District and a vineyard designate Cabernet Sauvignon called Cyrus Ryan. These wines will age extremely well. Due to its popularity the Rattlesnake Hill can be sold out and you often will try a barrel sample of this wine.
The 2005 Barnett Vineyards Cyrus Ryan is a robust and rich wine with notes of chocolate, and mocha on the nose intermingled in with ripe fruit aromas. The finish goes on and on.
The 2016 Barnett Vineyards MMV (mountain meets valley) is Barnett's first ever release of this wine – sourced from the nearby York Creek Vineyard and a vineyard on the valley floor in Calistoga. Fairly fruit forward on the bouquet with aromas of ripe plum and blackberry along with a hint of cedar. The wine flows nicely across the palate with a pleasing suppleness. The wine is balanced with a noticeable firm grip of tannins that feel somewhat chalky. Not course in their feel. The finish is savory with lingering notes of darker spices and cedar box.
When the weather is warm and you have clear skies, it doesn't get much better than this – sipping hand crafted wine and being treated to spectacular views in a casual yet intimate setting. We have been here several times and the wines coupled with the personalized tasting experience especially from their overview deck is hard to beat. And on a clear warm day in the afternoon – a pleasant breeze blows, it is quiet save for the trees blowing in the wind and Napa Valley lies "at your footsteps".
A small cave is on site – with the portal located next to yet another scenic overlook with a table and chairs available for a tasting. This property has been blessed with a generous helping of these overlooks. An intimate room is built into the cave for when tastings need to be held indoors.
The winery and grounds can be rented for private events such as dinners. Total production varies but is around 7,500 cases per year. For more information, and or to join their wine club, visit: www.barnettvineyards.com
NOTE: we heard Barnett Vineyards may be developing a property in Italy. We will update this review once we have more details and will be sure to visit the property in the future.
Entrance/Signs

Vineyards

Cave

Winery

Miscellaneous