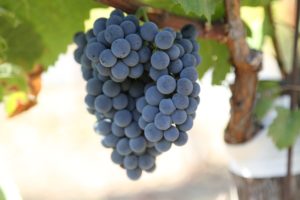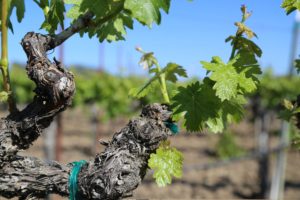 Aum Cellars is owned and operated by Peter Hoffman, a fellow Cal Poly, SLO graduate. He grew up in and around what was at the time one of California's largest vineyards in Southern California. Knowing that he wanted to do something with agriculture he attended Cal Poly which was before they even offered their wine and viticulture program. During his time in college he started picking up more interest in wine especially Syrah.
While living on the Central Coast, he discovered Alban (makers of fine Central Coast Rhone based wines including Syrah). Peter fell in love with this varietal and found himself planting Syrah vineyards for a local vintner. This turned into additional vineyard management work and soon he was managing high end vineyards that were producing fruit for some premium area wineries including Santa Barbara based Sine Qua Non.
As Peter says he took a ten year detour to actually start making commercial wine. However with prior management of large scale vineyards, his experience was in demand and was hired to come to Napa to oversee famed grower Beckstoffer's vineyard holdings. He further refined his palate while working at Stag's Leap Cellars.
In 2000 Peter started making home wine and released his first commercial vintage in 2003. Today he devotes his time to winemaking as well as consulting for a variety of wine related projects. He bonded his home and makes the wine there. All wine as of our latest review are bottled under the Aum Cellars label (look for the Aum Sanskrit symbol on the label). Peter produces his wines organically and Biodynamically and became officially certified in 2010. Due to personal allergies his wines always contain low amounts of sulfites.
Peter takes a minimalist approach to winemaking, rather letting the varietal and vineyard characteristics show. His wines are unfined and unfiltered (vegan style according to Peter!) and indigenous yeasts are used for fermentation. The winemaking is as gentle as possible with manual punch-downs and no pump-overs during fermentation. In addition he has long term leases on vineyards to ensure fruit sources remain fairly consistent. In the future, Peter will be sourcing fruit from outside of Napa, for other varietals that tend to grow better in different terroir regions.
Aum Cellars used to produce one white wine – an interesting blend of Sauvignon Blanc, Viognier, Muscat and Pinot Blanc. We tried the 2005 vintage. Initially the Muscat dominates the nose producing a nice fruity overtone but as the bouquet opens up more honeysuckle and melon become apparent. The palate has great fruit; think cantaloupe with notes of other citrus, most notably grape fruit. This is a crisp clean easy drinking wine. Today their focus is on red wines – with only about 600 cases produced each year.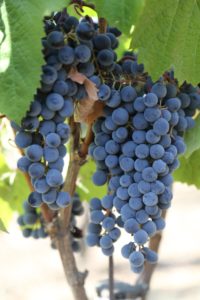 He produces two very distinctly different Cabernet Sauvignons. In our experience tasting in Napa, almost all vintners have one certain style of Cabernet, whether it be the rich high alcohol fruit forward California style, or the lower alcohol higher acidity Bordeaux style wine. Hoffman Family actually makes both and quite well we should point out. We tried the 2005, 100% Cabernet Sauvignon from a vineyard in St. Helena. Peter has had extensive experience with specific types of clones and this wine is all clone 7 (good up front fruit with manageable tannins).
This wine is definitely made in the French style with the alcohol around 13%. Peter likes to keep it at this or even lower. It is rare to find a Napa Cabernet these days coming in at these alcohol levels. This is the type of style wine that Peter is passionate about; it is a great food wine. You need the higher acidity to cut through certain types of food and the flavors really come alive with a meal. One sommelier called the nose on this a chocolate cake – there are definitely chocolate aromas with other spices and nuances of pepper. The palate has nice fruit including notes of raspberry, plum and red cherry. This wine has a rounded mouth feel with soft delicate tannins. It has great ageability.
The 2006 Mt. Veeder Cabernet Sauvignon is a mix of different clones each of which brings a specific contribution to the wine. As Peter says, you want a clone which "brings a hint of corruption to a good Cabernet Sauvignon"! We've had some huge Mt. Veeder Cabernets which blow the socks off your palate when you drink them young. This is not one of them. This is the California bigger rich fruit forward wine. However this wine will be able to carry itself longer due to its higher acidity. It is pronouncedly darker than the St. Helena Cabernet and sees more new oak during the aging. Nuances of chocolate on the nose lead to a palate rich in dark fruit including blackberry and blueberry. The structured tannins are well balanced, are soft and delicate.
Look for additional varietals in the future including a Syrah.
Oh and we haven't yet mentioned these wines have one of the better quality to value price ratios in the valley! Visit: www.aumcellars.com