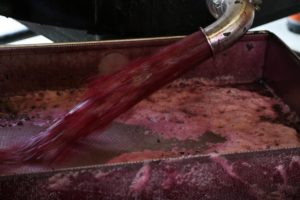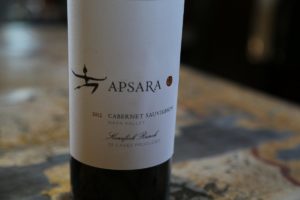 Apsara Cellars is a small production winery run by Robin Akhurst and his wife Aneeta. Robin is originally from Scotland; his path to Napa is paved with plenty of International experience in various wine regions around the world. After graduating with a degree in Environmental Sciences from the University of Edinburgh he started kindling an interest in wine through friends. Becoming more serious about following his wine passion, he worked as a Sommelier in Edinborough. Next he moved to London and worked for a wine merchant.
Wanting to explore more of the hands on agricultural part of the wine industry he moved to New Zealand, earned a degree in Viticulture and Oenology in Christchurch and after graduating worked a number of harvests in Marlborough (New Zealand's South Island). He has also worked harvests in Burgundy and Languedoc-Roussillon. Then he moved to the Barossa Valley in Australia and worked for Two Hands Winery for a harvest. Even though the wine industry is global, the International wine community sometimes feels small and is fairly well connected across continents. It was here that he first heard about Napa winemaker Thomas Brown and was later introduced to him.
Before moving to Northern California, Robin recalls being unaware of the depth and variety of producers that the Napa Valley has in such a small geographical region – getting much of his wine insights from prominent International wine magazines which tend to focus on a select group of larger and well-established Napa wineries. It was only after he moved to the region that he realized actually how many small producers are located here.
After moving around the world for a number of years he and his wife decided it was time to settle somewhere and the Napa Valley is now "home". Initially Robin worked with Thomas Brown gaining valuable hands on wine-making experience and learning about the unique terroir of the Napa Valley. Today he is the primary winemaker for Envy Cellars in Calistoga. A number of custom crush clients also make their wine here; as a result, it is an intimate and valued environment for sharing winemaking knowledge. He makes his own wines here.
Robin prefers a Sauvignon Blanc with some weight and a generous helping of fruit aromas. Location is extremely important and in regards to the style he likes to make he says, "Sauvignon Blanc needs alluvial deposits". With that said, the vineyard source is in Rutherford, slightly elevated above the valley floor in soils that are formerly river cobble. A much smaller amount of Sémillon rounds out the blend – sourced from a historic hand-farmed vineyard in Calistoga.
The 2013 vintage shows a bouquet that has nuances of tropical aromas including honeysuckle and citrus blossom and initially a gravely undertone. The wine has decent weight on the palate, good acidity and a pleasing texture.
Each barrel fermented before blending together was done so with separate yeasts – one barrel was fermented with indigenous yeast – and each barrel reflects subtle nuances slightly different from the other. The wine was stirred on the lees during its aging giving it some nice weight on the palate.
The first vintage from Apsara is 2010, a small production of Syrah. Perhaps it was partially his work in the Barossa and with the recognition of this variety in Australia that influenced his decision to make a Syrah his Napa Valley flagship wine. Or perhaps it was a cool weather vineyard to good to pass up in the southern part of Napa. Either way Robin enjoys the savory components of this variety especially one that is grown in a cooler climate.
The 2012 Syrah is from the Las Madres Vineyard located in the Southern part of the valley. It shows an intriguing nose – layers of fruit but also a savory component. On the palate, olives and a touch of pepper show. This is a wine that will cause your salivary glands to start quickly working – it was made with all natural acidity. The palate is clean and balanced; it is an elegant wine.
During the same vintage, Robin decided to take the same fruit from the same vineyard and step back – taking a minimalist approach to winemaking focusing on just one barrel. The grapes were fermented whole cluster using indigenous yeasts – they didn't even use a punch down tool with its sharper edges, rather utilizing a more gentle approach; simply using their hands to break up the cap each day during fermentation. This wine is about "no" – no commercial yeast and no additions.
There is not much of it; only a barrel was made. The aromas are complex and layered with perfume notes, black fig, black cherry and leather saddle. The palate shows mostly darker fruit – it is balanced and anchored by a delicate clean finish.
The 2012 Cabernet Sauvignon is from a vineyard in a noted part of Calistoga – Kenefick Ranch, close to Araujo Estate. The nose is lively with a darker undertone to the bouquet that continues onto the palate. The tannins are there but do not dominate – they are dusty, broad and for a young wine, well integrated into the palate. A delicate kiss of oak also shows towards the finish.
Honoring linguistic heritage and his wife's own heritage, Apsara is Sanskrit word that means "angelic dancer" or in their case, representing a certain style of wines – wines that have balance, purity and are expressive in character.
With an annual production of under 500 cases, their wines are mostly sold direct but with some distribution in California and Washington. Some of each wine is only produced in quantities of a barrel or less. The wines are very reasonably priced. 3% of their net profit is donated to The Union of Concerned Scientists – an organization that works on clean energy initiatives and works to fight global warming among other causes.
Tastings are by appointment for serious wine enthusiasts. Visit: www.apsaracellars.com