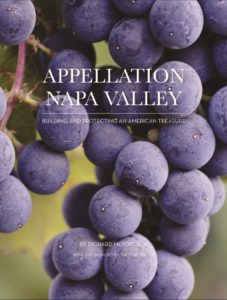 Well respected vintner, author, artist, professor and lawyer, Richard Mendelson has written the heavyweight on the history of Napa Valley's appellations.
He and his wife Marilyn first visited the Napa Valley in 1979 – a few years before the Napa Valley would be granted viticultural status in 1981 which was followed by 16 more viticultural area designations in the decades to follow (starting in 1983 with Los Carneros and more recently Coombsville in 2011).
This was ideal timing to become familiar with Napa for a young man attending law school at Stanford University and a background in wine having spent three years in Europe – with some of that time spent in France learning more about wine making as well as about the French appellation system, appelllations d'origine controlees.
This is an intriguing in-depth look at the creation of a number of Napa Valley's American Viticultural Areas. The amount of factors that went into creating some of these is amazing – from where to draw the borders often based on numerous natural factors to various vintner agendas. Mendelson was personally involved on a number of the creations of these appellations and as a result, brings a unique perspective and insight to his descriptions.
This is a must read for anyone interested in the fascinating details of Napa's relatively recent history and the vintner pioneers who were involved in the creation of Napa Valley's AVAs.
Chef Thomas Keller wrote the foreword.