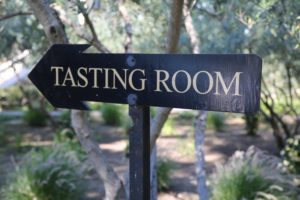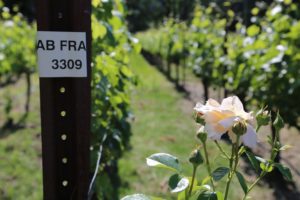 Allora Vineyards is located north of the town of St. Helena on the valley floor near Ehlers Lane off of Highway 29. Owners Terry and Nancy Klein have lived in the Napa Valley for many years and is where they raised three children. Terry was born in San Francisco and moved to St. Helena when he was 13 years of age – his family has been in the Napa Valley since 1963. Terry began Terry Klein Plastering in 1974, a successful residential & winery plastering company (based in the San Francisco Bay Area). While Nancy rarely drinks wine, Terry has enjoyed wine for years – they began Allora Vineyards beginning with their first vintage in 1997 and purchased their property and planted it a year later harvesting the first grapes in 2002.
Daughters Kelly and Cortney are also directly involved with the winery operations – managing the winery sales and marketing. Conveniently Terry and Nancy live on property – in the gorgeous home located above the winery and cellar. Allora winery and residence buildings are beautifully constructed and are the centerpiece of the property.
Their 15 acre property is located on the valley floor in between Calistoga and St. Helena. The previous owner used the property for pasture land for livestock and it had never been planted to grapes. Today 10 acres of vines are planted on the estate with the majority being two clones of Cabernet Sauvignon (clone 15 which Terry planted from cuttings from the iconic Monte Rosso Vineyard in Sonoma County) and clone 337 and lesser amounts of Merlot, Cabernet Franc and Petite Sirah.
The Allora property features rich loamy soils – during the drilling of a deep well on their property, the drill bit passed through layers of gravel, loam and clay multiple times as the well was dug deeper. The soil is so fertile that Terry told us, "one year our metal end posts on each row started "growing"!
Water is not an issue here – when they drilled a well they were hoping to discover just enough to use for the vines but remarkably they hit an Artesian well – and water started rapidly bubbling out of the bore hole. The well driller soon capped the well and then demonstrated to Terry just how much water they had tapped into by removing the cap and Terry estimates he watched a 150 foot spray of water shoot over the vineyard.
This is one of the finer examples of a "garagist" winery in the Napa Valley (small winery at a home). The bonded commercially producing winery is small but extremely functional. Two tasting rooms are located here – and are used to host private tastings. Winemaker Dennis Johns (founder of White Cottage Ranch Winery and more recently Round Two Wines) was Allora's first winemaker. Rudy Zuidema was their primary winemaker from 2002 until 2016.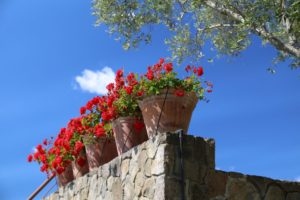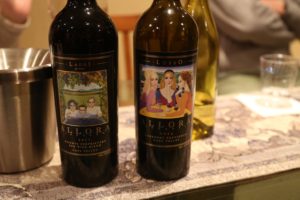 Struggling to find a name that wasn't already trademarked, after receiving their 10th name rejection by what is now the TTB (the branch of government that in part oversees the regulation of alcohol) Terry simply said 'Allora' when receiving the rejection notice – recalling a recent family trip to Italy and commonly hearing people use this word to mean "ok, and its alright or, and then what". Fortunately this name was not yet trademarked.
And it was Rudy's decision when he started making the wine to stop using the Petite Sirah as a blending wine (it was one of the finer Petite Sirah's he had tasted) and he told the Kleins' it needed to be made as a stand alone variety. Allora releases a wine from this variety each year.
Total production of all their wines is only around 1200 cases; some of their wines sell out very quickly due to the low quantities. They used to sell fruit to Caymus Vineyards, but in more recent years they ended that contract and as a result, Allora's own production has increased slightly. Much of the fruit for their wines comes from their estate vineyard – they do source Chardonnay (in nearly 20 years, 2014 was their first vintage of Chardonnay) and Pinot Noir from neighboring Sonoma County. In the past they have sourced from several premium vineyards most notably in the Stags Leap District.
Select Wines
The 2004 Cielo is a Tuscan style blend with Merlot as the dominant variety but also contains Cabernet Sauvignon and touches of Sangiovese and Barbera. As with their other wines, only small quantities are available. Like all of their wines, production for the Cielo is extremely low – this vintage saw only 194 cases. The one thing that makes this wine fairly unique is it is not made every year; it is only made during years where the quality of the grapes are superior. The nose has appealing aromas of raspberry, red cherry and just a touch of vanilla from the oak aging. This wine is very dark and full bodied with a touch of spiciness that hits around mid palate and continues into the very long finish. With reasonable yet structured tannins at this age and lively acidity this wine will also cellar very well.
The 2005 Tresca Cabernet Sauvignon is a blend of 90% Cabernet Sauvignon and 10% Cabernet Franc – the blends and varietal additions usually change from year to year. Tresca means "intrigue" in Italian and its easy to see why customers are intrigued with this one. It is their most popular wine and was their original commercial release. We can see why with its balanced palate and smooth and silky mouth feel.
The Sussurro is a desert wine that has only been produced three times since their first vintage. The grapes are left to hang on the vine until late in the year – harvested with a high sugar content and then fortified later to stop fermentation, ensuring the wine still has some residual sugar. The 2012 Allora Sussurro offers ripe aromatics of boysenberry and blackberry and hints of mocha and chocolate. Sweet on the palate but with a density this is noticeably light – not syrupy or heavy. Certainly sweet but not cloying, this wine is very balanced – a beautiful showing that has acid, sugar and plenty of flavor to ensure a long life.
Margaret Keen Connection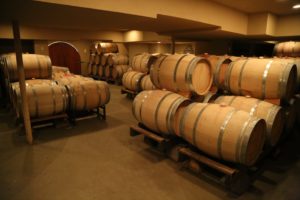 The Lusso blend is their 100% Reserve Cabernet Sauvignon only made with clone 15. And it is the only wine in their portfolio which is fermented using the indigenous yeast already on the skins of the grape.
The now iconic artwork used as the label for this wine only was designed from a painting by Margaret Keane a friend of the family who still paints daily despite being in her 90s. She is fairly well-known for her paintings of people with large eyes. She has been painting for over 50 years. While not cheap now, if you have the budget, find some of her works – with such a unique style her art is only going to go up in value. Those interested can view her works at the Keane Eyes Gallery in San Francisco. And for recognition on a much broader scale, the movie Big Eyes was released in 2014 starring Amy Adams and Christoph Waltz – detailing her very unique career as an artist in the shadow of her husband at the time.
And a second Keene painting was used as the label for a much newer wine introduced in the 2017 vintage, Ladri di Vino (means wine thieves in Italian). The label depicts the three Klein children at a young age standing next to their vineyard and a bin of freshly picked grapes. This is a reserve proprietary red blend and this particular vintage is a blend of Cabernet Sauvignon, Zinfandel and Petite Sirah.
Vino2 Stemware
Also of note is the Vino2 glass they use for the tastings. These solid "wine aeration glasses" have a large "dent" in the side – this is for "breaking" the wine – which allows for additional aeration of the wine as you swirl and actually makes a splashing noise. It is always interesting when we discover a new type of stemware; this is the one of only two Napa wineries/producers out more then the 1,000 we have visited to use this unique type of wine glass (the other being Haber Family Vineyards, good friends of the Kleins).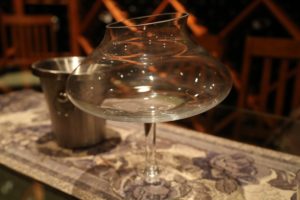 And of note is while perhaps these glasses don't seem large enough – you can actually pour a full 750ml bottle of wine into one with space left over. These glasses can be purchased at the time of your tasting. And from the same manufacturer is a very functional decanter (the neck is wide enough that one can actually clean the inside without much trouble).
—
Allora also offers a unique 'label your own wine' program – empty bottles with names such as "Matt's Revenge" and other more upbeat labels line part of the tasting room. The lead time on this is usually 6 weeks from when you order – and purchases are limited to a minimum of a case.
A visit is for serious wine enthusiasts and is always held with a family member. The highlights of a visit are the wines of course and the personal experience of sitting down with either Terry, Kelly or Courtney. This is as personable a tasting experience as you will find in the Napa Valley. Their wines are not distributed and are only available through direct visits or through their wine club – which currently has a wait list to join. A number of perks are available to members including having first access to some of their more limited production wines and to their wine library with select wines and vintages often available up to 15 years old. For more information, visit: www.alloravineyards.com