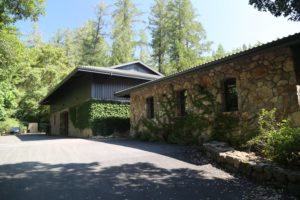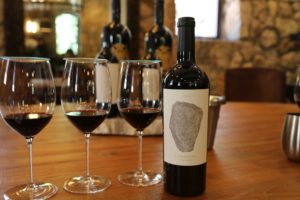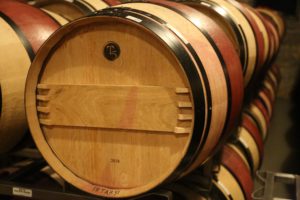 Alejandro Bulgheroni Estate. Argentinian Alejandro Bulgheroni has been extremely successful in a number of business ventures. His father founded Bridas, an oil and gas company in 1948. Along with his brother Carlos, Alejandro successfully grew and developed the company's assets. After selling 50% of his company in 2010, Alejandro began to acquire a variety of wineries. Today he owns an impressive international collection of winery properties in Argentina, Australia, Italy, France, Uruguay and in California (including this estate) and Napa based Bounty Hunter (including the Bounty Hunter Restaurant in Danville).
Alejandro's Bodega Garzón in Uruguay, located about 3 hours from the capital city of Montevideo (up the coastline) is a formidable piece of property, an agricultural hacienda if you will. At 5,400 acres it contains a winery (the first LEED certified winery in all of South America), vineyards, olive & almond orchards, cattle and horses, wind turbines, a private club and a restaurant. And they even have their own hot air balloon giving visitor's a bird's eye view of their sprawling property.
In 2016 Alejandro purchased a 15-acre piece of property from Bill Harlan (Harlan Estate) in the hills of the Vaca Mountain range just east of the town of St. Helena. Rather then purchasing an existing brand, acquiring this property gave them a blank slate to start with in the Napa Valley – allowing them to build a wine portfolio and a premium brand from scratch.
Much of the property is extremely rocky and steep – but an existing vineyard of approximately 2 acres was already planted, entirely to Cabernet Sauvignon. This vineyard was originally planted in 1975 to Pinot Noir by husband and wife at the time, Jim and Nena Talcott with encouragement from their friend, Ric Forman (long time winemaker in the Napa Valley). Forty years ago the vineyard landscape of the Napa Valley was remarkably different then today – this is a part of the valley dominated by Cabernet Sauvignon and other Bordeaux red varietals. But back then, Cabernet Sauvignon did not command the premium prices it does today and perhaps it was not widely known that Pinot Noir in the Napa Valley does much better in the cooler southern parts of the valley.
This tiny vineyard sits on St. Helena bench-land soils – just up from the valley floor and isolated from nearby vineyards by several small hillsides.
The Talcotts also built what is now the winery building on site (as well as the building that now serves as the hospitality room) – original construction began in the late 1980's as a fancy stone garage without the intent to ever produce wine from within it's walls. But by the mid 1990's the Talcott's were able to secure a winery permit for the building and produced two vintages (a 2003 and a 2004 – however, these wines were never commercially released).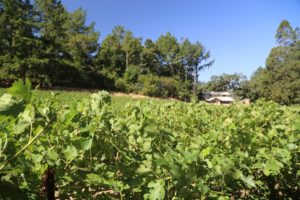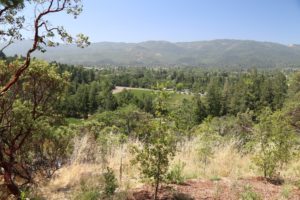 The Talcotts planted olive trees on the property (there are still a number of olive trees growing next to the vineyard). Today, Olive trees line parts of Meadowood Lane and the driveway that leads to the nearby Napa Valley Reserve. These trees were originally growing on site and were later replanted nearby. Interestingly, Nena now is a partner in Grove 45 Olive Oil Company and her ex husband Jim owns Talcott Olive Oil in Napa's Carneros. The Talcott's eventually sold this piece of property (and a nearby 12 acre parcel to Bill Harlan).
In later years, the winery was the home of Bill Harlan's Founders Room and housed the production of several of the first Napa Valley Reserve wines – as well as some of the early trial wines for PROMONTORY.
The winery is small but very functional. Since Bulgheroni acquired the property, the winery has been renovated and upgraded to match their wine making needs. They brought in small lot fermentation vessels including stainless steel, wooden and concrete tanks. Some of their wine is also fermented directly in barrel including in several of some of the most coveted barrels in the world, the Taransaud T5 of which relatively very few are shipped to the United States. This barrel is produced from the forest of Tronçais, with the very fine-grained staves seasoned outdoors for 5 years before being assembled. So limited is their production that the master cooper personally signs every single barrel.
The wine making efforts are overseen by Philippe Melka and consulting enologist Michel Rolland (from Bordeaux). Plans call for drilling a cave into part of their rocky hillside directly behind the winery and in 2019 ground was broken on a 3.9 acre vineyard block located towards the highest part of the property.
Their current production is under 1000 cases, focusing on three meticulously hand-crafted red wines. All three of the their inaugural releases (2014) are extremely impressive. These first wines were produced at Vineyard 29.
An appropriate word that applies to their own estate property, Lithology refers to the study of rocks. This is also the name of several of their wines including their Napa Valley Cabernet Sauvignon. All wines under the Lithology feature an image of rocks on the label. The Napa Valley Cabernet Sauvignon shows an embossed image of a basalt rock on the label – a rock that is found in all the vineyards they source from to create this wine including in Rutherford, Oakville, St Helena and Pritchard Hill.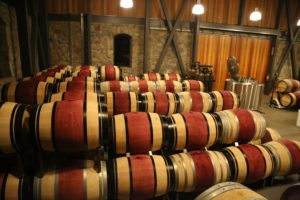 The 2014 Lithology Cabernet Sauvignon, Napa Valley reveals aromas of blackberry and dry dusty rock. The bouquet continues to open nicely over time – eventually revealing dessert spices. The mouth feel is pleasing, supple in its approach from the entry through the mid palate. Shows a richness of flavor but without being heavy. Black cherry, black currant and a hint of cedar spice on the palate. Smooth tannins are well integrated. Drinks very well young.
The 2014 Lithology Cabernet Sauvignon, Beckstoffer To Kalon Cabernet Vineyard. The label on this wine features an image of a rock taken from this storied vineyard. The wine demonstrates both the power and the finesse that are simultaneously showcased by wines we have previously enjoyed from To Kalon. Shows elegant fruit on the bouquet – more dark then red including black currant, cassis with hints of brown chocolate and cedar box. Rich and opulent on the palate with flavors of blackberry leading to a very long finish. The dusty tannins are somewhat muscular but rounded in their approach. Has plenty of life ahead of it still.
The 2014 Alejandro Bulgheroni Cabernet Sauvignon is a barrel selection from all of their sources vineyards (including their estate vineyard); these are barrels that the wine making team judges to be exceptional for a number of reasons. This wine also contains a small amount of Petite Verdot. Aged for 22 months in new French oak. Impressive in stature, this is a powerful wine for many reasons. Noticeably dark in the glass it reveals both dark fruit and some floral aromas including plum and violets. More subtle in the background is a hint of bittersweet chocolate and toasted cedar. As it continues to breath a sweetness of mocha shows.
On the palate it is a big wine, yet still remarkably balanced for being so young. Well layered in flavor and structure, muscular tannins with a significant grip persist for some time on a very long finish. Features dense ripe fruit and tannins. One also notices the acidity in this wine as well. Set this wine aside if you can – it has the hallmarks of being able to age for a very long time. A brilliant inaugural release.
And to Alejandro this is an extremely special wine – of all the winery estates he owns and wines produced, this is the only wine that carries his name.
Visits are for serious collectors and members of their allocation list who have made prior purchases or are interested in making purchases. The wines are very selectively distributed locally including at the French Laundry, 750 Wines and ACME wine shops in nearby St. Helena and at K. Laz in Yountville. For more information and or to signup for their allocation list, please visit: www.bulgheroniwine.com
SELECT INTERNATIONAL ALEJANDRO BULGHERONI OWNED WINERIES
Bodega Garzon, Uruguay
Photos coming soon
Chateau Suau, Bordeax France