Lithology (formerly known as Alejandro Bulgheroni Estate). Argentinian Alejandro Bulgheroni has been extremely successful in a number of business ventures. His father founded Bridas, an oil and gas company in 1948. Along with his brother Carlos, Alejandro successfully grew and developed the company's assets. After selling 50% of his company in 2010, Alejandro began to acquire a variety of wineries. Today he owns an impressive international collection of winery properties in Argentina, Australia, Italy, France, Uruguay and in California (including this estate). He is the former owner of Napa based Bounty Hunter (including the Bounty Hunter Restaurant in Danville).
Alejandro's Bodega Garzón in Uruguay, located about 3 hours from the capital city of Montevideo (up the coastline) is a formidable piece of property, an agricultural hacienda if you will. At 5,400 hectares it contains a winery (the first LEED certified winery in all of South America), vineyards, olive & almond orchards, cattle and horses, wind turbines, a private club and a restaurant. See our notes from our visit to Bodega Garzon below.
In 2016 Alejandro purchased a 15-acre piece of property from Bill Harlan (Harlan Estate) in the hills of the Vaca mountain range just east of the town of St. Helena. Rather than purchasing an existing brand, acquiring this property gave them a blank slate to start with in Napa Valley – allowing them to build a wine portfolio and a premium brand from scratch.
Much of the property is extremely rocky and steep – but an existing vineyard of approximately 2 acres was already planted, entirely to Cabernet Sauvignon. This vineyard was originally planted in 1975 to Pinot Noir by husband and wife at the time, James and Nena Talcott with encouragement from their friend, Ric Forman (long time winemaker in the Napa Valley). Forty years ago, the vineyard landscape of the Napa Valley was remarkably different then today – this is a part of the valley dominated by Cabernet Sauvignon and other Bordeaux red varietals. But back then, Cabernet Sauvignon did not command the premium prices it does today and perhaps it was not widely known that Pinot Noir in the Napa Valley does much better in the cooler southern parts of the valley.
This tiny vineyard sits on St. Helena bench-land soils – just up from the valley floor and isolated from nearby vineyards by several small hillsides.
The Talcotts also built what is now the winery building on site (as well as the building that now serves as the hospitality room) – original construction began in the late 1980's as a fancy stone garage without the intent to ever produce wine from within its walls. But by the mid 1990's the Talcott's were able to secure a winery permit for the building and produced two vintages (a 2003 and a 2004 – however, these wines were never commercially released).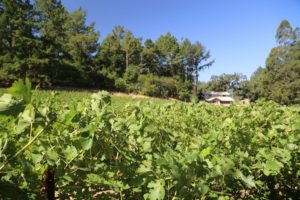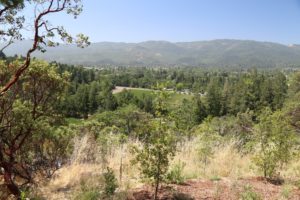 The Talcotts planted olive trees on the property (there are still a number of olive trees growing next to the vineyard). Today, Olive trees line parts of Meadowood Lane and the driveway that leads to the nearby Napa Valley Reserve. These trees were originally growing on site and were later replanted nearby. The Talcott's eventually sold this piece of property (and a nearby 12-acre parcel to Bill Harlan).
Interestingly, Nena now is a partner in Grove 45 Olive Oil Company (with a tasting room now located in Calistoga) and her ex-husband James owns Talcott Olive Oil in Napa's Carneros (although as of 2019 his property was for sale and sold in 2020 to the owners of Bouchaine Vineyards who would often carry his products in their old tasting room). And for probably the most bizarre and fascinating rescue story in the history of Napa Valley – see our review on Steltzner for James's involvement in the rescue of Dick Steltzner following a plane crash.
In later years, the winery was the home of Bill Harlan's Founders Room and housed the production of several of the first Napa Valley Reserve wines – as well as some of the early trial wines for PROMONTORY.
The winery is small but very functional. Since Bulgheroni acquired the property, the winery has been renovated and upgraded to match their wine making needs. They brought in small lot fermentation vessels including stainless steel, wooden and concrete tanks. Some of their wine is also fermented directly in barrel including in several of some of the most coveted barrels in the world, the Taransaud T5 of which relatively very few are shipped to the United States. This barrel is produced from the forest of Tronçais, with the very fine-grained staves seasoned outdoors for 5 years before being assembled. So limited is their production that the master cooper personally signs every single barrel.
The wine making efforts are overseen by Philippe Melka and consulting enologist Michel Rolland (from Bordeaux). Plans call for drilling a cave into part of their rocky hillside directly behind the winery and in 2019 ground was broken on a 3.9-acre vineyard block located towards the highest part of the property. Unfortunately they lost their original plantings when part of the Glass Fire burned through their property in 2020; this site has since been replanted.
Their current production is under 1000 cases, focusing on three meticulously hand-crafted red wines. All three of their inaugural releases (2014) are extremely impressive. These first wines were produced at Vineyard 29.
The decision was made to change the name from Bulgheroni's name to Lithology to better reflect the overall characteristics of each of their source vineyard sites. An appropriate word that applies to their own estate property, Lithology refers to the study of rocks. This name also ties in well with Bulgheroni's background in oil and gas and founding winemaker Melka's own background in geology. This is also the name of several of their wines including their Napa Valley Cabernet Sauvignon. All wines under the Lithology feature an image of rocks on the label. The Napa Valley Cabernet Sauvignon shows an embossed image of a basalt rock on the label – a rock that is found in all the vineyards they source from to create this wine including in Rutherford, Oakville, St Helena and Pritchard Hill.
Select Wines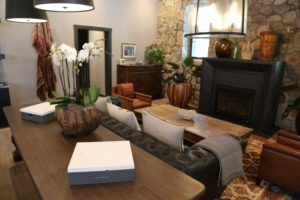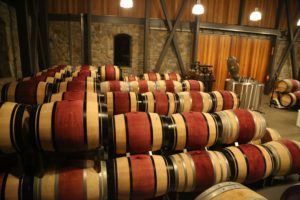 In 2020 Lithology began producing a Chardonnay from the Ritchie Vineyard in the Russian River Valley of neighboring Sonoma County. Fruit from this vineyard is highly coveted by a number of premium producers; each of whom is assigned their own rows marked by hand-painted signs created by the owner Kent Ritiche. The Lithology 2020 Ritchie Vineyard Chardonnay wine is medium gold in color; initially the bouquet was a bit closed (we tasted seconds after the bottle was opened) and needed time for the aromatics to be coaxed out. In addition to its fruit scents, the bouquet offers a subtle note of warm butter (which does not translate to the palate). This bottling is richly flavored with notes of lemon and lime along with apple. It offers bright acidity and is mineral driven. A lingering hint of vanilla shows deep on the palate.
The 2014 Alejandro Bulgheroni Lithology Cabernet Sauvignon, Napa Valley reveals aromas of blackberry and dry dusty rock. The bouquet continues to open nicely over time and eventually reveals dessert spices. The mouth feel is pleasing, and is supple in its approach from the entry through the mid palate. This wine shows a richness of flavor but without being heavy. There are flavors of black cherry, black currant and a hint of cedar spice on the palate. The smooth tannins are well integrated. Drinks very well young.
The 2014 Alejandro Bulgheroni Lithology Cabernet Sauvignon, Beckstoffer To Kalon Cabernet Vineyard. The label on this wine features an image of a rock taken from this storied vineyard. The wine demonstrates both the power and the finesse that are simultaneously showcased by wines we have previously enjoyed from To Kalon. Shows elegant fruit on the bouquet – darker than red including black currant, cassis with hints of brown chocolate and cedar box. Rich and opulent on the palate with flavors of blackberry leading to a very long finish. The dusty tannins are somewhat muscular but rounded in their approach. Has plenty of life ahead of it still.
The 2014 Alejandro Bulgheroni Alejandro Bulgheroni Cabernet Sauvignon is a barrel selection from all of their source vineyards (including their estate vineyard); these are barrels that the wine making team judges to be exceptional for a number of reasons. This wine also contains a small amount of Petite Verdot. Aged for 22 months in new French oak. Impressive in stature, this is a powerful wine for many reasons. Noticeably dark in the glass it reveals both dark fruit and some floral aromas including plum and violets. More subtle in the background is a hint of bittersweet chocolate and toasted cedar. As it continues to breath a sweetness of mocha shows. On the palate it is a big wine, yet still remarkably balanced for being so young. Well layered in flavor and structure, muscular tannins with a significant grip persist for some time on a very long finish. Features dense ripe fruit and tannins. One also notices the acidity in this wine as well. Set this wine aside if you can – it has the hallmarks of being able to age for a very long time. A brilliant inaugural release.
And to Alejandro this is an extremely special wine; of all the winery estates he owns, and wines produced, this was the only wine that carried his name for several years.
—
Visits are for serious collectors and members of their allocation list who have made prior purchases or are interested in making purchases. The wines are very selectively distributed locally including at the French Laundry, ACME wine in nearby St. Helena and at K. Laz in Yountville. For more information and or to sign up for their allocation list, please visit: www.lithology.wine
New Frontier Wine Company
On April 1, 2022, a tasting room at 1040 Main Street in downtown Napa opened, featuring select wines from New Frontier Wine Company including several former Bounty Hunter labels (that Bulgheroni kept after the sale of Bounty Hunter), plus wines from Alejandro Bulgheroni Lithology and Renwood Winery. Vineyard sources are quite diverse, ranging from some of the top Beckstoffer owned and farmed sites in Napa Valley, to other locations within California as well as select parts of South America, Australia and Europe. We have a separate review of New Frontier Wine Company and their accompanying tasting room on this website.
Bodega Garzón
Photographs do not capture the immense scope of this project; from the winery, panoramic vistas overlooking a sea of vineyards only span a portion of the overall property. Bodega Garzón is located directly next to the ocean but because of its size it can take up to 40 minutes to drive from one end to the other. Because of the location, the growing conditions are heavily influenced by the nearby maritime presence.
Developing a property of this magnitude takes significant resources, vision and follow through. In 1999 when Alejandro Bulgheroni purchased the site, very little was developed with vineyards having never been planted. A hostel, a pond, and some dirt tracks crisscrossed the property at that time. Conventional items that exist in established wine regions simply did not exist here. It was remote – it is still remote; each day up to 120 workers commute 40 to 60 minutes one way via company buses (this increases to between 400 and 500 people during harvest).
The overall numbers are staggering – 10,000 acres of which 500 vineyard acres are organized into a remarkable 1200+ individual blocks with various row orientations following the contours of the landscape and soil types. None of the grapes grown are sold to any other producers. Tannat and Albarino make up approximately 50% of the overall vineyards. Soil or lack of soil differs greatly across the property from shallow granitic bedrock to deeper soils. The soils are ancient and well weathered. The influences of the Atlantic Ocean are great – with afternoon breezes and sometimes large diurnal differences in temperature between day and night. The property also receives plenty of rainfall – usually averaging between 1200 and 1500 millimeters a year.
Olives are also a big part of the property – over 2,000 acres of olive trees are planted on site. And not having any where to mill the olives in the region, they built their own mill. The property also features a 32-hole PGA golf course.
Wanting to be self-sufficient, wind turbines were installed – these can easily be seen in the distance from the winery; to get an idea of the size of the estate, these are located only about 1/2 way across the property. Originally the plans were to build them next to the winery, but they decided to leave the native vegetation on the nearby slopes as is. The property also uses energy from solar power.
In 2007 the property began to be developed including planting vineyards. Noted Italian enologist Alberto Antonini recommended starting with 10 to 14 acres of vines. Alejandro decided to start big, and 60 acres of initial vines were planted. Their first harvest was in 2011. Today some 20 varieties are planted with 14 in production.
Located about one hour and 15 minutes' drive from Punta del Este or about 2.5 hours from the Montevideo airport. Within about 15-20 minutes of the winery, Google Maps will direct one to one of their employees only gates down a dirt road. Do not follow Google Maps at this point, rather, remain on the paved road and follow the signs to the winery. Tours are tri-lingual, available in Spanish, English or Portuguese. The diversity of experiences is impressive. Offered are hiking tours, a variety of estate tours, a blending session and or a picnic lunch among the vineyards.
The winery is an impressive showcase of creativity, function and form. It was designed by Mendoza architectural firm, Bormida & Yanzon (the same firm that designed The Vines Resort & Spa and winery in Argentina's Uco Valley). In 2019 it was certified Leadership in Energy and Environmental Design (LEED) Silver, the first sustainable winery outside of North America to earn this coveted certification. The winemaking equipment is state of the art with a modern optical sorter, small and larger tanks both wood and non-epoxy lined concrete. A special road was built to allow access for transportation of some of the larger tanks – these were installed before the walls and the roof were even completed. Bodega Garzon also produces a limited quantity of burbujas, (sparkling wines) and a part of the cellar is set aside for riddling racks where the bottles are turned by hand.
A gated section on the lower level provides access to wine storage and private spaces for members. Membership is still very limited, and Alejandro Bulgheroni must approve every new member to this prestigious club.
Select Wines
The 2019 Bodega Garzón Petit Clos was aged in long cigarillo new French oak barrels. Scanning the bar code on the back of the bottle brings up an image and information about this particular vineyard block. Unusual for the property, they harvested these grapes during the late night. Shows a light golden amber color in the glass with aromas of honeycomb ripe nectarine, peach and a friendly kiss of hazelnut. Let the wine continue to open – it will show further tropical fruit aromas – also floral with notes of jasmine. Noticeable immediately is the wines supple texture with an ethereal lightness that carries the palate from start to finish. Lingers for some time with stone fruit flavors, clean it leaves a brightness of fruit on the finish inviting another sip. This is one of the finer Albarino wines we have ever tried.
The 2019 Bodega Garzón Single Vineyard Sauvignon Blanc is the pale color of dried straw. Offers aromas of honeysuckle, white peach and cantaloupe. Sweet in its aromatic presentation, it is also very floral with notes of honeysuckle. Very much a food wine – it glides across the palate with a finely tuned balance. Fresh cut grass, hints of lime and gooseberry. The acidity is very much present but is not a bracing component of this wine. A very nice showing.
The 2018 Bodega Garzón Petit Clos Block 212 Tannat. Dark ruby almost maroon in color the bouquet reveals elegant aromas of blackberry, plum and hints of cassis – with a sweet berry fruit aromatic thread that persists. Also, a little bit savory. Makes one want to reach for one of those famous Argentine steaks. Layers of fruit show on the palate, with a noticeable intensity mid palate through to the finish. Offers darker spices especially on the finish including coffee grinds and caramel. The tannins are well managed although still show slightly tight in their youth. Age will continue to benefit this wine for a number of years.
Dessert wine lovers take note of their Cosecha Tardia (meaning late harvest in Spanish); this wine was from natural botrytis cinera allowed to develop on the grapes in the vineyard. This wine is 100% varietal Petit Manseng made Solera style therefore is a non-vintage; it includes wine from 2013 through 2018. Dark amber in color offers aromas of apricot, dried peaches and orange rind. The intensity of the bouquet is obvious – this continues onto the palate with rich flavors including ripe apricot, citrus and Crème brûlée notes showing more toward the finish. Oily texture. A secondary finish kicks in after the primary finish and lingers with notes of caramel. 17% alcohol and plenty of residual sugar although this is sweetness is slightly tempered by the nice acidity.
Bodega Garzón produces wines under seven categories, Balasto, Petit Clos, Single Vineyard, Reserva, Estate, Sparkling and a Late Harvest. Total production is around 200,000 cases annually.
And it was at Bodega Garzón where we first discovered and tried the variety, Marselan. We were impressed with its varietal characteristics and approached our friend Charlie Johnston about possibly planting some of these vines. In 2021, we planted about 400 vines of this variety in Calistoga, which for a short while was the largest planting in Napa Valley. And another 450 vines went into the ground in 2022. Look for a very limited bottling from this vineyard site sometime around 2026 or 2027. For more details about this variety, our particular planting and some related details, view our notes on this website about Helena View Johnston.
—
Bodega Garzón Restaurant
This is one of several restaurants overseen by claimed Argentinean chef, Francis Mallman – who could almost earn the nickname, 'flying mallman' due to the location of his international restaurants and the demand for his private-client services. Features 120 seats – there is really no bad seat in the house either inside or outside. Weather permitting the outside terrace offers one birds eye and panoramic views of the vineyards – on a clear day one can see the ocean far in the distance.
Like other Mallman restaurants, this one features open-flame cooking (the kitchen is located at the far end of the restaurant and visitors are invited to come see the action). A Mallman specialty that we have noticed at several of his restaurants is a diversity of freshly baked breads. In this case, paired with several Colinas de Garzón, the house extra-virgin olive oil.
Guests can choose from either a 4, 5 or 6 course meal – portions are ample. A variety of meats are specialty items including some very long and slow roasted meat dishes. While known for meats, the Atlantic Ocean is not far away – and fresh seafood is also available on the menu. Food is prepared fresh daily using local ingredients. A highlight, besides the views and food are the wine pairings. Seatings are staggered every 30 minutes between 1pm and 3pm Wednesday through Sunday.
Staff from the restaurant also host select cooking classes – available by reservation only.
SELECT INTERNATIONAL ALEJANDRO BULGHERONI OWNED WINERIES
Chateau Suau, Bordeaux France

As of our latest update to this review, Alejandro Bulgheroni owns approximately 20 wineries or brands spread across four continents. We will visit some of the other international Bulgheroni owned properties as time and budget permits, although it's conceivable that some of these properties may be sold by the time, we get around to planning each of these trips.