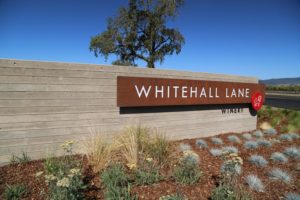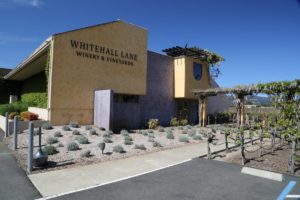 Whitehall Lane Winery is located on the west side of Highway 29 several minutes south of the town of St. Helena close to the only section of the highway where the train tracks cross the road. Note that the winery and tasting room are not located on nearby Whitehall Lane nor is Whitehall Lane Winery white from the outside, rather the exterior of winery building is painted distinctive yellow and subtle blue colors. While the winery has a St. Helena address, the site is actually in the Rutherford Appellation. Old timers may remember the Great Whitehall Pumpkin Patch on Whitehall Lane from the 1970s.
The winery and accompanying property were purchased in 1979 by Art & Bunnie Finklestein and Art's business partner and brother, plastic surgeon Alan Steen (died in 2020) & his wife Charlene. Their first vintage was from 1981. The Finklestein's are a well-known wine making family in Napa – currently operating Judds Hill Winery. In 1988 the Finklestein's sold the winery to a Japanese based businessman Hideaki Ando (who owned a real estate investment company in Japan). In 1993 Ando sold Whitehall Lane Winery to the Leonardini Family (the current owners). Tom Leonardini (last name means 'little lion' in Italian) grew up in the car rental business- his mother's family founded the national rental company, National Car Rental. Tom worked there for a few years, started Pacific Car Rental System – sold that and then founded what would become a very successful car rental business, American International Rental Car (growing this company to multiple offices throughout California) before selling in 1985.
Little did Tom know how opening a wine shop in San Francisco would change the course of his family's history. In the early to mid 1980's he and his wife Karen purchased a parking garage several blocks southwest of the popular Union Square shopping district. Tom and Karen enjoyed wine for many years and decided to open a boutique wine shop next to the parking garage, initially focusing on Napa wines but later including wines from other parts of California. They opened the tiny Napa Valley Wine Exchange in 1985 – for many years, Tom and Karen's daughter Kristen helped oversee the operations of this shop. The selection is excellent – with a wide range of pricing, with plenty of small Napa producers represented. However, after 3+ decades of ownership, in 2020, the Leonardini's sold Napa Valley Wine Exchange to Rick Jones, former Napa Valley Winery Exchange General Manager.
Through the Napa Valley Wine Exchange, Tom met a number of winemakers and others in the wine business. He learned of a specific property that was for sale but not yet listed publicly – he drove up to the valley, met with Hideaki Ando and purchased White Hall Lane Winery in 1993. He hired Gary Galleron on as their founding winemaker.
Over the years, the Leonardini family has acquired additional acreage in the valley – and while they continue to source gapes from selected growers, most of their fruit now comes from their own vineyards – approximately 125 acres of mostly prime valley floor vineyards divided among 6 unique vineyard sites in St. Helena, Rutherford and a vineyard in the Oak Knoll District. They also own a vineyard in neighboring Sonoma Valley.
Tom and Karen's children have been or are involved with the wine industry in some capacity. One of Tom's axioms for working in the family business is you must have worked somewhere else prior. This sage advice usually serves family-owned wineries well – especially those involved in generational ownership. Daughter Katie oversees the overall winery operations, and her brother Tom is responsible for domestic and international distribution.
The winery offers a wide range of premium wines at decent prices; many of which have won numerous awards over the years. Their Cabernet Sauvignons and Merlots are balanced, food friendly wines -these two varieties are among their two most produced wines annually.
Whitehall Lane has long used screw cap enclosures (among Napa's first wineries to do this) for some of their wines and several vintages of their reserve Cabernet were actually enclosed with what is called a Vino-Seal, a glass enclosure. As well as being perfectly functional, this enclosure also makes a neat conversation piece as well as a pretty souvenir. They were the first Napa winery to use an enclosure such as this. The cost is a little more than a cork but the overall savings and benefits to both the winery and consumer is great. These types of enclosures certainly prevent spoilage issues related to cork taint.
Whitehall Lane was one of numerous wineries that lost inventory in the now infamous arson wine warehouse fire in Vallejo in 2005. That fire was one of the reasons why they expanded their own barrel facilities now allowing them to store all of their barrels on site. In 2018 750 solar panels were installed on the roof of the winery and the winery is now certified Napa Green (a certification program by Napa County Department of Public Works and the California Green Business Program overseeing water conservation and reduced energy and waste within Napa based County wineries).
Winemaker Jason Moulton crafts wines to have balance and concentration without being heavily influenced by oak. He tends to age the wines on the lees longer – looking for a mid-palate mouth feel and richness. The wine making team uses mostly French oak along with limited amounts of American and Hungarian oak. Their French oak is created from wood that was seasoned outdoors for three years (two years is more of a norm). And in 2018 they began fermenting with non-inoculated yeasts (indigenous yeast) for select wines.
Select Wines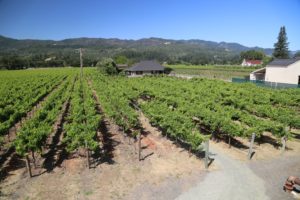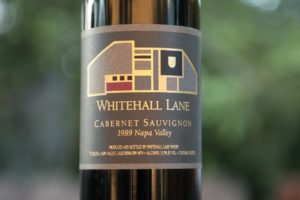 The 2016 Whitehall Lane Sauvignon Blanc (from Rutherford) is blended with 14% barrel fermented Sémillon. This wine shows clear yellowish in the glass – with aromas of citrus blossom, lemon peel zest and honeysuckle. Very nicely balanced stylistically between a grassy or green New Zealand wine of this variety and Napa richness. Artfully made with no harsh edges – a balance between flavor, weight and acidity. A lively finish with flavors that linger for some time – including citrus and pineapple.
The 2014 Whitehall Lane Napa Valley Cabernet Sauvignon reveals an elegant bouquet that is slightly floral in its aromatic presentation (dried rose petal) along with both red and darker fruits. Offers a pleasing density of fruit on the palate showing flavors of dark plum, spicy plum skin, Asian spices and black pepper. Very nice acidity, mouthwatering with well-integrated long lingering tannins. With its balance and excellent acidity – this should be a very versatile food wine.
The 2005 Whitehall Lane Cabernet Sauvignon offers a pleasant fruit driven nose followed by a palate rich in fruit including blackberry and black cherry. A soft entry carries all through the palate anchored by velvety tannins. It has just the right amount of tanginess and tannin structure to pair very well with a variety of foods.
The 1989 Whitehall Lane Cabernet Sauvignon (tasted 34 years post vintage) is garnet and brickish red in the glass; the bouquet offers scents of sweaty leather, damp and freshly turned over earth, mushroom, tobacco spice, dried blackberry and cherry and dark fig. It also shows lights notes of coffee and espresso. There is still fruit present but the aromas are dominated more by tertiary characteristics. If a wine has all the attributes to carry it several decades and has been property cellared, its always nice to spend more than a cursory amount of time with it. And as it opened, we were rewarded with additional layers of fruit on the bouquet. The energetic acidity has played a prominent role in carrying this wine more than three decades at the time of our tasting. Its shows bright, savory and mouth watering across the palate with flavors of red cherry, red currant and cranberry. The finish offers plenty of vibrancy, a light dryness on the back of the palate and lightly textured but still felt tannins.
For dessert wine lovers their Belmuscato (an Orange Muscat) is sweet with a long finish and not overly syrupy like some of the Muscat wines we have tried. The 2013 vintage is 8% residual sugar. It is golden yellow in the glass – very aromatic with notes of apricot, hibiscus – smells like a tropical floral garden! Has some weight on the palate with a noticeable roundness, almost oily – with flavor of dried apricot, ripe peach and honey. A lusicious wine for dessert wine lovers who enjoy ripe fruit, sweetness and intense flavors. Finishes sweet.
We also had the privilege of trying their Belforte Port-style wine. This type of port is not often found in Napa as it is made from Petite Sirah grapes. Most area wineries that make a port-styled wine often use Zinfandel grapes. The 2005 vintage is rich in alcohol and flavor with a moderate balanced amount of residual sugar. In other words, you won't be left gasping because of the sweetness in the back of your throat!
In 2021 Whitehall Lane released their 2020 Blanc de Noirs (a brut) – the first ever sparkling wine bottled under Whitehall Lane. The grapes are from the Leonardini family-owned Stage Vineyard in neighboring Sonoma County. This wine was made in the Méthode Champenoise tradition.
—
The tasting room is rather spacious, and the staff is very knowledgeable and friendly and can give you recommendations for other area wineries. Like other nearby Highway 29 based wineries the tasting room can become very crowded especially on summer and harvest weekends. Due to the winery's location – people often start or end their day with a tasting here – so it can be busy in the earlier mornings and or later in the afternoon.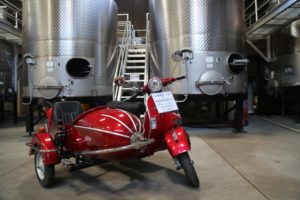 Most visitors to the winery only see the tasting room. But there is much more to the property located behind the winery. Looking for a more personalized and intimate tasting experience? Whitehall Lane offers a number of private tasting experiences available by appointment only including the Vineyard Tasting held outdoors (weather permitting) among their gardens, surrounded by their estate vineyards (and a small demonstration vineyard). Guests may also book a private tasting in the Club Room – this room is generously surrounded by windows which look over acres of vineyards with the Mayacamas mountains forming the backdrop of the west and views of their barrel room. The wines served here are only available at the winery.
Whitehall Lane holds several annual events throughout the year including the Lobster feed (always in June) and the annual open house typically held in September. And the winery offers an under the radar, "Cooking Demonstration and Wine Pairing Experience" offered most Fridays and Saturday by appointment only. This two+ hour experience is available for a minimum of 4 people and a maximum of 8. Their private chef prepares a lunch for the guests along with identifying the best Whitehall Lane wines to pair the particular dishes. Whitehall Lane also works with the Napa Valley Wine train to offer guests of the train a tailored tasting experience.
Total distribution has fluctuated over the years (from 5,000 cases in their first vintage) to now around 45,000 cases annually. They have excellent domestic distribution and some international presence including in parts of Canada, Japan and the UK. For more information, to join their mailing list or one of their wine clubs, visit: www.whitehalllane.com
Hospitality

Winery

Vineyards

Miscellaneous