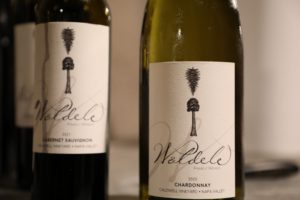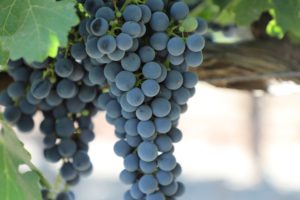 Wäldele Family Wines (pronounced vel del leigh) means 'small forest' in German and was founded by Hannes and Bridget Wäldele. Their first vintage was a Sauvignon Blanc in 2018 from the 3-acre Horsetale Vineyard that Hannes personally farmed in Kenwood (Sonoma Valley). Hannes was born and raised in the foothills near the Black Forest in Germany (not far from Strausberg). He has traced his family's wine grape and other agriculture farming back to 1640. His family still grows grapes (selling to the winery cooperative, Alde Gott), and leases land to other small producers. Their focus is on Riesling but they also grow Pinot Noir.
His father was the first person in their family to go to school for viticulture and enology (Geisenheim University), the same university that Hannes graduated from. Hannes has worked harvests in Germany (Weingut Kopp), South Africa, Australia, New Zealand and at Dr. Konstantin Frank Winery in the Finger Lakes of upstate New York. His first job in California was at Schug Winery on the Sonoma side of Carneros in 2010. It is also where he met his wife, Bridget, who also works in the wine industry and was raised in Sonoma County.
The wine label ties together both Hannes and Bridget's heritage, depicting a fir tree from the German Black Forest and a Redwood from Sonoma County.
These wines are focused on freshness, savoriness and are acid driven, but balanced bottlings. Hannes philosophy has always been to showcase the vineyard rather than his own winemaking. Each of his wines has its own personality and character – attributes one obtains when focusing on freshness rather than ripeness while highlighting both vineyard and varietal characteristics.
Select Wines
Sonoma
The 2022 Wäldele Family Wines MacMurray Ranch Sauvignon Blanc (Russian River Valley) was picked at 23.6 brix; only one pick was made this year facilitated by the sustained Labor Day heat spike. These vines are more than 40 years old. 2/3 of this wine was inoculated and 1/3 was fermented using indigenous yeast, both fermented and aged in 500L neutral oak puncheons. It was left on the lees until January. Sauvignon Blanc is one of Hanne's favorite varieties and arguably the flagship wine of Wäldele Family Wines. This vintage is pale straw in color; the bouquet offer aromas of lemongrass, lime, honeysuckle, citrus blossom, grapefruit pith and a note of crushed rocks. It shows the varietal characteristics quite well both on the bouquet and the palate. It offers flavors of lemon juice, guava, white nectarine, green apple and some mineralities. This is a leaner styled bottling but not overtly green nor grassy. It is satisfyingly crisp.
Wäldele Family Wines produces several Chardonnays, each stylistically differing from one another – one from Sonoma County and one from Napa Valley. The 2021 Wäldele Family Wines Carneros (Sonoma) Ritchie Creek Chardonnay was aged in 25% new French oak and 75% neutral barrels. It was harvested at 23.5 brix and fermented in barrel at cellar temperature and was not racked until bottling. This vintage unlike the 2022 bottling was put fully through malolactic fermentation. It was aged on the lees for 9 months with once a month battonage. This wine is medium golden in color; the aromas offers notes of popcorn butter (but not noticeable on the palate), vanilla, red apple, honeysuckle and bees wax. The brightness of both flavor and acidity is complemented nicely by a rounded but not viscous texture. This wine offers flavors of apricot, pineapple, baked pear, peach and nectarine. The finish is lengthy and filled with flavor including some citrus notes (grapefruit). The focus of this wine is clearly on the fruit characteristics rather than barrel influences and as Hannes told us, "is styled more old world than new world".
The 2021 Wäldele Family Wines Pinot Noir Carneros (Ritchie Creek Vineyard) was harvested from clone 828 from vines approximately 35 years old. This wine was fermented 20% whole cluster in t-bins with a cold soak lasting about 7 days. Punch downs were conducted once a day and 10% of the juice was bled off. During its fermentation cycle the bins were moved both indoors and outdoors with temperatures ranging from approximately 55 degrees to 80 degrees. Once the wine was fully dry, it was drained and then pressed in a basket press slowly while Hannes tasted regularly for the desired textural level. Malolactic fermentation was done in barrel and the wine was aged for 10 months in 30% new French oak barrels before being bottled unfined and unfiltered. This wine is pale to medium ruby in color; the highly attractive aromas offers floral notes of lavender along with dried herbs, white pepper, a subtle note of Tonka Bean and red higher toned fruits including of plum and cherry. The palate's red fruited flavors echo the bouquet and offers notes of cherry, licorice, currant and other red berries. One can feel the lingering light texture of the tannins along with darker spices including pepper. The finish is fresh, savory and mouth watering. Nicely done.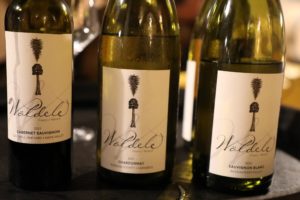 The 2022 Wäldele Family Wines Pinot Noir (Ritchie Creek Vineyard) is worth seeking out. After 5 days of cold soak the wine was allowed to ferment using indigenous yeast. It was 20% whole cluster fermented in t-bins. Hannes separated some of the clusters after destemming (prior to fermentation) and rinsed with 5% sulpher in a water solution twice a day to keep any microbial growth at bay. On day 7 of fermentation he introduced an additional 15% dry stems back to the wine by hand, working the stems into the fermentation lots using a stainless steel punch down tool. this wine was aged in 30% new French oak barrels. This wine is pale to medium ruby in color; the bouquet offers a pronounced aroma of cardamom along with cloves. It also offers scents of mint, dried rose petals, white pepper and dried lavender accompanied by a sweetness of fruit. To a lesser extent, some of the cardamom spice notes are echoed on the palate along with flavors of red plum and cherry. Its texture is creamy and one can feel the density of tannins – these are rounded and almost chalky like in their textural feel and linger with a light dryness. For such a youthful wine at the time of our tasting (one year post vintage) this wine is quite approachable and already drinks comfortably.
The 2021 Wäldele Family Wines Sonoma Mountain Cabernet Sauvignon is from a site at about 300 feet east of Highway 12 in Sonoma Valley. It is a biodynamically farmed vineyard overseen by viticulturist Phil Coturri; the site was dry farmed for a while but has been irrigated since 2021. This wine is 100% varietal from clone 337 (30 year old vines) and was aged in 50% new French oak barrels. Hannes always harvests for freshness in his wines; this bottling in particular really shows this attribute. This wine is deep ruby in color and nearly opaque; the bouquet offers aromas of red plum, cherry, licorice, a light note of mint and a floral nuance including of violets. As the wine opens it reveals a subtle hint of mocha. The palate is a bit more herbal than the bouquet, offering a red fruited tartness and a lingering light astringent and dry character. This wine is juicy, mouth watering with flavors of plum, cherry and blueberry. The tannins are grainy with almost a sediment-like texture with a long lasting grip and and a dusty character, both outpacing the fruit on the finish. If we were to summarize this wine in just a single word, it would be savory.
Napa
The 2022 Wäldele Family Wines Caldwell Vineyard Chardonnay, Napa Valley was harvested at 24.5 brix from block 4, a lower part of Caldwell Vineyard – hence a slightly cooler part of the property. This wine was fermented entirely using indigenous yeast and was aged in 65% new French oak barrels. It was fully put through malolactic fermentation and spent 10 months aging in barrel before being bottled. This wine is medium golden in color with aromas showing both ripe fruit and baking spices including crème Brule, toasted oak, pineapple, yellow peach, apricot, caramel, honeysuckle and a light scent of toffee. Early in its life, this wine benefits from plenty of exposure to oxygen (hint: heavy swirling in the glass). The palate somewhat mirrors the bouquet, offering flavors of pineapple, yellow peach, nectarine and apricot supported by a creamy texture (we also wrote waxy to describe its mouth feel). The finish lingers richly flavored, accompanied by notes of toasted oak. If we were to generalize its style, it would be more California sunshine influenced as compared to the Sonoma County bottling.
The 2021 Wäldele Family Wines Caldwell Cabernet Sauvignon is 100% varietal from three blocks on the upper parts of the property from clones 337, 338 and 341. It was cold soaked for 6 days before fermentation started, in a stainless steel tank with a maximum of three pump overs a day (less towards the end of fermentation). It was drained and then pressed in a basket press with the amount of pressing based on texture and taste. It went through secondary fermentation in barrel (70% new French oak), was aged for two years and racked twice before it was bottled. This wine is deep ruby and opaque in the glass; the bouquet offers aromas of dark cherry, blueberry, dark raspberry, blackberry and a note of chocolate. Its aromas are well endowed but not opulent. The juicy palate is dark fruited with flavors of dark plum, blackberry and boysenberry. The broadly distributed youthful tannins are grippy, pixelated and very long lasting. This wine is going to have a long life ahead of it with the proper aging. And steak lovers who taste through the portfolio of Wäldele Family wines will invariably gravitate towards this bottling.
And in 2023 Wäldele Family Wines produced a Riesling from Mendocino County.
—
Total production is around 500 cases annually with limited distribution on the east coast and also at select fine-dining restaurants in Sonoma. Hannes personally hosts visitors for tastings when his schedule permits, typically from Friday through Sunday by appointment at a cave winery in Coombsville where he produces his wines (about a 10 minute drive from downtown Napa). Allow about 90 minutes for this highly personalized experience which includes a tour through the cave, a barrel sample and light snacks.
For more information, to join the mailing list, to schedule a tasting or to purchase wines, visit: www.waldelefamilywines.com