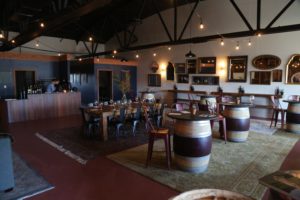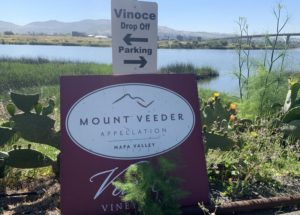 Vinoce & Twenty Rows was founded by Brian & Lori Nuss (tragically Lori, who we first met with passed away in early 2016). Brian is originally from New Jersey – in 1976 he and his brother spent several months driving across the country, one taking the northern route and one taking the southern route. Both settled in Los Angeles and began a general contracting company.
Through their contracting work they were introduced to the actor Robin Williams and were invited to come up to Napa Valley to oversee the construction of his new home in the hills of the Mayacamas mountains (Mt. Veeder). Both Brian and his brother moved to the Napa Valley – and over the years built several homes for Robin and his family. Robin's estate, called PymRae was approximately 600 acres; when the Williams decided to plant vines, they hired Brian to oversee the vineyard development. The problem was that Brian had no experience in developing vineyards. Fortunately, one of his mentors, winemaker and viticulturist Robert Craig (who was president and general manager of The Hess Collection winery at the time) had plenty of experience developing vineyards including on Mt. Veeder and Brian quickly sought out his advice.
Brian remembers ordering young vines that were grafted onto AXR root stock (not resistant to phylloxera) but just before they planted the vines, he heard about other vineyards in the valley on AXR starting to fail due to phylloxera. They quickly changed their order to vines that were grafted on to phylloxera resistant root stock. Brian oversaw the planting of 25 acres to Cabernet Sauvignon, Cabernet Franc and Merlot and later for many years oversaw the management of Robin's vineyard. This is the northern most vineyard in the Mt. Veeder Appellation and one of the more remote vineyard locations in Napa Valley.
During our visit with Lori we walked part of this vineyard – unlike on the Napa Valley floor which is often planted entirely to vineyards – the landscape up here is decidedly different featuring both steep hillsides and plenty of surrounding native vegetation. This part of Napa is also home to mountain lions, deer and sometimes black bear. In 2013 Brian acquired 20 acres (not far from the original vineyard he developed) and planted this to Cabernet Sauvignon and Cabernet Franc. Over the years Brian has learned that an important part of wine making occurs in the vineyards; great attention to detail is given to every single vine from pruning and trellising to crop management.
Brian is the vineyard manager as well as the winemaker. Over the years he has employed the help of several talented consulting winemakers including Rudy Zuidema, Chad Alexander and Keith Emerson. The first vintage of Vinoce wine (a Cabernet Franc, Cabernet Sauvignon and Merlot red blend from the PymRae Vineyard) was from 1996 and was made at what is now Bremer Family Winery in Deer Park (just below Howell Mountain).
Vinoce

Vinoce produces two dramatically different styles of Sauvignon Blanc. One that sees some oak and one that doesn't. And a side-by-side comparison is a good way to notice the differences between the two wines – both of which were sourced from the same vineyard.
The 2017 Vinoce Sauvignon Blanc is pale golden in the glass; this wine offers an immediately intriguing bouquet with pretty aromatics including tropical and floral overtones (honeysuckle and citrus blossom). Very fruit driven and highly aromatic. The palate is balanced showcasing a riper style then this variety is commonly associated with. Has some weight, with both citrus and melon flavors along with minerality notes. Was fermented entirely in stainless steel tanks. Drinks very well by itself. As Brian's son Tyler calls this, "our crowd pleaser".
The 2017 Vinoce Lori's Lucky Penny Sauvignon Blanc saw some oak during its aging. Much more limited production then their other Sauvignon Blanc. More restrained on the bouquet, features aromas of citrus, a lemon-lime zest and passion fruit. Noticeable immediately is the suppleness on the palate – rounded, soft – velvet like. Yet this wine also has very nice acidity. Shows some minerality nuances along with stone fruit and citrus. Immediately we thought of pairing this wine with scallops.
The 2004 Vinoce Cabernet Sauvignon is produced in extremely limited quantities. The reason for this downturn in production for this particular vintage was a freak hailstorm hit the vineyard after fruit had set and destroyed the majority of the crop. An event such as this is much more likely to occur in the Mendoza wine growing region of Argentina (where special nets are placed on top of high-end vineyards to guard against such damage). In any case what ended up in the bottle is very representative of Mt. Veeder grown fruit. It is a dark inky wine with forward aromatics along with earthy nuances and white ground pepper. On the palate, flavors of cherry, plum and chocolate. The finish is slightly spicy, warm and is extended in length.
The Vinoce 2014 Cabernet Franc (Mt. Veeder) is also blended with much smaller amounts of Cabernet Sauvignon and Merlot. The bouquet reveals a variety of red fruit aromas along with cedar, mocha, chocolate and a hint of graham cracker. Clean, balanced and approachable, a soft entry continues across the palate. Flavors of both plum and cherry with fruit continuing onto a somewhat spicy finish (white pepper, cigar). Dusty and slightly gravelly tannins. Not harsh. Very good acidity.
The Vinoce 2014 Cabernet Sauvignon (Mt. Veeder) shows darker fruit aromatics including blackberry and plum with more subtle hints of dessert spices as the wine continues to breathe. Surprisingly approachable for a mountain Cab it has very good acidity. The tannins show more in the front of the palate rather than the back – a very balanced showing. Flavors of blackberry, boysenberry and blueberry. Ripe fruit. Some spice notes on the finish including white pepper. The tannins are gravelly or dusty in texture but are not course.
The focus of Vinoce's production is from their Mt. Veeder vineyard but they do source from select vineyards in other parts of the valley. Vinoce's total production is about 2000 cases.
Twenty Rows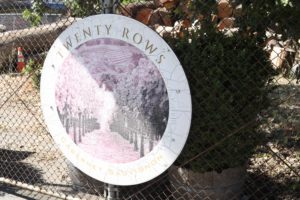 The name Twenty Rows comes from 20 hillside vineyard rows from their original home vineyard on Mt. Veeder. These rows always produced quality fruit but never found a home in their Vinoce label, so they decided to bottle this as a separate label.
As their son Tim told us in regard to the Twenty Rows wines, "this is Napa wine that you can drink everyday". These wines are priced very reasonably for the quality. Compared to Vinoce which is boutique and very small production, Twenty Rows as of the time of this review is around 14,000 cases. The first vintage of Twenty Rows dates from 2003.
Twenty Rows sources Sauvignon Blanc from Pope Valley in eastern Napa County for every vintage. This is a wine to be paired with food. The 2009 is crisp with notes of lime on the bouquet as well as on the palate. Citrus, herbal notes and pear round out the palate. It has a clean quick finish.
The 2008 Twenty Rows Napa Valley Merlot shows black cherry and baking spices on the bouquet followed by darker fruits on the palate with a finish that is pleasing – soft but with structured tannins. As with their other wines they try to maintain the integrity of the fruit from vineyard to winery. I.e., not picking to ripe – but focusing on the fruits' characteristics and eliminating the "showy and bold tannins".
The Grappler is a California red wine blend; the 2006 Twenty Rows Grappler vintage is a unique blend, predominantly Zinfandel with Syrah and Cabernet Sauvignon. A name like this is perfect for this type of blend. It is named after Tim and Tyler who were wrestlers in college. This is not a wine however that needs wrestling with once it's in your mouth – it is actually a food wine with nice notes of plum and red cherry on the palate. The bouquet is quite aromatic including aromas of candied fruit and red cherry. It's a lighter styled red blend with just a touch of cedar and spice on the finish.
During a more recent visit we tried the 2012 Twenty Rows Grappler. This wine is 85% Zinfandel, 5% Syrah, 5% Petit Verdot, 3% Cabernet Franc and 2% Grenache sourced from both Napa and other California vineyards. This vintage shows a powerful bouquet, cherry liqueur and a vanilla/mocha component which turns to aromas of brown chocolate the longer the wine breathes. The wine is a lighter style – easy drinking and smooth on the palate. Red and darker cherry flavors show with hints of tobacco towards the finish. The tannins are fairly delicate and start in the front of the palate slowly working their way to the back of the palate. This wine is produced in very limited quantities – and goes to their wine club with some available in the tasting room.
Their flagship Twenty Rows wine is a Cabernet Sauvignon (priced extremely reasonably) with fruit sources initially coming from well-known appellations in the Napa Valley but over the years in order to keep the price reasonable, is sourced from outside of Napa County, and this wine is now labeled with a North Coast designation.
The 2008 Twenty Rows Cabernet Sauvignon is ready to drink young; it's certainly not one of those "huge" Napa Cabernet wines that leaves your mouth dried out; rather it is constructed to drink young, with food. It has nice color in the glass and notes of mocha on the nose. It is smooth across the palate with more red fruit rather than dark fruit showing including notes of tangy plum and cherry. This is a rare wine coming from Napa that has the quality yet really delivers on the price point.
Tasting Room, Tannery District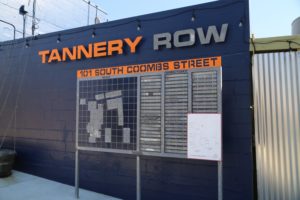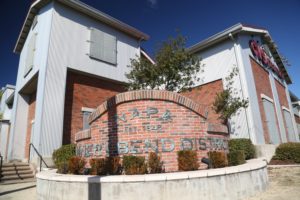 For ten years the Nuss's operated a sizable tasting room at their winery on Vallejo Street just north of downtown Napa. They shared their winery with other wineries including Robert Craig but after the other wineries moved their operations Vinoce took over sole ownership of the facility. Vinoce has since moved out of that location.
In early 2019 they opened a tasting room in the old Sawyer-Tannery Building for both Vinoce & Twenty Rows in Napa's Tannery Bend District – a very historic part of the city of Napa along the Napa River. The Sawyer Tannery building dates from the 1880s; this was once the largest tannery west of the Mississippi and where Nappa Leather originated from. Napa's leather industry began along this part of the Napa River in 1869 and is in a part of town named after both a bend in the Napa River and the old leather tannery.
The previous tenant used what is now their tasting room space for wine storage as part of a wine shipping company. Brian renewed his contractor license and oversaw the upgrades and improvements to the space. The before and after photographs show a remarkable difference.
When one has been in the valley as long as the Nuss's have – one makes a variety of connections with other wineries and winemakers. Wood for the one of their bars was recycled from the old Graeser Winery on Diamond Mountain courtesy of Richard Graeser and rusted metal siding from an old barn at Caldwell Vineyards, courtesy of John Caldwell was creatively used to partly line one of the sides of the room. Plenty of both table and lounge like seating are available. And local Napa artist Oscar Aguilar Olea has been Vinoce's artist in residence since 2011 – his select works hang on the walls and are for sale.
Their tasting room is located directly across from the Napa River – with the Vine Trail (bike and pedestrian pathway) paralleling the river and located just below their parking lot. One could bike or walk here from just south of downtown Napa. While there is no dock on the river directly in front of the tasting room, the Napa Valley Yacht Club maintains a dock within a short walk of the tasting room and allows guests boats to make a docking request and pay ahead of time via their website. One could visit the tasting room coming from boat on the Napa River.
And during good weather, outdoor seating is also available overlooking the Napa River. Before guests leave, they should sign their name on a wine barrel located near the entrance to the tasting room.
Besides available at their own tasting room, visitors can taste the Vinoce wines at Vintner's Collective in downtown Napa. Vintner's Collective is a multi-winery tasting room focusing on premium mostly Napa brands. And an interesting piece of trivia: Vinoce was the first winery to have its wines available for tasting at Vintner's Collective (this collective is very selective on whose wines they represent).
The Vinoce wines are mainly sold direct (other than at several select resort locations in Vegas). They used to be found in select retail outlets in southern Vietnam of all places. For more information and or to join their mailing list or wine club, visit: www.vinoce.com and www.twentyrows.com
Tasting Room

Old Tasting Room, Vallejo Street Napa (we keep these photos here for historical sake).