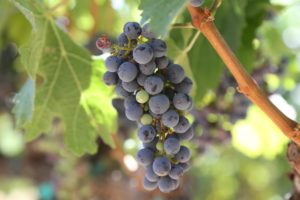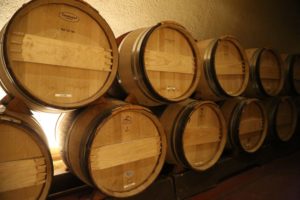 Vineyard 36 is a partnership between two NHL players and former teammates on the Carolina Panthers, Cam Ward and Tim Gleason and founder of Napa based Tobacco Road Cellars, Jason Earnest. Cam enjoyed a long career with the Carolina Hurricanes as goalie before being traded to the Chicago Blackhawks where he continues to play. Tim also played for many years as a defense-man for the Caroline Hurricanes as well as several other teams before retiring from the NHL in 2015. Cam and Tim were introduced to Jason through their mutual interest in the wines of Tobacco Road Cellars.
Vineyard 36 does not own vineyards – rather they source fruit from exceptional sites and instead of focusing on vineyard designate wines – attention is on creating the best wines possible based on the fruit they have to work with. Through Jason they have established close relations with Andy Beckstoffer and source from several of his vineyards including Georges III in Rutherford and the Orchard Avenue Vineyard, located just north of the city of Napa and known for its premium Merlot.
The inaugural vintage from 2012 was made by winemaker David Tate (Barnett Vineyards, Tate Vineyards); he produced these wines through the 2015 vintage. With David needing to focus on Barnett Vineyards and his own wines, he was no longer able to make the Vineyard 36 wines. Master Sommelier and the Vineyard 36 Directory of Hospitality Scott Barber was already familiar with Emerson Brown, the personal label co-owned by talented winemaker Keith Emerson. Scott introduced Keith to the partners; Keith was soon hired and took over during the 2016 harvest – his first complete vintage of Vineyard 36 was in 2017.
Keith is from Boston and was planning to attend culinary school to become a chef when he came across an article mentioning the possibility of going to school to learn wine making. This sparked his interest so he moved to California, attended UC Davis and ultimately graduated with a degree in Fermentation Science with an emphasis on Enology and Viticulture.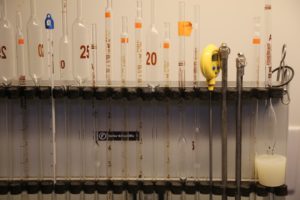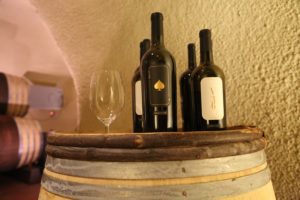 After graduating, Keith came to Napa and worked his first harvest at Cakebread. From there he worked at Gundlach Bundschu winery (the oldest continuously operating family owned winery in the state of California) in neighboring Sonoma County (Keith is currently their winemaker). And later a wine maker friend referred him to a position at Vineyard 29 in St. Helena where he is currently their Director of Winemaking.
Vineyard 36 was originally made at Judd's Hill Winery but since Keith took over winemaking has been moved to the world class and state of the art production facility at Vineyard 29.
Select Wines
The Vineyard 36 Foundation 2016 Red Blend is primarily Merlot (98% Merlot; 2% Cabernet Sauvignon). A captivating and layered bouquet draws one in immediately with its sweet aromatics (both fruit and dessert spices) including raspberry and brown sugar, cinnamon and hints of tobacco leaf. Flavors of blackberry and boysenberry. But what really stands out with this wine is the texture – a tannin profile that coats the palate from start to finish softly – a chalkiness if you will. The finish is lengthy, not about the grip of structure but rather about the suppleness, a soft texture that persists for some time. Very approachable young.
The 2016 Vineyard 36 Cabernet Sauvignon shows red and darker fruits on the bouquet including a hint of spicy plum and currant. As the wine breathes a sweetness of fruit begins showing along with a dark chocolate component. Very balanced on the palate offering red and dark fruits. The finish features a noticeable grip of tannins – not muscular but certainly long lasting. Also excellent acidity with a mouth watering and lively finish. This is a nicely balanced offering.
Vineyard 36 also produces an extremely limited wine, Black Aces. 2016 was the first vintage – it is a barrel selection from the best lots of wine chosen from that year's vintage. 2016 was the first vintage of this wine – initially this was a 3 barrel blend, whittled down to only 2 barrels. This wine is highly allocated and typically the majority of its minuscule production goes to club members.
The name originates from legendary hockey player Eddie Shore who owned a minor league team in the 1940s. He used to refer to players as Black Aces – those who weren't actually on the team but might need to be called up to play for whatever reason (usually an injury to one of the primary players); the name references the ace of spades which when dealt in card games is thought of as bad luck. Today Black Aces is a more positive term as it relates to hockey – players (typically from the American Hockey League A.H.L.), are selectively brought up to help win games.
The 2016 Vineyard 36 Black Aces is dark crimson in the glass; the wine offers dark and seductive aromas – powerful fruit with plenty of aromatic depth including plum, blackberry, black licorice, and a distinctive dessert spice nuance (mocha, chocolate brownies). Immediately noticeable on the palate is the density, yet also a suppleness, a wine that is highly enjoyable just for its seamless texture across the palate. And like with their other wines, if one looks closely you can make out all the lines on the label representing skate marks on ice.
—
Vineyard 36 is not the name of a specific vineyard – rather it combines numbers from each of Cam and Tim's jerseys. Cam's jersey number is 30 and Tim's was number 6. In addition to the two flagship wines and Black Aces, Vineyard 36 also produces two other wines including Crosscheck a proprietary blend which changes each year and features an image of Tim after a particular bad cross-checking during a game in which he received numerous facial stitches due to an injury. The label actually features a raised relief of the stitches. And Unmask is a California red blend with Petite Sirah as the dominant variety featuring a profile of Cam and his hockey mask on the label.
Total production is currently around 1,000 cases per year with select retail distribution in New York, Chicago, Michigan and North Carolina. Tastings are by appointment for serious wine enthusiasts looking for under-the-radar noteworthy hand-crafted wines with priority given to their mailing list members. An interest in hockey is a plus. And in addition to wine, select Vineyard 36 apparel is available on their website. For more information and or to join their wine club, visit: www.vineyard36.com