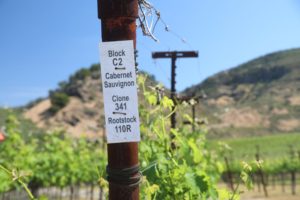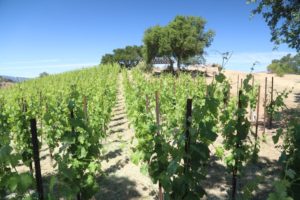 Vangone Estate. Arguably one of the more intriguing vineyard sites in all of Napa Valley; we first laid eyes on this special spot from the ridgeline on the trail above Rector Reservoir, looking east. The vineyard layout is on two very rocky plateaus (one lower and one upper) at the base of Haystack Mountain (elevation, 1,672 feet). Haystack is not the tallest feature in this part of the Vaca mountain range but certainly one of the most visually intriguing from afar. Hallmarks of this site are its extensive rocks, rugged hillsides and visually stunning views of the Napa Valley and surrounding hillsides.
This land was purchased by Ron Davidowski and his wife Karen in 1993 after a multi-year search for property in Napa Valley with the intent to eventually build a home and plant a vineyard. At the time only one other vineyard had been developed in this part of Napa Valley and arguably, the most prominent vineyard in the immediate region, Stagecoach had not yet even been developed. The landscape is a different story today; a number of hillside vineyards are located nearby including Haystack Vineyard and also the Soda Canyon Ranch under Silver Oak's ownership.
The Vangone Estate is not quite Oakville, although it sits above Oakville to the east, is not quite Pritchard Hill either and is outside of the geographic borders of the Atlas Peak sub-appellation, located slightly further to the east. Vangone Estate is its own unique site and is certainly an impressive one, located directly above Rector Reservoir (the primary water supply for Yountville). While physically not far from the Napa Valley floor and Silverado Trail – access to the site is much more roundabout, up Soda Canyon and passing entirely through the gated Soda Ranch.
At the time of their purchase the road was dirt; with Ron's background in construction, he worked with other landowners in the area to jointly pave the road – and even added in a number of guard rails over the length of the road on the Vangone Vineyards property.
And Ron and Karen's son Mark, while a partner in the vineyard site is full owner of the Vangone Estate wine brand along with his wife Patty. Mark was born at Travis Airforce Base and was raised in northern California – he remembers tagging along with his father to the Napa Valley in the early 1980s when his father met winemakers such as Justin Meyer and André Tchelistcheff – recalling that these winemakers were attracted to his fathers' passion and interest in learning about the business.
Mark has been involved in a number of ventures throughout his career including working for IBM in their hard drive distribution division; later he sold software for a dotcom company in Toronto. Today he is involved with winemaker Steve Reynolds and several other partners in the premium tequila brand, Penta.
But wine has long been a big part of his life. In 2001 along with a partner he founded The Meritage Wine Market in Encintas (San Diego County) conveniently located only about a 5-minute drive from the 5 freeway. Formerly a toy shop, the giant giraffe that was part of the space prior eventually was shipped off to the San Diego Zoo. The Meritage Wine Market is one of San Diego county's top wine shops.
Mark entered this business to learn more about both off and on-premise wine sales, to better understand the retail wine market and to cultivate relationships and expand his network within the world of wine. And to become a part of the community – holding events to benefit both education and children's medical needs. One such event, Roll out the Barrel became so popular that one year over 1,500 people attended – winemakers from the Napa Valley and beyond would attend to showcase their own wines. And it was at one of these events that Mark met his future winemaker, Sam Kaplan (Arkenstone Vineyards).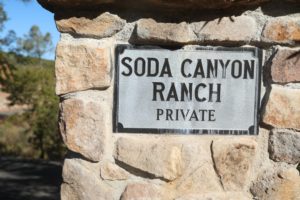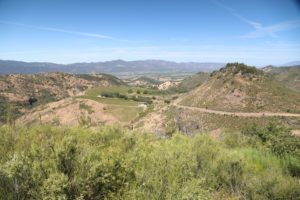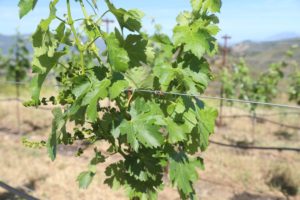 And it became a venue for travel – Mark often took trips to Bordeaux to purchase wine from negociants. Mark hired current owners, Dave Wiegel and Dustin Cano; he later sold his own share of the business in 2011.
In 2011 part of the Vangone Estate property was ripped and prepared for planting; the efforts required to do so were significant based on the amount of rock on these slopes. Large rocks were isolated, broken into smaller sized pieces and then some were eventually pulverized and used as the base for the road through the property. The first vines went into the ground in 2012 overseen by vineyard manager Mario Bazan who Mark says is, "simply flat out awesome" referring to his ability to always be on top of details within the vineyard regardless of the season. Three full time employees manage the vineyard. Fruit from the vineyard is sold to a select number of premium producers in the valley.
The property is at an elevation ranging from about 800 to 1000 feet; it is 108 acres of which about 22 are planted to vines, primarily to Cabernet Sauvignon but with a diverse tool chest of both clones and rootstalks. A small section is also planted to Cabernet Franc. The vines are farmed organically, and the vineyard is certified Napa Green, a certification program by Napa County Department of Public Works and the California Green Business Program overseeing water conservation and reduced energy and waste within Napa based County wineries.
Influenced by trips to Rhone Valley in France, and the fact their site is not conducive for Chardonnay and wanting to produce something besides the often-ubiquitous Sauvignon Blanc, Mark planted two small blocks to Marsanne (.14 and .22 of an acre). Rather than trellised, they are managed goblet style, each vine growing around a single metal stake. Both Mark and Sam spent time visiting several cellars in the Rhone Valley including at M.Chapoutier where they learned how this winery manages Marsanne, including the specific yeasts used for fermentation. The Vangone Estate Marsanne is fermented in wooden puncheons and aged for about 14 months. Obviously, there is not much of this coveted wine.
While the wines embrace the sunshine of the Napa Valley, they also reflect this particular site and embrace its cooler characteristics. The property does heat up in the summer, however, one constant is the cool breezes that blow over the site, passing over the waters of Rector Reservoir and dropping in temperature. From parts of the property one can see San Francisco on a clear day and as the crow flies, also the San Pablo Bay.
Select Wines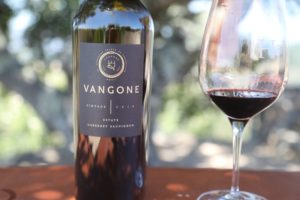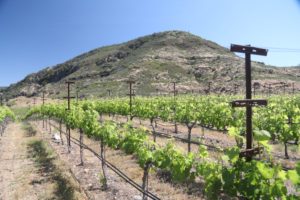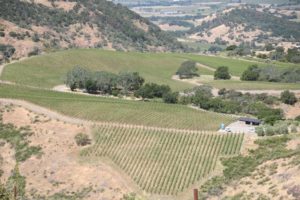 The 2016 Vangone Estate Cabernet Sauvignon was crafted using fruit from Blocks B and D and entirely clone 412. Only 250 cases were produced. Medium to dark ruby in color the aromas are about darker fruits including blackberry and spicy plum along with hints of cedar, darker spices and sweaty leather. Slightly savory. The wine is extremely well-layered on the palate. The type of tannins and their resulting textures are a hallmark of the Vangone Estate wines. The wine shows a density of broad-based tannins, chalky, dry, earthy and very long lasting. But they are not rough in feel, rather they display a rounded texture. Also displays finishing notes of tobacco leaf and dark pepper (but not peppery). A thread of acid carries a liveliness throughout the palate. Still shows plenty of youth and power, tasting nearly 5 years post vintage date. Extremely age worthy.
The 2014 Vangone Estate Cabernet Sauvignon Limited Reserve is sourced from Block A on the property and is entirely clone 338. This block is just over an acre in size; during harvest, Mark and Patty's 8- and 11-year-old sons helped pick the grapes. Shows a sweetness and ripeness of fruit on the bouquet (but not overripe); ripe blackberry is complemented with dessert spices and as the wine opens further, shows a hint of Graham cracker, mocha and chocolate. The wine is rounded on the entry with a noticeable plushness with rounded supple and ripe tannins (no harsh edges here). Lingers with a hint of dried tobacco leaf. Mouthwatering finish. Very approachable. Only 50 cases were made of this wine along with a number of large format bottles.
The components of their red wines are blended between a year to a year and a half. Each wine spends between 30 and 36 months in French oak and then about another year in bottle before being released. As a result, their current release wines are available about 4 years post vintage date.
DPR Construction
Mark's father was one of the founders in 1990 of DPR Construction, a construction management and general contractor firm. The company takes its name from the first letters of the three founders: Doug, Peter and Ron. Their story is remarkably successful – over merely 30 years they have grown from 10 employees to nearly 6,000 today. The firm has been responsible for building prominent projects including medical centers, high tech companies, university buildings and even for one business with Napa Valley connections, the headquarters for Clif Bar in Emeryville, California.
When building their company, they put their employees forward in part using ideas put forth by Stanford University alumni, professor and author James Collins who has written several books including How the Mighty Fall: And Why Some Companies Never Give In, and Built to Last which he co-authored. From the beginning, employees were owners of the company with the agreement that their shares be sold back to the company at age 60 – (the same requirement was put in place for the founders), titles were left off of their business cards and an element of fun is an integral part of their ethos of operations.
—
The wines are sold direct to consumer with limited domestic distribution through Kimberly Jones and select international markets including London, Tokyo, and Zurich. Production has grown over the years to about 1,000 cases annually. For more information about this very special producer, and or to join their mailing list, visit: www.vangoneestate.com