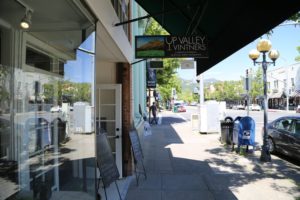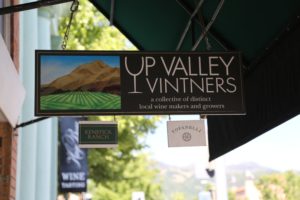 Up Valley Vintners is located in the heart of Calistoga; it is a multi-vintner tasting room managed by Kenefick Ranch and features not only their wine but, Tofanelli Family Vineyard as well. Both vintners are based in the Calistoga appellation – and exclusively grow and produce wines from this north part of the Napa Valley.
This is the only tasting room in Calistoga setup as a cooperative. The inside is spacious with several displays in the self-discovery area that provides information about the Calistoga AVA and what makes the AVA so unique. You will learn interesting facts including Calistoga receives the most rain in the Napa Valley, the temperature fluctuations between the daytime high and nighttime low can be 40-50 degrees on certain summer days and the interesting geology of the region.
Stop by and let their friendly, knowledgeable staff (with several in the wine industry for many years) – one a level 3 Sommelier and another born and bred Napa Valley insider – guide you through a unique single-vineyard estate grown tasting. The seating is diverse including the tasting bar that seats 6, two bar stool tables of 3, several tables for four and a nice sit down lounge and a patio in the back. If the weather is warm, the patio is a great place to relax and enjoy the wines.
There are two tasting flights – the "white flight" and the "red flight" – each featuring 2oz of 4 different varietals. Nine wines by the glass are offered as well. Happy hour is 3:00pm to 6:00pm Sunday – Thursday with all wines by the glass half off. If you are up valley on the weekend and are looking for a place that stays open later (until 8pm) – consider popping in here.
Factor in the quadriphonic sound, the lounge style seating and patio in the back, it makes a great place to hang out with a glass of wine before having dinner nearby. You'll leave with some fun memories, a better understanding of the world of wine and a purple smile! Be sure to sign their mailing list when you visit to be notified about up upcoming events and releases. The site is available for private parties with seating up to 94 people.
This tasting room originally housed only Kenefick Ranch wines until a new format and additional vintners were added in mid 2011 (but now the focus is just on the two wineries). It is spacious inside, because of the depth of the building. The tasting room is located near the entrance and as you walk through towards the back, you pass a cozy sit down lounge area (if standing and tasting is not your thing) and then reach the patio in the back.
Ample wall space is ideal for artwork and they rotate paintings on a regular basis, some of which is for sale.
Both proprietors, Dr. Tom Kenefick and Vince Tofanelli have a lengthy history of farming in the Napa Valley. Dr. Kenefick, a retired neurosurgeon from San Francisco is originally from St. Paul Minnesota. He purchased 125 acres just south of the town of Calistoga in 1978 – over the years replanted the old head-pruned, mostly Italian varietals to Bordeaux varietals. Along with making their own wine, they also sell grapes to a number of premium wineries in the valley.
Vince Tofanelli is an old school farmer – managing his family vineyard located just south of the town of Calistoga. His family has been farming this vineyard since 1929 – all dry farmed and head pruned. Their focus is on several wines including Zinfandel and Petite Sirah. They also grow several unusual varietals (especially for the Napa Valley), Charbono, Carignane, Mondeuse Noir and Cinsault.
Not all wines produced from each vintner are open of course – but there are always at least several bottles from each vintner available for tasting. Be sure to sign their mailing list when you visit to be notified about up upcoming events and releases.
Both vintners represented have profiles setup against the side wall – a brief history and information about the brand with photos of the owners hangs on the wall above bottles of each of their current releases.
The 2012 Kenefick Ranch, Chris's Cuvée (named after Tom's son) is a Cabernet Sauvignon based blend – aromatically it shows a nice mix of complexity both fruit (blue berry), raspberry and leather notes and violets. There is a sweetness of fruit and oak tannin – the tannins are somewhat gravelly/earthy. The wine does not overwhelm your palate – rather it is refreshing and balanced. Very food friendly wine.
The 2012 Tofanelli Petite Sirah is shows red with purple tinges in the glass with a pronounced floral quality to the bouquet (violets and dried rose petal). This wine delivers a richness of flavor yet is also well balanced with acidity and tannin structure. The tannins are not course but certainly noticeable – somewhat dry with lingering notes of red cherry and just a hint of mocha/toffee on the finish.