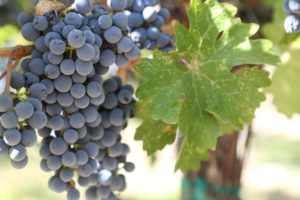 Unwritten Wines was founded by several partners in 2014, brought together and inspired by early stage venture capitalist, and San Francisco Bay Area native, Matt Murphy. Matt's grandfather immigrated to the United States through Ellis Island in the 1930s before moving west to San Francisco where he settled in the early 1940s. Matt recalls making wine with his grandfather in his basement/home wine cellar for friends and family; it was an activity that brought his own family together. This was jug wine, bottled in old Carlo Rossi and other glass jug wine bottles. These are memories that Matt will treasure for the rest of his life.
When his grandfather died, the family sold all his winemaking equipment to family friends, the Starks, the founders of Page Mill Winery in Los Altos Hills at the base of the Santa Cruz Mountains (the winery is now located in Livermore, less than 10 minutes from downtown). And rather than using the old equipment, the Stark's wanted to preserve this heritage, so some of it is now displayed at their tasting room.
Recalling many sleepless nights from when his children were very young, Matt spent hours watching numerous wine related Netflix shows and movies. One day in the Spring of 2014, he reached out to his friend Ryan (and later one of the partners in Unwritten) and broached the subject of potentially starting a winery. They brought on other partners – all connected through a love of wine and the world of high tech, including long time wine collector Randy Wigginton who Matt had met while working at eTrade (employee number 6 at Apple Computer). And more recently, Isaac Pirolo joined the team as one of the partners.
Needing to find a winemaker and grapes, Matt turned to Randy who in turn connected them to winemaker Juan Mercado (Realm Cellars). And Juan recommended a few other winemakers. A blind tasting was organized at ACME Fine Wines in St. Helena with winemakers bringing both a bottle of their own wines plus one other wine of their choice. Matt and his partners kept gravitating towards one person and his wines, winemaker Mark Porembski (Zeitgeist Cellars, Anomaly Cellars). Mark has made every vintage since 2014 and is also one of the partners in Unwritten Wines.
Through Mark's contacts they were able to produce wine that same year, a tiny production of only 50 cases from one of Napa Valley's most historic sites, Lewelling Vineyards in St. Helena. Lewelling Vineyards is one of the oldest continuously owned family vineyards in Napa Valley. What is just as remarkable is that the Lewelling family has stayed true to their strong agricultural roots generation after generation. The fifth and sixth generations are now running Lewelling Vineyards, and the seventh generation is already running among the vines.
David Wight is the primary winemaker; his brother Doug has built a successful vineyard management company and has farmed the family property for the last 40+ years. Today Wight Vineyard Management company manages 500 acres of vines in the Napa Valley. The Lewellings have a historical connection to what is now the Silicon Valley. Lewelling Boulevard is named after patriarch John Lewelling who operated a successful nursery and orchard business in San Lorenzo (30-minute drive from San Jose). John originally settled in St. Helena in 1864.
The vineyard is eighty planted acres located at the base of the Mayacamas mountains. Because of its proximity to the slopes, the vineyard has benefited from thousands of years of soil erosion coming down from the hillsides. While the soils are not nearly as deep as further out in the valley floor, quantity of production is not necessarily as important when one's focus is on making premium wine. For this type of wine, these alluvial deposits/bench land type soils are ideal. This part of Napa is one of the sweet spots for growing high quality Cabernet Sauvignon. Mark and his wife Jennifer have been working with a small block within the Lewelling Vineyard for years sourcing fruit at times Arrow and Branch and also Zeitgeist so were very familiar with the intricate details of this vineyard. As of our latest update to this review, Unwritten no longer works with grapes from Lewelling Vineyard.
As fires have become more prominent in and around the Napa Valley, diversification of vineyards sources has become a part of their operations – seeking out potentially earlier ripening sites. One day, Mark received a call from Erik Dodd (one of the vineyard managers at Lewelling Vineyard). He told Mark, "I'm parked in Oakville, my truck door is open, and I have views of Harlan Estate and Far Niente." And he went on to say a producer had downsized their production from this particular vineyard (South Station) leaving an extra acre of grapes which he offered to Mark for Unwritten Wines.
South Station is one of two research vineyards in this part of Oakville owned by the UC Davis Department of Viticulture and Enology, the other being the Old Federal Vineyard. The Old Federal Vineyard was once overseen by the California Viticulture Commissioners in the 1880s and later the USDA through the end of Prohibition. UC Davis took over the operations of the vineyard in 1955. Any wines bottled from either of these two vineyard sites are extremely rare and limited.
In 2019 Unwritten began sourcing grapes from viticulturist David Abreu's Las Posadas Vineyard on Howell Mountain (located just below the tiny airstrip in Angwin).
Select Wines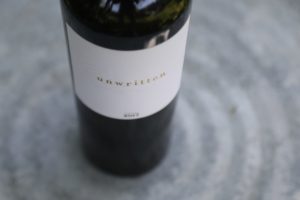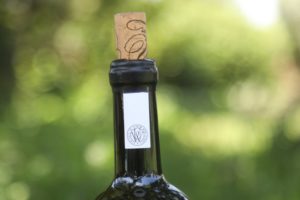 The 2019 Unwritten Cabernet Sauvignon is a blend of grapes from the Lewelling Vineyard in St. Helena, South Station Vineyard in Oakville and Las Posadas Vineyard on Howell Mountain. This wine is dark ruby in color and almost opaque; the bouquet opens with a burst of secondary aromas including of milk chocolate intertwined with old cedar box, mocha, espresso, cardamom and sweet tobacco spice, along with dark cherry, black fig and ripe blackberry and boysenberry. Give this wine plenty of time in its youth; the fruit starts to show more as it evolves in the glass. This wine smells like dessert in a liquid form. This bottling is intensely flavored including of blackberry, licorice and dark plums. The tannins are densely packed together and silty/chalky in their textural feel. But they are not heavy, coarse nor do they harbor any sharp edges. The finish lingers with more dark fruits than red fruits along with toasted oak, dust and a light pepper spice note. This is a highly pleasurable vintage to drink, and this bottling in particular.
The 2018 Unwritten Cabernet Sauvignon offers a sweetness of aromatics. This wine features a slightly different oak profile than previous vintages with some resulting dessert spice driven aromatics dessert spices including cloves, cardamom and an Asian 5-star spice nuance. Shows a sweetness of aromatics both from the fruit and the dessert spices. The texture is different than the previous two vintages; it carries a nice tension from start to finish, almost an 'oiliness' as Mark noted, or a creaminess. Packs plenty of flavor; we tasted this wine young – give it time to open and it will do so. Lingers with a pleasing grip, especially on the finish which is complemented by dusty earthy tannins.
The 2017 Unwritten Cabernet Sauvignon is medium to deep ruby in color; offers engaging aromatics of dark plum, mocha, leather, hints of white pepper and old cedar box. The oak is a complementing and intriguing characteristic. However, this wine shows plenty of fruit on the bouquet (an elegant ripeness), but also offers some savory characteristics. More fruit aromatics are revealed as the wine continues to open. Plum, red cherry and berry fruits along with some crème de cassis show on the palate. Wonderfully balanced. A thread of red fruit runs the length of the palate, anchored by bright acidity. The wine is juicy and mouthwatering but without being tart. Lingers with red fruits and a moderate grip of well-integrated slightly gravelly textured tannins. Well grown and crafted, certainly balanced but with plenty of depth.
The 2016 Unwritten Cabernet Sauvignon is medium ruby in color – shows blackberry and initially offers savory aromatics with old cedar box notes. As the wine opens further, offers hints of mocha. Noticeably balanced across the palate; this is certainly helped by age but is also a style that Mark strives for (avoiding the extremes on the ripeness spectrum). The tannins are slightly dusty, noticeably rounded and roll over the palate complemented by a bright finish with flavors of red cherry. The fruit outlasts the tannins. During our tasting, everyone at the meal agreed, this wine paired very nicely with the burrata, and truffle infused French fries at Bottega Restaurant in Yountville.
—
The name Unwritten refers to people's lives – carving out one's story or path in life, referring to a journey that needs to be written. However, it also a reference to every vintage, an homage to the natural cycle that occurs every year in the vineyard from spring through winter. Each vintage is different, unwritten if you will.
Total production has remained small while growing slowly from 50 cases to around 350 cases at the time of this review. As the brand grows, vineyard sourcing continues to evolve, while the focus of their production remains on 100% varietal Cabernet Sauvignon. Locally, select vintages are sometimes found at the French Laundry and Press Restaurant.
Several of the partners live in the United Kingdom and their wines have very limited distribution in London. Additionally, with connections to Florida, their wines are selectively distributed in the Naples market. A limited amount of select vintages are also available in parts of New York City. For more information, to join the mailing list, one of their three bottle shipment option wine clubs or to purchase wine, visit: www.unwrittenwines.com