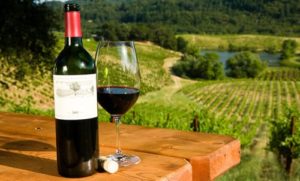 As we know, Napa Valley is not only full to bursting with many of California's best wines, but it is also fast becoming one of the most significant wine producing regions in the world. France and Italy will always be well regarded; South American wines are very popular in some circles; and lone regions such as Australia and South Africa have also emerged. But the Napa Valley stands toe to toe with the best of them, and always delivers!
Napa Valley is unique because of such a diversity in microclimates in a relatively small region. The valley itself is geographically only several kilometers wide and about 40 kilometers in length. Temperatures often vary dramatically during summer days in the south – the Carneros region which receives the cooling influences of the San Pablo Bay to the north – Calistoga which is further inland and often much warmer.
However, it's also worth noting for fans of California vineyards that there are plenty of fine wines from outside of Napa Valley that are making a name for themselves in other parts of the world. Napa may have the best name recognition, but California wine in general is extraordinarily well regarded throughout the world as well.
California's Central Coast has expanded in vineyard and winery numbers rather quickly in the last 10-15 years. From Paso Robles in the north of the Santa Ynez Valley in the south, premium wines are being produced by small and medium sized producers. Not to be forgotten is the Temecula wine region – only about a 90 minute drive from downtown Los Angeles.
One UK wine shop that emphasizes the truth of this statement to great effect is the Marks and Spencer food and wine section online. For those unfamiliar with this store, M&S is essentially a massive online retailer for everything from clothing and beauty products to gifts and flowers, and including a rather impressive selection of wines from all over the world. And here are just a few of the outstanding California winders with bottles available in the store's USA section:
– Cupcake Vineyards – Located on the central coast, Cupcake Vineyards are known for a signature Chardonnay, Merlot and Cabernet Sauvignon, but now create a wide variety of wines inspired from all over the world. M&S carry the 2011 Chardonnay, as well as the decadent 2011 "Red Velvet."
– Schug Winery – The Schug Winery actually kisses the Napa Valley, but is more closely associated with the area just outside Sonoma. It's something of a niche producer of fine Chardonnay and Pinot Noir, and both are available at M&S.
– Clear Lake – The Clear Lake winery is located north of Napa and Sonoma valleys, and as such is a bit cooler in temperature. This leads to a few more unique California varieties, such as Sauvignon Blanc, though it's a Rosé, a Chardonnay, and a Merlot that are sold at M&S.
Of course, going around the world and looking at different wine vendors, one would naturally find a large variety of California wines, from both Napa Valley and elsewhere. But it's worth pointing out that a seller able to reach an enormous European audience is finding and supporting delicious options from throughout California! Plus, it gives us a few fun new options to seek out and try.