Trefethen Family Vineyards is a very photogenic and historic winery located at the end of what is possibly the longest winery driveway on the Napa Valley floor. Their location is about halfway between the towns of Napa & Yountville just east of Highway 29. This is the largest winery in the small vineyard grower dominated Oak Knoll district. This district is cooler than up valley due to more marine influences and also slightly more humid than other northerly growing regions. As a result of its location, you can grow both cool weather and warmer weather varietals here. Cabernet Sauvignon grows near Pinot noir in some instances. They have produced Riesling for 35+ years – Riesling used to be common in Napa but today almost all of it has been replaced with other varietals. Trefethen is certainly one of the larger Riesling growers in the Napa Valley.
Property History
The vineyard and winemaking history of this property is deeply rooted to some of the Napa Valley's earliest wine heritage. In 1851 former sea captain from Massachusetts, Joseph Warren Osborne (often referred to as J.W Osborne) purchased a sizable piece of land in this part of Napa Valley (nearly 2,000 acres) and called it Oak Knoll. He originally came to California because of the gold rush of 1849.
Records indicated he planted grapes in a nursery here in 1852 and within 8 years had the largest vineyard in all of the Napa Valley (50 acres of vines). Records also show that Zinfandel cuttings from vines growing on the property were taken to Buena Vista Winery in 1859 in neighboring Sonoma County. Joseph also grew a diversity of fruits – having been awarded in 1859 'first premium' at the Horticultural Fair held in San Francisco for having the best variety of fruits on display. And he also founded the Napa-Sonoma Horticultural Society with Agoston Haraszthy (of Buena Vista Winery).
He was being considered for candidacy for governor of California in 1861 but ultimately, he did not run for office. Tragically he was murdered two years later by gunshots in April 1863 by a former employee over an unpaid debt dispute (this employee was later hung) and the sad story is well detailed in Author Todd Shulman's book, Murder and Mayhem in the Napa Valley.
The name of their long driveway off of Oak Knoll Ave is called Eschcol in tribute to the winery that was built here in 1886 by banker brothers James and George Goodman (which incidentally used to be accessible directly from a driveway off of Highway 29). The name Eschcol is a term from the Hebrew Bible referencing a valley where grapes were harvested (see Numbers 13:23–24). Noted architect, Hamden McIntyre was hired to oversee the design of the winery – perhaps the Howard Backen of the times (Howard is a well-respected contemporary architect responsible for some of Napa's most creative and innovative wineries). Hamden designed a number of prominent wineries in the Napa Valley including Far Niente, Inglenook and the Greystone building housing what is now the Culinary Institute of America. The winery building is the only surviving example in Napa Valley still being used from the 1800s of a wooden gravity flow winery.
Goodman contributions to the Napa Valley include Goodman Library in downtown Napa – the land upon which it sits was donated by George Goodman. And there are historic family and business connections between the Churchills (the family name that is carried on today in Churchill Manor, a bed and breakfast near downtown Napa) located almost across the street from the George Goodman Mansion (built in 1873).
James Goodman first came to California in 1852 and settled in San Francisco where he was in the wholesale grocery and mercantile business until 1855 at which point, he moved to Napa Valley. Along with his brother George in 1858, they established James H. Goodman & Co., Napa County's first bank. Their bank was later sold to the Bank of Italy which eventually became Bank of America. In 1861 James became County Treasurer, serving through the early 1870s. The property remained planted to a diversity of both wine grapes (an article in the Napa Register from 1885 refers to 160 acres of vines in production) as well as other crops during the Goodman's ownership including numerous pear trees, cherries and seasonally grown, wheat.
And like select other wineries in the valley, Eschcol was connected to the railroad by a pipe (where wine could be piped out to awaiting rail cars for transport). Eschol was purchased by Napa banker James Fawver in 1904 (whose father Thomas was an early Napa Valley pioneer, having settled in the valley in 1863 coming from Missouri on a wagon train). James produced wine legally until Prohibition and continued to produce for several years after but was not able to sell it. Eventually he sold grapes and after Prohibition ended in 1933, for a short while he began making wine again – he died in 1940. For a time in the 1940s his widow Della leased part of the property to Beringer Vineyards; they used the space on site as a storage facility and were leasing the surrounding vineyards. Della died in 1957.
Goodman Mansion, Oak Street

The Trefethen family (Eugene and Katie) purchased this winery in 1968 and restored the old Eschol Winery building; today it houses the Trefethen winery and tasting areas. The Trefethen's own not only 500 acres surrounding the winery but also another 150 mostly hillside acres about 3 miles from the winery in the foothills of the Mayacamas mountains (the Hill Spring Vineyard). As a result, they own one of the larger private wine land holdings in Napa Valley. Founder Eugene (Gene) Trefethen was CEO of Kaiser Companies (a formidable project focused company – Hoover Dam, Shasta Dam, Oakland-SF Bay Bridge, etc.). He was a man who wielded the kind of influence to be able to call up President Roosevelt during World War II and secure a contract for building Liberty ships.
The early history of two now notable Napa Valley based wineries were at Trefethen. Cakebread Winery, (up the road in Oakville) actually purchased some grapes for their first vintage from Trefethen and made some of their initial wine here. And for a while, Trefethen was home to thousands of bottles of sparkling wine – Domain Chandon (Moet-Hennessy) began their wine making efforts here by taking over the second floor of the winery for their own operations (before Domain Chandon was yet built).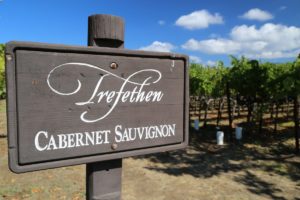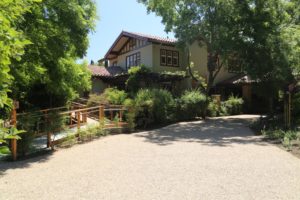 Trefethen has been generationally passed on to family; John & Janet Trefethen and their two children, Lorenzo and Hailey now run the operations. John first made home wine for a few vintages in the early 1970's -their first commercial release was in 1973 (2,000 cases of Chardonnay and Pinot Noir). John used to land his Piper Cub airplane along the long driveway until the "powers that be" found out about this and forced him to use the county airport. At least one other Napa vintner we personally know (Dick Peterson) also used to land his plane on this driveway. The spindly trees that line this road today, are certainly not conducive for landing a plane anymore.
In 1979, French judges at a competition in Beaune France awarded the 1973 Trefethen Chardonnay the highest score (in a competition that pitted California Chardonnays against Burgundian Chardonnays).
John was also one of the co-founders of the Napa Valley Grapegrowers Association in 1975.
Vineyards/Select Wines
Trefethen has farmed their vineyards sustainably since their beginning…and what is rare today, their vineyards are all managed internally without outsourcing the work to a vineyard management company. A number of solar arrays are on the property with solar providing the majority of the power for the winery and production facilities. Composting is a big part of their "green" program – both cuttings and pomace from the vines are returned to the vineyards.
There are numerous aspects that set Trefethen apart from other Napa Valley wineries, certainly their storied history but also the fact that they have never purchased grapes from anyone since their inception. The amount of planted vineyard acreage surrounding the winery is around 400 acres; their annual production hovers around 40,000 cases each year. They also continue to sell grapes to other wineries and producers.
Trefethen is one of the few Napa Valley based wineries to produce Riesling from Napa Valley grown grapes. And they have been producing it continuously each year since 1974. The 2019 Trefethen Riesling offers a pretty floral sweetness including aromatics of honeysuckle, citrus blossom and jasmine. Think springtime! The palate shows flavors of crisp green apple, mandarin and a lingering lemon lime/meringue tartness that is complemented nicely by a richness of fruit. The appealing characteristics of this wine are its superb balance, acidity and its complexity on the palate – this is not a linear wine.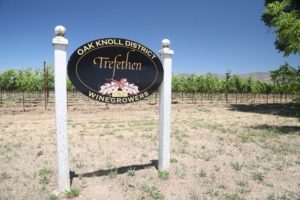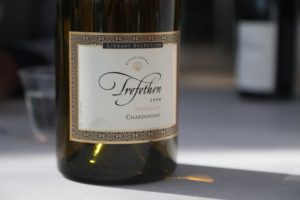 Very few wineries in the Napa Valley can open up a 1990 bottle of Chardonnay and have it still show nicely – much less even actually have a Chardonnay 30+ years old in their library. This is a great example of how a well-made Napa Valley Chardonnay can in fact age – and not just a few years, but decades! The 1990 Trefethen Library Selection Chardonnay (tasted from a magnum nearly 31 years after the vintage date) shows deep golden color in the glass with a bouquet that is well-layered and evolves nicely as it opens. It is fascinating to smell the development of this wine over the decades. Remarkably the fruit still shows on the bouquet including of lemon meringue and pomelo; this is complemented very nicely with bottle age aromas including toasted almond, hazelnut, creme Brulé and hints of caramel. And furthermore still, a noticeable liveliness shows across the palate carried by the acidity with lingering flavors of lemon zest. An impressive showing.
The 2008 Trefethen Chardonnay saw no malolactic fermentation. The bouquet shows nuances of red apple; the palate is rounded but not creamy – this wine has good acidity. Contrast that with the 2008 Trefethen Harmony Chardonnay which is a richer wine. It is darker golden in the glass with a pleasing bouquet including notes of baked apple, vanilla and other baking spices. The palate is rich and layered with a concentrated lingering finish.
In 1976 their Chardonnay was voted as being the "best chardonnay in the world" at the World Wine Olympics in Paris.
And another customer favorite, the Quandary is a unique blend of Chardonnay, Riesling, and Sauvignon Blanc.
The Trefethen Late Harvest Riesling is not produced every year – as it is only produced when conditions are suitable for botrytis to form naturally on the grapes while still hanging on the vines. The 2018 Trefethen Late Harvest Riesling is golden in the glass with ripe aromatics including apricot and peach. Rich and well layered with ripe fruits including apricot, nectarine, honeycomb and crème brule – the wine is sweet but not cloyingly so as it is offset by a brightness of acidity. Shows a viscous almost oily texture from start to finish – smooth and rounded this wine glides across the palate like satin. A wine well worth seeking out for dessert wine enthusiasts.
Trefethen produces a wide array of red varietal specific wines. The Oak Knoll District is a sweet spot in the valley to grow a diversity of grape varieties – both red and whites including Cabernet Franc. The 2007 Trefethen Cabernet Franc is blended with Cabernet Sauvignon – this wine shows a bouquet that is decidedly dusty, earthy and slightly smoky in nature. Let the bouquet breathe further – aromas of fruit begin to show. Offer notes of red fruit as well as blueberry on the palate – this wine has good acidity and the right "tartness" profile to pair well with food.
Another red wine worth noting is their Dragon's Tooth – aptly named for two reasons: 'dragon' for Janet's Welsh heritage and 'tooth' for the very rocky terroir from part of the vineyard that produces this wine. This is a unique Malbec based blend (first vintage 2007) and has quickly become one of their fan favorite wines.
Trefethen releases some of their wines fairly young – it is recommended to hold these for several years as these wines will develop additional complexities and nuances not found in the young wines. With good acidity and concentrated fruit, some of their old Cabernet Sauvignons have aged very nicely.
—
Hospitality
Several tasting options are always offered, all by appointment, although note that as experiences evolve, these tastings may change. As of our last visit to the winery several flights were offered including an all red, a refreshing and rare for a Napa Valley winery, all whites selection or a mix of both red and white wines. The Reserve Tasting at The Villa is an opportunity to try more limited release wines along with sometimes older vintages and the Taste the Estate at The Villa is a premium private food and wine experience held at the Trefethen Villa with each course prepared by their winery chef. And during our latest visit on a Thursday, a #ThrowbackThursday wine was offered – a deep dive into one of their library selections and a rare chance to taste an older vintage.
During normal times, Trefethen offers tours, typically one in the morning and one in the afternoon. Certain tour guides focus more on specific aspects (history, winemaking etc.) but are open to any interests and questions guests have about the winery. Advance reservations are necessary for these tours; call for availability.
The inside of the winery is very elegantly decorated with several tasting areas located on the second level. During the holidays this is certainly one of the more "homey" tasting rooms in the Napa Valley. A wine library on one side gives wine enthusiasts the opportunity to taste rare and older wines.
Pick up a brochure in their main tasting room for more information about their wine clubs and also their free winery newsletter called "Off the Vine". Trefethen was once the site for the filming of the TV Show, Easy Entertaining with celebrity chef (and Napa local), Michael Chiarello.
Napa Earthquake, August 2014
The Napa earthquake of 2014 displaced their main hospitality center and winery building by 4 feet – the entire building was straightened, each piece of wood was removed, numbered and then replaced. A significant renovation and retrofitting occurred over a 2+ year period. A significant portion of the building pre-earthquake was salvaged (at least 85% to keep their listing on the Register of Historic Places). Significantly sized metal support beams (20 tons of steel overall) were added for additional strength.
This hospitality center reopened on May 6, 2017. Visitors are greeted by a host or hostess on the ground floor upon entering (located next to their working barrel rooms). All tastings are held upstairs – note the very long table here, it was created from an oak tree that used to stand near the main entrance to this building.
Villa Trefethen
Villa Trefethen" opened by appointment for the first time in late June 2016. Tastings by appointment are held in this former residence of vineyard founders Katie and Gene Trefethen. The walk from the parking lot to the entrance is very peaceful – through bucolic gardens and in the shade of large redwood and oak trees. Please inquire with the winery as to availability of tastings held at Villa Trefethen.
This historic home was built in 1922 and visits are like walking into someone's home – both indoor and outdoor tastings are available. Visits here are by appointment and are a more private experience compared to the walk-in tastings at their main hospitality center. And La Huerta is the name for their sizable nearby vegetable garden – with ingredients used for pairings and as food for employees.
Trefethen Family Viticultural Center
Several generations of the Trefethen family have long supported education. Eugene and Catherine's efforts helped found the Haas School of Business at the University of California Berkeley (Eugene was an alum). And the family has been involved for years with the Viticulture and Enology program at the University of California Davis.
Closer to home, the winery and wine making program at Napa Valley College has received tremendous support from the surrounding wine industry. The Trefethen family donated money to build the primary classroom and the Napa Valley vintners came forward with financial support for the actual winery. In addition, physical donations have been made – a number of their bottles and embossed foils have been given to the program.
Trefethen maintains an electric vehicle charging station on site dirctly across from the pathway that leads to the hospitality center. For more information, to schedule a reservation and or to join one of their membership offerings including Club Trefethen (a mix of red and whites), Red Wines Only and the HāLo Circle (a selection of their most coveted and limited production wines), visit: www.trefethen.com
Hospitality Center

Miscellaneous

Only 50 Years Old Once!
50-year Anniversary Party, May 2018