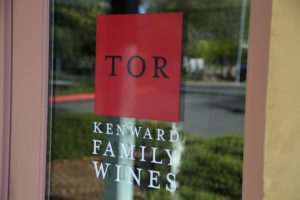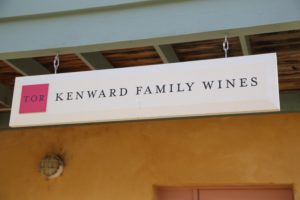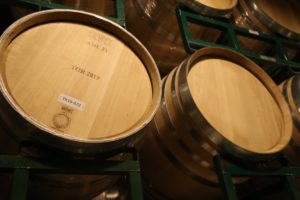 TOR Kenward Family Wines was founded in 2001 by Tor Kenward and his wife Susan. Tor first came to Napa Valley in 1975 as a wine buyer for several retail shops including one in Santa Barbara. Hooked by the valley and the wine business, his first job in Napa Valley was as a tour guide at Beringer. Ultimately, he spent 27 years at Beringer Winery later as an executive at the winery before "retiring" and creating the FOR Kenward Family Wines label. While at Beringer he created a cooking series – working with a number of notable chefs. Over the years he befriended some of the iconic winemakers in the valley including André Tchelistcheff, Robert Mondavi and Myron & Alice Nightingale and others integral to the world of food and wine including Julia Child.
During his time at Beringer he had access to some of Beringer's best vineyards and he would make a barrel of wine each year (for friends and family, never produced commercially). Upon leaving Beringer, he was not yet ready to 'retire'. One should keep in mind there is always a select group of former winery employees and executives who never really retire from the wine business.
Susan (Costner) Kenward has built an impressive and varied career after graduating from New York's Fashion Institute of Technology. She co-founded Loaves & Fishes in tiny Sagaponack near the Hamptons on Long Island in the mid 1970s with Devon Fredericks (both women were in their 20s at the time). She and Fredericks sold Loaves and Fishes to Anna Pump in 1980 and also that same year co-authored and self-published the Loaves & Fishes cookbook. A number of Loaves & Fishes cookbooks have been written since their original book. Remarkably this tiny provisions place is still in business today and is still family owned.
It offers a variety of premium food items ranging from gourmet deli offerings to ice cream, specialty drinks, spices, soups and canned items. Long known for prices to match their quality, for instance, their lobster salad was selling for $18/pound in 1978. In the culinary world, their foods, history and cookbooks have reached an iconic status, helped in part by numerous articles over the years, especially from New York City based publications.
Susan came to Napa Valley to interview a Spring Mountain vintner, met Tor and later founded a fragrance company based in Napa Valley. She has also written a number of cookbooks – over the years earning two coveted James Beard awards.
We originally tasted some of Tor's earlier vintages many years ago at a tasting in Pasadena and then followed up with Tor where we met at his house just north of St. Helena.
The focus for TOR Wines is on single vineyard premium Chardonnay and Cabernet Sauvignon from some of Napa Valley's best vineyards (including several prominent hillside vineyards) for these particular varietals. Throughout his decades in the wine industry Tor has learned where a number of the valley's most premium vineyards are located and through his contacts at Beringer he was able to gain access to some of these properties. Despite not owning vineyards for the TOR wines Tor is extremely involved in the actual farming decisions including canopy management, fruit loads, pruning, harvest decisions and other integral vineyard management decisions.
While the scope of their reach in the vineyards is long and meticulous, in the winery, they tend to keep intervention to a minimal. The wines are fermented using indigenous yeasts (non-cultured) and bottled without being fined or filtered.
The first vintage of TOR was in 2001. Winemaker Thomas Rivers Brown crafted the first two vintages.
Select Wines/Winemaking
Whites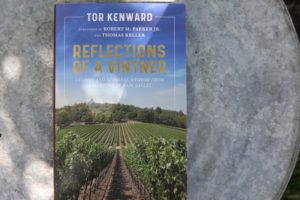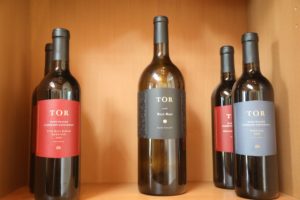 The Tor 2016 Napa Valley Torchiana Chardonnay, Beresini Vineyard Carneros is faded sunflower petal yellow in the glass. Aromatically bright and beautiful with a diversity of aromas, this wine shows tropical notes including honeysuckle, citrus blossom, lemon zest, notes of honey, dried straw and baking spices. Its texture is rounded, but not creamy or buttery – the palate features layers of flavor. Well concentrated with a clean long-lasting finish, the palate includes flavors of lemon curd and a secondary subtle spice that kicks in far along on the finish. Refreshingly, one can taste the varietal character in this wine.
The Beresini Vineyard site is three hand-farmed acres managed by its namesake, Steve Beresini who has been growing grapes on his property since 1988 and growing grapes in Napa Valley since 1970. The Chardonnay cuttings originally came from Hyde Vineyards (also in Carneros). If you haven't yet tried a Chardonnay, you enjoy, it is worth the extra effort to seek out this wine. While certainly focused on the fruit, its not made in the style of an oaky, buttery or heavy textured California Chardonnay.
Over the years TOR has sourced Chardonnay from other acclaimed Carneros vineyard sites such as Durell, Hyde and Hudson. The 2004 TOR Kenward Family Wines Wente Clone Chardonnay was sourced from the Durell Vineyard; this site is located in a slightly warmer area than typical for the Carneros region due to its more northerly location. The Wente clone is known for its small berries and concentrated flavors. This wine typically is fermented using only natural yeasts and sometimes can have a very long and slow fermentation period lasting up to 7 months. This particular Chardonnay shows a beautiful golden hue in the glass; it is surprisingly floral on the nose with a deep rich honeysuckle aromas along with hints of peanut brittle on the palate. It is an extremely popular restaurant wine and was available by the bottle at the French Laundry in Yountville.
Reds
The 2019 TOR Tierra Roja Vineyard Cabernet Sauvignon is sourced from the lower foothills of the Vaca mountain range on the east side of Oakville. The soils here are red and iron rich. This wine is deep ruby and opaque in the glass; The bouquet is primarily focused on its fruit characteristics with aromas of dark cherry, black plum, boysenberry and a light red chili pepper spice note which dissipates as the wine evolves in the glass. A sweet aromatic thread runs through the palate most closely resembling ripe raspberries. A light cedar spice shows more in the background. This wine reveals flavors of cherry, plum and dark raspberry with a finish of both fruit and brown chocolate. This flavorful bottling features fully ripe and remarkably gentle textured tannins. The finish drops off rather quickly. Medium acidity.
The 2019 TOR Napa Valley Cabernet Sauvignon, Oakville (a 15 barrel selection) is deep ruby in color; the bouquet is dark fruited including of blackberry and plum but there are also highly aromatic and prominent scents of mocha, espresso, warm chocolate and coffee grinds. A woodsy spice, dried sage and a crushed peppercorn nuance makes it also somewhat savory. But be patient with this wine; it needs time for the fruit aromatics to become more expressive, and they will. Richly layered on the palate, it reveals flavors of blackberry, dark plum and boysenberry. Its texture shows still somewhat tightly woven tannins which linger with a persistent, grippy, drying and savory character. We could see serving this while BBQing tri-tip on a warm but not humid summer evening.
During our visit with Tor many years ago, we tried two Cabernet Sauvignon bottlings, each one noticeably different from the other. Cimarrossa Vineyard is located at about 2100 feet on Howell Mountain; Tor has worked with this special mountain site for many years. The 2005 TOR Cabernet Sauvignon is a robust wine but is certainly drinkable now; it exhibits the minerality and earthiness one often finds from Howell Mountain terroir with structured tannins lasting for some time on the finish.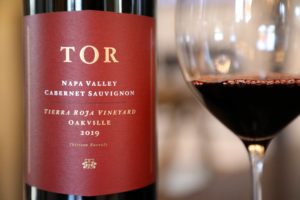 The 2005 TOR To Kalon Vineyard Cabernet Sauvignon was their first vintage from this iconic vineyard. To Kalon vineyard is very historical and produces some of the highest quality fruit in Oakville with Constellation owning the majority of the vineyard and the rest divided between Andy Beckstoffer (who sells fruit to premium producers), UC Davis maintains an educational and experimental nearly 20-acre block and two families' the Deterts and MacDonalds farm smaller blocks.
The 2005 TOR To Kalon Cabernet Sauvignon shows plenty of fruit on the bouquet yet is complemented nicely with secondary aromas including notes of cedar and a sweetness of mocha. It reveals a generous mouth feel while at the same time is refined and elegant with flavors which are all about the fruit. Flavors of black cherry and black licorice seductively coat the insides of the palate; these concentrated fruit flavors are balanced by good acidity and a long-lasting tannin structure.
In 2014 a 6.0 earthquake with an epicenter just south of the city of Napa hit the region and destroyed numerous barrels of wine including about a fifth of Tor's 2013 vintage. After accessing the damage and conducting cleanup in the cellar, they identified five of the best remaining barrels from that particular vintage. These barrels formed the basis of a new wine, the best of the best they call Black Magic. It is not produced every year. This wine was also the inspiration for deciding to experiment with co-fermentation. Really liking the results from co-fermenting Cabernet Sauvignon and Petite Verdot, they continue to do so and have branched out to other varietal co-fermentations.
TOR used to produce a second label called ROCK which featured wines made entirely from varietals grown in the Rhone Valley in France. The name of this label is tribute to the huge amounts of rocks found in certain vineyards in the Rhone Valley as well as found in the vineyards that Tor sources fruit from. These wines were primarily Syrah and Grenache.
—
TOR comes from a family of artists; his father Allan was an accomplished writer whose most famous work was a play set in the Philippines during World War II called Cry Havoc. It was adapted for a play on Broadway and later became a film starring Margaret Sullivan and Ann Sothern. His mother was an actress on Broadway and later a painter. His parents' artistic proclivities rubbed off on Tor; while living in Santa Barbara he began a jazz club and promoted concerts for musicians such as Tom Waits and Chuck Berry. Tor also has the gift for creating engaging prose and has always been a friend of wine writers and wine journalists. For many years, TOR wines supported fellowships for the Symposium for Professional Wine Writers – still held annually at Meadowood Napa Valley hotel and spa in St. Helena.
And in 2022 Tor wrote a book called Reflections of a Vintner: sTORies and Seasonal Wisdom from a Lifetime in Napa Valley. This book is divided into chapters based on the months of the year and details the type of work needed to be done both in the vineyard and cellar for each month. However, the book is primarily a collection of stories, and insights about people and places, resulting from decades of living in Napa Valley. It is a fascinating read about the evolution of both Napa Valley's wine industry and culinary scene. Tor already has an impressive collection of wine books in his own library; he can proudly add another one to their company.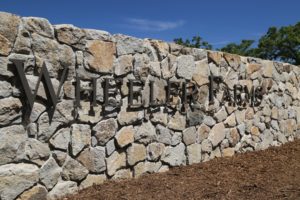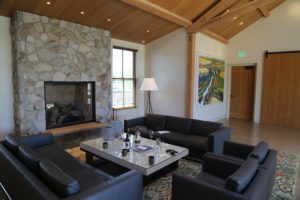 For a number of years TOR did not have a space where they could host tastings, rather they focused on select distribution and appearances at a number of premium wine events including the Taste of Howell Mountain, held each year, usually in mid-June. We've attended this event several times and tasting some of TOR's wines is always one of the highlights.
Today one can taste their wines at several locations within Napa Valley including sometimes at RH Wine Vault at Ma(i)sonry in Yountville, a chic tasting space located in a historical stone building and at Wheeler Farms by appointment, located on Zinfandel Lane just south of St. Helena. And ACME Wine Shop in St. Helena often carries select vintages of their wines.
Visits to Wheeler Farms are limited and are for serious wine enthusiasts and collectors. With a number of premium brands using this winery for both production and hospitality purposes, they offer a Portfolio Tasting featuring some of the wines from those producing on site. With a diversity of both producers and types of wines available, these tastings can be customized based on preference. Tastings often provide access to personalized visits with the winemakers or the owners behind the brands.
And TOR offers their own experiences ranging from exclusive vineyard visits, to hosted lunches to single vineyard barrel tastings. To join the mailing list, to schedule an appointment or for more information, visit: www.torwines.com