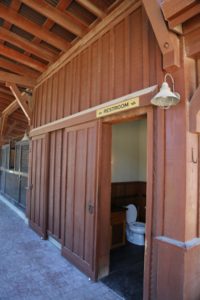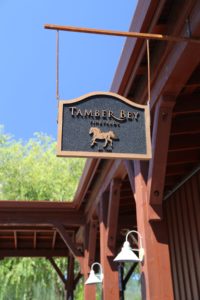 Tamber Bey Vineyards produced their first commercial vintage in 2001 and now crafts over 5,000 cases a year (and growing). Tamber Bey was the first "new" public tasting room to open in St. Helena; however in late summer 2013, they closed their tasting room and moved to and opened a new winery location off of Tubbs Lane in Calistoga. This 22-acre site (Sundance Ranch) is located on Tubbs Lane just north of the town of Calistoga. The use of the property is unique – an existing building was converted to a winery, and a prior house now serves as the tasting room. However what is rare in the Napa Valley is a winery combined with the equestrian world. There is space for more than 40 horses on site and at any given time a number of horses are always kept here including a number of horses owned by area vintners. A full time horse trainer lives on site – some of their more exotic horses include Arabian endurance race horses. And this is home to Napa County's largest horse rescue organization.
While Tamber Bey sources grapes from outside of Napa County, the focus of their production is on two vineyards under their ownership – each very different from the other in terms of soils and microclimates – despite being only about 1500 feet apart. One is located in the southern Oakville sub-appellation and the other one in the northern Yountville appellation.
The Oakville Vineyard is 3 acres and is planted in clone 337 Cabernet Sauvignon (a Bordeaux variety known for small berries & intense flavors). Their 60 acre "Deux Chevaux Vineyard", meaning two horses in French (not to be confused with Mumm Napa's Carneros based Devaux Vineyard Ranch) in Yountville is planted with several varieties including Cabernet Sauvignon, Merlot, Chardonnay and Pinot Noir.
The winery was founded and is owned by Barry and Jennifer Waite. Barry (an early employee an investor at Apple) used to vacation in the Napa Valley as a child and fell in love with the wine country. He enjoys endurance horse racing and the name Tamber Bey comes from shortening and combining the names of two of his former race horses.
We've seen a number of wineries named after dogs, but this is the first one in our Napa odyssey that is named after horses. Their "mythical" horse appears on all their labels. As of our latest update to this review, they produce 10+ wines – all generally fermented with non-innoculated yeasts. Accomplished and well-respected Thomas Brown was their founding winemaker and designed the winery – while he no longer handles the primary winemaking duties, he still consults for Tamber Bey and is often on site.
Select Wines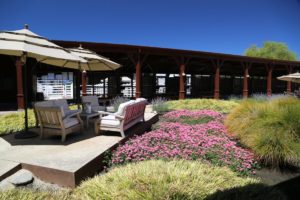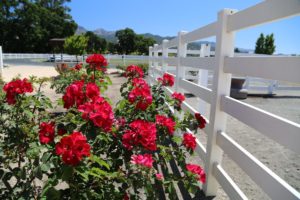 The 2005 Tamber Bey Chardonnay is a gorgeous wine that shows a nice golden color in the glass. It is usually their first wine to sell out due to its limited production and popularity. The grapes sourced for this wine (Dijon clone) are also used for another local wineries' high end Chardonnay. This wine is barrel fermented for a lengthy 17 months and for a long portion of that time is not stirred during the aging. The thinking behind this is that if you stop agitating the wine you will better preserve the inherent flavors of the fruit (including citrus) as well as the wine's structure. Due to the popularity of this wine, Tamber Bey added another 4 acres of this specific Chardonnay clone.
As of the time of this review, they make an extremely small quantity of Merlot (under 200 cases). They produce two Cabernet Sauvignon wines each from the two aforementioned vineyards. The 2008 Tamber Bey Deux Chevaux Vineyard Cabernet Sauvignon is a great value. Its a wine with nice complexities in the nose as well as layers of aroma. The entry on the palate is rather soft but then the layers of flavor show mid palate – blackberry, dark chocolate and just a trace of oak on the finish.
The 2016 Tamber Bey Deux Chevaux Vineyard Cabernet Sauvignon is deep ruby red in color – both elegant and ripe on the bouquet, offers aromas of ripe blackberry and dark plum along with pretty secondary aromas including French vanilla bean, espresso, raisins soaked in rum, and a pleasing brown chocolate nuance. Rounded on the entry and packed with flavor shows blackberry and boysenberry – more black fruit dominated then red fruit. Lingers with dessert spices and well-integrated somewhat chalky tannins (not grippy). A crowd pleaser.
A newer wine is called Rabicano, named after a horse coat color. Their first vintage was merely 350 cases but quickly sold out – the next vintage jumped to 1200 cases. This is a food friendly wine with a pleasing mid palate and a smooth super long finish.
The Oakville Cabernet is their flagship wine; the 2004 vintage is already a well balanced wine with flavors of licorice and even hints of black fig. Let this wine age for a few years and you will see what the Oakville terroir is really capable of! The tannins do not disrupt and only add depth to the long finish. You can find their wines locally at ACME Wine Shop and Dean & Deluca, both located in the town of St. Helena.
Tastings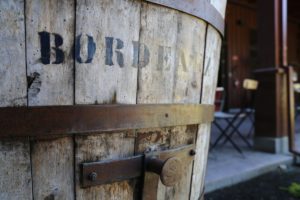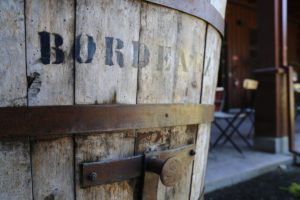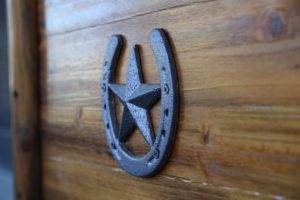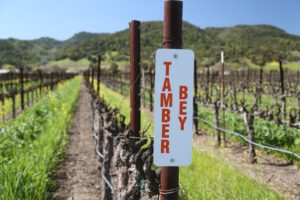 The tasting room is first rate; is spacious and well appointed. It is so nice when you are able to talk to someone knowledgeable about the wine at a public tasting room (as is the case here) rather than someone who just "pours" wine. Their offices adjoin the tasting room and owners Barry and Jennifer Waitte are often around.
The tasting menu includes several flight options and you can buy wine by the glass or by the bottle. Check out the cool "water" bottles featuring fine filtered St. Helena tap water with owner Barry's humor showing through on the back label! In addition to tasting at their bar, wines can also be enjoyed outside in a courtyard near the horse stables. And if you are visiting during lunch time, Tamber Bey provides a picnic lunch option to pair with the tasting.
Their most unique tasting are wines paired with a cookie tasting. They have partnered with a local cookie chef in the city of Napa – and each cookie was specially created to pair with one of their wines. Names such as Wasabi Ginger, Black Bacon, and Cardamom Crunch gives you an idea of the diversity of flavors offered.
Serious wine enthusiasts can make an appointment to visit and taste at their Yountville Estate, (where we were first introduced to their wines many years ago). This property is also home for their Arabian endurance horses which Barry regularly rides. For more information or to join their wine club, visit: www.tamberbey.com
Exterior

Interior