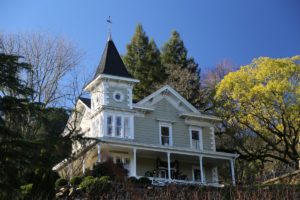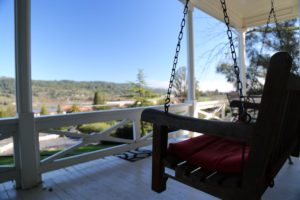 St Clement Winery is housed next to a lovely distinguishable old Victorian (the Rosenbaum House) located on the side of a hill overlooking Napa Valley, just north of the town of St. Helena. This winery is on site of the original Spring Mountain Winery and is part of the International wine group, Treasury Wine Estates based in Australia. Treasury Wine Estates manages a large International wine portfolio including several other premium Napa wineries.
St. Clement has been voted the "best boutique Napa winery" by the Best of Napa & Sonoma Valleys Magazine, an annual publication. The typical voters of businesses listed in this publication are locals which is always a nice validation when it is the local community who recognizes you in this manner. The property has a long history and the original building dates from 1878. At one time it was owned by Charles Krug.
The winery & tasting room is located on the west side of the road and you must park in the lower parking lot and then walk up to the actual tasting room along the short marked path. From their deck you have great views looking east down onto Napa Valley and the surrounding hills. Idyllic is a word that best describes a sit down in their swinging chair located next to the main entrance. Both their Main and Oroppas tasting rooms are small and intimate and as a result your experience is usually not the 'crowds surround the tasting bar' that you may have in wineries south of St. Helena along the "wine strip" of Highway 29. St. Clement specializes in fine wines produced in limited quantities. Their talented young winemaker is Danielle Cyrot who family roots go back many years in Burgundy, France. There are a select number of husband wife winemakers in the Napa area and Danielle is married to Bruce, the winemaker for Ballentine which is located directly across the street from St. Clement.
We started our tasting with the 2003 Abbott's Vineyard Merlot. This is a superb wine with distinctive aromas; you can't miss the blackberry and Chocolate on the nose which follows onto the palate where you pick up additional fruit layers. We enjoyed the 2005 Oroppas which is one of their varietal blends (predominately Cabernet Sauvignon). St. Clement was at one point owned by Sapporo USA – hmm spell Sapporo backwards and what do you have?!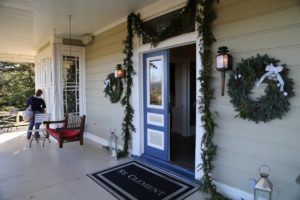 If you are looking for a nice Bordeaux style wine the small production, 2003 Star Vineyards Cabernet is a good choice. This wine is a well balanced mix of fruit, spices and oh so smooth rounded tannins on the finish. Those looking for a big muscular rich Cabernet Sauvignon (yes, Napa is known for these types of wines too!) can try their Howell Mountain Cabernet Sauvignon. We have visited several times and have always found a young, personable knowledgeable staff. If you go to their website you can sometimes find coupons for tastings or wine discounts.
During one of our visits, a guy was planning to propose to his girlfriend and he had pre-arranged for professional photographers to hide in the bushes to take photos of this personal moment (unbeknownst to the winery staff or to his girlfriend!). It is easy to see how this winery and its romantic grounds attract marriage proposals. St. Clement offers a plethora of tasting options (more than most area wineries ranging from their walk-in general or reds only tasting at the main counter, to a nice sit down single Vineyard selection or their very popular Oroppas Room Tasting (a vertical of a Bordeaux blend). As of press time, tours are offered twice a day at 10:30 and 2:30pm. They typically last from 45 minutes to an hour and cover a much of St. Clement's unique history as well as a stop within the actual winery. On this tour, a main tasting is included as well as a barrel sample. They also offer a special blending seminar prepared by their winemaker which typically lasts about 2 hours. How many wineries offer "lunch options". Through a partnership with the Oakville Grocery you can call ahead to St. Clement and enjoy their gourmet box lunches on site.
St. Clement has recently opened "The Winemaker's Lounge," an intimate hospitality room, in the old stone building behind the winery. Enjoy single vineyard tastings and pairings here. Visit: www.stclement.com
NOTE: The tasting room and property is currently CLOSED to visitors after the sale of the property and winery to Huneeus Vintners in late 2016. The St. Clement brand was NOT sold. We do not yet have any information on what will happen to the winery and tasting room. As of mid 2018 the hospitality center is undergoing renovation. We will continue to keep a close eye on operations here and will do a major update to this review once we have word on what will become of this property and what it will be named. Now home to Huneeus Vintners Faust Wines. Opened for tastings by appointment September 4, 2020.

We will also follow the St. Clement brand for more details of changes following the sale of their actual winery property. It may just become another brand in the Treasury Portfolio (without a winery) and if so we will archive this review.