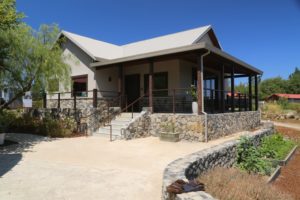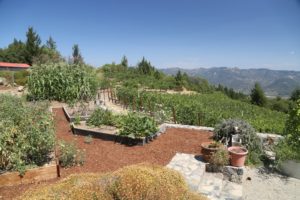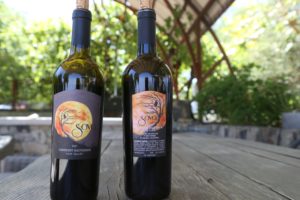 Sova Wines. Winemaker Sean Behrens was born in Duarte (Los Angeles County) but moved to Humboldt County when he was just a few years old. He grew up 'in the woods' as he puts it and wasn't always exposed to good food and wine. That changed when his step mom, Lisa Drinkward came into his life after meeting Sean's father Les. Les and Lisa opened Folie Douce Restaurant in Arcata in 1991. The name means tender madness in French and also refers to a 1951 French film of the same name. Lisa focused on the cuisine (French inspired) and Les curated the wine list eventually receiving the Wine Spectator's Award of Excellence. And it was there that Sean began to taste and enjoy fine wines. Lisa and Les later sold the restaurant – we ate here in late 2019 but unfortunately it has since closed (although it may reopen again at some point).
When Les moved to the Napa Valley in the late 1990s to build what would become Behrens and Hitchcock Winery on Spring Mountain – Sean joined him and helped with the construction. After building what was called Behrens and Hitchcock at the time, Sean continued to work in construction – building mostly residential homes but also some auxiliary work at select wineries. After the economic recession began 2008, Sean decided to join Lisa and Les and became the assistant winemaker at Behrens Family Winery in 2010.
Winemaking/Select vintages
The focus of Sova is on a single wine each year – always a Cabernet Sauvignon that is blended with select other Bordeaux varietals. Total production is small – usually around 200 cases but growing slightly each year.
The vineyard sources change but with grapes harvested from small family owned sites. Sean always takes a gentle approach to winemaking – the fruit arrives, is de-stemmed and then left for up to 24 hours before inoculating with the yeast. The wines are fermented in t-bins. Sean enjoys the intimacy he has with the wines during fermentation – hand punching down the cap, always closely in touch with what is going during this critical time.
Post fermentation the grapes are pressed off with the resulting free run wine kept separate from the pressed wine before being blended back together. He presses the wine gently – using a basket press and not overly extracting. He works with a variety of coopers and ages the wine in premium French oak barrels (a combination of some new and used).
Like Behrens Family Winery, SOVA is the quintessential small family owned and operated producer. Sean has no employees and does all the wine making himself. These wines are the definition of artisan crafted – small lot production – by hand and by feel.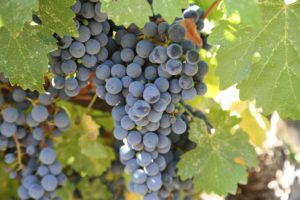 The 2016 Sova Cabernet Sauvignon is 75% Cabernet Sauvignon, 15% Merlot and 10% Cabernet Franc. The fruit sources come from from several tiny vineyard sites including a small vineyard just north of the city of Napa, Mora Vineyard in Oak Knoll, Erba Vineyard on Atlas Peak and Barlow Vineyard in Calistoga. Dark purple in the glass, the bouquet offers a wide variety of aromatics including initial notes of leather followed by opulent fruit including ripe blackberry, plum, black licorice and a dried tobacco leaf and dust nuance. A touch of mocha in the background. Harmonious in its balance across the palate – this wine has no jagged edges. Lively with mouth watering acidity – lingers with a hint of cigar smoke, mocha and rounded tannins with a light but noticeable grip.
The 2017 Sova Cabernet Sauvignon is 90% Cabernet Sauvignon and 10% Merlot. Dark purple. Opulent aromatics including both savory and sweet characteristics. Leather initially. Ripe with aromas of plum, blackberry, violets, old cedar box, dried tobacco leaf and cracked pepper. The savory aromatics initially show but as the wine breathes, more fruit comes forward. Juicy, mouth watering with flavors of dark cherry and plum. Youthful tannins show more grip then the 2016 vintage. The finish is long – anchored by darker spices and persistent grainy tannins.
And in 2018 Sean purchased fruit from Marcie's vineyard in Calistoga – an extremely historical site that used to be farmed by Sam Brannan (the founder of Calistoga and the Napa Valley Railroad) – he used to grow tea plants and mulberry trees to cultivate silkworm moths.
—
When deciding upon a name, Sean wanted a simple designation that wasn't already trademarked (easier said then done) and he did not want to use his own name for the brand. He initially considered Parliament (a named that refers to a group of owls) – but there were to many complications with other uses of this name. One day his wife Laura's cousins were visiting and they heard about his search for a name. They suggested looking in a foreign language. Eventually they stumbled upon Sova, a word in Slovakian (Laura's heritage) that means owl.
Sean remembers being interested in owls from an early age. When he was young, he recalls his father becoming particularly upset. Les had just read a story about a hunter who killed a giant Snowy Owl for no particular reason. And much later while living in the Napa Valley, one day his daughter ran out of her room screaming about an owl flying around. He went to her room and discovered a baby horn owl causing much ruckus – simply crashing into the walls and flying around aimlessly. Sean stuck out his hand – the owl soon landed and he was able to open the door and release the bird.
The Sova label is a harvest moon with an owl perched in the trees – Sean had already conceptualized the image in his head – his high school friend, Robin Nelson from Humboldt County created the label.
Visits:
Tastings are appointment only for serious wine enthusiasts and are always private for your party hosted by Sean (pending his availability – more difficult to arrange during harvest). In late summer 2019, Behrens Family opened a new tasting room. Positioned perfectly to take full advantage of their memorable panoramic vistas, the tasting room doors swing fully open so that visitors have views of surrounding vineyards, mountain ranges and parts of the valley far below in the distance. And Sean used his skills from years in the construction to build this tasting room.
—
NOTE: 2018 may be the last vintage of Sova. We heard that this brand is no longer actively producing.
The wines are primarily sold direct to consumer through visits with Sean or online. For more information, to purchase the current release, or to schedule a tasting, visit: www.sovawines.com