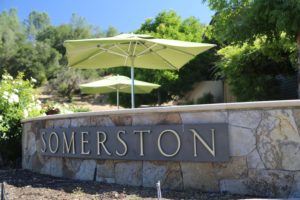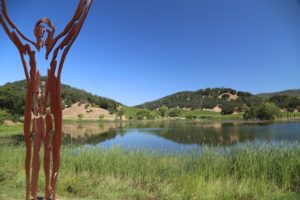 Somerston Wine Co produces limited production wines from the Somerston Ranch – a site still well under the radar of most visitors and locals. While the location feels fairly remote, in actuality it is only about a 15 minute drive east of the intersection of Highway 128 and the Silverado Trail. The ranch is owned by Allan Chapman and his wife Kathleen. Allan works in telecommunications and is a real estate developer – while searching in the Napa Valley for a place to build homes he discovered the 660 acre Priest Ranch and purchased the property in 2004. About 1.5 years later, he discovered one of his neighbors was selling a sizable adjoining parcel, the 955 acre Elder Valley Ranch also known as the Lynch Valley Ranch. Allan and Kathleen purchased this property and combined the two ranches – today known as the Somerston Ranch.
Priest Ranch was named after Joshua James Priest who came to California seeking his fortune during the gold rush in 1849. Twenty years later he settled in this part of the Napa Valley (called Soda Valley) by purchasing 638 acres. This land was originally part of the 8,000+ acre Rancho Catacula land grant, owned by Joseph Chiles (namesake of the Chiles Valley AVA). Joshua used parts of the property for agriculture and running livestock. The first grape vines on Priest Ranch were planted in 1972 and the first vines on the original Elder Valley Ranch were planted in the 1940s. None of these original plantings still exist.
In 1968 Priest Ranch was purchased by Carl Rose; he grew grapes on the property during the duration of his ownership. Over the years he sold fruit to wineries as diverse as the Christian Brothers and Prager Port Works. He finally sold the property in 1998.
Allan's family traces their business roots back to 1854 in England operating clipper ships and then later merchant/cargo ships and in 1968 diversified their business interests into real estate and property development. By 1975 the company was no longer in the business of shipping. The company is the Somerston Group and Allan is their Executive Director. A subsidiary of Somerston Group is Walnut Creek based Cambay Group (established in 1990) – which has overseen numerous real estate development projects including the epic in scope River Islands at Lathrop project, a planned community south of Stockton, Windemere in San Ramon and several other small projects in the Sacramento area.
Vineyards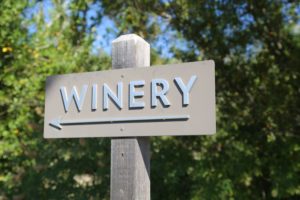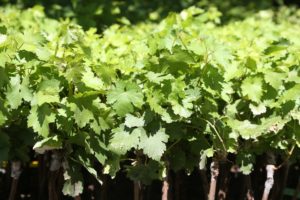 The ranch ranges in elevation from about 850 to 2400 feet with some vines planted above 2,000 feet. Our initial visit was about 18 months after this project's inception and at the time major vineyard restoration and replanting was underway. Today the property is planted to about 230 acres of vines divided into some 90+ individual blocks with plans to continue to expand the vineyard footprint.
The majority of their vineyards are in the Napa Valley AVA – with a section of vines next to Highway 128 located in the Chiles Valley sub appellation. While the majority of their vineyards are planted to Cabernet Sauvignon a diversity of grape varieties grow on the ranch including red Bordeaux varieties, select Rhone varieties and even a rare for Napa Valley planting of Grenache Blanc (at least one other grower of this variety in the Napa Valley is Gratus Vineyards in Pope Valley). One of their vineyard blocks often has slightly wet soils; it was planted to Cabernet Sauvignon but didn't grow very well in these soils – Craig decided to replant that block to Grenache Blanc which was much better suited for the conditions.
With extensive vineyard acreage they do not use all the grapes for their own wines – selling a sizable portion to several well-known wineries over the years including Viader, Pahlmeyer, Orin Swift and Duckhorn among several others. The fruit for the Chapman's other Napa based wine brand, Priest Ranch is exclusively sourced from the ranch. Rather then outsource to a vineyard management company, all their vines are managed by in-house team of vineyard workers.
And other non human vineyard managers are the 300 sheep on the property (affectionately called the 'lawn mowers") – which are introduced into the vineyards at select times of the year to graze the cover crops.
An old shed on the property was expanded and converted to the winery (opened in 2011). Both the Somerston and Priest Ranch wines are made here as well as wines from select other clients.
Not without hardships over the years – especially in 2017, one of their prized vineyard sites succumbed to a slowly developing land slide and this entire section of their vineyard had to be replanted in 2019. That same year, the vast majority of their grapes were still on the vine during the terrible fires of October burning in both Napa and Sonoma and unfortunately the fruit had smoke taint and could not be harvested. And over the years, a mineral hot spring drained into a large flat area on the property – increasing the soil's magnesium levels higher then desired for growing grapes. The water had to be diverted – gypsum added to the soils and plans call for planting a number of Rhone white varieties. At one point, this water was bottled for its supposed therapeutic qualities.
Select Wines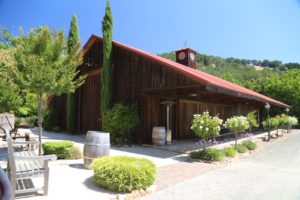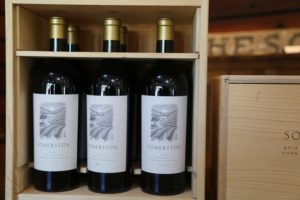 Craig Becker was Somerston Ranch's founding winemaker and partner (today he is their General Manager); he began his career in the Napa Valley by working for Robert Mondavi Winery in 1996 followed by Spring Mountain Vineyards where he was promoted to winemaker at age 23. In 2003 he decided to focus on consulting and today makes wine for a handful of clients. Craig's focus is on hillside grown single-vineyard produced wines striving to showcase the particular vineyard site or block as well as the varietal characteristics of the wine.
The Somerston wines feature some of the best wines from the property focusing on single vineyard blocks (first vintage was 2007). Total production as of our latest update to this review is about 1,000 cases with plans to increase production, perhaps up to 5,000 cases. Priest Ranch wines are multi-vineyard block wines showcasing more of the property as a whole and the production is larger, currently around 12,000 cases with plans to grow this to 20,000 cases (this is a resurrected label – during one of our visits we saw a 1976 vintage labeled Priest Ranch but produced by another winery).
Highflyer (while no longer produced) was Craig's own wine brand and was made from vineyards throughout California. Highflyer was originally a label in another wine brand called Michael Austin, a partnership between Craig and his friend Patrick McNeil. The name is a result of Craig being a licensed pilot; he would often fly in his private plane to select California vineyards ranging from Santa Barbara to Lodi.
2016 Somerston Sauvignon Blanc spent 6 months in stainless steel barrels and 6 months in neutral French oak barrels where the lees were stirred 2x/month. Pale straw color, this wine is highly aromatic with plenty of floral notes including honeysuckle and passion fruit along with hints of toast. Somewhat tropical in its aromatic presentation. As the wine breathes further, aromas of lime are revealed. Noticeably rounded, creamy and supple across the palate – the texture feels nice on the palate. Well layered, shows flavors of apple, kiwi and a citrus nuance. Also features a soft clean finish without any tartness that sometimes shows in wines from cooler sites of this variety.
2014 Somerston Merlot Block IV (is blended with 10% Cabernet Sauvignon) was fermented using non-inoculated yeasts (existing yeasts on the grapes). The bouquet features darker aromatics including blackberry, a sweetness of black licorice, fig, hints of cedar and a dry dust nuance along with notes of chocolate and mocha. Juicy and mouth watering with plenty of flavor lingering along with somewhat drying tannins.
2014 Somerston Cabernet Franc Block LXXII offers floral aromatics including violets and hints of dried sage. The bouquet is elegant featuring bright red fruit aromatics. More red fruit then darker fruit shows on the palate. The tannins are earthy, somewhat gravely in their texture. This is a nicely balanced wine. Was aged for 24 months in both new and once used French oak.
2014 Somerston Cabernet Sauvignon Block XCVI was fermented using non-inoculated yeasts. This wine initially offers savory and meaty aromatics focusing more on darker toned fruits. Hints of mushroom, dark spices including white pepper. Everything is dark about this wine including its color. This wine needs time to breath – as it does the fruit aromatics come forward. Well layered with flavors of blackberry, plum, dark olive and notes of tobacco especially on the finish. Tannins with moderate grip are rounded and not course. A fine showing.
Hospitality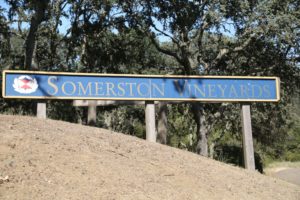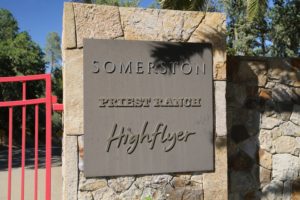 Visits to the ranch are strictly by appointment – open seven days a week. Allow about 90 minutes for a tour and tasting – each visit includes a drive around part of the ranch in an open air Polaris vehicle with strategic stops at some of their hillside vineyard blocks (all featuring excellent views of the property). Returning to the winery, guests will taste through several current release wines – either inside or weather permitting outdoors on a terrace area. Special tastings can also be requested including additional food pairings.
A visit here is a unique opportunity to see an "older" Napa with no crowds, no urban noise, no traffic, no large wineries – in summary, a very relaxing and scenic property to visit and taste wine. A pond is located on site featuring a peninsula that leads to a sit down area overlooking the surrounding hills. Like Jade Lake at Chateau Montelena but without the red bridges and visitors.
Because of the size of the property, they also welcome both private and corporate groups to the property. Somerston employs an estate chef and food options can be arranged through select outside vendors.
The Chapman's also own the Priest Ranch tasting room in the south part of the town of Yountville – open to the public without needing an appointment. The tasting room is located almost across from Hotel Villagio – parking is usually available on Main Street in front of or near the tasting room (although they do maintain their own small parking lot behind the tasting room). The focus of a tasting here is on the Priest Ranch wines but they also will taste select Somerston wines as well.
For more information, to schedule an appointment or to join one of their allocation membership clubs, visit: www.somerstonwineco.com or the estate website, www.somerstonestate.com
Vineyards

Winery

Hospitality

River Islands, Lathrop