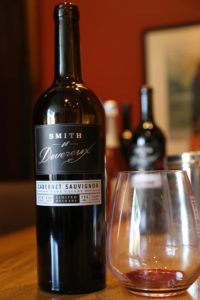 Smith Devereux. The story of this winery begins with co-founder Ian White. Early in his professional career he was a writer working for Lonely Planet – at one point covering 28 states in an RV – describing his experiences as "a million first dates but never getting a kiss". Such is the life of the avid explorer and guidebook writer – always seeking experiences for content – but never able to fully immerse oneself for very long in a single destination. These folks are hard-wired to keep moving and a fear of missing out is certainly an integral part of their personality. We know this well; we are one of them.
Ian grew up in the San Francisco Bay Area and recalls driving to the Napa Valley with his family, accompanying them on trips specifically to pick up their wine club allotments at various winery release events. It was during these trips that he fell in love with what he refers to as the "pastoral environment"; even at a young age he pondered the idea of someday owning a vineyard.
One day while on a run with Todd Sotkiewicz, the President and General Manager of Lonely Planet at the time, Ian mentioned he was spending more time in Napa Valley – and Todd encouraged him to start writing about his experiences in the region, focusing on wine related content. Ian found a new passion – becoming a storyteller and a wine writer – because when you write about wine, invariably the story becomes the accompanying intrigue. He pursued his writing, ultimately becoming Wine Country Director for Metropolitan Media, responsible for wine related content for their 7×7 Magazine and website. He has also written for a number of respected publications including Wine Enthusiast, Napa Sonoma Magazine and Napa Valley Life among others.
During an interview with musician Mat Kearney for an article he was writing for Wine Enthusiast magazine Mat astutely asked Ian if he ever would like to be on the other end of the 'story' – rather than always telling other people's stories. Perhaps this was a foreshadowing reference to Ian one day owning his own winery. Mat also offered one of his executive contacts at Whole Foods should Ian ever want to pursue winemaking.
Mat introduced Ian to his manager at the time Steve Smith (well known in the music world for his talents managing artists and strategic partnerships). Both bonded over their shared love of music and wine (incidentally, Ian plays guitar in a band called High Noon – their album Miles & Miles is available on iTunes).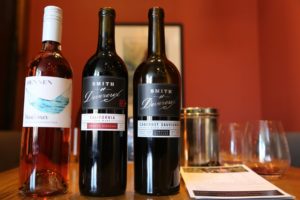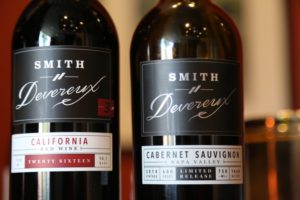 While sharing an office space with vintner John Anthony in downtown Napa and hearing John continuously negotiate grape growing contracts with buyers, one day Ian offered to buy all the fruit from one of the vineyards John was managing – the Davidson Ranch in St. Helena. Remembering Mat Kearney's earlier offer, Ian called him, and Mat immediately put him in touch with the executive at Whole Foods.
Rather than Ian becoming another client, John suggested a partnership in which the three men create their own wine together. They decided to call their new label, J.W. Thomas Wines – taking the first initial in John's name and the first initial in Ian's last name. The name also paid homage to the downtown Napa restaurant 'The Thomas' where they met when they decided to create this label. And ultimately, they were able to secure a contract with Whole Foods.
Through Mat's music connections – they created a number of other labels with various artists including Brett Dennen and one of Hawaii's most popular artists, Amy Hānaialiʻi Gilliom. Ian recalls how Dennen wines were founded. He was at lunch with Steve attempting to converse with him, but Steve was on the phone the entire time. Then one of Ian's favorite songs started playing by Dennen and Ian told Steve to put the phone down. Steve randomly informed him that he was on the phone with Dennen. Crazy coincidence? Yes. Ultimately Ian met Brett and decided to create several wines together including the Vacationer California Rosé (tied in well with Brett's Vacationeer titled tour in 2017) and the Charismatic Fool Sparkling Rosé. Originally the Dennen wines were bottled under their own name – today they are exclusively bottled under Smith Devereaux.
And the first night that Ian met Amy Hānaiali'i (Hawai'i's top selling female vocalist of all time), the conversation invariably turned to wine. Ian discovered that she enjoys Merlot – the conversation drifted towards the possibility of someday making a wine under her own name. Two days later Ian received a call from a prominent distributor ready to eventually sell Amy's wine (despite the fact the grape source had not yet been identified and no wine had yet been produced). Today Hānaiali'i is distributed and sold primarily in Hawaii.
Eventually running into confusion when people saw the J.W. Thomas label, the partners began fielding questions such as, 'who is JW and who is Thomas', they decided to change the name to Smith Devereux, combining Steve's last name (about an American a name as one can find) with a name of French heritage, Ian's middle name Devereux. All partners are actively involved; Ian handles the day-to-day business operations and hospitality, John oversees and secures their vineyard sources and Steve helps promote the wines through a variety of events.
And winemaker Brett Adams rounds out their efforts (formerly at Trinchero, Sequoia Grove Winery and Honig Winery).
When Ian and John were examining direct to consumer options for marketing their wines – they discussed the possibility of opening a tasting room. It was Ian who broached the idea of creating a tasting room that combined elements of both music and wine. Brought to fruition with input from all three partners, JAM Cellars opened in downtown Napa in May 2016.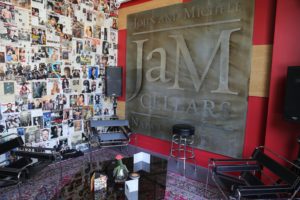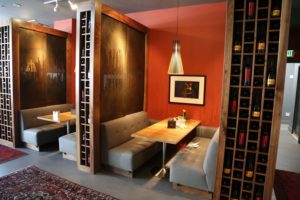 JaM Cellars tasting room stays open late some nights and becomes less like a tasting room but more like a lounge and a neat place to hang out with friends after other tasting rooms and wineries have long since closed.
Local architect Richard Vonsaal was hired to create the interior design with some basic words of advice from John, "make it cool". Richard has certainly done this from the disco ball in the ceiling to the Rolling Stones "cover wall" to even a separate room which doubles as a recording studio. Plenty of seating is inside including at the bar, lounge style couches and tables.
The focus of the tasting room is on the JAM Cellar wines, however select wines from Smith Devereux are also available.
The 2016 Smith Devereaux Napa Valley Chardonnay is the color of dried straw in the glass. The bouquet smells inviting – like standing underneath an orange tree in bloom with enticing aromas of Lemon meringue pie, honeysuckle, and hazelnut complementing the citrus nuances. Rounded on the palate, somewhat oily with flavors of popcorn, butter and nuances of mineralities and toasted hazelnut on the finish. Drinks very well by itself. 700 cases of this wine were produced.
The 2014 Smith Devereaux Napa Valley Cabernet Sauvignon is a lighter style Cabernet Sauvignon – (surprising considering its hillside fruit sources are both Howell and Diamond Mountain). But its style is influenced by the winemaking. During fermentation it sees less time on the skins and a short maceration. Aged in neutral oak, the focus of this wine is all about the fruit on both the bouquet and palate rather than additional oak influences. As Ian says, "it is a wine that won't punch you with the oak". Very aromatic with aromas of blackberry, raspberry, rhubarb and a hint of baking spice and chocolate. Shows a pleasing softness on the palate – with plenty of flavor including red cherry and raspberry and a hint of mocha on the finish. Offers a liveliness of fruit with very well integrated tannins – a feel on the finish perhaps more like a wine that has been aged for some time.
—
These are wines that are diverse in their terroir sources, are remarkably reasonably priced (including their Napa wines) and stylistically are crafted to be very approachable in their youth.
Looking to add something fun and introduce a healthy competition to their wine making, Ian and Steve created the Smith vs. Devereux Project – a single barrel of wine that each craft and bottle individually available only to wine club members. Sold at the same price point, you be the judge of who wins this competition. And for every vintage, Ian and Steve choose to pair their respective wines with a particular song and a specific food.
Other wines Ian produces are bottled under the Philanthropy Series label working in conjunction with select artists or celebrities' with most of the proceeds donated to certain charity organizations including for cancer research. Often creative blends are bottled including the crowd pleaser, but very unorthodox non-vintage red blend called
Mischief
(57% Pinot Noir, 37% Syrah, 5%, Cabernet Sauvignon and 1% Merlot); just don't expect to identify this as a Pinot Noir in a blind tasting.
And a beautiful 9-year-old brandy called Gran Paradiso, aged in a Smith Devereux IBEX Single Vineyard Merlot barrel (some of the wine color is seen in the brandy). Only 300 bottles of this liquid velvet were produced – primarily sold to wine club members.
Smith Devereux is also very careful about limiting the size of their glass bottles – choosing a lighter weight Grade A bottle for their wines and etching labels rather than adhering paper labels. Total production is around 4,000 cases a year. For more information, to join the mailing list or one of their wine clubs (membership grants access to wine club only limited production wines), visit: www.smithdevereux.com