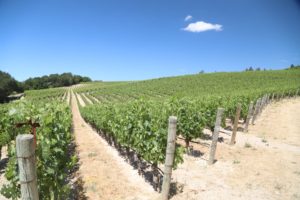 SLOAN ESTATE. Originally part of the Sacrache Vineyard, SLOAN ESTATE is 40 hillside acres, planted to 13 acres of vines, primarily to Cabernet Sauvignon but also small amounts of Merlot, Cabernet Franc and Petit Verdot. The site is located in the hills of Rutherford and features not only exceptional views, but well-drained soils composed of fractured volcanic rock, sandy loam and a whitish volcanic ash (tufa). Nearby neighbors include Hall's Sacrache Vineyard and the tony resort, Auberge du Soleil.
While located on the eastern slopes of the Mayacamas mountains, there is a direct line of site exposure to the valley which benefits from breezes blowing through the property. And in the mornings, fog sometimes will reach the vineyard, offering additional cooling influences.
The property was purchased by businessman and philanthropist Stuart Sloan in 1998. Stuart founded Sloan Capital Companies, a private investment company based in Seattle – he previously served as Chairman and CEO of Bellevue Washington based Quality Food Centers (now a subsidiary of Krogers). The first vintage of Sloan was in 2000, crafted by winemaker Mark Aubert in a small space next to the home (before the cave was constructed). Mark left after just one harvest and starting on June 1, 2001, Martha McClellan became the winemaker and continues to oversee the winemaking.
The impressive cave was engineered by Napa Valley wine cave pioneer Alf Burtelson, a general engineering contractor who founded his company in 1964. Alf is well into his 80's now and long since retired although is still living in the northern part of Napa Valley. Incidentally, Alf's first cave job in the Napa Valley was in 1972, to repair the original Beringer caves which his company did successfully. For SLOAN ESTATE, he oversaw the drilling of a 360-foot tunnel into the hillside – slightly sloped from one end to the other and fully temperature controlled.
While certainly not one of the largest wine caves in the valley, it is one of the most visually stunning. Ancient bricks from buildings in Austria were shipped to Napa Valley (some of which are still imprinted with original family crests) and were installed in the ceiling of the cave, extending down towards the sides. Local stone was quarried and used for the walls of the cave.
In 2011 Hong Kong businessman Pan Sutong visited the site and fell in love with the gardens, the views and the overall feel of the property. He purchased the site from Sloan and kept the viticulture and winemaking team intact with McClellan continuing to oversee the winemaking operations. Michelle Rolland has been SLOAN's consultant since 2001; he was introduced to Sutong by SLOAN's General Manager, Bernard de Laâge de Meux and continues his role as the wineries' Bordeaux-based blending consultant.
Through his relationship that developed with Rolland, Sutong's Goldin Group would later purchase Château Rolland-Maillet in Saint-Émilion. And Sutong also owns Château Le Bon Pasteur in Pomerol and Château Bertineau St-Vincent in Lalande-de-Pomerol. In addition to sizable real estate investments in China including prominent infrastructure in Tianjin (overseen by Goldin Properties Holdings Limited), he owns the 1200+ acre Goldin Farms in Barossa Valley, Australia, a horse breeding farm formerly called Lindsay Park Stud.
Introduced through proximity to Goldin Farms, two years after his initial purchase, in 2015 the Goldin Group acquired property next door already planted to Grenache, Shiraz and Cabernet Sauvignon. The wine from this property is bottled as Tarrawatta; the most premium wine produced is called Godswalk, a very limited production red blend.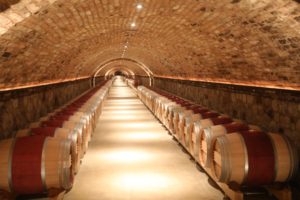 Vines at SLOAN were replanted in 1997, overseen by David Abreu and his team (Abreu continues to manage the vineyard). The elevation of the vineyard ranges from around 875 feet to nearly 1000 feet. Production from these mature vines is usually between 25 and 28 tons per year. Harvest is conducted in small picks – even a tiny block within the vineyard may be harvested several times. The grapes are picked in the early morning; as a result, they are brought into the winery already cool and are left to cold soak for about 7 days before fermentation, taking place in both small lot tanks and oak barrels. And after fermentation, extended maceration can last from 45 to 60 days.
Martha earned a degree in Oenology and Viticulture from the University of Geisenheim in Germany. Prior to moving to the Napa Valley, she worked at wineries in Germany and Australia. She became an assistant winemaker at Merryvale in 1995 helping make several of the Harlan Estate wines including several vintages at Merryvale and later at Harlan Estate once the production facility was completed. Martha also oversees all winemaking duties and decisions at LEVY AND MCCLELLAN. In addition to being winemaker at Checkerboard Vineyards, she is currently consulting winemaker at Vineyard 7 & 8 on Spring Mountain.
Martha realized early in her winemaking career, the importance of tannin presentation including structure and mouth feel. What is an extremely labor and time intensive process, not to mention costly, based on the amount of and high-quality oak being used, (Taransaud and Djarnajou barrels), Martha ferments part of their production each year in new French oak barrels. The heads of each barrel are removed by hand, the grapes gently placed inside and then the heads re-attached. Rather than doing mini-punchdowns, each barrel is put on OXO rollers and gently rolled during fermentation easily exposing the fermenting juice with the floating grapes.
This breaks down the winemaking into micro lots if you will – each barrel carefully tended to for the entire length of its fermentation and aging. This process allows her to obtain the desired flavors, color and tannin feel (even early on in the winemaking). In regard to tannins, this level of winemaking extracts a high quantity of tannins, but are fairly soft and approachable in their youth, yet also gives the wine an age-worthy backbone.
Select Wines
The inception of the SLOAN's accompanying label, Asterisk, began with the production of three barrels of wine intended as a private label offering to one of Sloan's friends in Seattle. Ultimately this wine was never sold, and the decision was made to produce a second label. Stuart originally intended to call this wine Ampersand (&) but one day he discovered this name had just recently been trademarked. He mentioned his dismay to Martha, and she immediately informed him that she and her husband at the time, Bob Levy were the ones who registered the trademark for this name as part of their LEVY & MCCLELLAND wine. Pivoting slightly, Stuart chose the name Asterisk. This wine is a blend of both Cabernet Sauvignon and Merlot.
The 2017 Asterisk offers an elegant bouquet with a hint of old cedar box, violets and rose petal. Slightly savory. Extremely approachable and balanced in its youth, this wine delivers plenty of pleasure on the palate including flavors of cherry, plum and blackberry. Its suppleness feels nice; with finer and rounded tannins lingering softly, while complemented nicely by engaging acidity. This wine is a pleasure to drink.
The 2016 Asterisk is dark ruby in color; a brief hint of rose stem showing on the bouquet which quickly opens to a ripeness of fruit along with hints of dust. As the bouquet continues to evolve, it reveals desert spices and mocha. The wine is juicy with a noticeable mid palate density and flavors of darker berries and cherry. The texture is a hallmark of this wine with its long-lasting satisfying tannins, displaying a medium grip and a roundedness to their feel. Complemented nicely on the finish is a noticeable brightness.
The SLOAN Proprietary Red is a blend of Cabernet Sauvignon, Merlot, Cabernet Franc, and Petit Verdot – with varietal percentages varying depending on the vintage).
The 2015 SLOAN Proprietary Red is dark ruby in color; the bouquet showcases the fruit and certainly the site; the oak is a complementary characteristic. Offers aromas of blackberry, fig and chocolate. As the wine continues to open, reveals a sweeter note of dessert spices including mocha. This is a robust wine, that is well layered, yet beautifully balanced. However, it still clearly shows its youth, 6 years after vintage at the time of our tasting. We enjoy how the tannins feel as they roll across the palate – firm and layered, with a moderate lasting grip. Features a bright mouthwatering long finish.
The 2013 SLOAN Proprietary Red is an exceptional wine. Shows dark ruby in color with darker fruit aromatics on the bouquet including plum. One can initially smell the white volcanic ash-like soils of the vineyard in the dust and minerality aromatics. Extremely well layered, features flavors of licorice, plum and dark cherry. The tannins show what Martha calls their 'sloanesque' like texture – clearly present, but well integrated with a rounded gravelly feel. But very long lasting. We tasted this wine 8 years post vintage; it is a powerful wine that is still very youthful and energetic with a long life still ahead of it. Its vitality is alive and well. This is a wine that one remembers and does not soon forget.
And SLOAN ESTATE produces an extremely small amount of a port-styled wine (primarily Cabernet Sauvignon) but this has never been bottled. To date, vintages were produced in 2010, 2012, 2018 and 2019.
—
Total production of each wine is typically between 500 and 600 cases each vintage with most of it sold direct through a members only allocation list. However, they do have limited international distribution (sometimes as little as 60 bottles per region) in the United Kingdom, Switzerland, Hong Kong, Japan and Singapore. For more information on the wines and to join the wait list, please visit: www.sloanestate.com