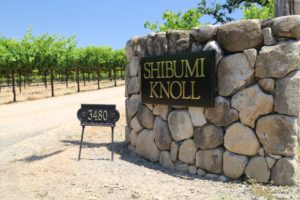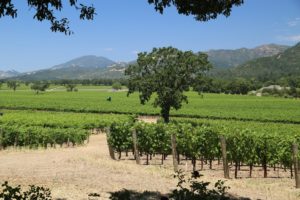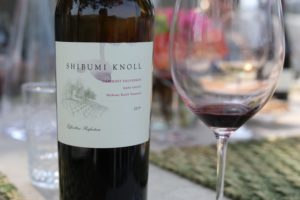 Shibumi Knoll Vineyards was founded by Don and Joann Ross (now Serafini) with the release of their 2005 vintage. Don was a former NASA engineer who worked on the Apollo Lunar Landing Project; later he was chairman of Louisville, Kentucky based Cardinal Shower Enclosures. He died in 2016 after a long battle with cancer.
Joann worked in Television and Film, advertising and telecommunications. Don and Joann moved to Napa Valley from La Jolla (San Diego County) in 2003 and purchased two acres north of St. Helena from Anne and Chuck McMinn (founders of nearby Vineyard 29). Both Don and Joann were extremely attracted to the views from the top of the knoll. But the property also came with an old cottage, a guesthouse but perhaps of most value, a winery.
However, while Don was a passionate and obsessive collector of fine wines for years, it wasn't necessarily his intention to make wine.
But this location is one of the valley's vineyard premium locations with neighbors including Vineyard 29's Aida Vineyard, the Collins Holystone Vineyard (owned by the founders of Conn Creek Winery, the Jenkins) and Larry Turley, the owner of Turley Wine cellars lives nearby. Despite being a prime Cabernet Sauvignon location, their first wine was a Chardonnay from Sonoma County – produced because of a chance meeting at a nearby winery (see details below).
Their estate vineyard is planted to approximately 1700 Cabernet Sauvignon vines at just under an acre. Their site encompasses a rare and coveted piece of Napa terroir – a hill or knoll that sits on the actual floor of Napa Valley. Their micro vineyard grows on the side of this knoll below their home wrapping around with western and southwestern facing exposure. Vineyard manager David Abreu has overseen the vines since the Ross's purchased the property. On a clear day, the views from this knoll are stunning in all directions but especially to the north across a sea of vineyards culminating with Mt. St. Helena anchoring the northern part of Napa Valley.
The soils in this knoll are filled with rocks. Joann spoke of the endless rocks; workers remove rocks from among the vines each year and then the next year it seems like the rocks have been regenerated.
For two years Don and Joann made home wine from their estate vineyard at nearby Benessere Vineyards. While at Benessere overseeing his own Cabernet Sauvignon being processed he met vintner Eugenia Keegan of Keegan Cellars. She offered to barrel taste him on some of her wines from neighboring Sonoma County. One of the wines truly stood out; it was a Chardonnay from the Buena Tierra Vineyard in the Russian River appellation of neighboring Sonoma County. The vineyard is literally next to the Russian River; in Spanish, Buena Tierra means good earth.
As timing would have it, Eugenia was moving to Oregon and would no longer be buying fruit from that block of Chardonnay. Don reached out to the owners at Buena Tierra Vineyard about buying fruit from the same vineyard block – this block was already 35 years old at the time and the owner was getting to rip out the vines and replant due to declining production. Don convinced him against doing so and offered to pay full production price. Today Shibumi Knoll continues to source grapes from the same block – these Chardonnay vines (Wente selection) are more than 50 years old and are the oldest vines in that entire vineyard.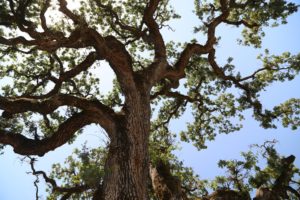 And then the Wine Spectator validated the quality of their Chardonnay. They awarded their 2005 Chardonnay a remarkable 97 points and as Joann says, "I was blown away" – both by the prestigious rating as well as by the ensuing demand that quickly followed. Joann recalls some 400 phone calls beginning the day that the rating came out. With only less than 40 cases remaining of this vintage, they had to highly allocate their remaining wine – offering only a bottle each to consumers.
As word continued to spread about the quality of their Chardonnay it reached some of the most prominent restaurants in Napa Valley including the French Laundry. They have carried their wines since the 2005 vintage. In getting to know Joann, one soon realizes her passion for dogs. When the French Laundry requested more wine for the restaurant, they asked the Ross's to have their 'staff' bring by some bottles.
Not having any staff at the time, Don and Joann looked at each other and decided to appoint their dog Cooper as the Shibumi Knoll 'staff' and sent the bottles to the French Laundry signed by Cooper. Not being attuned to the inner workings of Shibumi Knoll, the French Laundry then sent the receipt back, naturally, addressed to Cooper.
Thomas Brown has been making their wines since the 2010 vintage. When the Ross's were looking for another winemaker, Thomas actually approached them offering to make their wines for free; he was already familiar with the quality of their Chardonnay and was highly interested in being able to work with this particular old vine Chardonnay. Thomas introduced them to a block of Pinot Noir – also in the Buena Tierra Vineyard; their first vintage was 2012.
If we were to choose just one word to describe their wines it would be balance. And after tasting through several of their Chardonnay bottlings over the years, we can say the Shibumi Knoll Chardonnay is one of our favorite wines of this variety produced by a Napa Valley based winery or brand.
Select Wines
The 2019 Shibumi Knoll Chardonnay is deep gold in color; the aromas are lively and include honeysuckle, honeycomb, pineapple, apricot, melon, melted butter, citrus blossom and walnut skin. Like previous bottlings, this vintage showcases the characteristic Shibumi Knoll textural suppleness; similar to velvet, its light viscous feel adds depth to the wine. Complemented by the vigor of the bright acidity and layers of flavors, this is a rich but balanced vintage. Offers flavors of ripe pear, mandarin and an orange zest. It lingers with a mouthwatering freshness of acid and fruit along with a light toasted oak influenced and hazelnut.
And moving forward as the old vines age out, Shibumi Knoll is working with the Corazón del Río Vineyard located close to Buena Tierra Vineyard for their Chardonnay production.
The 2014 Shibumi Knoll Chardonnay is noticeably golden in the glass (no pale colored chardonnay here). The bouquet offers pretty aromatics include melon, citrus and a hint of vanilla. Very appealing. The wine is generous with a diversity of flavors, but its richness is tempered nicely from the bright acidity. There are no sharp edges; this wine is soft as silk and supple across the palate. Desert spices (caramel) & Crème brûlée complement flavors of citrus. This bottling features a noticeable depth of flavor. Joann calls this their "magic vineyard" wine. We can see why.
The 2012 Shibumi Knoll Chardonnay (tasted 10 years post vintage) is deep gold in color; with bottle age the bouquet has developed beautiful tertiary aromatics of honey and apricot along with baking and dessert spices including vanilla, butterscotch, caramel, toasted coconut and hazelnut. Even after 10 years the fruit is not shy on the bouquet and includes pineapple, mango and banana. One notices its supple, saline and velvet-like texture immediately. This is a rich but superbly balanced bottling showing flavors of Golden Delicious apple, pineapple, honeycomb and yellow peach accompanied by a lingering note of brown spices and refreshing acidity on the finish. This is a Chardonnay that can clearly age and reminded us of some of the older Edge Hill Bacigalupi Chardonnay bottlings. And also reference some of the Dearden and Kongsgaard Chardonnay bottlings.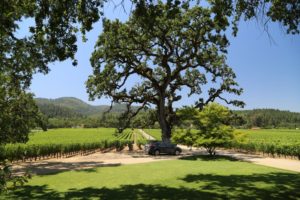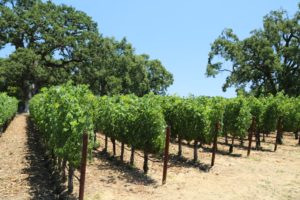 The 2019 Shibumi Knoll Russian River Pinot Noir is medium to dark ruby in color. The elegant bouquet offers darker 'Pinot spices including dried tobacco leaf and hints of sage along with Bergamot tea, red cherry, pomegranate, rose stem and old cedar box. The finish lingers savory with bright red fruit, nots of crushed peppercorn and a light influence of tannins. Unlike an earlier bottling of Shibumi Knoll Pinot Noir which was lighter in style, this is more of a Cabernet Sauvignon enthusiasts' Pinot Noir.
The 2014 Shibumi Knoll Pinot Noir is from the same vineyard as the Chardonnay. 2015 was their last Pinot Noir bottling from the from this vineyard; no wine from this variety was produced in 2016. They continue to produce Pinot Noir, but from another vineyard source in coastal Sonoma County. The 2013 Pinot Noir shows notes of white pepper and as it continues to evolve in the glass more fruit shows including a spicy red cherry and raspberry note. Both fruit and spices continue to develop as the wine opens. On the palate the fruit is lively, and clean, yet complex in its approach. It is a lighter styled wine of this variety but with plenty of depth. It is soft and smooth across the palate with fine grained tannins.
The 2019 Shibumi Knoll Estate Cabernet Sauvignon is dark ruby, almost purple and fairly opaque in the glass; the aromatics are dark, layered and highly appealing, showing notes of blackberry, blackberry jam (but not jammy), dark plum, fig, black cherry and mulberry. Also woven lightly into this aromatic union of fruit are hints of darker dessert spices including nutmeg. The bouquet is clearly focused on the fruit rather than any noticeable secondary aromatics as a result of barrel aging; the oak is a complementary characteristic in this bottling. One can feel the density of tannins but surprisingly they are well-resolved in their youth and offer a silty and slightly dusty texture (we tasted this wine 3 years post vintage). This is a superbly balanced bottling.
The 2013 Shibumi Knoll Estate Cabernet Sauvignon shows dark purple in the glass; its initial aromatics are noticeably floral including aromas of violets along with an elegant sweetness of fruit (blackberry), a hint of mocha and brown sugar and at times a perceptible dusty characteristic. This is a pretty bouquet. On the palate there are flavors of ripe plum and red and dark cherry. Good acidity, plenty flavor and oh so balanced. The tannins feel nice on the finish and are harmonious with the rest of the palate.
—
The name Shibumi comes from a book of the same name (a spy novel by author Trevanian) and is a Japanese word describing a state of being which describes the pursuit of perfection through simplicity – or Effortless Perfection. These two words appear on all of their wine labels. The oak tree on the label is an image from the largest of the stately oaks that grow on their knoll and is estimated to be several hundred years old.
Regarding brand recognition and sales, their philosophy has been two-fold; selling direct to consumers for years combined with introducing their wines at select restaurants – they have little or no retail outlets. In the valley the wines are available at Press in St. Helena, Bottega, Redd and the French Laundry in Yountville. A very limited number of library wines are held back and are re-released to mailing list members, especially during vintages with low production (i.e., 2017 and 2020). Total production each year between the three wines is usually around 1,000 cases. For more information and to purchase or join their mailing list, visit: www.shibumiknoll.com