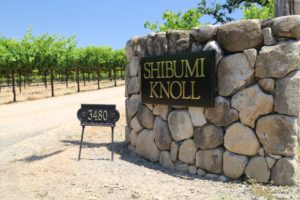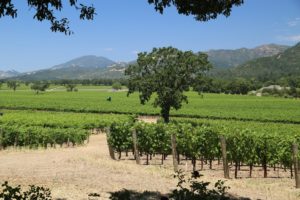 Shibumi Knoll Vineyards was founded by Don and Joann Ross – now Serafini (Don died in 2016 after a long battle with cancer) with the release of their 2005 vintage. Don was a former NASA engineer who worked on the Apollo Lunar Landing Project and Joann worked in Television and Film, advertising and telecommunications. Don and Joann moved to the Napa Valley from La Jolla (San Diego County) in 2003 – purchasing two acres north of St. Helena from Anne and Chuck McMinn (founders of nearby Vineyard 29). Both Don and Joann were extremely attracted to the views from the top of the knoll. But the property also came with an old cottage, a guesthouse but perhaps of most value, a winery.
However, while Don had been collecting wines for years it wasn't necessarily his intention to make wine.
But this location is one of the valley's vineyard hot spots – with neighbors including Vineyard 29's Aida Vineyard, the Collins Holystone Vineyard (owned by the founders of Conn Creek Winery, the Jenkins) and Larry Turley, the owner of Turley Wine cellars lives nearby. Despite being a prime Cabernet Sauvignon location – their first wine was a Chardonnay from Sonoma County – produced because of a chance meeting at a nearby winery.
Their estate vineyard is planted to approximately 1700 Cabernet Sauvignon vines at just under an acre. Their site encompasses a rare and coveted piece of Napa terroir – a hill or knoll that sits on the actual floor of the Napa Valley. Their micro vineyard grows on the side of this knoll below their home – wrapping around with western and south western facing exposure. Vineyard manager David Abreu has overseen the vines since the Ross's purchased the property. On a clear day, the views from this knoll are stunning – in all directions but especially to the north across a sea of vineyards culminating with Mt. St. Helena anchoring the northern part of the Napa Valley.
For two years Don and Joann made home wine from their estate vineyard – at nearby Benessere Vineyards. While at Benessere overseeing his own Cabernet Sauvignon being processed he met vintner Eugenia Keegan of Keegan Cellars. She offered to barrel taste him on some of her wines from neighboring Sonoma County. One of the wines truly stood out – a Chardonnay from the Buena Tierra Vineyard in the Russian River appellation of neighboring Sonoma County. The vineyard is literally next to the Russian River – in Spanish, Buena Tierra means good earth.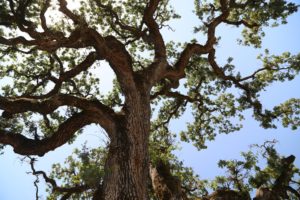 As timing would have it, Eugenia was moving to Oregon and would no longer be buying fruit from that block of Chardonnay. Don reached out to the owners at Buena Tierra Vineyard about buying fruit from the same vineyard block – this block was already 35 years old at the time and the owner was getting to rip out the vines and replant due to declining production. Don convinced him against doing so – offering to pay full production price. Today Shibumi Knoll continues to source grapes from the same block – these Chardonnay vines are nearly 50 years old and are the oldest vines in that entire vineyard.
And then the Wine Spectator validated the quality of their Chardonnay to the consumer marketplace. They awarded their 2005 Chardonnay a remarkable 97 points – and as Joann says, "I was blown away" – both by the prestigious rating as well as by the ensuing demand that quickly followed. Joann recalls some 400 phone calls beginning the day that the rating came out. With only less then 40 cases remaining of this vintage, they had to highly allocate their remaining wine – offering only a bottle each to consumers.
As word continued to spread about the quality of their Chardonnay it reached some of the most prominent restaurants in the Napa Valley including the French Laundry. They have carried their wines since the 2005 vintage. In getting to know Joann, one soon realizes her passion for dogs. When the French Laundry requested more wine for the restaurant – they asked the Ross's to have their 'staff' bring by some bottles.
Not having any staff at the time, Don and Joann looked at each other and decided to appoint their dog Cooper as the Shibumi Knoll 'staff' and sent the bottles to the French Laundry signed by Cooper. Not being attuned to the inner workings of Shibumi Knoll, the French Laundry then sent the receipt back – addressed to Cooper.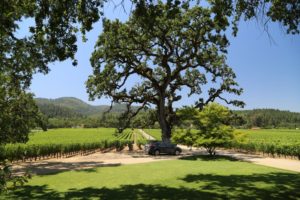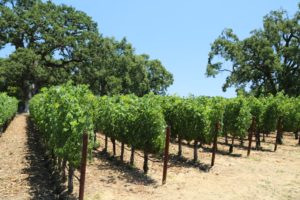 Thomas Brown has been making their wines since the 2010 vintage. When the Ross's were looking for another winemaker, Thomas actually approached them offering to make their wines for free – he was already familiar with the quality of their Chardonnay and was highly interested in being able to work with this particular old vine Chardonnay. Thomas introduced them to a block of Pinot Noir – also in the same vineyard; their first vintage was 2012.
If we were to choose just one word to describe their wines it would be balance.
Select Wines
The 2014 Shibumi Knoll Chardonnay is noticeably golden in the glass (no pale chardonnay here). Pleasing aromatics include melon, citrus and a kiss of vanilla. Very appealing. The wine is generous with flavors but well balanced between flavor and acidity. There are no sharp edges – soft as silk – it is smooth on the palate. Desert spices (caramel) & Crème brûlée complement flavors of citrus. Nice depth of flavor. Joann calls this their "magic vineyard" wine. We can see why.
The 2014 Shibumi Knoll Pinot Noir is from the same vineyard as the Chardonnay. 2015 will be their last Pinot Noir release from this vineyard – they did not make a 2016. They will continue to produce Pinot Noir – most likely from another vineyard source in coastal Sonoma County. The 2013 Pinot Noir shows notes of white pepper – as it continues to evolve in the glass more fruit shows including a spicy red cherry and raspberry note. Both fruit and spices continue to develop as the wine opens. On the palate the fruit is lively – clean yet complex in it's approach. A light styled wine of this variety but with plenty of depth. Soft and smooth across the palate with fine grained tannins.
The 2013 Shibumi Knoll Estate Cabernet Sauvignon shows dark purple in the glass – initially very floral including aromas of violets along with an elegant sweetness of fruit (blackberry), a hint of mocha and brown sugar and at times a perceptible dusty characteristic. This is a pretty bouquet. On the palate there are flavors of ripe plum and red and dark cherry. Good acidity, plenty flavor and oh so balanced. The tannins feel nice on the finish – harmonious with the rest of the palate.
—
The name Shibumi comes from a book of the same name (a spy novel by author Trevanian) and is a Japanese word describing a state of being which describes the pursuit of perfection through simplicity – or Effortless Perfection. These two words appear on all of their wine labels. The oak tree on the label is an image from the largest of the stately oaks that grow on their knoll and is estimated to be several hundred years old.
Regarding brand recognition and sales, their philosophy has been two-fold; selling direct to consumers for years combined with introducing their wines at select restaurants – they have little or no retail outlets. In the valley the wines are available at Press in St. Helena, Bottega, Redd and the French Laundry in Yountville. For more information and to purchase or join their mailing list, visit: www.shibumiknoll.com