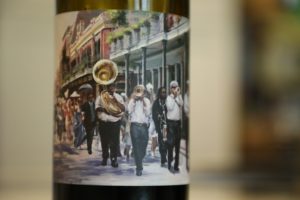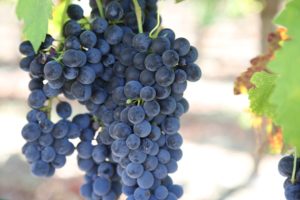 Napa Valley Syrah[/caption] Second Line Wines was started by Chris Agan with his first vintage in 2017. This is Chris's third career; he was in the U.S. Navy until he retired in 2003 and then worked for Lockheed Martin for 13 years before retiring again. One who meets Chris will quickly realize he will never retire and that retirement is only temporary. While working for Lockheed he began visiting Napa Valley, first in 2007 and then at least once a year every year after. During one of his early trips, he met Monica and David Stephens (former proprietors of 750 Wines in St. Helena); their introductions to winemakers led to several lasting relationships.
One of these introductions was a tasting at Ladera Winery, when their operations were still located on Howell Mountain. Their winemaker at the time was Karen Culler; during his visit Chris remembers enjoying the Ladera wines but also a few bottlings that Karen was producing at the time under her own brand, Culler. After leaving his job at Lockheed he realized his next move would most likely be to Napa Valley. So he enrolled in the two year wine certificate program from UC Davis. As soon as he completed this program, he applied for harvest intern positions. One interview was at Joseph Phelps with winemaker Kelly Fields and their cellarmaster David Ramirez. Within 10 minutes of leaving the interview, Kelly called him back and asked him if he would join their harvest team (this was in 2016). Chris recalls he was 55 at the time and the other three hires were all in their early 20s.
After gaining valuable cellar experience at Joseph Phelps he decided he wanted to do more hands on work at a smaller producer. So he called up Culler and she connected him with winemaker Mike Hirby of Relic Cellars. The two men met at Heritage Eats in Napa for lunch and Chris informed him he was interested in starting his own label. Fortunately that year (2017) Mike had surplus grapes (Grenache and Syrah); Chris used these to make his first wines.
While raised in New York state, later he fell in love with New Orleans in part from trips taken while in the Navy, stationed along the Mississippi coast. In 2019 while getting ready to bottle his 2017 wines, he realized he did not yet have a name for his wine brand. He began to brainstorm terms relating to his time in the Navy then but decided to honor his respect for New Orleans and its rich cultural heritage. The term 'second line' is a reference to weddings in which guests dance and waive handkerchiefs, following the 'first line' which includes a band, honored guess and the bride and groom.
Chris was introduced to vintners Les and Lisa Behrens through Mike Hirby and was immediately attracted to the art on their wine labels (Behrens Family Wines). So, continuing the theme of New Orleans for Second Line Wines, Chris and his wife TC visited a number of galleries in the old French Quarter, eventually walking into Vieux Carre Gallery showcasing the art of talented artist, Sarah Stiehl. They both fell in love with her style. And she agreed to sell them the rights to several of her paintings whose images they use for all of their Second Line wines.
Select Wines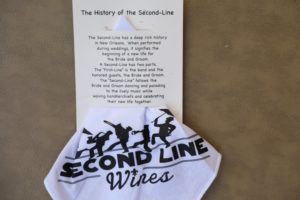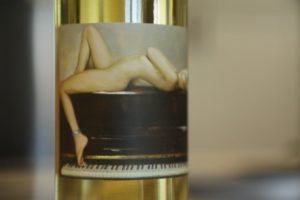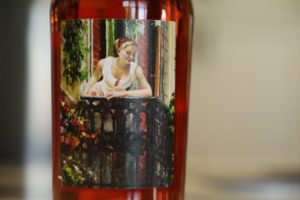 One of Chris's favorite white wines is Albariño. Prior to making wine from this variety he visited a Spanish wine shop in Berkeley and purchased a number of 100% varietal bottlings. He discovered his favorite wines were the ones that were the simplest made. Chris calls his Albariño the easiest wine he makes; after fermentation using indigenous yeast, he presses it to a stainless steel tank for 8 months where it sits on its gross lees prior to bottling. The 2022 Second Line L'Acadiane Albariño Las Brisas Vineyards (Sonoma side of Carneros) is pale straw in color; the aromatics are highly attractive – it smells fresh and includes aromas of lemon juice, citrus blossom and an herbal note (perhaps tarragon or lemongrass). As the wine breathes it reveals a scent of honeysuckle. The brightness of the bouquet continues onto the palate with lively acidity and flavors of citrus including lemon juice, lime, kiwi, gooseberry green apple and a minerality note. Noteworthy about this particular bottling is also its texture; it feels creamy, supple and almost briny.
The distributor Second Line Wines uses in Louisiana requested that Chris make a Sauvignon Blanc due to interest from his clients. Chris knew a winemaker who made Sauvignon Blanc, so he asked her if she had any she was not bottling in 2021. She had a small amount from a vineyard in Oakville already blended waiting to be bottled. This was Chris's first Sauvignon Blanc. The 2021 Second Line 'Seductive' Sauvignon Blanc Oakville, Rancho Pequeño Vineyard is 79% Sauvignon Blanc and 21% Semillon. It was aged for 8 months in neutral oak and stainless steel sur lees. This wine is medium yellow in color; it offers scents of dried straw, honeycomb, melon, a kaffir lime zest and a sweetly fruited note including pineapple and apricot. Its texture is lightly creamy, with accompanying flavors of kiwi, apple and melon. The acidity is bright and lingers with flavors of mandarin on the refreshing finish.
Interested in continuing to produce a wine from this variety, the same winemaker sold him wine in barrel from the 2022 vintage, but this time none of the pieces were blended together. It was thoughtfully made from Sauvignon Blanc, the Musqué Clone of Sauvignon Blanc and Sémillon, each lot receiving different fermentation and barrel treatment including in concrete tanks, stainless steel tanks and neutral French oak barrels. Chris blended this wine in his kitchen from samples received, favoring the minerality highlights contributed to the wine from the concrete tanks.
The 2022 Second Line 'Seductive' Sauvignon Blanc Oakville, Rancho Pequeño Vineyard is 78% Sauvignon Blanc (split evenly with the Musqué clone) and 22% Sémillon. This wine offers attractive aromatics including pineapple, pear and several sweet aromatic layers including vanilla, lightly burned crème Brule and cotton candy. The nose becomes slightly more tropical as it opens including of lychee, mango and ripe papaya. This bottling shows more tropical than the 2021 vintage. The palate is beautifully balanced between flavor, texture and acidity and is a delight to drink by itself. It offers flavors of pear, apple, white peach and white nectarine along with a minerality character. This wine lingers bright with a finishing note of citrus.
The label immediately causes one to pause; it is of an attractive nude model posed on top of a piano.
Chris had no plans to produce a rosé despite a friend telling him, "if you make me a rosé I'll buy it all". But timing in 2021 caused him to change his mind. While in New Orleans he received a call from a winemaker who informed him a block of Pinot Noir had been mistakenly picked and it was only at 22 brix. He asked Chris if he wanted these grapes. Chris made a quick decision with the caveat that the winemaker press the grapes since Chris was out of the state. He made this wine but did not bottle it commercially. 2002 was his first commercial release of rosé.
The 2022 Second Line Romantic Rosé is from the Bommersbach Vineyard in Russian River Valley. It sat on the skins for about 12 hours before it was pressed off resulting in a pink/copper color. This wine is a blend of 97% Pinot Noir, 3% Grenache and was fermented with indigenous yeast and then aged sur lees in stainless steel tanks for 6 months. The bouquet initially smells savory (a descriptor we rarely use for rosé wines) but give it time and it opens to notes of strawberry, red currant and a dried herb note which reminded us of riding a motor scooter on several of the Greek islands in summer past wild herbs growing in the surrounding hills. It offers a creamy texture, with flavors of strawberry, red cherry and a flinty note. And needing bottles one of his winemaker friends offered up extras that were not being used – a stout shape we loosely refer to as, "the pirate bottle" and one that certainly stands out next to a more traditional wine bottle.
The 2021 Second Line Red Wine is 85% Grenache (Mt. Veeder) with 15% Syrah (Coombsville). With this wine Chris wants to highlight the varietal characteristics of Grenache but add structure with the Syrah. And to focus on the fruit, he ages the Grenache in 3-5 year neutral barrels, the same barrels he uses every year for this variety. During blending trials he found 15% Syrah was an ideal complement. This wine is medium ruby in color; the bouquet is savory with aromas of red cherry, red plum, strawberry, red licorice, an earthy character and a layer of wood spice found deeper in the bouquet. The palate offers higher toned red fruits including of cherry, strawberry and cherry cola. We noticed a lighter spice from start to finish of cloves, a contribution from the Syrah. This wine features a bright and energetic finish, which lingers both with a light dry character, a tartness, tobacco spice and light grainy savory tannins. This wine is highly enjoyable to consume by itself.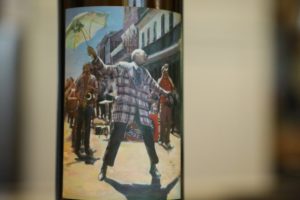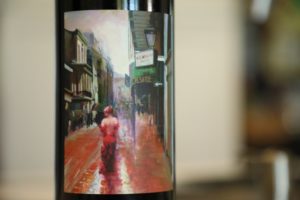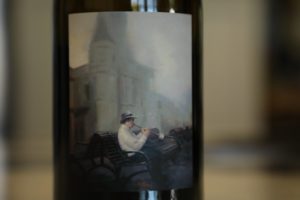 The 2019 Second Line Syrah is from the Cortese Vineyard in Coombsville. The owner Dave Cortese enjoys this variety in particular and has planted several clones of Syrah on his cooler north facing site. This wine is deep ruby; it is darkly fruited and offers plenty of aromatic depth including a meaty and gamey nuance, leather, dark spices including crushed pepper and tobacco, violets and a sweetness running through the bouquet similar to mocha. A thread of crushed black pepper runs across the palate along with flavors of plum, a light herbal note and a tobacco spice found more towards the finish. The is both a balanced and savory bottling which showcases the best characteristics of this variety; flavor, spices and bright acidity. The tannins are broadly distributed across the palate with a light to moderate grip.
Chris's Cabernet Franc source was not intentionally found. While touring a number of vineyards with winemaker Mike Hirby they visited Shifflet Vineyard, located in the northern reaches of the Oak Knoll District. Vineyard manager, Jeff Shifflet informed both men that he had Cabernet Franc and wondered if they new anyone who was interested in purchasing a small amount. These grapes grow on one of the choicest parts of their property, on a small knoll with south facing exposure. Chris offered to purchase the grapes and continues to produce this wine every year.
The 2019 Second Line Cabernet Franc is also blended with 15% Merlot from Coombsville. This wine is deep ruby; the bouquet offers an immediate spicy character including spicy plum skin, a woodsy note and pepper. It shows some herbal nuances but is in no way green. The bouquet continues to open to notes of blackberry, boysenberry, chocolate and tobacco spice. This wine offers flavors of plum and cherry and other red fruits. Some of the savory components on the bouquet are echoed on the wine's finish including a light oak spice, pepper and dried tobacco leaf along with dried herbs and a dusty nuance. The finish offers a mouth watering freshness showcasing bright acidity, red fruits and grainy persistent tannins. This wine is already well-balanced in its youth but has the tenacity and character to age for many years. We would like to see where its at in about 10 years.
From 2017 through 2019 Second Line Wines sourced Cabernet Sauvignon from a small vineyard in St. Helena on the valley floor. Starting in 2021 and moving forward the grapes for this wine are from the Brioso Vineyard high on the slopes of Mt. Veeder (named in homage of a horse). The 2019 Second Line Big Chief is 100% varietal Cabernet Sauvignon. This wine is deep ruby in color and nearly opaque; the bouquet offers quintessential Napa Valley Cabernet Sauvignon aromatics including blackberry, plum and dark cherry. Its darkly fruited scents are accompanied by a light woodsy spice, chocolate and opens to mocha and vanilla as it evolves in the glass. The bouquet is focused on the varietal fruit characteristics rather than any overt influence from its barrel aging. This is a balanced wine packed with flavor but without any heavy tannins. The palate reveals flavors of plum and cherry. The fruit outpaces the integrated tannins on the finish. This wine was aged in 75% new French oak barrels.
Prior to bottling this wine Chris already had an idea for a proprietary name to describe his flagship Cabernet Sauvignon. Wanting to honor the culture of the New Orleans Black Masking Indians he chose the name Big Chief. These individuals dress up in colorful, elaborate and expensive suits every Mardis Gras inspired by Native American ceremonial clothing. In terms of hierarchy during the parade certain individuals ranking below the Big Chief are spy boys and flag boys and are part of nearly 40 different tribes.
Wanting to express visually a 'big chief' on this particular bottling, Chris discovered an image of a big chief hanging above the doorway at Vieux Carre Gallery. And of the paintings Chris uses for the label on his wines, the Big Chief is one of the most special and the only one he owns the original artwork for.
The Wine Thief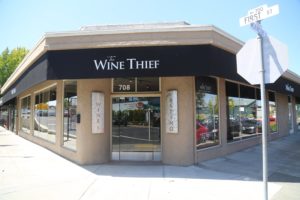 In late 2023 Second Line Wines joined the portfolio of small brands represented in a tasting room called The Wine Thief. This tasting room is located on the highly visible corner of First and McKinstry Streets directly across from Gott's Roadside Hamburgers and the Oxbow Public Market. Several other tasting rooms are located on this block and or within a short walking distance and one can easily spend a couple of hours exploring this part of downtown Napa. Parking is curbside (difficult to find on weekend afternoons) or in the overflow Oxbow Market parking lot located within a short walk of The Wine Thief.
Wines are available for tasting by walk-in at the tasting counter or at one of several tables in the main room. Appointments can also be made to try current releases of the Flying Lady Wines in one of two private rooms on site with one of the wine educators. And for the private tastings, cheese and charcuterie are served from The Fatted Calf, located at the nearby Oxbow Public Market.
—
Chris and TC also run Lagniappe (pronounced 'Lan yap') Wine Tours with a focus on visiting smaller under the radar properties in Napa Valley. Lagniappe is a word the refers to something given as a bonus or extra gift. Interestingly it's roots are in Quechua, a language still used in the Andes of South America (but adapted by the French in Louisiana brought to New Orleans by the Spanish Creole). To book a wine tour, visit: www.lagniappewinetours.com
Total production has grown since the inaugural vintage and at the time of our latest update to this review is about 800 cases annually. The wines are selectively distributed in parts of Louisiana; locally they can sometimes be found at V Wine Cellars or the Oakville Wine Merchant. For more information or to purchase wines, visit: www.secondlinewines.com