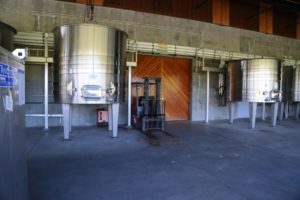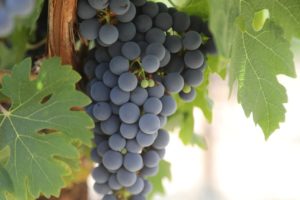 Salexis Wines is run by long time Napa Valley vintner John Gibson and his wife Ann. At the time of this review John was entering his 30th harvest in the valley. With no background in wine, John has certainly made his mark on Napa Valley wine industry. After graduating from UC Davis, he moved directly to Napa Valley. Initially he worked as winemaker under Warren Winiarski at Stag's Leap Wine Cellars for 12 years and helped bring their production from 20,000 cases up to 250,000 cases. As he says of his experience at Stag's Leap Wine Cellars, "he took the tail of a meteor's comet and ran with it". He was also instrumental in helping design and develop Vine Cliff Winery and more recently was head winemaker at Frazier Winery for 13 years (now Italics Winery). Today he is an independent winemaker; he consults and makes wine for a number of small premium producers and operates Salexis.
As John says, "anything you can do to control the process from vineyard to bottle will produce a better product". While not owning any vineyards, John is extremely involved in the day-to-day operations of controlling and caring for his source vineyards including pruning, picking and any decisions regarding the actual vineyard management. Andy Beckstoffer who he credits as a mentor in the industry and being instrumental in his career, planted several small vineyards for John 8 years before Salexis was even a commercial wine producer. Beckstoffer is one of the leading growers in Napa Valley and Lake County and during this project his name has come up on many occasions. The grapes he farms are much sought after; simply reference the November 2008 issue of Wine Spectator Magazine; the majority of the top Cabernet Sauvignons highlighted in the feature article were from Beckstoffer owned vineyards.
Over the years John has made contacts with a number of other small growers in the area, some of whom also planted their vineyards with him in mind. Today he sources fruit for Salexis from some of these small thoughtfully farmed vineyards. The first vintage of Salexis was released in 1998 and is named after his daughter Sarah Alexis. Salexis focuses its efforts on a Carneros grown Chardonnay and a Cabernet Sauvignon.
During this project we've tasted a number of "skewed" Chardonnays where one or more aspects of the wine are out of balance. While stylistically, richer wines, The Salexis Chardonnays are not one of them. One well known French winemaker told John that wines are like geometric figures with Chardonnay being a cube. It is up to the winemaker to sand off the edges so that this wine will become a "ball". Salexis strives to produce a Chardonnay that is seamless, in other words flows together in balance from start to finish, a circular wine if you will.
Unlike some of the larger wineries who stick to a specific bottle schedule with bottle dates decided while the juice is still fermenting, John bottles his Chardonnay strictly by taste. His Chardonnay uses wild yeast for both primary and malolactic fermentation. It sits on the lees for nearly 2 years; each vintage is different of course and the number of times the lees are stirred depends on the mouth feel and taste of that particular vintage.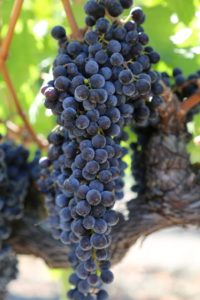 A trip to Burgundy was influential on his Chardonnay winemaking and today his Chardonnay is made in a Burgundian style using similar techniques to the Grand & Premier cru vineyards in Burgundy. During a trip to France, John remembers tasting 15–20-year-old Chardonnays; wines that were built to last yet still contained vibrant fruit all those years later. His own Chardonnay typically sees close to 2 years in the barrel; yet this wine is not oaky – at all. After the first year the oak "steps back" and the fruit starts to show. Producers are quick to bottle Chardonnay for a variety of reasons, the most common of which is the economics of getting a wine out into the market. Fortunately, Salexis has the luxury of waiting on their wines. With additional barrel aging (new French oak), excellent acidity and great fruit from their source Carneros vineyards the Salexis Chardonnay also is built for longevity.
Select Wines
The 2019 Salexis Chardonnay, Carneros Napa Valley is dark golden in the glass and despite its youth at the time of our tasting, looks like a Chardonnay with some age on it; the aromatics are a cozy evening huddled up next to a fire while enjoying its beautiful warmth. The well-layered bouquet offers an alluring combination of both primary varietal characteristics and secondary oak aromatics. It shows scents of warm butter, honeycomb, butterscotch, yellow pineapple, comice pear and dried mango. The palate is rich with flavors of yellow peach, nectarine, pineapple, lychee and butter. Its creamy texture and suppleness are complemented nicely with bright acidity and a racier finish than the 2017 bottling.
The 2017 Salexis Chardonnay, Carneros Napa Valley is dark golden in color; the bouquet reminds us of rolling a warm cob of corn in salted butter creating the resulting aromatics. This wine also offers aromas of ripe yellow pineapple, crème Brule, honeycomb, honeysuckle and caramel. It smells like dessert. The palate is intensely flavored including of pineapple, popcorn, mango, pear, papaya and vanilla bean. The finish lingers with a persistent richness of flavor and a perceived sweetness of fruit along with warm toasted oak nuances. The texture is satiny with some noticeable viscosity, but this is tempered nicely by its acidity.
The 2004 Salexis Chardonnay, Carneros Napa Valley is a perfect example of the type of Chardonnay Salexis produces. It is a rich bottling, but nothing is out of balance; the palate's texture is somewhat creamy and features a bit of toasted oak with well-layered fruit. Pear, apple and citrus are the dominating flavors. This wine really comes alive at the mid palate leading to a vibrant long-lasting finish. It has excellent acidity.
Salexis also produced a Carneros Lake Vineyard designate bottling of Chardonnay each year.
Salexis made a Pomerol styled robust and well-structured Merlot for several years until 2005. While on a sales trip in New Jersey in 2004, a friend invited John to attend an independent film festival. One of the films that was showing was Sideways; while watching the movie John cringed when he heard the character Miles strongly state the following line: "if anyone orders Merlot, I'm leaving. I am NOT drinking any f****** Merlot!" After leaving the screening John asked his friend if he thought this line would impact Merlot sales. Little did he know at the time, how powerful Mile's statement would have on Merlot sales. Like Miles, John also swore, but in regard to never producing Merlot again.
Fast forward to late 2017. He and Ann rent a house in Sea Ranch (the far western reaches of the Sonoma Coast) every year; this is their time to unwind and discuss plans for Salexis for the upcoming year. She broached the possibility of producing Merlot again. John still wasn't interested. She insisted. So, he called Beckstoffer Vineyards with a specific request for cooler weather Merlot, including details on how it was being farmed. He was told there was no Merlot available in 2018 and John hung up the phone, breathing a sigh of relief. He confidently told Ann that if Beckstoffer had no Merlot available to his specifications there wouldn't be any other Merlot of interest in Napa Valley. She told him one thing, "call back and ask if they have some Merlot for next year".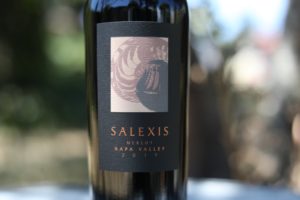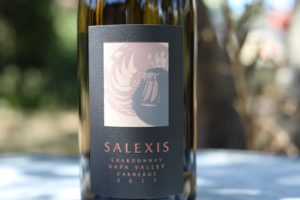 So he immediately called back and was surprised to hear that there was a possibility of selling him some Merlot in 2019 due to some contractual breeches by another buyer. In 2019 John purchased and made his first Merlot in 14 years (the amount of time it took him to sell out of about 2,000 cases of his original Merlot). The 2019 Salexis Merlot was sourced from Beckstoffers' Carneros Lake / Las Amigas Vineyard at the corner of Duhig and Las Amigas Roads. This wine is dark ruby in color and almost opaque to look at in the glass; its aromatics show ripe dark Santa Rosa plum (especially identifiable since its summer when we are writing these tasting notes and we have a bowl of freshly picked Santa Rosa plums sitting nearby) with a sweet aromatic darker fruit core, chocolate, old cedar box and a sweet tobacco pipe spice deeper in the bouquet. The palate offers plenty of dark fruits including plum and blackberry complemented with a Merlot varietal softness of texture. The tannins are rounded with a light chalk-like texture. This wine Lingers with a note of dried tobacco leaf. This bottling was aged in 66% new French oak barrel for 18 months (medium plus toast). It is 15.5% alcohol.
A year later he was about ready to harvest Merlot from the same vineyard site, when Beckstoffer called him up and said a previous buyer who had recently purchased grapes from the same section of vineyard had tested their grapes for smoke taint and they came back too tainted to use. Salexis did not produce any red wines in 2020.
The 2018 Salexis Cabernet Sauvignon, Napa Valley is dark ruby in color; the bouquet exerts a powerful presence of both primary fruit forward characteristics along with secondary aromatics. It offers ripe dark cherry, dark plums and cassis along with mocha, Graham cracker, milk chocolate, cocoa powder and plenty of other baking spices. The nose is like walking into a kitchen of elderly aunts busily baking during the holiday season. The palate is ripe and plush with flavors of dark fruits along with an accompanying toasted oak and darker spice filled finish. This wine lingers with an intensity of fruit but without an accompanying intensity of tannins; the structure offers a light gravelly texture.
The 2005 Salexis Cabernet Sauvignon, Napa Valley is styled to be food friendly and approachable in its youth. As a result, this particular wine has been especially popular with restaurants. The nose is elegant with red fruit that leads to a palate with just the right amount of tanginess to pair with a variety of foods including meat dishes. The finish has good structure and is long but not overpowering.
In contrast to the 2005 Salexis Napa Valley Cabernet Sauvignon the 2005 Salexis Reserve Cabernet Sauvignon uses entirely free run juice (the highest quality juice – not pressed). This is their answer to those who want to cellar their wine for a number of years. This wine finds the middle ground between long term age worthy wines and those ready to drink now. Only New French oak is used during the aging and this wine experiences a longer maceration time; one vintage saw nearly 50 days. This wine is very dark in the glass; the nose is full of black fruit including blackberries and black currant as well as an earthy component. This wine clearly has some weight to it. The black fruit aromas continue to the rich juicy palate as flavor which picks up notes of chocolate as well as smoky oak. The finish is bold, yet in balance.
—
The handsome label incorporates both John and Ann's interests and features a black piece of pottery crafted by a Native American artist and reflects Ann's love of the desert – while an image of a nautilus reflects John's love of the ocean and scuba diving.
With this attention to quality starting with the vineyards, a long history of making wine in Napa Valley and micro-managed low production, Salexis is certainly one of the better values coming out of Napa Valley at their price point. Their total production has been as high as approximately 1,500 cases per year but currently runs between 450 and 700 cases. Locally you may be able to find the wines at Bounty Hunter in downtown Napa, but their strongest distribution is on the U.S. east coast and in some of the southern states. For more information, visit: www.salexiswines.com