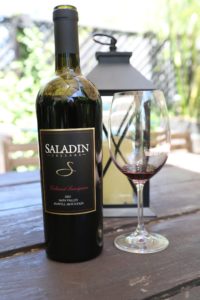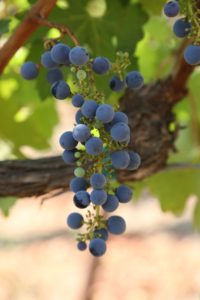 Saladin Cellars is run by 4th and 5th generation Napa Valley residents Bill Saladin and his son Austin. Austin's great great grandfather worked for the Bank of Italy (precursor to Bank of America) and his family moved to St. Helena in 1904 from San Francisco. For years the family made wine at their home; Austin was also exposed to this as his father made wine with his grandfather.
Growing up in the Napa Valley has it's benefits when you become interested in making your own wine. The knowledge base is vast; when you grow up with other vintners you have an excellent network to seek viticulture and wine making advice from as well as vineyard sources. Austin worked for the San Francisco Trading Company (retail wine shop in San Francisco) for several years and currently works for a well-known winery in the valley. He is not the first family member to work in the local wine industry; his grandmother was an assistant to the Mondavi family at Charles Krug Winery in the 1950's.
And growing up in St. Helena, Austin was introduced to winemaking through the tiny vineyard of Petit Verdot growing in his front yard – he and his family would make home wine from this each year. Calling this the Hudson Vineyard (named after the street the home is located on) they usually blend in a tiny amount from this vineyard into their Cabernet Sauvignon. The vineyard is so personalized that each row is named after the three Saladin brothers including Austin.
In 2011 an opportunity presented itself to the family in the form of the 1.5 acre Elevación Vineyard located at about 1,800 feet on the slopes of Howell Mountain (planted entirely to Cabernet Sauvignon). A friend of Bill's owned this vineyard and needed some consulting help as well as help managing the vines. The vineyard owner suggested the Saladin's purchase the fruit; they did so in 2011 (first commercial vintage) and continue to source from this vineyard for their flagship single vineyard Cabernet Sauvignon.
Notte di Vino in Italian translates to Night of the Wine. This is named in honor of Saturday nights when Austin and his family used to visit his grandmother's home to enjoy each others company along with good food and wine. Their wine is about family but also about having fun. Bill served in the air force and is currently a commercial pilot. The air force has a saying, "will fly for food". The Saldin's have adopted that saying slightly to "will pick for wine" and have put this slogan on shirts when they are out in the vineyards during harvest.
Their wine making philosophy is to express the fruit and the terroir of the site rather then the oak or the wine making style. Their red wines from Napa usually see 18-20 months, all in Hungarian oak (in a nod to his heritage from his father's side of the family). They pick for balance and their wines are often in the high 13 or at 14% alcohol range – food friendly wines, if you will.
Select Wines

Only approximately 100 cases were produced of the 2011 Saladin Cellars Notte di Vino (95% Cabernet Sauvignon and 5% Malbec). The nose is elegant with aromas of Serrano and Jalapeno pepper framed by blackberry, red cherry and cassis; this bouquet makes you want to reach for a spicy tamale! Austin mentioned a sizable garden of hot peppers grew next to the vines this year – the bouquet is probably not influenced by the peppers but perhaps by the cool vintage. The wine drinks easily and is balanced. Decent acidity. Structurally it is a lighter style with well integrated smooth tannins (hint of oak tannins) that linger softly with a kiss of brown chocolate on the finish. This 'fun' label was designed by a family friend.
The 2012 Saladin Cellars Howell Mountain Elevación Vineyard Cabernet Sauvignon is 96% varietal with the remaining 4% Petit Verdot coming from 6 rows in their family vineyard in St. Helena. Unlike the 2011 Notte di Vino which showed some intriguing pepper aromas, this wine has none of that (some of the same fruit is present but from the subsequent year). The aromas on this wine are voluptuous and powerful, yet elegant at the same time. Red cherry, blackberry, raspberry are all interwoven aromatically with a hint of toasted oak, vanilla and caramelized sugars on the bouquet. The palate is pleasing with red fruit flavors and a refined finish that shows a slight dust component along with well integrated tannins that linger more in the front of the palate rather then the back. Under 14% alcohol and only 120 cases made. Aged in new French and Hungarian oak. Very good value for the price – especially considering it's Howell Mountain location. And Saladin Cellars was the first to produce commercially made wine from this particular vineyard.
In addition to their Napa grown and bottled wines, they also produce a Pinot Gris and a Pinot Noir from the Petaluma Gap region in neighboring Sonoma County. Their current production is around 500 cases annually. With half of Austin's family being Italian – in the future they may introduce an Italian red varietal blend.
Their retail distribution is limited – in San Francisco you can find the wines at the San Francisco Trading Company. For more information and to join their mailing list, visit: