Rudd Winery is a 55-acre estate located on the eastern side of the Oakville appellation (arguably the heart of some of Napa's most premium Cabernet Sauvignon). Eastern Oakville and much of nearby Pritchard Hill is composed of reddish iron rich and remarkably rocky soils. While a number of Napa Valley's most premium wineries grow vineyards on these surrounding soils, perhaps Rudd Estate is one of the most iconic properties for this soil type due to the visibility of its vineyards directly next to the Silverado Trail.
This land was originally owned by Steve Girard (died in 2004), a Kaiser Corporation executive who served as president and executive of several Kaiser companies. The Girard family purchased this site in 1974. Steve Jr eventually sold the winery in 1996 to the Rudd Family, Leslie and his wife Susan. Leslie is originally from Wichita Kansas; his parents founded Standard Beverage Corporation in 1949 – ultimately becoming the state's largest wine and spirits wholesaler. He worked for his father beginning as a salesperson after graduating from college eventually rising through the ranks to become the president of the company.
There were very few vintners so well connected to the fabric of Napa's wine and culinary worlds as Leslie. His entrepreneurial spirit attracted a wide range of wine and culinary projects. His influence in the Napa Valley has been deeply felt including by a number of Napa vintners and vineyard owners.
Unfortunately, Leslie Rudd passed away in early May 2018. He will be sorely missed by many in the valley and beyond.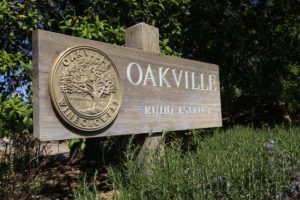 He helped found Lone Star Steakhouse (which grew from one restaurant in North Carolina to a national chain of more than 250 restaurants – Lone Star eventually went public but by 2019 had closed all of its operations. Later, Leslie also operated Dean & Deluca specialty stores (artisan wine, cheeses & provisions) for 18 years after acquiring the franchise in 1996 including the opening of the St. Helena Dean & Deluca. He sold the franchise to a group from Bangkok in 2014. Incidentally since the sale, Dean & Deluca underwent a remarkable expansion with numerous stores in Asia as well as parts of the Middle East – but later got into financial problems and the Dean & Deluca store in St. Helena closed permanently in July 2019 and later opened as a branch of Gary's Wine.
Perhaps most recognizable of his Napa businesses was the iconic Oakville Grocery, California's longest running grocery – since 1881. In late 2018 the Rudd Family sold this store to Jean Charles Boisset. And Durant & Booth next door to the Oakville Grocery, for a short time, featured premium Napa wines (since been converted into 1881 Napa & a wine museum). Just up the highway is the Rudd family-owned restaurant, Press which maintains the most comprehensive Napa Valley based wine list in the valley – with vintages reaching back to the late 1950s – the scope of this significant and treasured collection was initially built through the impressive efforts of sommeliers Kelli White and Scott Brenner and later curated by Amanda McCrossin and most recently Vincent Morrow. And every year an invite only event, Napaulee is held, celebrating the end of harvest with a private dinner, a silent online auction and exceptional wines.
Until early 2022, the Rudd family also owned the historical Edge Hill Winery – a stone winery with vineyards near the town of St. Helena which dates back to 1867 (one of an extremely select number of Napa wineries built in the 1860's still in business including Charles Krug and Schramsberg). For a short while before selling to Joel Gott of Gott Wines in January 2022, Edge Hill stopped producing wines but since the transition in ownership, has resumed producing again.
And in 2016 the family began Crossroads, another label focusing on wines produced from their estate vineyards.
And Leslie's philanthropic work is noteworthy – he established The Rudd Foundation in 1998; today they support a variety of causes including creating scholarship opportunities for Kansas based students and funding programs to improve diets around the world. Locally The Rudd Center for Professional Wine Studies is located at the Culinary Institute of America's Greystone Campus in St. Helena and the Rudd Performing Arts Classroom/center is located at St. Helena High School.
The Vineyards/Estate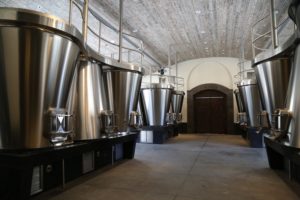 Their Oakville estate vineyards are visually among some of the most well-manicured vines in all the Napa Valley. The grapes near the winery are trellised using Vertical Shoot Position (VSP) allowing tight spacing of the vines. Their vineyards are farmed organically by their in-house vineyard management team (David Abreu originally planted and managed the vineyard). During certain months sheep are allowed to roam through parts of the vineyard, grazing the cover crop. In 2018 several sections of the vineyards were replanted to additional blocks of Cabernet Sauvignon. A tiny block of grapes was also removed, making way for a garden.
In addition to the Oakville Estate, the Rudd's own 88 acres on Mt. Veeder (at about 1,600 feet), the Abel 1833 Vineyard, also home of Rudd Farms – an organically farmed garden that is now closed but used to supply seasonal produce and various ingredients to Oakville Grocery as well as Press. A number of animals were raised here including sheep, chickens, dairy goats and turkeys. In addition, grapes are also grown here including some very unique varieties for the Napa Valley such as Ribolla Gialla and Sauvignon Gris (a clonal mutation of Sauvignon Blanc). While the Oakville estate focuses on growing Bordeaux red varieties, the Mt. Veeder property focuses on white varieties.
Visitors to the Rudd estate will marvel at the diversity of vegetation and creative landscaping. A number of olive trees grow on site (they do make limited production olive oil each year). Several intimate tasting spaces include 'the greenhouse' and a room overlooking the picturesque pond. One can easily forget they are in the heart of the Napa Valley with time spent among this oasis.
The Toolbox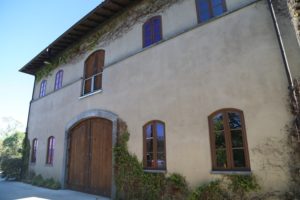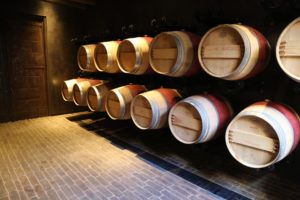 Referring to the winery as The Toolbox reflects their philosophy of wine making as a craft; The Toolbox was first used for their 2016 vintage. Sitting on the footprint of the old Girard Winery, it was completely renovated by Howard Backen of St. Helena & Sausalito based Backen, Gillam & Kroeger Architects. The interior features state of the art wine making tools including a number of custom tanks. The concrete tanks were built onsite – in part using cobble quarried from the property added to the concrete.
The steel tanks are visually intriguing, but their unique designs play an important role during fermentation and are one of the many 'tools' the wine making team can utilize for fermentation. Their shape can influence the style of the wines and or specifically be used depending on which part of the property the grapes are sourced from. One tank shape is inverted, and the other is truncated. A small fermentation room next door contains OXOline barrel mounts – easily facilitating when a barrel needs to be rotated by hand.
The Caves

The original subterranean footprint of their cave was 2,000 square (already built at the time of the Rudd's purchase). Later, Leslie had the cave greatly expanded; today it is approximately 20,000 square feet. And the pretty iron colored rock walls that surround parts of the property were built using the cave spoils.
Rudd Winery was the first in the Napa Valley to incorporate the use of portable concrete tanks (eggs) in the early 2000's. Napa wineries had been using concrete for fermentation prior to this but were permanently installed vats – such as the ones up at Mayacamas Winery.
And starting in 2016 the wine making team began making some wine in Italian made clay amphora vessels.
A self-contained room within the cave houses Rudd's personal wine library as well as Rudd library wines. This room contains a formidable collection of vintages from winery heavy weights ranging from some of Napa's top wineries to First Growths from Bordeaux, France.
The Wines
Upon acquiring the Oakville property, vines were replanted in 1996 – to red Bordeaux varieties including Cabernet Sauvignon, Malbec and Petite Verdot. Until the vines matured, the first two vintages of Rudd wines (1998 and 1999) were sourced from vineyards at Jericho Canyon in Calistoga and were made by founding winemaker David Ramey. Long time winemaker Charles Thomas crafted the wines for several years following Ramey. The first vintage of Rudd from the estate was in 2000.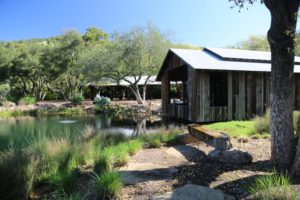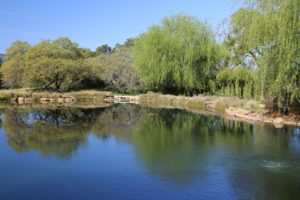 The focus of the Oakville Estate is on two wines each year, the Samantha's Cabernet Sauvignon, named after Leslie and Susan's daughter and the Estate Red. A Sauvignon Blanc is made from their Mt. Veeder vineyard – and a white varietal blend, Susan's Blanc is only made during the most highly regarded vintages.
The wine making for their Sauvignon Blanc incorporates a variety of fermentation and aging vessels including stainless steel, concrete eggs and both neutral and new French Oak. And unlike many Sauvignon Blancs which are quick to market, their Sauvignon Blancs are structured so they certainly can be consumed upon release, but these are also age-worthy wines.
The 2016 Rudd Mt. Veeder Estate Sauvignon Blanc is golden straw color in the glass; it shows a bouquet of red apple and pear notes. Supple from start to finish this wine is well balanced with good acidity but not containing a tartness often associated with this variety. Shows notes of citrus and hints of mineralities – especially on the finish.
Some of our favorite Napa Sauvignon Blancs have either been from a blend of both cool and warm weather vineyards or are blended with Sémillon. The 2014 Mt. Veeder Estate Susan's Blanc was made with grapes from their Mt. Veeder vineyards; this wine is a blend of 40% Sémillon, 28% Sauvignon Gris and 32% Sauvignon Blanc. The wine was fermented and aged entirely in concrete eggs. Attractive aromatics include tropical overtones with pineapple and citrus blossom along with an orange zest. The palate shows a somewhat briny or saline texture – the wine has a wonderful roundness but not a heaviness. Very clean finish. we tried a subsequent vintage of Susan's Blanc; it was dominated by Sémillon. For those that enjoy wine made from Sémillon, these various vintage bottlings are highly worth seeking out.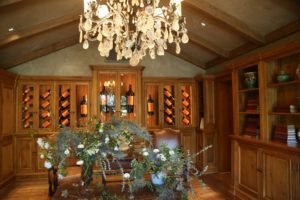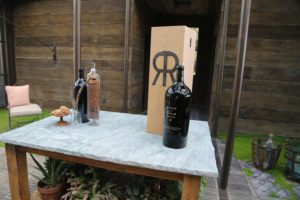 The 2014 Oakville Estate Samantha's Cabernet Sauvignon shows a diversity of aromas including a sweetness of dark fruit, notes of tobacco, a hint of sage and an elegant cedar box nuance. Supple on the entry and seamless through to the finish, this wine is quite approachable in its youth. Superbly balanced, the finish shows polished and integrated tannins with a hint of lingering vanilla.
The 2013 Rudd Oakville Estate Red is a remarkable wine – it has depth and balance both on the bouquet and palate. It is a wine you don't want to stop smelling. Well-layered aromatics show on the bouquet with an elegant dark fruit blackberry and boysenberry profile along with a subtle thread of vanilla sweetness and a hint of cedar box. Shows mostly dark fruit on the palate anchored with a dusty nuance towards the finish. We gravitate towards wines such as this one where the tannins are pronounced but without any harsh edges. They are grainier and denser in their textural feel rather than coarse and gritty. Somewhat dry, they anchor an extended finish. A combination of vintage and style will ensure this is a very long-lasting wine.
Total annual production is around 2,500 cases. A visit is for serious wine enthusiasts and collectors. For more information or to join their allocation list, visit: www.ruddwines.com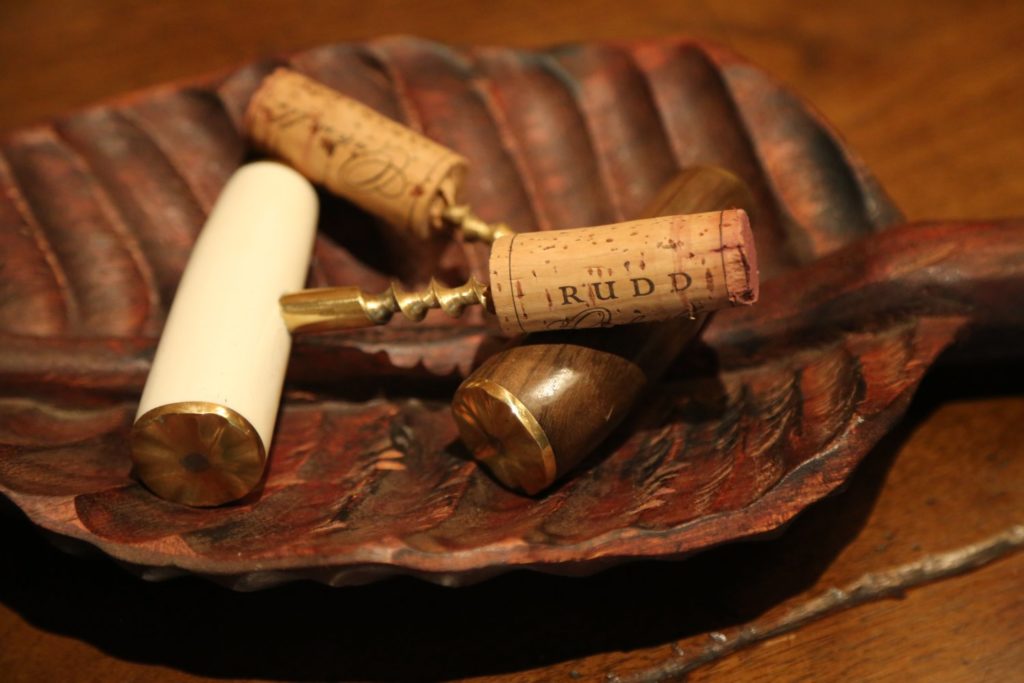 Estate/Winery

Rudd Performing Arts Classroom, St. Helena High School