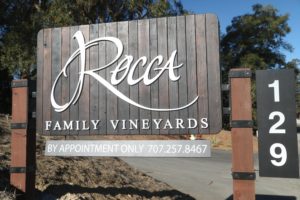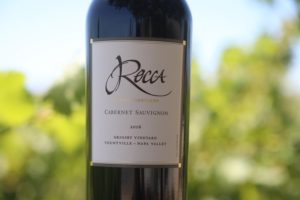 Rocca Family Vineyards owns two vineyards, one in Yountville and one in Coombsville slightly north east of the town of Napa. No winery production exists on either property; their wines are produced at a custom-crush winery near the city of Napa. For about four years, Rocca maintained an open-to-the-public tasting room on Main Street in Napa until they closed this in early 2009. Currently, tastings are by appointment – hosted at a historic Victorian in south Napa, a charming old house that was built by General Vallejo.
Rocca Family Vineyards is owned by Mary Rocca and her former husband Eric Grigsby. Mary (born and raised in Santa Rosa in neighboring Sonoma County) is a former cosmetic dentist who operated her own dental practice (Rocca Dental Care) for 10 years before 'retiring' to devote her time the winery. Eric is a pain management doctor based in Napa who founded the Napa Pain Institute in 1992 – today offering a variety of treatments for various ailments including surgery at the nearby Napa Surgery Center. He also operates the Spine and Pain Center of Kauai, in Hawaii. In addition, he established the first Pain Management Center at the University of California at Davis Medical Center and also served as their Medical Director.
Their Yountville Vineyard is named after Eric (the 21-acre Grigsby Vineyard) and their Coombsville Vineyard (11 acres) is called Collinetta (roughly translates to "little hill" in Italian) with two defining physical features; the rolling hills and also an old stone chimney that is now surrounded by vines. This chimney is all that remains from a house that burned down in the 1950s – the former owner of this home was a German cooper, making wine barrels.
The Rocca's original intent was not to make wines, rather to manage their vineyards and sell all the fruit to growers. After tasting the quality of wines being produced from their two vineyards, they decided it made sense to bottle their own wines.
Their first vintage was from 1999. While all their red wine comes from their two estate vineyards, they do sell some of their grapes to other area vintners, usually holding back about 40% of their grapes for their own wines (they currently produce about 2,000 cases annually). One unique feature of their vineyard management has been the use of draft horses among the vineyard rows. This is "quiet farming" compared to a tractor, environmentally friendly, and in addition – these animals are not as heavy as a tractor, therefore are much gentler on the land.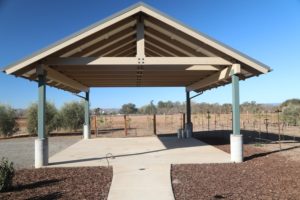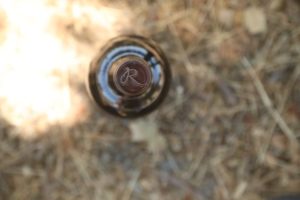 Their focus is on reds and in our opinion the primary hallmark of Rocca's wines are their incredibly soft and luscious mouth feels with a richness of fruit but often featuring delicate tannins anchoring the finish. Their wines do not overwhelm the palate and are meant to be consumed early but can also be aged. Part of this mouth feel comes from how they handle the fruit and their wine making style – during harvest and fermentation they process the fruit as minimally and gently as possible which helps avoid some of the harshness sometimes found in red wine. In addition, they do not filter, and minimally fine as maximum flavor is a key component to their wines. Each of their estate Cabernet Sauvignons are 100% varietal.
Bad Boy Red was a wine with a memorable name and was one of the first Rocca wines we ever tried. Eric's photo is pictured on this label. The name hints at an interesting story. In 1999 during a pump-over on one of the tanks one of their employees accidentally blended in 10% Zinfandel into their Merlot. Each of these varieties was meant to be standalone wines but after the fortuitous blending mistake, they were impressed with the resulting wine and bottled several more subsequent vintages. Despite this "mistake", this wine turned out to be very well-received. Sometimes accidents work out for the best.
Select Wines
The only wine produced that Rocca does not farm and grow themselves is their Chardonnay. It is sourced from the iconic organically farmed UV Vineyard in Sonoma County, farmed by the Valdez family and sourced by select Napa and Sonoma County producers including Aubert and Carte Blanch.
The 2017 Rocca Family Vineyards UV Vineyard Sonoma Coast is deep gold in the glass; the bouquet immediately offers aromas of ripe melon, papaya and mango with some pretty additional nuances including notes of vanilla, caramel and butterscotch. Rounded but not creamy across the palate, this wine offers flavors of mandarin, apricot, pineapple and a lemon zest. A noticeable vibrancy of acidity lingers on the finish – not tart but with plenty of zing to make one reach for another sip. Refreshing. Mouthwatering. This wine showcases the varietal characteristics very well. It was fermented in French oak barrels and aged in these barrels for 16 months (33% new French oak).
The 2016 Rocca Family Vineyards Grigsby Vineyard Cabernet Sauvignon is dark ruby in color; shows ripe (but not jammy) fruit forward aromatics including blackberry and boysenberry along with notes of mocha, vanilla, clove, cassis and some earth nuances. Very pretty. Full of fruit, there is a noticeable intensity of flavor across the palate. However, the textural feel is supple with chalk-like finely dispersed tannins. Shows some darker fruit on the finish including plum and blackberry. Tasted five years post vintage date – showing both the texture and richness of fruit that Rocca is known for and that we were attracted to years ago when we first tried their wines.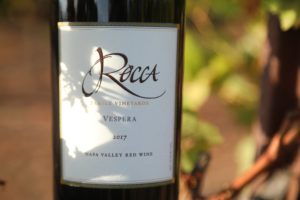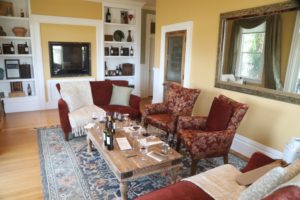 The 2013 Rocca Family Vineyards Grigsby Vineyard Merlot might be mistaken for a Cabernet Sauvignon in a blind tasting. Wonderful fruit both on the bouquet and palate. Features a ripe bouquet, yet an elegant one. Shows aromatic notes of plum, raspberry and blackberry complemented by subtle notes of milk chocolate. Balanced across the palate, this wine features the Rocca hallmark silky soft tannins on the finish.
The 2017 Rocca Family Vineyards Vespera is a red blend built from a barrel selection and is entirely from the Grigsby Vineyard. It is a blend of 43% Cabernet Sauvignon, 36% Syrah and 21% Merlot. This wine is noticeable dark, deep ruby in color; offers a 'bowlful' of ripe fruit including dark cherry, boysenberry, blackberry, dark licorice and hints of cinnamon and clove deeper into the bouquet. Offers ripe fruit across the palate showing more black fruits than red. This is a fairly opulent and energetic showing (we tasted 4 years post vintage date). The tannins are still a bit tightly woven – not showing a heavy or course grip but lighter to medium weight. Shows some notes of crushed peppercorn, cedar box and dried tobacco leaf on the savory finish. This wine was aged 22 months in 60% new French oak. Vespera in Latin means a time to gather with friends and family in the evening.
The 2004 Rocca Family Vineyards Syrah is wine worth seeking out. Depending on the style, Syrah can often show meaty and peppery characteristics both on the bouquet and on the palate; this is not one of those wines. It is dark in color – almost black featuring rich ripe fruit. Smoky oak and dark fruit aromas show on the bouquet with plenty of rich ripe layered fruit on the palate. Like all of the Rocca wines, this one melts in your mouth. During one of our early visits a 1999 Rocca Family Vineyards Syrah was available for tasting (their first vintage). This wine showed like a more classic Napa Valley Syrah. This older vintage featured a noticeable thread of sweetness that lasted across the palate mixed with toasted oak and intense fruit flavors.
The 2005 Rocca Family Vineyards Bad Boy Red is a blend of Syrah, Cabernet Franc, and small amounts of Merlot and Petit Verdot. Pretty aromas of blackberry, blueberry and black cherry show across the palate. The soft texture on the entry continues all the way to the finish and then lingers equally as softly on the finish.
Are you primarily a white wine drinker? Perhaps you will be convinced to come over to the red side after drinking Rocca's wines. Their tannins are always well managed, with a richness and depth of flavor while the texture on the palate is incredibly smooth – like liquid velvet. These are often crowd favorite wines.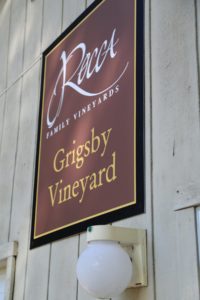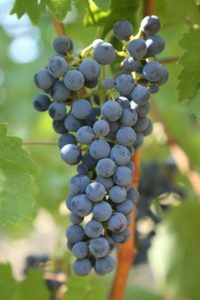 And speaking of white wines, after 15 years Rocca Family Vineyards decided to produce their first white wine – a 2014 Chardonnay from a cooler part of the Sonoma Coast in neighboring Sonoma County. They continue to produce a Chardonnay each year. The 2014 Rocca Family Vineyards Chardonnay is pleasing for what it does not have – it is not buttery, not oaky and not even creamy. It is a very balanced wine that simply tastes delicious with a richness of flavor – along with a liveliness of dancing acidity.
Due to their limited quantities, their wines often sell out quickly. Interested parties can visit their website to join their mailing list, wine club or the Rocca Famiglia, an allocation list. For premium Napa Valley red wines, their wines are priced well for the quality – especially from a boutique producer. Rocca Family Vineyards have won top honors in several domestic based blind competitions as well as one in Bordeaux, France.
Palace Market, Point Reyes Station
Mary owns and operates the Palace Market in Point Reyes Station in Marin County, located about an hour and 15-minute drive from their tasting room in Napa. She took over ownership in 2000 from her mother; the original market on site opened in 1898 as the Point Reyes Emporium. Mary's parents, Carlo and Dorothy Rocca purchased it in 1973. This community market offers a variety of artisan, local and organic products. Naturally, it features a nice wine selection, both of Napa Valley and beyond including several vintages of Rocca wines among a 'women winery' owned section. The market also contains a deli, meat section and a small produce department.
It caters both to locals as well as tourists passing through or staying in the area. Point Reyes Station is a charming little town that takes its name from the railroad station which was next to the train tracks that ran through town for nearly 60 years until 1933. The community features several restaurants and art galleries. It is never very crowded due to its somewhat remote location and lack of abundant lodging.
Palace Market

Point Reyes Station

Mary and Eric also oversee HealthRoots Foundation which provides medical help to some of the poorest regions in Africa. They founded this in 1996 with initial projects conducted in Malawi in east-central Africa. They focus on supporting students, researchers and other health-care professionals with necessary medical equipment and technology with placement in communities that need this the most. And they have created valued partnerships with Stanford, UC Berkeley and Mayo Clinic.
Total production is under 1,500 cases, primarily sold direct to consumer. For more information and to schedule an appointment, visit: www.roccawines.com
Grigsby Vineyard

Collinetta Vineyard

Napa Pain Institute

Old Tasting Room, Napa (we keep these photographs for historical purposes)