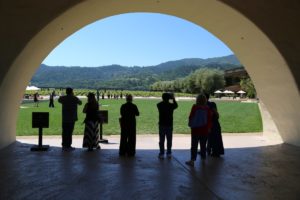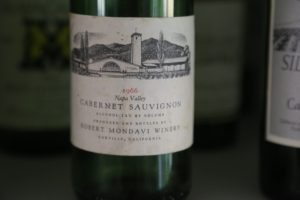 Robert Mondavi Winery (acquired by Constellation Brands, Inc. in 2004) is one of the Napa Valley's most iconic and visited wineries; it is located on the busy "wine strip" on the west side of Highway 29 in Oakville just north of the Oakville Cross Road. It is one of the few wineries in the valley that draws people from around the world from a diversity of cultures. Stand near the entrance on a busy summer weekend and listen to all the languages being spoken. Want to take bets to see if Mondavi is the most photographed winery in the Napa Valley? It is certainly one of them.
One enters the main driveway through olive trees – but it wasn't always this way. One used to enter the winery past rows of vineyards planted all the way to the edge of the driveway with the main parking lot on site of the present day round-about. Both parking lots (on the left and right side of the main driveway) are surrounded by rows of grapes and gives one a good chance to see a grapevine up close. An excellent garden is situated on the north side of the main building. Like other often visited wineries in Napa Valley, they maintain a good sized gift shop.
An ideal place to relax and taste wine is on the benches and stone walls near the main lawn. On a busy weekend with good weather there are always plenty of people tasting outside overlooking the winery, the vineyards and the expansive lawn. Art plays a prominent role here – as you wander the grounds you will see statues, paintings and other works of art, many by California-Italian artist Beniamino Bufano (noted for a number of public work pieces in the San Francisco Bay Area – and for the Bufano obelisk along the coastline in northern Sonoma County). Robert's wife Margrit (who was originally a tour guide at Charles Krug Winery) played a critical role in this regard by introducing various works of art to the winery from a number of artists (and even today, the winery maintains an artist in residence program).
Almost single-handedly the Mondavi family, led by Robert played a prominent role in promoting the Napa Valley to the world – improving the standards of vineyard management, wine-making practices and marketing not only their own winery but also the region as a whole to the world. Robert's philosophy in reference to the Napa Valley was that a rising tide carries all ships – improving the stature of not only his own winery but all the others in the valley will improve the reputation of the Napa Valley as a whole – therefore benefiting everyone involved in the regions' wine industry.
Robert was one of Napa's most charismatic and influential individuals having envisioned Auction Napa Valley (he and Margrit were the founding chairpersons of the auction in 1981). Robert also was instrumental in founding the Copia Food & Wine Center (re-opened in 2016 as the CIA at Copia) in the town of Napa and the performing arts center at UC Davis is named after him.
And according to Robert Mondavi's longtime Director of Winemaking, Geneviève Janssens, Robert's wine making philosophy was to create red wines with the power of Pavarotti but with the softness of a baby's bottom.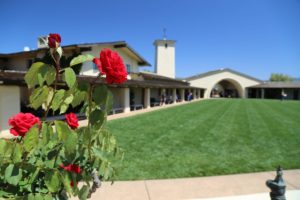 Robert was born in Minnesota and grew up in Lodi California after his father Cesare decided to relocate the family. Cesare worked in the wholesale grape business – buying grapes and shipping to mostly Italian-American families for use in making home wine. The family lived in at least two homes in the Lodi area, the most prominent family home is still standing – located only a few blocks from downtown Lodi. The home was built in 1917 – the family moved in sometimes in the mid 1920s. Dated today, the interior feels like walking back in time – original wallpaper that Rosa chose still lines the walls, the original radiator still works and the front room is still in its same location (albeit with different decor) where Cesare conducted his wine business (see our photos of the home at the bottom of this review). And it was within these walls that in 1943 Robert first broached the idea of purchasing Charles Krug Winery to his father.
Robert graduated from Stanford University in 1937 with a degree in economics and business administration. Cesare had been selling wines for Sunny St. Helena Winery (site of today's Merryvale Vineyard) for several years before becoming a partner in 1937. After graduating from Stanford, Robert began working here until his parents purchased Charles Krug Winery in 1943. Cesare later sold Sunny St. Helena in 1946 to focus on running Charles Krug Winery. Robert worked at Krug until 1965 when he parted ways and founded Robert Mondavi Winery in 1966. Incidentally, Robert Mondavi's first client was noted winemaker John Daniel of Inglenook Vineyards who purchased 5 cases of the 1966 vintage. Prominent California architect Cliff May was responsible for the design of the winery and hospitality center – blending a California mission look with a California Ranch House style.
In 1968 the winery needed a financial boost – that ultimately came from Rainier Brewing in Seattle who invested an influx of cash into the winery with the caveat that production would increase significantly. It did, and eventually Robert Mondavi was able to buy back the shares and gained full control again of his own winery.
Locally sometimes referred to as 'the college of Mondavi', a number of prominent 20th century Napa winemakers spent part of their early careers at Robert Mondavi including well known winemakers Warren Winiarski, Mike Grgich and Zelma Long. Mr. Mondavi's influence was great – simply reference all the winemakers who established their own wineries or brands after spending time working at Robert Mondavi Winery.
In 1989 Robert Mondavi Winery opened the Robert Mondavi Wine and Cultural Center at 1570 Scenic Way in Costa Mesa, California. While it was operating, the space was used as office space and also for hosting wine related corporate events and wine educational programs. The building is still there (features 12,000 square feet of indoor space and 12,000 square feet of gardens), but is now owned by the Turnip Rose Catering Company, and the former winery hospitality space is now known as The Promenade.
While Robert and his brother Peter did not part terms amicably in the mid 1960s, later they reconnected and in 2005 made a single barrel of wine together for the Napa Valley Wine Auction called Ancora Una Volta – in English meaning, once again. The wine was made 50/50 from vineyards from their two properties including a Peter Mondavi's owned vineyard in Yountville and Robert Mondavi's To Kalon Vineyard. The barrel sold for $400,000, all bottled as magnums.
To Kalon Vineyard
Arguably the most famous vineyard in the country (the Grand Cru of many of Napa's premiere vineyards), the To Kalon Vineyard under the Robert Mondavi Winery ownership is some nearly 450 acres of vines (although note, that not all of their property was part of the original To Kalon Vineyard). Robert was already very familiar with this vineyard as Charles Krug had been making wine from it for many years having owned some 400+ acres. Charles Krug's ownership of the vineyard was eventually awarded/transferred to Robert Mondavi through a legal settlement.
However, To Kalon dates back much further – to 1868. Founder, H.W. Crabb purchased 240 acres in 1868 started planting grapes, several years later built a winery, called it Hermosa Vineyards and 10 years later it had become the third largest wine producer in Napa County. At one point To Kalon was owned by Edward Churchill of the prominent Churchill family in the city of Napa (the Churchill Manor bed and breakfast near downtown Napa carries his namesake).
The vineyard was purchased in 1943 by a man named Martin Stelling who planned to build his own winery but tragically was killed in a car crash in 1950. Martin's widow Caroline Stelling had the task of selling off parts of what were 600 acres that her husband had accumulated before his death.
The vine composition looked nothing like today – back then varieties such as Malvasia, Burgundy, Chartreuse, Riesling, Chasselas, Berger, Hamburg, Tokay and Muscat were commonly planted. In fact, at one point To Kalon was planted to nearly 400 different varieties which was the largest collection of grape varieties in one vineyard in all of the country. by the end of the 1870s his vineyard had grown to 160 acres.
Robert Mondavi Winery maintains a diversity of varieties in their portion of To Kalon including the amazing I-Block, home to their 1945 original plantings of Sauvignon Blanc still head-pruned and dry-farmed (one of the oldest commercial planting of Sauvignon Blanc vines in North America – although the original Sauvignon Blanc plantings at the Lolonis Vineyard to the north in Mendocino County were planted in 1941) with other parts of their vineyard planted to Merlot, Cabernet Franc, Malbec, Petit Verdot, Syrah and Sémillon.
The vineyards and winery were renamed to To-Kalon in 1886. By the turn of the century Phylloxera had destroyed much of the vineyard (about 100 years later this louse would again destroy the majority of the vines in To Kalon along with other Mondavi vineyard holdings) and much later and it was replanted to cherries – which incidentally became one of the largest cherry orchards in the country. The winery shut down during Prohibition, reopened after, only sold bulk wine and unfortunately a fire in 1939 ended both this massive winery and their operations. Today nothing remains of the winery and its original 2-acre site is now completely planted to grapevines (we have visited this particular section of the vineyard before).
The name To Kalon itself is Greek and according to founder H.W. Crabb, "…means the highest good, but I try to make it mean the boss vineyard". The name has seen a number of variations with "To" being separated by a "=" originally, then a "-" and finally simply, To Kalon.
Today only a fortunate few wineries and producers manage its overall sizable acreage (Crabb's original To Kalon holding was 526 acres): Robert Mondavi Winery owns the largest portion, Opus One has several larger blocks and grower Andy Beckstoffer owns and manages a relatively small percentage of the entire vineyard and sells to approximately 15 producers who then make a single vineyard wine.
Two families own and manage small portions of what historically is the rest of the vineyard. The MacDonald's have 15 planted acres – all planted to Cabernet Sauvignon and their second cousins, the Detert's focus on Cabernet Franc and Cabernet Sauvignon. Also a tiny portion of Pinot Noir (under different ownership) planted in historic To Kalon is used for POP 300 wine brand (on the site of HW Crabb's original homestead – his house burned down in 1997).
UC Davis also manages a 40 acre "experimental vineyard" of which 20 acres are within the historical To Kalon vineyard's boundaries. Incidentally, after H.W. Crabb died this experimental vineyard was under the control of the USDA and was instrumental in its research on developing Phylloxera resistant rootstock.
And the allure of To Kalon continues – in 2017 Constellation Brands, Inc., formed the To Kalon Vineyard Company.
Tours & Tastings
Robert Mondavi Winery offers some of the most well-rounded wine educational seminars, unique wine experiences and a diversity of tastings & tours of any winery in the Napa Valley. Several tastings and tours are available by walk-in, other more in depth experiences require appointments.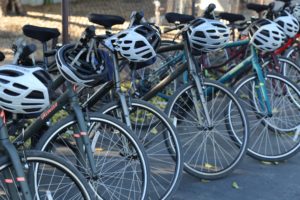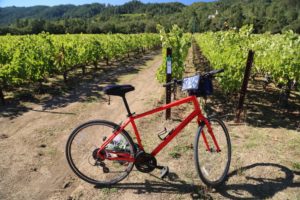 Robert Mondavi's philosophy was one of openness and to always to share his winery operations with visitors – to bring visitors into the heart of the winery and explain the various processes. And while most wineries in the valley now have gates, Robert Mondavi Winery still has no gate. This philosophy of sharing information continues today; For first time visitors, we highly recommend the 90 minute Signature Tour & Tasting and make reservations in advance if possible. This experience provides an informative overview of the winery, it's rich history and general information about the region including the Oakville sub appellation (where Robert Mondavi Winery is located).
Before any tour, guests are handed a small colored token which indicates you have paid for the tour (clip this to your shirt or simply show the guide); meet your guide on the walkway or grassy section near the entrance. As one of our guides mentioned to start the tour, "grab your cameras, turn off your cell phones and lets go".
Questions are encouraged throughout the tour, however keep in mind the winery caters to all levels of education in regards to wine and sees visitors from around the world – some of whom have a limited knowledge of wine. Case in point: on one of our tours, one of the guests asked if the wine making team puts cranberries and cherries into their wines to give it those particular flavors. The simple answer is no – and our guide very patiently answered this question.
Guests proceed out to the edge of the vineyards (weather permitting) for a quick vineyard overview (including a stop in front of several short rows of Mission grapevines (a nod to the first grapes planted in the state of California by Europeans) followed by a visit to the impressive fermentation room. Fifty six 20,000 gallon tanks were assembled in France, then dissembled for the journey to the winery and then reassembled on site. These Tonnellerie Taransaud manufactured tanks are used for fermentation (not aging). Each tank is equivalent to approximately 339 fifty nine-gallon wine barrels. A production video is shown at this point. The tour culminates with a seated tasting of several of their current release wines.
And for select international visitors, tours in Chinese (Mandarin or Cantonese), Spanish or French can be arranged by prior appointment.
The Discovery Tour is ideal for guests who do not have reservations and want a quick introduction to Robert Mondavi Winery. This tour includes a 30 minute walk through parts of the property including the To Kalon Cellar, and barrel aging room followed by a quick tasting of two of their wines.
Other experiences (some seasonal or weekend only) include a bicycle tour of the To Kalon Vineyard, an Art Tour, the Twilight Tour, an after hours Fireside Tasting and with a full time in house chef on site + commercial kitchen, a number of food and wine experiences are also offered including lunch and dinner experiences.
NOTE: we have personally been on the Signature Tour + Tasting, the Discovery Tour, the To Kalon Vineyard tour and will experience these select other offerings first-hand as time permits.
Wines & Winemaking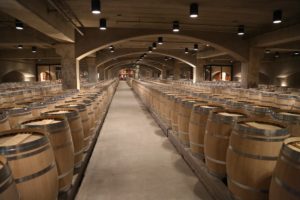 During harvest, the fermentation room becomes a hive of activity especially with employees doing pump overs (mixing the fermenting juice with the cap – seeds and skins that rise to the top of each wooden tank). Over the years the Mondavi staff have devised a simple communication system between the employee on the top of the tank and the employee hooking up the pump to the bottom of the tank. The employee on top simply drops down a soccer ball hanging from a net to let the other employee know that he is ready to start the process – and then the pump can be turned on!
The barrel aging room located below this giant tank room is a sight worth seeing. Mist released from ceiling misters combined with the romantic play of light helps create a unique ambiance in this, one of the largest and most seductive barrel aging rooms of any Napa winery. Two private tasting rooms anchor each side of this barrel room.
Robert Mondavi's first ever wine released was the 1966 vintage in 1967 – a rosé from Napa Gamay (rosé being a quick to market wine) followed by a Chenin Blanc. In 1966 Robert Mondavi created what he called the first Fumé Blanc from the Sauvignon Blanc grape. This wine is sourced from what is called the "I-block" located in the To Kalon Vineyard (featuring old Sauvignon Blanc vines – up to 70+ years old). Along with Sémillon this is the only white variety planted in the To Kalon Vineyard. Today there is a barrel aging room devoted entirely to this wine. Visitors will pass by it before entering the primary tasting room.
There are numerous reasons why Robert Mondavi Winery has become one of Napa's most well-known wineries and one of those is they consistently produce a quality product that people enjoy. Producing wines of this caliber each year helps when they source from premium vineyards including their own well-regarded To Kalon Vineyard on site. In our opinion this is an example of a winery with a large sized production (by Napa standards) that has not compromised quality in their wines.
The winery is large by Napa standards but in the real scope of the wine world they are medium sized. And note that the Robert Mondavi wines are their flagship wines and are produced in much lower quantities than Woodbridge by Robert Mondavi (a winery located in Acampo, California).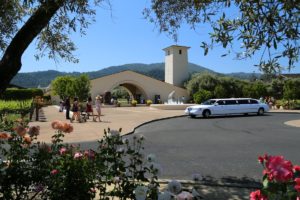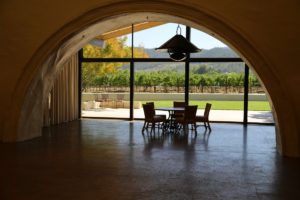 The 2002 Robert Mondavi Winery Vine Hill Ranch Cabernet Sauvignon (one of Napa's top vineyard sites, also located in Oakville) has rich aromas of blackberry, violet and chocolate which also carry into the palate. This is a premium Napa Valley Cabernet Sauvignon – and should be on the list of any serious Napaphile.
The 2014 Robert Mondavi Reserve Pinot Noir from Carneros (the Napa side of this sub appellation) was fermented in open-top tanks – the wine was cold soaked for several days and saw some extended maceration post fermentation. The majority of this wine was aged in new French oak for 9 months. Highly aromatic, the bouquet shows red berry fruit on the palate with a noticeable earthiness complemented by dessert spices (cloves and cinnamon). Excellent acidity – but also noteworthy is the structure of this wine – especially felt on the long lasting slightly spicy (white pepper) finish. It is a robust Pinot Noir with certainly plenty of life ahead of it.
The Robert Mondavi Winery Moscato d'Oro (Muscat Canelli) is a light, sweet crisp wine very popular for summertime drinking or for pairing with spicy foods. These are just a few of the wines we have sampled at Mondavi during multiple visits as as they produce a wide diversity of wines.
The 2006 Robert Mondavi Winery Fumé Blanc is a crisp wine with citrus aromas and similar flavors with some intriguing minerality characteristics.
The 2006 Robert Mondavi Winery Pinot Noir Reserve is made from grapes mostly sourced from the Carneros growing region in the southern Napa Valley is one of the nicer Pinot Noir wines we have had from the Napa Valley. Dijon clone perhaps? It shows plenty of cherry and cranberry aromas with layered flavors and well structured tannins.
Woodbridge by Robert Mondavi.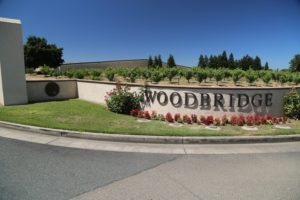 Founded by Robert Mondavi in 1979 as Woodbridge Winery, located in Woodbridge (Lodi) the winery is now known as Woodbridge by Robert Mondavi. This was site of the old co-op known as the Cherokee Wine Association (founded in the years immediately following Prohibition). The winery is located only about a 10 minute drive from the Mondavi's old family home in Lodi.
Woodbridge initially focused on red and white table wines – but long ago diversified their product line and today produce numerous varietal specific wines, all at reasonable prices with national and international distribution. For many years the winery operated a tasting room open to the public and offered tours, but closed this in June 2019. Although we heard that it could possibly open again in the future. Like Robert Mondavi Winery, Woodbridge by Robert Mondavi is owned by Constellation Brands, Inc.
Margrit Mondavi Summer Concert Series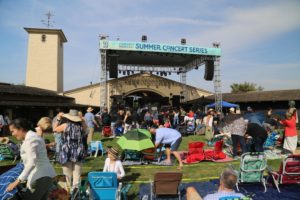 Visiting in the summer? Mondavi's Summer Music Festivals (held annually since 1969) are extremely popular. This event has come a long way since 1969 when a stage was borrowed from a high school in the city of Napa (the first performance was by the Napa Valley Symphony). The great lawn is home to each concert (always held in the evenings). A number of well-known individuals have performed here since the Napa Valley Symphony Orchestra performed at the inaugural event – some of these individuals include, Benny Goodman, Ella Fitzgerald, Lena Horne, Glen Campbell, Ray Charles and others. All proceeds from these concerts directly benefit Napa Valley Unified School District high school music programs (over 2 million dollars raised since the inception).
The gates typically open at 5pm with the show beginning at 7pm. People start lining up well before the admission time – get here early (an hour prior) to get a good parking spot. Bring lawn chairs (but no high back chairs) – seating on the grass is first come first serve with the coveted seats close to the stage filling up early in the evening. A limited number of reserved seats are available in their patio. Guests can also opt for a sit down dinner – with tables located among the vines right next to part of the To Kalon Vineyard. Or choose from several food trucks parked at the entrance to the winery.
Mondavi Center, UC Davis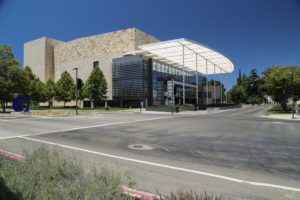 Known as the Mondavi Center, its official name is the Robert and Margrit Mondavi Center for the Performing Arts opened in 2002 (easily seen from the nearby 80 freeway). Robert & Margrit donated $10 million as part of its initial financing. The Mondavi Center is home of the University Symphony Orchestra and hosts a variety of musical, theatre, dance and other artistic performances throughout the year.
Numerous well known personalities have taken the stage here over the years including comedian Paula Poundstone, violinist Joshua Bell, Stephen Hawking and politician John Edwards among others. These ticketed events are open to the public.
Robert Mondavi Institute for Wine and Food Science, UC Davis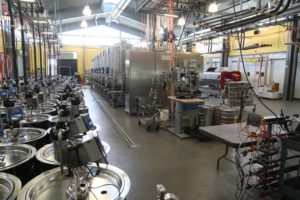 Robert Mondavi Institute for Wine and Food Science opened in 2008 funded in part by a $25 million gift from Robert Mondavi to the University of California, Davis. The institute encompasses the Viticulture & Enology and Food Science & Technology department as well as the UC Davis Olive Center and Honey and Pollination Center.
The world's only LEED Platinum Teaching and Research winery opened in 2010; the winery is part of the Viticulture & Enology department. This winery was built with private funding and donations. A number of prominent winery sponsors helped fund the winery including J Lohr, Beringer and Constellation. Numerous recycled materials were used in its construction, natural lighting was implemented wherever possible including in the lab (what looks like normal lights in the ceiling are actually vents opening to the roof to allow sunlight into the room), solar power is used from nearby solar panels and non potable water is collected from the roof for additional uses.
Unlike a normal production winery the inside of this winery looks much different; it is dedicated to research and experimentation including using grapes from the 12.5 acre vineyard directly outside of the winery. The technology the students have at their disposal is impressive. Long time professor Roger Boulton designed a custom fermentation system for micro fermentations. With the help of T.J. Rodgers, the founder of Cypress Semiconductor (whose own wine is called Clos de la Tech – with most bottles embedded with a silicon chip in the label), a high tech stainless steel barrel was built (the barrels are simply called TJs by students and faculty). Today the winery has 150 of these – each able to measure temperature, residual sugar and control scheduling for pump-overs. A phone can pull any data recorded from these vessels during fermentation simply by scanning the unique QR code on each of the barrels. Oak is not used for fermentation experiments due to its variability.
The winery has played a role in researching smoke taint and has made wine from Pierce's Disease resistant cultivars.
An adjoining wine room contains numerous wines – both from Napa and Sonoma in particular but also from Europe including some very old and rare wines. The winery in part uses some of these wines for analysis purposes as well as for select fundraising events. The winery's own label is bottled as the UC Davis Oakville Station from grapes from their experimental vineyard in Oakville.
And we will leave you with a spirited and wonderful quote by Mr. Mondavi, which hopefully still sums up the environment of the valley, "we are in competition with each other. We are not in competition against each other."
—
For more information, to book an appointment and or to join one of Robert Mondavi's select wine clubs, visit: www.robertmondavi.com
Grounds

To Kalon Vineyard

Sauvignon Blanc, Historic I Block

Cabernet Sauvignon, Historic Monastery Block

Winemaking

Hospitality

Margrit Mondavi Summer Concert Series

Robert Mondavi Childhood House, Lodi, CA

Robert & Marjorie Mondavi (Declusin) home, St. Helena

Mondavi Center, UC Davis

Robert Mondavi Institute for Wine and Food Science, UC Davis

Teaching and Research Winery, UC Davis (part of the Mondavi Institute)

Woodbridge by Robert Mondavi, Acampo