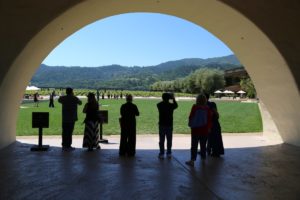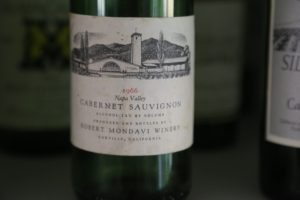 Robert Mondavi Winery (acquired by Constellation Brands, Inc. in 2004, the same company that also owns 50% of Opus One) is one of Napa Valley's most iconic and visited wineries; it is located on the busy "wine strip" on the west side of Highway 29 in Oakville just north of Oakville Cross Road. It is one of the few wineries in the valley that draws people from around the world from a diversity of cultures. Stand near the entrance on a busy summer weekend and listen to all the languages being spoken. Want to take bets to see if Mondavi is the most photographed winery in Napa Valley? It is certainly one of them.
Note that Robert Mondavi Winery is closed until at least late 2025 and all hospitality experiences have moved to Arch & Tower in downtown Napa. View our notes on this location towards the middle of this review. As a result of the upgrades happening at Robert Mondavi Winery, parts of this review will be significantly updated once the estate winery has re-opened to the public.
One enters the main driveway through olive trees, but it wasn't always this way. One used to enter the winery past rows of vineyards planted all the way to the edge of the driveway with the main parking lot on site of the present-day round-about. Both parking lots (on the left and right side of the main driveway) are surrounded by rows of grapes and gives one a good chance to see grapevines up close (in early to late summer the vines are full of grapes). An excellent garden is situated on the north side of the main building. For many years Robert Mondavi Winery used to maintain a sizable gift shop but this has since been converted into an employee space or is used for private events. The wine shop is now part of the reception area and focuses on wine sales rather than wine related souvenirs.
An ideal place to relax and taste wine is on the benches and stone walls near the main lawn. On a busy weekend with good weather there are always plenty of people tasting outside overlooking the winery, the vineyards and the expansive lawn. Art plays a prominent role here; as visitors wander the grounds they will see statues, paintings and other works of art, many by California-Italian artist Beniamino Bufano, noted for a number of public work pieces in the San Francisco Bay Area and for the Bufano obelisk along the coastline in northern Sonoma County.
Robert's wife Margrit (Kellenberger, later Bevier) Mondavi was born in Switzerland in 1925; beginning in 1964 she worked at Charles Krug Winery where she was Napa Valley's first female tour guide. She later joined Robert Mondavi Winery in 1967 to oversee public relations and later was Vice President of Cultural Affairs. She married Robert in 1980.
When Margrit began working in Napa Valley, tourism was in its infancy. Through both her and Robert's efforts, not only has Robert Mondavi Winery become one of the most visited and well-known wineries in Napa Valley, but she and her husband played integral roles in helping elevate the reputation of the valley, not only from a wine perspective but also as a world-class destination for food, arts and music.
Long interested in arts, she played an important role at the winery by introducing various works of art to the winery from select artists. We found an article from 1954 referencing her own paintings in an exhibit in the Spokane Arts Fair, describing her work, "she paints with authority in the traditional manner". Even today, Robert Mondavi Winery maintains an artist in residence program.
She was also instrumental in implementing a variety of food, music and wine related events at Robert Mondavi Winery including the Margrit Mondavi Summer Concert Series. In addition, she was a prolific traveler including taking trips to help promote Napa Valley. She wrote several books including Reflections on Wine, Food, Art, Family, Romance and Life in 2012.
Arguably, Margrit was just as important as Robert was in promoting Napa Valley and acted as one of its strongest ambassadors. We recall that she continued to attend events at Robert Mondavi Winery even in her later years. She was so full of life and had an inner vitality that certainly was in part, fueled by being around other people. She died at 91 years of age in 2016.
Robert played a prominent role in promoting Napa Valley to the world, improving the standards of vineyard management, wine-making practices and marketing not only his own winery but also the region as a whole. Robert's philosophy in reference to Napa Valley was that a rising tide carries all ships thus improving the stature of not only Robert Mondavi Winery but also all the others in the valley. And by doing so, will build the reputation of Napa Valley as a whole, therefore benefiting everyone involved in the regions' wine industry.
Robert was one of Napa's most charismatic and influential individuals; he envisioned Auction Napa Valley and he and Margrit were the founding chairpersons of this auction in 1981. Robert also was instrumental in founding Copia Food & Wine Center (after a number of years of being vacant, it re-opened in 2016 as The CIA at Copia) in the town of Napa. The performing arts center at UC Davis is named after Mondavi.
And according to Robert Mondavi's longtime Director of Winemaking, Geneviève Janssens, Robert's wine making philosophy was to create red wines with the power of Pavarotti but with the softness of a baby's bottom.
Robert was born in Minnesota and grew up in Lodi, California after his father Cesare decided to relocate the family. Cesare worked in the wholesale grape business which included buying grapes and shipping to mostly Italian-American families for use in making home wine. The family lived in at least two homes in the Lodi area, the most prominent family home is still standing and is located only a few blocks from downtown Lodi. The home was built in 1917; the family moved in sometime in the mid 1920s. Dated today, the interior feels like walking back in time with original wallpaper that Rosa chose still lining the walls, the original radiator still works, and the front room is in its same location (albeit with different décor). This is where Cesare conducted his wine business. And it was within these walls that in 1943 Robert first broached the idea of purchasing Charles Krug Winery to his father.
Robert graduated from Stanford University in 1937 with a degree in economics and business administration. Cesare had been selling wines for Sunny St. Helena Winery (site of today's Merryvale Vineyard) for several years before becoming a partner in 1937. After graduating from Stanford, Robert began working here, beginning in 1937 until his parents purchased Charles Krug Winery in 1943. Cesare later sold Sunny St. Helena in 1946 to focus on running Charles Krug Winery. Robert worked at Krug until 1965 when he parted ways over various conflicts in how to operate business, primarily with his brother Peter.
He founded Robert Mondavi Winery in 1966 at age 52 with two business partners Ivan Schoch and Fred Holmes with the purchase of almost 12 acres; both Schock and Holmes were interested in being the primary grape suppliers to Mondavi. Completing the purchase was a loan from friends of Mondavi, Bill and Ina Hart and a $50,000 loan from Bank of America. Both partners were bought out in 1968.
Prominent Los Angeles based architect Cliff May was responsible for the design of the winery and hospitality center, blending a California adobe mission look with a California Ranch House style. Before building his own winery, Mondavi visited Sunset Magazine's headquarters in Menlo Park and was very inspired by its architectural design. May was the designer/architect of the buildings which are still standing at 80/85 Willow Road but are no longer occupied by Sunset Magazine. The former Sunset Magazine headquarters buildings were May's first commercial project. During a visit to the property at times we felt like we were walking through Robert Mondavi Winery, such are the similarities in design and lighting.
Collectively the two buildings and grounds are known as Willow Park and encompass nearly 86,000 square feet of office space along with beautiful park-like gardens. Sunset published their first issue in 1898, moved to this 7-acre site in 1951 from San Francisco and vacated the premises in 2014 and moved to Oakland. Visits to the campus used to be very popular with guests visiting test kitchens, wandering the gardens and admiring the architecture. Remarkably Sunset kept the exact same visiting hours from 9 to 4pm during workdays the entire time they occupied the building.
Sunset used to also host "Celebration Weekend" events every spring when their large parking lot was converted into an outdoor showcase for green living, cooking demonstrations and wine events. After Sunset moved out, their outdoor kitchen and test gardens were moved to Cornerstone Sonoma, a marketplace with shops and wine tasting rooms.
And like at the former Sunset Magazine headquarters, well-known landscape designer Thomas Church laid out the original grounds at Robert Mondavi Winery, which have been significantly altered since his initial work. Interestingly Church also created the landscape design for a small home built in the early 1960s on nearby Walnut Drive and was responsible for the gardens at what is now William Cole Winery and also at La Perla estate and home on the top of Spring Mountain Vineyards (which unfortunately burned to the ground in the 2020 Glass Fire).
Incidentally, Robert Mondavi's first client was noted winemaker John Daniel of Inglenook Vineyards who purchased 5 cases of the 1966 vintage. Their first commercial release was a 1966 Napa Gamay rosé released in early 1967. Because the production facilities were not quite completed in time for harvest that year, some of their grapes were crushed at Charles Krug. And in 1966 Robert Mondavi Winery produced some oak aged Sauvignon Blanc, a wine that would soon be branded as Fumé Blanc and would become extremely popular with consumers.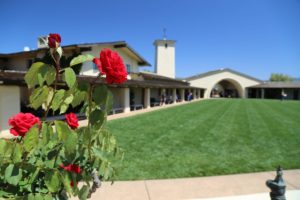 In 1968 the winery needed a financial boost which ultimately came from Rainier Brewing in Seattle who invested an influx of cash with the caveat that production would increase significantly. It did, and eventually Robert Mondavi was able to buy back the shares and gain full control of ownership and operations.
Locally sometimes referred to as 'the college of Mondavi', a number of prominent 20th century Napa winemakers spent part of their early careers at Robert Mondavi including well known winemakers Warren Winiarski, Mike Grgich and Zelma Long. Mr. Mondavi's influence was great – simply reference all the winemakers who established their own wineries or brands after spending time working at Robert Mondavi Winery. Today the Robert Mondavi Technical Council is composed of a number of a number of prominent and well-respected winemakers who collaboratively offer input regarding winemaking and viticulture.
In 1989 Robert Mondavi Winery opened the Robert Mondavi Wine and Cultural Center at 1570 Scenic Way in Costa Mesa, California. While it was operating, the space was used as office space and also for hosting wine related corporate events and wine educational programs. The building is still there (features 12,000 square feet of indoor space and 12,000 square feet of gardens) but is now owned by the Turnip Rose Catering Company, and the former winery hospitality space is now known as The Promenade.
And in the early 1990s Robert Mondavi Winery was one of the founding members of the extremely prestigious Primum Familiae Vini (an exclusive group of top family-owned wineries around the world). Membership is always limited to only a group of 12 families. Robert Mondavi Winery was a member of Primum Familiae Vini unil 2005 until they were no longer family owned, resulting from the sale of the winery to Constellation Brands, Inc.).
In 1999 Robert Mondavi Winery purchased minority shares of Ornellaia (now called Tenuta dell'Ornellaia) in Bolgheri (Tuscany), Italy. This winery was started by Lodovico Antinori (brother of Piero Antinori – see our notes on Antica Winery) with early and important viticulture input from André Tchelistcheff. In 2002 Robert Mondavi Winery purchased the rest of the shares becoming full owner, but then sold 50% to the Frescobaldi family. And after the sale to Constellation Brands, Inc., Robert Mondavi Winery sold the remainder of their shares in 2005.
And an unrelated but still Napa Valley-Ornellaia connection continues; in 2018 Dalla Valle Vineyards and Ornellaia partnered to produce DVO, a very limited production Cabernet Sauvignon initially blended with a small amount of Cabernet Franc for the first two vintages and then later Merlot from select Napa Valley vineyard sites.
While Robert and his brother Peter did not part terms amicably in the mid 1960s, later they reconnected and in 2005 made a single barrel of wine together for the Napa Valley Wine Auction called Ancora Una Volta – in English meaning, once again. The wine was made 50/50 from vineyards from their two properties including a Peter Mondavi owned vineyard in Yountville and Robert Mondavi's To Kalon Vineyard. The barrel sold for $400,000, all bottled as magnums.
To Kalon Vineyard
Arguably the most famous vineyard in the country (the Grand Cru of many of Napa's premiere vineyards), To Kalon Vineyard under Robert Mondavi Winery ownership is some nearly 450 acres of vines, although not all of their property was part of the original To Kalon Vineyard. Robert was already very familiar with this vineyard as Charles Krug had been making wine from it for a number of years and eventually owned some 400+ acres. Charles Krug's ownership of the vineyard was later awarded/transferred to Robert Mondavi Winery through a legal settlement.
Due to its specific latitude in Napa Valley which is not as cool as sites even slightly to the south nor as warm as sites further up valley, plus ideal soils and exposure, To Kalon has been long recognized as a prime site for growing some of the most exceptional wine grapes in all of Napa Valley.
The coveted soils from the To Kalon 'fan' (an alluvial fan) feature materials washed down from the Mayacamas mountains to the west and run almost all the way to the Napa River just to the east of Opus One winery. This fan can be difficult to see, but from the upper lookout at Opus One Winery, looking to the west one can see a slight rise in slope as the soils draw nearer to the base of the Mayacamas mountains. And from personally walking through parts of To Kalon Vineyard we have spotted small rises running in an east/west direction; these are smaller alluvial fans, each with varying amounts of gravel, silt and clay and are some of the choicest spots to plant grapes.
For a detailed and in-depth read of Napa Valley geology including Oakville, we highly recommend the book by Jonathan Swinchatt and David Howell: The Winemaker's Dance: Exploring Terroir in the Napa Valley.
Due to numerous owners and different parcels associated with To Kalon Vineyard over the years, it can be quite confusing to follow the timeline of history associated with this iconic site or what truly defines To Kalon Vineyard.
To Kalon Vineyard dates back to 1868 when its founder, Hamilton Walker (H.W.) Crabb purchased 240 acres in 1868 from George Yount's son-in-law, Eugene. L Sullivan who had been personally deeded 1,000 acres directly from Yount. During Sullivan's ownership (he did not live on site but lived in San Francisco), the property was converted from cattle grazing to wheat, barley and oats and with the transition in ownership, some oranges and many Italian Chestnut trees were planted. Records show that Crabb was still growing wheat on the property in the early 1870s. A 3/4-mile-long horse track also existed on site, called To Kalon Stock Farm.
On the advice of early Napa Valley vintner pioneer John Lewelling, Crabb began planting grapes (initially table grapes but then soon wine grapes). He knew John from San Lorenzo, CA where both were neighbors; in fact, the Crabb and Lewelling family plots are both located in the San Lorenzo Pioneer Cemetery (reference our notes on Lewelling Vineyard for more details and photographs). And it should be noted that Hamilton Crabb was born Hamilton Crabs, but later legally changed his surname. A smart move on his part.
In 1872 Crabb began producing wine, calling his operations Hermosa Vineyards (meaning beautiful in Spanish), with vinification mostly likely occurring in an existing barn on the property. In 1874 he built his first winery. By the early 1880s he had become the third largest wine producer in Napa County. We have seen references in multiple old newspaper articles that its capacity was up to 800,000 gallons of finished wine by the early 1890s but on any given year production was between 200,000 and 300,000 gallons.
In 1878 Crabb tore down his original winery and built his second winery and distillery on site of his original winery; in addition to wines, he produced brandy and limited amounts of grape syrup. In 1886 Crabb named both his winery and vineyard holdings, To Kalon and also significantly expanded the footprint of his existing winery. At its height, his operations employed some 80 full-time employees; in the late 1800s and early 1900s, unlike in contemporary Napa Valley, grape harvesters were mostly Chinese including at To Kalon.
The earliest mention we can find of Crabb's To Kalon Vineyard is in the July 18, 1886, issue of the Washington D.C Herald in which a retailer, Mr. F. Pohndhorff decided to carry for the first time the wines of the "celebrated" To Kalon Vineyard.
The earliest mention of any sort of To Kalon public tasting we have found was in the September 26, 1886, issue of The Washington D.C. Sunday Herald describing a tasting in which, "the To Kalon wines were tasted by hundreds of guests last May at the Grape Growers Reception at the Masonic Temple in this city". This article also states that the Mission grape have been banished from To Kalon Vineyard due to their inferior quality. It should be noted that the Mission grape was still widely planted at this time in parts of the state including comprising a significant part of vineyards in Los Angeles.
Another early public exhibition of To Kalon Vineyard grapes is described in the December 14, 1886, issue of the Record-Union newspaper published in Sacramento in an article about the Northern California Citrus Fair that same month. The article mentions Napa County had a space in the Great Hall showcasing a variety of citrus but also wine grapes including from To Kalon Vineyard.
According to an April 6, 1890, article in the San Francisco Examiner, Crabb kept his experimental fermentations and aging wine in a separate section of the winery, apart from his commercial operations. And the article also noted that this section of the winery was open for others to visit and learn from his experiments. As like today, for interested parties, it was probably a good idea to call Mr. Crabb ahead of time to make an appointment rather than just stopping by. We are making the assumption that Crabb owned a phone line by this time; for reference the first phone was installed in San Francisco in 1876.
Initially Crabb sold his wines to retailers in San Francisco, but as production grew he looked to other markets across the country; by 1890 he had built retail presences in Washington D.C., which was an extremely early important regional market for Crabb (614 14th Street NW, their underground storage vaults were at 27th and K St NW), New Orleans (150 Royal Street in the French Quarter), Chicago (224/244 Wabash Ave), Kansas City (518 Delaware Street) and Minneapolis (308 Hennepen Ave). His 'satellite' operations conducted by Crabb's 'agents' were known by a number of names including Crabb's Wine Depot, the To-Kalon Wine Depot and Napa Valley Wine Company. And we found records that the Crabb made appearances at his regional offices across the country.
We have seen references to his wine names in old newspaper articles including but not limited to: Crabb's Black Burgundy, California Superior Hock, California Select Burgundy, California Sauterne, and Pontet Canet (type), perhaps named after wine produced by Château Pontet-Canet in Bordeaux. Interestingly, in all our research we discovered that To Kalon is also a black grape variety that was developed in Lansingburgh (now the city of Troy), New York and was in cultivation in the Midwest and southern U.S by the 1870s. It would be very cool if a couple of grapevines of this variety were planted next to the visitor center at the winery.
By 1874 Crabb began experimenting with growing numerous grape varieties on his property. By the early 1880s Crabb had distributed more than 1 million cuttings to other vineyards in various parts of California. A Napa Weekly Journal article from September 15, 1887, references H.W. Crabb had 150 different varieties of wine grapes in the annual always popular Mechanics Fair in San Francisco that year, perhaps less than 50% of the total number of varieties growing on his property by that time. And the following year several of his entries in the California State Fair won prizes including both wines and brandies and also for best general display.
In those years and subsequent decades, vine composition in To Kalon Vineyard looked nothing like today; varieties such as Malvasia, Burgundy, Chartreuse, Riesling, Chasselas, Berger, Hamburg, Sylvaner, Tokay and Muscat were commonly planted. In fact, by 1890 To Kalon was planted to approximately 400 different varieties (known as Crabb's experimental plot) which was the largest collection of grape varieties in one vineyard in all of the country.
By the end of the 1870s the vineyard had grown to 160 acres. In 1881 Crabb increased the size of his holdings and purchased an adjacent 119 acres from Eliza Yount (pioneer George Yount's second widow and second wife – incidentally both of his wives were named Eliza). And in 1891 Crabb purchased his 3rd and final parcel from George Yount's grandson, John Davis. It should be noted the Crabb also owned other property in Napa Valley including over 160 hillside acres in the Mayacamas mountains slightly to the west of his To Kalon Vineyard holdings. When Oakville required a train depot for Southern Pacific Railroad, almost across the highway from Oakville Grocery, Crabb donated or sold the land (we have come across old newspaper references indicating both conflicting pieces of information).
In 1884 Crabb varietally labeled one of his wines as Cabernet Sauvignon, certainly one of if not the first Napa Valley vintner to do so. According to an article in the August 14, 1886, issue of the Record-Union (Sacramento) there were several other Napa vintners at that time bottling Cabernet Sauvignon, at least one from Sonoma County and Natoma Vineyard near Sacramento. The article states that all of these only started bottling Cabernet Sauvignon since 1883.
Starting in the mid 1880s and continuing through the turn of the century, phylloxera destroyed much of the vineyard; about 100 years later this louse would again destroy the majority of the vines in To Kalon along with other Mondavi vineyard holdings and numerous other vineyards in Napa Valley. As a result, Crabb also experimented with various rootstocks. In 1888 Crabb became a director in the Lachman California Wine Company.
For a number of years cherries dominated and To Kalon became one of the largest cherry orchards in the country. Crabb passed away in 1899, certainly under stress from losing a significant portion of his vineyard due to phylloxera and the ensuing financial stress and resulting debts. At the time of his death (outliving both of his wives), his will dating from 1892 stipulated that his real estate holdings be given to his three living children, daughters, Adda H. Crabb, Amanda A (Crabb) Johnson (whose husband William T Johnson was an agent of Crabb's and To Kalon Vineyard in Washington DC) and Cora C Crabb, but the family quickly sold his estate to recover the debts. Crabb was married twice in his life, first in 1851 to Rebecca Ann (she died in 1865 with whom he had three children (Horace, Adda and Amanda) and to his second wife Elizabeth in 1864 (she died in 1887) with whom he had one daughter, Cora.
Th original Crabb residence in To Kalon Vineyard off of Walnut Lane (located slightly west from his original winery) burned down in 1997 but has since been rebuilt under an enlarged footprint and is privately owned. The garden layout including several trees from the time of Crabb's ownership, still remains.
Over the years several untimely deaths have contributed to the sale of parts of this iconic site including perhaps one of Crabb's other sons, Horace who was a potential successor to To Kalon Vineyard. Horace tragically died on a camping trip in 1892 in Moore's Canyon near what is now Lake Hennessy; when going to collect water he suffered from some sort of fit related to an unhealthy liver and drowned in only several inches of water in Moore Creek. Today this site is part of Moore Creek Park and Moore Creek Trailhead roughly parallels Moore Creek.
Incidentally, one of Crabb's grandsons, Hamilton Crabb Johnson was one of the earliest professional foresters in the U.S.
To Kalon Vineyard

Sauvignon Blanc, Historic I Block

Cabernet Sauvignon, Historic Monastery Block (these old vines have since been pulled out)

From 1899 until 1939 a large portion of To Kalon was owned by the Churchill family with records sometimes hard to follow due to similar names throughout the family period of ownership. Edward S Churchill purchased To Kalon Wine Co in 1899. Crabb, prior to his death was personally indebted both to Edward and To Kalon Vineyard owed money to James Goodman Bank in the city of Napa. Edward was a bank officer for this bank (reference Goodman Library and our notes on Trefethen Winery for more details about the Goodmans); he died in 1903 and willed his property to his wife Mary W. Churchill. A few lots he had owned in the city of Napa were willed to both Mary and their son Edward Wilder (E.W.) Churchill. Eventually Edward Wilder Churchill and his wife Mary A Churchill assumed ownership of To Kalon Vineyard but not before a family conflict ensued leading to a lawsuit.
An article in the February 9, 1917, issue of the St. Helena Star details the Churchill family in court fighting each other over rightful shares of To Kalon Vineyard including mother (Mary W) versus son (Edward W). She accused her son of selling shares that were rightfully hers and pocketing the money allowing he and his wife to live an extra ordinary extravagant lifestyle.
The winery was mostly shut down during Prohibition although the Churchill family did produce and sell wines for religious purposes and also grapes (although in 1925 a prohibition inspector accused Mary A Churchill of illegally making and selling wine. The winery reopened following repeal and sold bulk wine for several years.
The winery burned down in 1939 due to specific causes, but still unknown reasons. An article in the Napa Journal dated May 30, 1939, describing this fire mentions the winery was a mess of smoldering ruins despite local fireman's efforts, including a crew from the Veteran's Home to south. Loss of wine was estimated to be 300,000 gallons. The article goes on to mention Crabb's To Kalon Winery was the 44th bonded winery in California.
Its approximately 2-acre former footprint is now completely covered with grapevines and is part of one of Opus One's vineyard blocks. We have visited this site several times; one cannot tell there ever was such a large winery standing here.
And another death relating to To Kalon Vineyard ownership: Edward S Churchill's grandson Edward Wilder Churchill Jr., (Ed) met his demise at age 28 in 1936 after a simple cold developed on a hunting trip near Yountville turned into severe pneumonia. By all accounts he was very well regarded by his peers and was known by many in the valley, he was already manager of To Kalon Vineyards and that same year was involved with a business partner in 300 acres of tomatoes; his death was an absolute shock to his parents as one would expect when losing a child, especially at that age (and he was an only son). Perhaps if he had not died, To Kalon would have remained under Churchill family ownership for much longer.
The Churchill family were certainly prominent in Napa Valley including in the city of Napa. Edward S Churchill built and owned Churchill Manor, now a bed and breakfast near downtown Napa, this stately old structure still carries their surname. In addition, the family-owned Cedar Gables, also now a bed and breakfast.
Under Churchill ownership, To Kalon Vineyard continued to produce wines; in 1908 an exhibit of wines at the California State Fair in Sacramento took a silver medal; and a year later wines from To Kalon won five gold medals at the Alaska-Yukon Pacific Exposition.
The Churchill family ran into financial troubles during Prohibition and unsuccessfully tried to sell parts of the To Kalon Vineyard to several parties including Beaulieu Vineyard.
The Churchill owned part of To Kalon Vineyard was purchased in 1943 by Martin Stelling and his wife Caroline (part of a San Francisco pioneer family) from the Churchill family; immediately upon purchase he sold almost 90 acres to Beaulieu Vineyard at a much higher prices than Beaulieu Vineyard had turned down three years prior. This parcel would later be owned by Andy Beckstoffer of Beckstoffer Vineyards. Stelling planned to convert the at the time ruins of Far Niente into a new home for To Kalon Winery but, again another untimely death, this time his own, certainly derailed his big plans for To Kalon.
Tragically Stelling was killed when his car left the road after he fell asleep and crashed into a telephone pole in 1950 near Yountville. He was only 47. At the time of his death, he owned significant real estate holdings including in Napa Valley but with a focus in San Mateo and Burlingame and with properties in other parts of San Francisco Bay Area including in the city of Napa. He was a member of San Francisco's Bohemian Club. Stelling was also heavily involved in viticulture, was one of the early members of the Napa Valley Vintners, a director of The Wine Institute and served as president of the Napa County Grape Growers Association. In 1946 he purchased Sunny St. Helena Winery (now Merryvale Vineyards) from Robert Mondavi's father, Cesare. A year before Stellings' accident he had been appointed to the Advisory Board of the St. Helena Branch of Bank America. He was a well-respected member of the winegrowing community.
Martin's widow Caroline Stelling, (who had her own brush with disaster in 1937 when a gas BBQ stove exploded in front of her at their home near St. Helena when she lit a match above it, causing severe burns to much of her body but not her face) had no interest in keeping all of her husband's properties, so was tasked with selling off parts of what were 2,000 acres in Oakville that her husband had accumulated before his death and a number of his other real estate holdings (Martin Stelling Estate, Stelling Properties Corp). She sold a large portion of their portion of To Kalon Vineyard to Italian Swiss Colony in 1950.
Caroline's father was Len Owens, the owner of Aetna Springs Resort in Pope Valley from 1888 through 1944 when he sold it to George Heibel (Heibel's grandson, Trent Ghiringhelli owns Heibel Ranch Vineyards near the old resort). And Caroline was a niece of famed U.S. screenwriter and multiple Acadamy Award wins, Frances Marion. During her career, she wrote more than 300 scripts and had over 130 turned into films including a number starring actress Mary Pickford. After Martin died, Caroline remarried in 1955 to U.S. Air Force General Robert Landry. Caroline died in 1960.
The Stelling's adopted son, Doug whose last name was formerly Landry, legally changed his last name to Stelling when he turned 21. Later became a minority owner along with Robert Lieff (who we interviewed years ago) in Far Niente, when the old building was resurrected by the Nickel family from Oklahoma.
Three short years later (1953), the property was sold by Petri Wine Co (who a year prior had acquired Italian Swiss Colony) to several buyers including the largest parcel (285 acres) to Napa Valley vintner, founding partner in Robert Mondavi Winery and one time part owner of Souverain Cellars, Ivan Schoch (died 1995); he was already very familiar with the property having managed the vineyards since 1946.
In 1911 David Perry Doak purchased a portion of Crabb's original To Kalon Vineyard and soon planted cherry orchards. David was heavily invested in steel (he was one of the organizers of Pacific Coast Steel Company) and railroads (including in Mexico) and came to California in 1899. To make research confusing about this man, remarkably another David Doak was a well-known farmer in Oakville for many years who later became known for stabbing a man in the stomach at the Oakville train depot in 1889.
While in Napa Valley, David Perry Doak built a beautiful 17-room mansion on the lower slopes of western Oakville in the Mayacamas mountains. Various plants and trees for the landscaping were sourced from the 1915 Panama Pacific Exposition held in San Francisco.
In 1955 this mansion and grounds were purchased by Noel Sullivan, a wealthy Carmel Valley philanthropist who was devoutly religious and also influenced and by his sister Agnes who was a nun in the Carmelite order of Santa Clara. Sullivan donated the property to the Carmelites; they still live on site and are known as the Discalced Carmelite Friar Community. The site is now called the Oakville Carmelite House of Prayer. Doak died in the mansion in 1921 shortly after it was completed; he left his part of To Kalon Vineyard to his second wife Frieda Vocke DeHaven. She sold the site in 1944 to Martin Stelling.
Interestingly the nearly 12 acres sold to Robert Mondavi and his partners in 1966 was sold from the estate of Martin Stelling by its trustees, but Stelling's adopted children Doug and Cara (both in their early 20s at the time) were against the sale of this property. The trustees of the Stelling Estate including Hartford S Rapp Jr. were at odds with what Doug and Cara wanted. The trustees wanted to build homes in both the valley and foothills of the Mayacamas mountains and build other structures including a nightclub. These ideas seem so far removed from reality today considering the constrains of The Napa Valley Agricultural Preserve (established in 1968) and hopefully (and likely) would never have been approved.
Another special block, also dry farmed and head-trained was the Monastery block, located at the base of the Mayacamas mountains, appropriately named for the still active Carmelite Monastery which rises above this block and is slightly visible through the trees. Like the I-block, this block also contained an acre of original Cabernet Sauvignon vines from the 1940s, this tiny section was planted in 1945 but has since been pulled out and replanted. There are so few still producing Cabernet Sauvignon vineyards in all of Napa Valley from the 1940s and 1950s that one can count them on one hand. To the best of our knowledge, the following other ancient Cabernet Sauvignon vineyards are still commercially producing, small blocks with the vines all in various degrees of health: Scarecrow (1945), MacDonald (1954), Grgich Hills (1959), Grace Family Vineyards (1957) and Varozza Vineyards.
The name To Kalon itself is Greek and according to founder H.W. Crabb, "…means the highest good, but I try to make it mean the boss vineyard". The name has seen a number of variations over the years with "To" being separated by a "=" originally, then a "-" and finally simply, To Kalon. We have even seen historical references to To Kalonn Vineyard, with two n's. Both Robert Mondavi Winery and Beckstoffer Vineyards use the To Kalon version without the hyphen after a lawsuit in the early to mid 2000s resulted in an out of court settlement over the use of the name.
According to Robert Mondavi in his book, Harvests of Joy, vintner Louis M. Martini was the one who first encouraged him to look at To Kalon Vineyard, telling Robert that it was one of the best sites in California to grow Cabernet Sauvignon. Charles Krug began purchasing fruit from To Kalon and then also according to Harvests of Joy, in 1958 Charles Krug winery purchased 325 acres of To Kalon, filed in the parent company's name: C. Mondavi and Sons. On January 18, 1962, it was announced, according to an article in the Napa Register that Charles Krug Winery purchased more than 500 acres in Oakville from Ivan Schoch and his wife Barbara. In 1968 Robert Mondavi Winery purchased 250 acres of To Kalon Vineyard which at the time was remarkably still part of the Martin Stelling Estate this acquisition expanded their already significant existing vineyard holdings in Oakville. And Mondavi's final To Kalon purchase was in 1978.
Today only a fortunate few wineries and producers have access to grapes from Crabb's original To Kalon holdings (approximately 526 acres): Robert Mondavi Winery owns the largest portion, Opus One has several large blocks and grower Andy Beckstoffer owns and manages 89 acres and sells to approximately 20 producers, of which almost all make a single vineyard designate wine. The contemporary footprint of To Kalon Vineyard encompasses 825 acres (but not all the land is planted to grape vines). Because this is such a large vineyard with different owners, farming practices and trellising techniques vary quite dramatically at times, throughout the vineyard.
Several families own and manage small portions of what historically is the rest of the vineyard. The MacDonald's maintain 15 planted acres – all planted to Cabernet Sauvignon and their second cousins, the Detert's focus on Cabernet Franc and Cabernet Sauvignon. Also, a tiny portion of Pinot Noir (under different ownership) planted in historic To Kalon is used for POP 300 wine brand (on the site of HW Crabb's original homestead).
UC Davis also manages approximately 40 acres of "experimental vineyards" in Oakville, of which 20 acres are within the historical To Kalon Vineyard boundaries; this site is the Old Federal Vineyard. A very select few Napa brands currently have access to some of its coveted fruit.
Incidentally, after H.W. Crabb died, the Churchill family leased the site to the United States Department of Agriculture (USDA) which became an experimental vineyard under their control and was instrumental in research on developing Phylloxera resistant rootstock. This experimental site was established in 1903. A September 27, 1907, article in the Napa Weekly Journal indicates this experimental vineyard was one of 10 in California overseen by the USDA but was the "most elaborate". An article in the October 3, 1909, issue of the Napa Journal references the site was planted that year to between 600 and 800 unique varieties of grapes including about 50 table grapes.
The Agricultural Experimental Station at the University of California was already familiar with the To Kalon Vineyard as by 1884 they were conducting tests on several of Crabb's wines including the Crabb's Black Burgundy.
A Mr. Hans Hansens was the superintendent and oversaw the operations of this experimental vineyard in these years. He was also responsible for the grape growing and wine operations of To Kalon Vineyard including overseeing the still operating physical winery along with making needed additions and improvements to the winery that Crabb had founded. In 1910 he oversaw the removal of 6 acres of almond trees on the To Kalon property which were planted in 1870.
In 1954 control and ownership of this site were transferred to the University of California who established and still operates the site as the UC Davis Oakville Station.
This hallowed ground is where Professor George Charles Husmann conducted experiments in the early 1900s relating to acid and saccharine levels of numerous grape varieties while documenting his work with copious notes and photographs. He was assisted by others including his brother Fred. His father, George (Johann Hermann Carl) Husmann wrote a number of journals and books including American Grape-Growing and Winemaking in 1880 in which Crabb authored a chapter. In the 1960s Dr. Harold Olmo, professor at UC Davis conducted a number of important Chardonnay trials, the site provided the original bud wood for nearby Martha's Vineyard and is where red blotch disease was first identified in 2008.
Driving by many times in the past few years it seems like part of this vineyard is being used for shade cloth trials.
And the allure of To Kalon continues; in 2017 Constellation Brands, Inc., filed to trademark To-Kalon Vineyard Company and To-Kalon Wine Company but abandoned their pursuit of these names after Andy Beckstoffer filed an opposition. However, several limited production bottlings are currently produced under To Kalon Vineyard Company available via a member ship list of which there is currently a wait list to get on.
In 2023 Robert Mondavi's portion of To Kalon Vineyard became certified organic (CCOF), no easy feat considering the sizable footprint of the vineyard. The first grapes certified organic were harvested in 2023. And for a bit of gratifying historical relevance tying into this transition, Robert Mondavi Winery purchased six fully electric and autonomous tractors produced by Monarch Tractor. Their order was the first from this company which was co-founded by Robert's grandson, Carlo Mondavi.
Like with any other contemporary writings about To Kalon Vineyard, credit must be given to several sources including Graeme and Alex MacDonald of MACDONALD Vineyards and Tom Garrett of Detert Family Wines who we met with for a number of non-research related visits, which were extremely informative, nonetheless. And we have spent hours reading numerous books and combing through old newspaper records.

In addition, the following online resources have been invaluable to cross reference dates, ownership and events; an article about To Kalon on GuildSomm, a National Register of Historic Places Registration Form for To Kalon Vineyard on the California State Parks website, vintner Jeremy Nickel's history of To Kalon website and a detailed To Kalon article on Wine Industry Insight.
Robert Mondavi Winery at Arch & Tower, Napa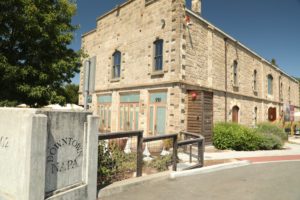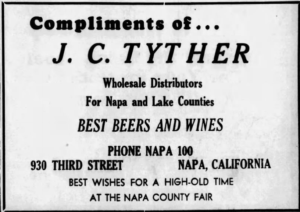 Robert Mondavi Winery began a major winery and hospitality space renovation lasting approximately 3 years, starting in early 2023. The winery and tasting room closed to the public in mid-July 2023 with a grand re-opening date of sometime in late 2025 or perhaps in early 2026. The To Kalon Wine Cellar began undergoing renovation immediately following harvest 2022; its large vats were replaced by a diversity of different sized concrete and steel tanks. The wood from the vats were dismantled in early 2023. The ramp inside the cellar was removed and the west side of the building was changed to accommodate large windows, allowing more natural light to reach the inside.
All tastings and culinary experiences have been moved to the Borreo building (built by Felix Borreo) next to the Napa River across from downtown Napa (previous tenant was Stone Brewing Co.). Address: 930 3rd Street. This space is referred to as Arch & Tower in homage to the iconic arch and tower at Robert Mondavi Winery. This handsome stone building is 9,600 square feet and is one of the oldest commercial buildings in downtown Napa. For reference, the oldest building in downtown Napa is the 1875 built Pfeiffer Building which currently houses Vintner's Collective.
A building standing for this length of time has significant history. Borreo purchased the site in 1877 from James Donnelly and Chancellor Hartson; Hartson was a prominent figure in Napa who also founded Aetna Springs Resort. Borreo constructed the building from stone quarried from Soda Canyon and operated it as both a grocery and supply store until 1908 when he sold it to James Rennie. Incidentally, Rennie and his brother William founded Rennie Brothers Winery in St. Helena, much later home to Flora Springs Winery and how home to Cathiard Vineyard. Borreo also owned a winery in Soda Canyon, now on property owned by Silverado Vineyards; the original winery structure was destroyed during the 2017 Atlas Peak fires. The southeast corner of Third and Soscol (across from the Borreo Building) used to be home to the city of Napa's finest lodging, the Palace Hotel built in 1875. Their livery stable was eventually located next to the Borreo Building.
Felix Borreo is listed in the 1878 Business Directory as having a grocery store on 1st Streeet and 100 acres of farm (City Directory 1878 p.138). An advertisement from 1879 further clarifies his business location as on the corner of 1st and Railroad. And we have seen several articles from the Napa Register during the late 1880s referencing a Borreo Building located on the corner of Main and Second Streets. Obviously, he owned several businesses in downtown Napa.
An article in the Napa Weekly Journal dated June 23, 1887, references Felix Borreo finishing a two-story stone warehouse in 'east Napa' with a wharf to be built directly behind the building. Two years later, the City Directory lists Felix Borreo as a warehouse owner, grape grower, farmer and distributor. His warehouse in East Napa (3rd & Soscol) and the current home of Arch & Tower originally dealt in grain and feed, wood and coal, groceries, wines and liquor.
Over the decades the Borreo Building has housed numerous tenants ranging from the Napa Boat Club for a boathouse, Cameron Shirt Factory was established here in 1902, A. Repsold Co., operated here with a wine cellar in 1913 with the name Castle Rock Vineyard on the exterior (the wines were made at Castle Rock Vineyard, now the site of Yates Family Vineyards) and were bottled and shipped from the Borreo Building, it was used for wine and liquor storage by Ernest Streich and F. Vanzini and in the late 1930s was home of J.C. Tyther – a wholesale distributor of beer and wines. By the early 1940s the upstairs was home to By-Rite – a furniture warehouse with the slogan, "climb the stairs and save" while the first floor was home of Vanderschoot & Mansfield Oldsmobile.
For several years starting in the late 1940s the upstairs was rented by the California National Guard, it was known as the Egyptian Hall in the 1960s and hosted a number of social events for local organizations including dancing, into the late 1980s the building was home of Holmes Moving & Storage and for about 15 years until 2001 was occupied by Cartons & Crates, a still in existence moving and shipping company focusing on the wine industry. The building suffered moderate damage in the August 2014 Napa earthquake and underwent repairs, renovation and building strengthening, all of which was completed in 2018.
The soft opening for the first time was on Wednesday August 9, 2023 at 11am. The main opening was the weekend of August 26/27th. All tastings are seated and weather permitting are also available at tables on a wrap around patio along the Napa River overlooking parts of downtown Napa. The second story is home of To Kalon Collective, featuring Napa Valley wine brands under Constellation's ownership including Shrader, Double Diamond and To Kalon Vineyard Co. Tastings of these wines require a reservation and are generally hosted inside the Icon Lounge, an intimate and private space on the second story.
Guest may also reserve the coveted Taste of To Kalon Experience featuring all wines from To Kalon Vineyard including Fumé Blanc and several vintages of Reserve Cabernet Sauvignon paired with delicious small bites. The Legend Lunch features 3-courses paired with select wines from the Estates Collection.
Upstairs features the best views overlooking Napa River and downtown Napa to the west. During decent weather, especially on the weekends, kayakers will be passing by on the river. And one may also spot a gondolier guiding guests "Italian style".
Food is an integral part of Robert Mondavi's wine experiences. The culinary team at Robert Mondavi works out of this space using the commercial kitchen to prepare a number of small and tasty bites, paired with available tastings. And one can also order additional items from a selection of small plates. One of the culinary highlights is the Malfatti, developed in Napa by Theresa Tamburelli. She called this Italian dish Malfatti, meaning mistake in Italian because it is supposed to be made ravioli style, covered in dough. The dish was first made when she ran out of flour to make dough, so she simply created the inner part of the recipe, small dumplings minus the pasta covering. They were served for decades at The Depot Restaurant in downtown Napa. We remember them being served at Val's Liquor in downtown Napa until more recently. In addition to enjoying them at Arch & Tower, they are also available at Lawler's Liquor on Jefferson Street, also in the city of Napa.
Their is no onsite parking area at Arch & Tower so ride sharing, walking and bicycling are encouraged. However, a short pull in driveway in front of the building is available for dropping off passengers. The closest parking lot to Robert Mondavi Winery at Arch & Tower is a 90 space open-air parking lot on 3rd Street, merely a several minute walk away.
Alternatively, visitors can make the short walk across the Napa River on the 3rd Street Bridge (at one point the 3rd Street bridge was a drawbridge and accommodated electric train cars) from downtown and about a 5-10 minute walk from the the Fifth Street Garage (which currently offers free parking). The walk from this garage to Arch & Tower will pass by the southwest corner of 3rd and Main Streets, the site of what was the city of Napa's original building, a saloon which stood until the early 1900s. This site is currently home to the Napa County Superior Court Criminal Courthouse. A bicycle rack with more than 20 parking slots is located directly in front of Arch & Tower. And Vine Trail Napa Valley (bike path) passes by Arch & Tower starting in Kennedy Park to the south and running through the city of Napa on its way up to Yountville.
Until the renovations at the winery are completed, Robert Mondavi at Arch & Tower is used for hosting wine tastings, culinary experiences and special events. The space can accommodate walk-in visitors for the Arch & Tower Après experiences offered daily from 4 to 7pm. This a la carte tasting is wine by the glass paired with small nibbles. All guests regardless of experiences will be offered a welcome glass of wine upon entering the building.
Select Wines & Winemaking
There are numerous reasons why Robert Mondavi Winery has become one of Napa Valley's most well-known wineries and one of these is consistently producing a quality product that people enjoy from exceptional sites including their primary vineyards in Napa Valley: To Kalon, Wappo Hill in the Stags Leap District and in Carneros.
During harvest, the fermentation room becomes a hive of activity especially with employees doing pump overs (mixing the fermenting juice with the cap – seeds and skins that rise to the top of each wooden tank). Over the years the Mondavi staff have devised a simple communication system between the employee on the top of the tank and the employee hooking up the pump to the bottom of the tank. The employee on top simply drops down a soccer ball hanging from a net to let the other employee know that he is ready to start the process and then the pump can be turned on! The barrel aging room located below the sizable tank room is a sight worth seeing. Mist released from ceiling water dispensers combined with the romantic play of light helps create a unique ambiance in this, one of the largest and most seductive barrel aging rooms of any Napa Valley winery. Two private tasting rooms anchor each side of this barrel room.
Robert Mondavi's first ever wine released was the 1966 vintage in 1967, a rosé from Napa Gamay (rosé being a quick to market wine) followed by a Chenin Blanc. In 1966 Robert Mondavi created what he called the first Fumé Blanc from the Sauvignon Blanc grape. This wine is sourced from what is called the "I-block" located in the To Kalon Vineyard (featuring old-vine Sauvignon Blanc with the oldest vines dating from 1945). Along with Sémillon this is the only white variety planted in the To Kalon Vineyard. Today there is a barrel aging room devoted entirely to this wine.
The flagship Robert Mondavi wines are are produced and bottled at Robert Mondavi Winery as three different tiers: Estates, Napa Valley and To Kalon Reserve. Woodbridge by Robert Mondavi wines are produced at a separate winery located in Acampo, California and are produced in much larger quantities.
Whites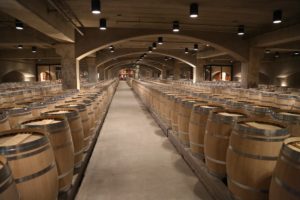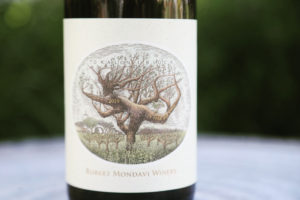 The 2019 Robert Mondavi To Kalon I Block Fumé Blanc is medium yellow in color; offers 'ripe and sunny California' on the bouquet with appealing aromatics of citrus blossom and freshly cut grass in union with honeysuckle and jasmine flowers. The bouquet also shows both tropical and stone fruit aromas including mango, apricot, nectarine and yellow peach. There is some barrel influence here as well – with subtle aromas of vanilla bean. It reveals a slight creamy texture across the palate which is complemented very nicely by a brightness of acidity but not a varietal 'greenness' often produced from much cooler weather sites, of which To Kalon Vineyard is not one of them. Balanced across the palate, this wine sings with a long finish featuring both a liveliness of zesty lemon/lime fruit and accompanying acidity. Less than 160 cases were produced.
The 2020 Robert Mondavi Winery Fumé Blanc I Block, To Kalon Vineyard was aged nine months in 25% new oak barrels. This wine is pale to medium yellow in color; the bouquet is fresh and fruited with aromas of pomelo, lemon meringue, a citrus zest and a light herbal note. This wine in particular needs time to evolve in the glass and it will. It eventually opens to an aromatic sweetness including stone-fruited scents of apricot and white nectarine. It also flirts with some tropical tones including pineapple and papaya. The rounded texture on the palate balances out the richness of fruit and brightness of acidity. This wine reveals flavors of lemon juice (without the tartness), pear, Golden Delicious apple and white nectarine. It hits numerous pleasure points across the palate and is a noticeably richer bottling than it's younger sister, the Fumé Blanc Reserve, To Kalon Vineyard. The finish is long and satisfying.
While the I Block Sauvignon Blanc is certainly an extremely well-made wine taken on its own merit, there however is something extra special about drinking white wine from vines still producing dating back to 1945, the oldest vines of this variety in the U.S. It is a historical story from Napa Valley that no other Sauvignon Blanc can tell. Robert Mondavi Winery clearly gives this wine the extra attention that it fully deserves.
The 2019 Robert Mondavi Winery Fumé Blanc Reserve, To Kalon Vineyard is 98% Sauvignon Blanc and 2% Sémillon and was fermented in 100% French oak barrels of which 41% were first use. Differing from the To Kalon Vineyard I Block Fumé Blanc, this wine is produced from the best lots of Sauvignon Blanc from multiple blocks within To Kalon Vineyard every year. This wine is pale straw in color; we immediately noted the word elegant to describe its aromatic character. It offers scents of florals in springtime including of citrus blossom, and jasmine along with beeswax and dried straw. There is also an herbal note including aromas of kaffir lime leaf and lemongrass. Its texture is creamy with an almost waxy character, complementing flavors of honeydew melon, lemon meringue, white nectarine, white peach and guava. The finish is bright with a light citrus nuance including of mandarin. This wine is clearly more subtlety nuanced than its older brother, the Fumé Blanc I Block, To Kalon Vineyard. Beautifully balanced.
The 2019 Robert Mondavi Fume Blanc Oakville The Estates is a blend of 90% Sauvignon Blanc and 10% Sémillon. This wine is medium gold in color; the bouquet offers an aromatic sweetness of jasmine, honeycomb and citrus blossom. Its scents are highly floral. Slightly rounded on the palate, it reveals flavors of bright citrus including mandarin, not overly ripe pineapple, cantaloupe and hints of dry straw especially towards the finish. There is plenty of zestiness that lingers on the finish to invite another sip.
Robert Mondavi's Moscato d'Oro (Muscat Canelli) is a light, sweet crisp wine very popular for summertime drinking or for pairing with spicy foods. The winery continues to produce this wine and during our numerous visits to the winery over the years, we often see people buying only this particular bottling.
Reds
Robert Mondavi Winery released their first reserve label in 1971 and continues to produce these bottlings.
The 2014 Robert Mondavi Winery Cabernet Sauvignon Reserve, To Kalon Vineyard is 88% Cabernet Sauvignon, 8% Cabernet Franc and 4% Petit Verdot. This wine is deep ruby in color with purplish tinges on the rim; the first aromatics we noted were of sweet pipe tobacco followed by violets, lavender, sage and other dried herbs, blackberry, dark chocolate and dried tobacco leaf. There are also some dried berry notes here including of blackberry and cherry. And deeper in the aromatics and as the wine evolves, it offers a note of sweet mocha. This wine reveals flavors of blackberry (reminded us of eating fresh wild blackberries right from the vines in mid to late summer), dark plum, a light note of pepper and an earthy character on the finish. Its texture is almost creamy and supple featuring chalk-like finely woven tannins. At 9 years post vintage at the time of our tasting, this wine is showing extremely well by itself.
The 2017 Robert Mondavi Winery Cabernet Sauvignon Reserve, To Kalon Vineyard is 94.5% Cabernet Sauvignon, 5% Petit Verdot and 0.5% Cabernet Franc. This wine is deep ruby in the glass; the elegant bouquet sports aromas of bittersweet chocolate, dust, tobacco spice, a floral note including of violets and as the wine opens further, it reveals a quick aromatic note of toffee and caramel. The freshness of the aromatics are clearly evident here, 6 years post vintage. The palate is darkly fruited including of plum, and blackberry. It finishes with a light savory note with both the tannins and fruit running parallel to each other before both eventually dissipate. One can feel the density of the gravelly textured tannins but they are not out of balance with the rest of the wines' character.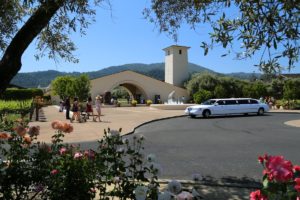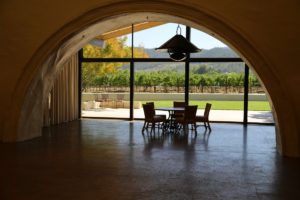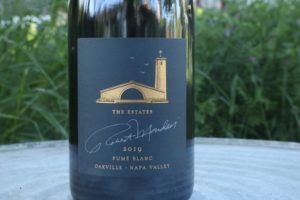 The 2018 Robert Mondavi Winery Cabernet Sauvignon Reserve, To Kalon Vineyard is 93% Cabernet Sauvignon, 5% Cabernet Franc and 2% Petit Verdot. This wine is deep ruby in color; the bouquet offers an extremely subtle hint of jalapeno pepper which continues to persists as the wine opens. It also offers dark fruits including bramble, cherry, plum skin, a hint of leather and a dark tea nuance. The flavors of cherry, plum and blackberry are complemented by chewy tannins with a grainy and granular feel. A note of dried tobacco continues to persist on the finish. This vintage/bottling in particular, has plenty of depth and character.
The 2018 Robert Mondavi Winery To Kalon Vineyard Cabernet Sauvignon (not to be confused with the reserve bottling of the same vintage) is the last vintage which contained grapes from the storied old Monastery Block. This wine is 100% varietal. The vines were later pulled out due to virus and limited yields. This wine is deep ruby with an amaranthine rim. The bouquet is a pleasing union of fruit and darker spices including plum, dark cherry and raspberry with notes of shishito pepper, tobacco, dark pepper and a light woodsy spice. This wine is filled with energy and lingers savory and juicy. The tannins show up almost immediately on the entry and persist for quite some time. They are pixelated, grainy and linger with a dry note. This wine has plenty of life ahead of it. We would love to pair this particular bottling with a 14 oz Black Angus medium-rare ribeye steak from nearby Cole's Chophouse.
Regardless of vintage, To Kalon Vineyard clearly produces Cabernet Sauvignons which are balanced in their youth, expressive of the variety and very age worthy.
The 2018 Robert Mondavi BDX Red Blend, Oakville The Estates is sourced from both To Kalon Vineyard and the M-Bar Ranch (also in Oakville and a privately owned vineyard that Robert Mondavi Winery has been purchasing fruit from for decades). This wine is a blend of 54% Merlot, 42% Cabernet Sauvignon and 4% Malbec. It is dark ruby in the glass with violet-colored tinges at the edge of the rim; offers aromas of plum including spicy plum skin, violets, Graham Cracker and savory darker spices including clove and old cedar box wood. The bouquet shows a bit 'meaty'. The palate features an intensity of both red and darker fruits with a noticeable juiciness and mouthwatering acidity. The finish is anchored by medium bodied slightly astringent tannins and some savory pepper notes.
The 2014 Robert Mondavi Reserve Pinot Noir from Carneros (the Napa side of this sub appellation) was fermented in open-top tanks; the wine was cold soaked for several days and saw some extended maceration post fermentation. The majority of this wine was aged in new French oak for 9 months. Highly aromatic, the bouquet shows red berry fruit on the palate with a noticeable earthiness complemented by dessert spices (cloves and cinnamon). Excellent acidity, but also noteworthy is the structure of this wine, especially felt on the long lasting slightly spicy (white pepper) finish. It is a robust Pinot Noir with certainly plenty of life ahead of it.
The 2002 Robert Mondavi Winery Vine Hill Ranch Cabernet Sauvignon is sourced from one of Napa Valley's most premium sites, and is also located in Oakville. This wine offers rich aromas of blackberry, violet and chocolate which are also somewhat echoed on the palate. This vineyard designated Napa Valley Cabernet Sauvignon should be on the list of any serious Napaphile.
Currently Unavailable Experiences
We will significantly update this section once Robert Mondavi Winery reopens. Because of the wineries' always evolving set of tastings and experiences, some of the offerings we experienced during our visits to the winery over the years and subsequent descriptions below, may no longer be offered. We keep our notes below in regard to experiences previously offered for historical reference.
Robert Mondavi Winery offers some of the most well-rounded wine educational seminars, unique wine experiences and a diversity of tastings & tours of any winery in Napa Valley. Reservations are required for all experiences.
Robert Mondavi's philosophy was one of openness and to always to share his winery operations with visitors including bringing visitors into the heart of the winery and explaining various winemaking. And while most wineries in the valley now have gates, Robert Mondavi Winery still has no gate. This philosophy of sharing information continues today; For first time visitors, we highly recommend the 90 minutes Signature Tour & Tasting and make reservations in advance if possible. This experience provides an informative overview of the winery, it's rich history and general information about the region including the Oakville sub appellation (where Robert Mondavi Winery is located).
Before any tour, guests are handed a small colored token which indicates you have paid for the tour (clip this to your shirt or simply show the guide); meet your guide on the walkway or grassy section near the entrance. As one of the guides mentioned to start a tour during one of our numerous visitors over the years, "grab your cameras, turn off your cell phones and let's go".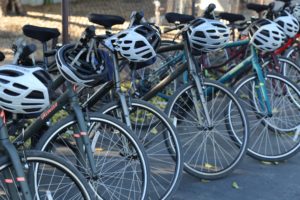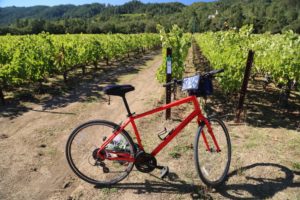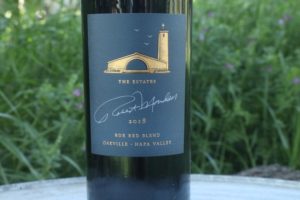 Questions are encouraged throughout the tour, however, keep in mind the winery caters to all levels of education in regard to wine and sees visitors from around the world – some of whom have a limited knowledge of wine. Case in point: on one of our tours, one of the guests asked if the wine making team puts cranberries and cherries into their wines to give it those particular flavors. The simple answer is no – and our guide very patiently answered this question. Another guest standing under the iconic archway, asked one of the wine educators, "does this view ever get old for you?" He simply replied, "I thought it would get old but in reality, it never does".
Guests proceed out to the edge of the vineyards (weather permitting) for a quick vineyard overview (including a stop in front of several short rows of Mission grapevines (a nod to the first grapes planted in the state of California by Europeans) followed by a visit to the impressive fermentation room. Fifty-six 20,000-gallon tanks were assembled in France, then dissembled for the journey to the winery and then reassembled on site. These Tonnellerie Taransaud manufactured tanks are used for fermentation (not aging). Each tank is equivalent to approximately 339 fifty-nine-gallon wine barrels. A production video is shown at this point. The tour culminates with a seated tasting of several of their current release wines.
And for select international visitors, tours in Chinese (Mandarin or Cantonese), Spanish or French can be arranged by prior appointment.
The Discovery Tour is ideal for guests who do not have reservations and want a quick introduction to Robert Mondavi Winery. This tour includes a 30-minute walk through parts of the property including the To Kalon Cellar, and barrel aging room followed by a quick tasting of two of their wines.
Other experiences (some seasonal or weekend only) include a To Kalon Reserve Tasting and the Estates Collection Tasting. With a full-time in-house chef on site + commercial kitchen, a number of food and wine experiences are also offered including lunch and dinner experiences (paired with select Robert Mondavi wines).
We have personally been on the Signature Tour + Tasting, the Discovery Tour, the To Kalon Vineyard tour, several other tastings and will continue to experience other select offerings first-hand as time permits.
Taste of Oakville
Robert Mondavi Winery hosts the annual Taste of Oakville every April (not hosted here, but rather at Nickel & Nickel for the next couple of years due to construction at the winery). This trade only event held on the second floor of the Mondavi cask room is a rare opportunity to meet owners and winemakers from all of the Oakville winery members. This is one of Napa Valley's highly coveted tastings; some of the valley's most exclusive wineries pour their wines including Harlan Estate and Screaming Eagle (which always literally has a line out the door of people excited to taste their latest bottling and they always quickly run out of wine prior to the end of the event).
Wine buyers, friends of the trade and media always attend with some having attended for many years. The Taste of Oakville always has significant wait list to get into the tasting.
Woodbridge by Robert Mondavi.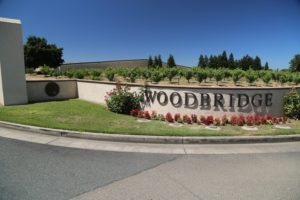 Founded by Robert Mondavi in 1979 as Woodbridge Winery, located in Woodbridge (Lodi) the winery is now known as Woodbridge by Robert Mondavi. This was site of the old co-op known as the Cherokee Wine Association (founded in the years immediately following Prohibition). The winery is located only about a 10-minute drive from the Mondavi's old family home in Lodi.
Woodbridge initially focused on red and white table wines – but long ago diversified their product line and today produce numerous varietal specific wines, all at reasonable prices with national and international distribution. For many years the winery operated a tasting room open to the public and offered tours but closed this in June 2019. Although we heard that it could possibly open again in the future. Like Robert Mondavi Winery, Woodbridge by Robert Mondavi is owned by Constellation Brands, Inc.
Margrit Mondavi Summer Concert Series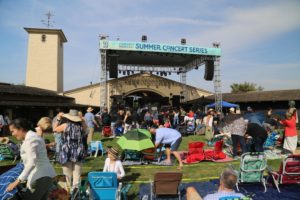 Visiting in the summer? Mondavi's Summer Music Festivals were Margrit's idea and have been held annually since 1969; they are extremely popular. This event has come a long way since 1969 when a stage was borrowed from a high school in the city of Napa (the first performance was by the Napa Valley Symphony). The great lawn is home to each concert (always held in the evenings). A number of well-known individuals have performed here since the Napa Valley Symphony Orchestra performed at the inaugural event; some of these individuals include Benny Goodman, Ella Fitzgerald, Lena Horne, Glen Campbell, Ray Charles and others. All proceeds from these concerts directly benefit Napa Valley Unified School District high school music programs (over 2 million dollars raised since the inception).
The gates typically open at 5pm with the show beginning at 7pm. People start lining up well before the admission time – get here early (an hour prior) to get a good parking spot. Bring lawn chairs (but no high back chairs). Seating on the grass is first come first serve with the coveted seats close to the stage filling up early in the evening. A limited number of reserved seats are available in their patio. Guests can also opt for a sit-down dinner – with tables located among the vines right next to part of the To Kalon Vineyard. Or choose from several food trucks parked at the entrance to the winery.
These shows are on hiatus until probably 2026, after renovation is completed on Robert Mondavi Winery.
Mondavi Center, UC Davis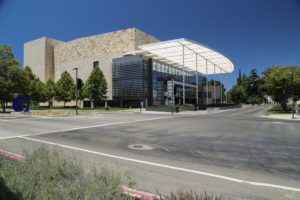 Known as the Mondavi Center, its official name is the Robert and Margrit Mondavi Center for the Performing Arts. It opened in 2002 (easily seen from the nearby 80 freeway). Robert & Margrit donated $10 million as part of its initial financing. The Mondavi Center is home of the University Symphony Orchestra and hosts a variety of musical, theatre, dance and other artistic performances throughout the year.
Numerous well-known personalities have taken the stage here over the years including comedian Paula Poundstone, violinist Joshua Bell, Stephen Hawking and politician John Edwards among others. These ticketed events are open to the public.
Robert Mondavi Institute for Wine and Food Science, UC Davis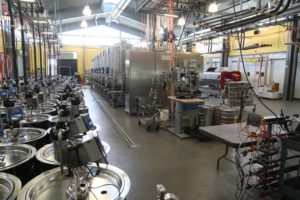 Robert Mondavi Institute for Wine and Food Science opened in 2008 funded in part by a $25 million gift from Robert Mondavi to the University of California, Davis. The institute encompasses the Viticulture & Enology and Food Science & Technology department as well as the UC Davis Olive Center and Honey and Pollination Center.
The world's only LEED Platinum Teaching and Research winery opened in 2010; the winery is part of the Viticulture & Enology department. This winery was built with private funding and donations. A number of prominent winery sponsors helped fund the winery including J Lohr, Beringer and Constellation. Numerous recycled materials were used in its construction, natural lighting was implemented wherever possible including in the lab (what looks like normal lights in the ceiling are actually vents opening to the roof to allow sunlight into the room), solar power is used from nearby solar panels and non-potable water is collected from the roof for additional uses.
Unlike a normal production winery, the inside of this winery looks much different; it is dedicated to research and experimentation including using grapes from the 12.5-acre vineyard directly outside of the winery. The technology the students have at their disposal is impressive. Long time professor Roger Boulton designed a custom fermentation system for micro fermentations. With the help of T.J. Rodgers, the founder of Cypress Semiconductor (whose own wine is called Clos de la Tech – with most bottles embedded with a silicon chip in the label), a high-tech stainless-steel barrel was built. The barrels are simply called TJs by students and faculty. Today the winery has 150 of these, each able to measure temperature, residual sugar and control scheduling for pump-overs. A phone can pull any data recorded from these vessels during fermentation simply by scanning the unique QR code on each of the barrels. Oak is not used for fermentation experiments due to its variability.
The winery has played a role in researching smoke taint and has made wine from Pierce's Disease resistant cultivars.
An adjoining wine room contains numerous wines – both from Napa and Sonoma in particular but also from Europe including some very old and rare wines. The winery in part uses some of these wines for analysis purposes as well as for select fundraising events. The winery's own label is bottled as the UC Davis Oakville Station from grapes from their experimental vineyard in Oakville.
Robert Mondavi Institute for Wine and Food Science, UC Davis

Teaching and Research Winery, UC Davis (part of the Mondavi Institute)

And we will leave you with a spirited and wonderful quote by Mr. Mondavi, which hopefully still sums up the environment of the valley, "we are in competition with each other. We are not in competition against each other."
For more information, to book an appointment and or to join one of Robert Mondavi's several wine clubs (ICON-12 bottles, THE ARCH-6 bottles, TRIO-3 bottles or their RESERVE/RED COLLECTORS-3 bottles), visit: www.robertmondavi.com
Grounds

Winemaking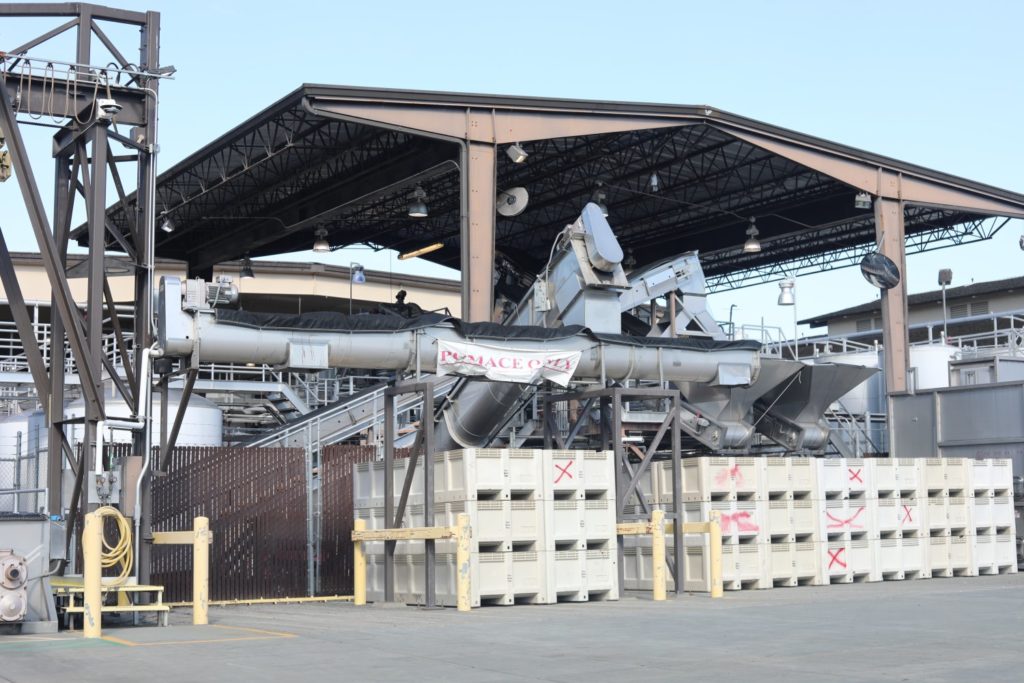 Hospitality

Robert & Marjorie Mondavi (Declusin) home, St. Helena

Constellation Brands

Constellations Brands, Inc., is currently headquartered in upstate New York in a fairly remote business park about a 20-30 minute drive from downtown Rochester. In late 2021 Constellation announced it would be moving to downtown Rochester at 50 East Broad Street to a site known as the Aqueduct Building campus. As of our latest update to this review, this new location should be ready sometime in Spring or Summer 2024.
The Sands family own a controlling interest in the company. Constellation's roots were with Marvin Sands (1924-1999) who purchased Canandaigua Industries in 1945 at age 21; his original location at 116 Buffalo Street in Canandaigua is still owned by Constellation. In the early years, the company dealt primarily with Concord grapes. An article from The Brooklyn Daily Eagle, dated February 9, 1945, refers to a Canandaigua Industries Long Island City office (in New York City). An article dated August 8, 1945, from the Rochester Democrat and Chronicle indicates a Louis Goldberg was helping oversee Canandaigua Industries at the time. An article dated September 15, 1950, in the The Daily Messenger indicated that Canandaigua Industries had just produced a sweet cherry wine and was the first winery in the region to produce a sweet fruity wine. The article goes on to mention that Sands was producing sweet wines unlike the other wineries at the time, because the American palate was changing from dry wines to sweet wines. One of the company's early very successful bottlings was in 1954 – a dessert wine Marvin named, Richard's Wild Irish Rose in honor of his son Richard.
The company changed its name to Canandaigua Wine Company, Inc., in 1973, went public and was traded on the New York Stock Exchange. The company was rebranded as Constellation Brands in 2000 and is publicly traded under the symbol, STZ. In 2014 Constellation entered a joint partnership with manufacturer Owens-Illinois in a glass production plant in Mexico. And in Napa, as of our latest update to this review, Constellation Brands owns the following Napa Valley wineries or brands: 50% of Opus One, The Prisoner Wine Company, Schrader, Double Diamond, Mt. Veeder, To Kalon Vineyard Company and Domaine Curry.
Constellation Brands is a strong proponent of diversity, equity, and inclusion (DEI) in their workforce.
Constellation Brands-Marvin Sands Performing Arts Center
The original Finger Lakes Performing Arts Center in Canandaigua, New York opened in 1983 with the support of Marvin Sands and is located on the campus of Finger Lakes Community College. The road leading to this performing arts center is appropriately named Marvin Sands Drive. The amphitheater was later renamed to the Constellation Brands-Marvin Sands Performing Arts Center and is usually referred to as CMAC. The center underwent a major renovation in 2005 and 2006 including adding VIP booths. It is a covered amphitheater set against a grassy hill with both main seating, general admission lawn seating and more intimate box seating.
Shows are seasonal, held primarily during the summer months. This venue has attracted a wide range of known talent including Dave Matthews, Snoop Dog and Bob Dylan. A huge open-air parking lot is located within a short walk of the main entrance.
The Lake House on Canandaigua
And members of the Sands family own the gorgeous The Lake House on Canandaigua, located on the northern shores of Lake Canandaigua (one of the Finger Lakes, appropriately named for their long finger-like shapes). This property originally opened in 1970 as The Inn on the Lake and operated until 2017; the property has been privately owned by members of the Sands family since 1970 and has no ownership affiliation with Constellation Brands. The Lake House opened in late summer 2020 and by 2021 it was awarded TRAVEL + LEISURE's #1 Resort Hotel in New York State and the 30th best hotel in the world.
It features 124 rooms, a year-round pool (heated during the colder months), a world-class spa, a boat dock in front of the resort and several dining areas including Rose Tavern (more formal dining) and Sand Bar (more casual dining).
The resort

Rose Tavern

Sand Bar

Sands Family YMCA
In early 2022, Constellation Brands donated 13 acres of land off of North Street in Canandaigua and 13.5 million dollars to build the 75,000 square foot Sands Family YMCA. Marvin Sands was a long-time supporter of the YMCA. Construction started in 2022 and was finished and opened in the Fall of 2023. This location is just 'around the corner' from one of their primary office buildings. And it's also within a very short drive of the original Canandaigua Wine Company offices, winery and truck docking/loading facility.
Canandaigua

Constellation also maintains a bottling plant south of the city of Napa in the Napa Airport industrial park.