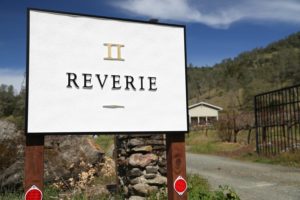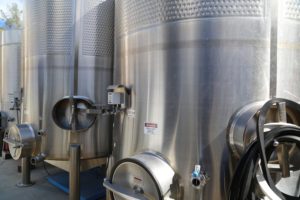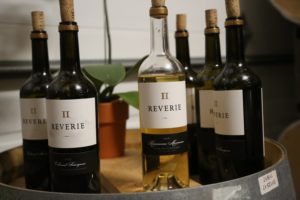 Reverie II Winery is a boutique winery originally located in the Diamond Mountain Appellation (just south of the town of Calistoga). It was founded by Norm Kiken and his late wife Evelyn Kiken. Their first vintage was in 1996. Norm's introduction to wine began in a dentist's chair in 1973 on the east coast while waiting for a root canal. While browsing through one of those obligatory have-to-read magazines you always find in waiting rooms at dentists' offices he read an article about wine. Most people do not find a sudden inspiration in a dentist office, but that day Norm became intrigued with learning more about wine. He immersed himself into studying and tasting wine while still working in a career in finance. While the chief financial officer at Leucadia National Corporation, an insurer based in in Manhattan -he decided he and Evelyn would move to wine country. In 1993 they purchased 40 acres on Diamond Mountain (before it officially became the Diamond Mountain Appellation).
Great wines and great reviews in the early years led to a strong demand. The initial focus of Reverie was on distribution with placement of their wines coming in premium wine shops and other retail outlets as well as highly regarded restaurants (mostly on the East Coast). Vintner Grant Long was first introduced to Reverie, Norm and the property during a visit in 2002 at age 22. Reverie became more than just a wine to Grant; he didn't leave for nearly a decade helping turn their model of selling wine through distributors into one of selling direct to consumers – primarily through seeing visitors on the property and helping build a hospitality program for the winery. And it was through Norm's own encouragement that Grant eventually started his own wine brand (Aonair).
Then changes started happening. In 2016 Norm sold the Reverie Vineyard property on Diamond Mountain to a development group who is currently building a luxury hotel on site to be managed by the Rosewood Hotels & Resorts Group.
In early 2017 Grant and his wife Megan purchased the former g Cook Winery on North Crystal Springs Road on the eastern side of the valley (within about a 10-minute drive of St. Helena). The 26-acre hillside property is tucked on a side valley off of the main Napa Valley; for generations locals used to refer to this area derogatorily as 'Dego Valley" – today it is called Italian Valley. And what has been in the works prior to acquiring this property, they changed the name from Reverie to Reverie II to indicate the change in ownership, or the next chapter.
The property came with 3.5 acres of vines (Cabernet Sauvignon, Cabernet Franc and Merlot) dating back to the early 1980s. Production was minuscule; for example, vintages were only a ton per acre or less. The low production has to do with the age of the vines but also somewhat with the growing conditions. These vines have since been replanted. The vineyard sits on top of volcanic rock (tufa) and the layer of topsoil is extremely shallow with layers of rock immediately beneath.
The first vintage harvested from the property by Grant's team was in 2017. Eventually they would like to replant and perhaps add a few more acres of vines where slope allows. Despite being only a short drive from St. Helena, the site is quiet and feels far removed from any urban environment.
In the past Reverie focused on estate grown wines from Diamond Mountain; Reverie II focuses the majority of their vineyard and wine making efforts on producing single variety wines. Through Grant's connections in Napa he is able to source from premium single vineyard sites for their Napa Valley red wines and in a refreshing move for a Napa winery, sources a number of grapes from El Dorado County for several of their non Bordeaux variety wines (with some of their vineyard sources at elevation of about 3,000 feet – which if this was in Napa Valley would be the highest vineyard in the county). For reference, the Harris Blue Ridge Vineyard in eastern Napa County tops out at about 2,700 feet. 2015 was the inaugural release of the Reverie II wines.
After tasting a number of the Reverie II wines over the years we have noticed a commonality to their wines; these are highly aromatic bottlings focusing on the purity and opulence of the fruit with crowd pleasing palates highlighting both fruit, acid, approachability, yet are also ageworthy.
Select Wines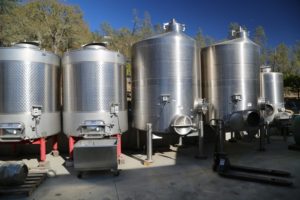 An intriguing white wine sourced from Eldorado County is the Roussanne / Marsanne blend. The 2016 Reverie II Roussanne Marsanne is 60% Roussanne and 40% Marsanne. Medium to deep yellow in the glass its aromas immediately invite a sip. This bottling is highly aromatic and tropical at times, showing notes of honeysuckle, brown sugar and apricot. Rich on the palate the wine carries a certain weight, offering a creamy character with notes of mineralities mid palate through to the long satisfying finish. This wine offers perhaps more structure than one would expect from a white wine, along with an intensity of fruit – yet retains a superb balance.
The 2016 Reverie II Cabernet Franc Kenefick Ranch is from the well-regarded Kenefick Ranch in Calistoga; This is a large vineyard with some of their blocks growing on flatter soils similar to the valley floor. The source block for this wine is grown on alluvial soils directly next to the hills. This bottling is dark ruby in the glass; the bouquet is opulent and focused on the fruit rather than secondary aromas from the barrel aging. It offers sweet, ripe and jam/preserve notes of darker fruits including blackberry, boysenberry and mulberry along with cassis. As the wine is allowed to open further, it reveals some aromas of baking spice notes including of mocha and Graham cracker. The palate is bursting with a beautiful harmony of fruit and acidity including blackberry, bramble and dark cherry. The earthy tannins linger with a moderate, dry and persistent grip. This wine is packed with all the stuffings to ensure a very long life (we tasted 6 years post vintage date.
The 2015 Reverie II Cabernet Franc. Reverie II is one of the few producers to put Kenefick Ranch on the label, highlighting as Grant puts it, "single vineyard, single region wines". Of all the wines we tried, shows the youngest. Hints of sage and cigar smoke opens to reveal more fruit, a floral note and an assortment of dessert spices as the wine has time to breath. Initially a bit tight on the palate, when it has time to breathe, shows bright fruit, lively acidity and flavors of plum with similar flavors of dessert spices on the finish. Decent structure. This wine should have a long life ahead of it.
The 2016 Reverie II Barbera Reserve Red Rock Vineyard El Dorado County is dark ruby in color; the bouquet is savory offering notes of ripe dark plums, strawberries, red cherries, rusting iron, blood, rose stems, garrigue and dried herbs. The fruit aromatics dominate over any secondary aromas from the barrel aging. One immediately notices its juicy and savory quality across the palate due to its lively acid. The palate offers primarily red fruit flavors including cherry, currant and cranberry. It lingers bright but not tart with a low amount of finely dispersed tannins and a 'Barbera' darker spice on the finish. We have enjoyed the smell of acorns drying in the oven all afternoon prior to tasting this; the freshness of this wine would pair very well with the high tannins from an acorn-based stew, or something much more understood as far as its flavor profile, a tomato-based pasta.
The 2015 Reverie II Barbera is 100% varietal from El Dorado County. Very aromatic it shows floral notes on the bouquet including violet, and a sweet aromatic thread. Also notes of rhubarb, chocolate and subtle hint of white pepper spice showing more in the background. Reveals red fruit on the palate leading to a finish that is well integrated showcasing fairly fine-grained dusty tannins. Drinks wonderfully and easily as a young wine.
The 2016 Reverie II Special Reserve Atlas Peak is dark ruby in color; the bouquet offers darker and ripe fruits including plum, blackberry and boysenberry along with tobacco spice, baseball mitt leather being used on a warm day and old cedar box. The palate features intense flavors of blackberry, cherry and dark plum. While this wine showcases its rich fruit, this is a fairly approachable bottling. The tannins are dense, representing the higher elevation site but are resolved so that texturally they feel rounded. Earthy, dusty and woodsy, the tannins linger for quite some time even beyond where the fruit drops off on the palate.
The Special Reserve is a Bordeaux based Cabernet Sauvignon focused blend (including Merlot and Cabernet Franc). The vineyard site is unique and is one of the highest vineyards on Atlas Peak, with views on a very clear day into the Sierra Nevada mountains far to the east. The 2015 Reverie II Special Reserve Cabernet Sauvignon: the bouquet is immediately pretty, layered with both fruit and nuances from the oak including notes of mocha. Shows more darker fruit flavors on the palate including blackberry and black cherry with notes of vanilla towards the finish. Fairly robust but integrated tannins anchor a long finish.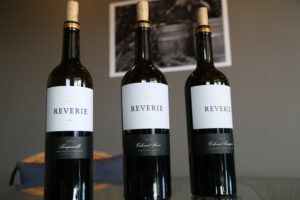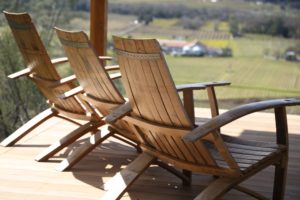 The 2016 Reverie II Tempranillo Red Rock Vineyard (El Dorado County) is dark ruby in color; the bouquet is filled with aromas of blackberry, boysenberry, mulberry and dark cherry – accompanied by dessert-like aromas including milk chocolate, espresso and Graham cracker. The palate is bright and showcases both red and darker fruits. It lingers savory with a woodsy spice note along with mouthwatering bright cherry filled flavors and very light and well-integrated tannins. Despite its association with Spain, we immediately thought of pairing this with pizza or pasta. But we bet it will also pair very nicely with a Spanish paella.
The 2015 Reverie II Tempranillo is noticeably dark in the glass with a sweet bouquet showing more darker fruit aromas then red fruit (boysenberry). A hint of mocha. Nice depth of flavor with lots of layers. Shows a good grip of earthy-like tannins anchoring a long finish. Spice notes show on the finish with an almost smoky or dusty like dry rocks character.
The 2015 Reverie II Cabernet Sauvignon is from Spring Mountain; this is a pretty presentation of this 100% varietal wine. Shows bright aromatics including red cherry along with hints of herbs leading to a palate with both red and darker fruit flavors. This bottling offers excellent acidity and lingers with dry but not coarse tannins. It should be quite age worthy.
—
After the transition to the new property and new vineyard sources, Grant changed the packaging of the wines. A 14-carat gold silkscreen rounds the lip of the bottle with every cork topped with a single metal 'coin' (makes a nice souvenir after opening one of their bottles).
Reverie was also well-known for its ASKiken brand, typically this was a 5-variety Bordeaux blend. This wine is no longer being made; it was a play on Norm's last name Kiken. A shirt with this name on it even appeared on one of the front covers of Rolling Stone Magazine.
Reverie has no distribution and are not found in restaurants or retail outlets, even locally. As a result, the wines are sold entirely through visitors to the property (helped by referrals from friends and family of visitors), through their website and via their private allocation membership club. Perhaps this is a slower and certainly more organic way to build their brand, but with more than 20 years of producing wines, they can afford to do so. And in the long run this builds loyalty; the quality of the wines, the hospitality and the site all speak for themselves.
Visits to the estate are by appointment, are unscripted, relaxed and include tasting of their current release wines. One of the highlights of a visit is an ATV ride up to a special lookout perch with chairs made entirely from old barrel staves. The views from here are panoramic of the northern part of Napa Valley. Total production is around 3,000 cases annually. Visits are extremely personalized and for serious wine enthusiasts. For more information, to schedule an appointment when you are in Napa Valley, or to join one of their two wine membership offerings, please visit: www.reveriewine2.com
Reverie II Estate Photos

Old Reverie Property