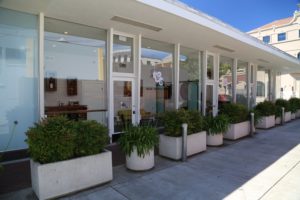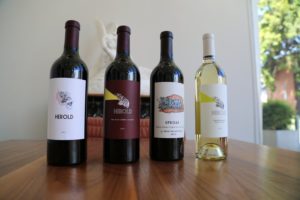 Reserve Room by Mark Herold Wines is the second tasting room owned and operated by Mark Herold in the city of Napa. This private/appointment only tasting room opened in May 2016. Unlike their original location near the Oxbow Public Market which is open by walk-in and can get busy in the afternoons, this Reserve Room is tucked away on an quiet alley off of Franklin Street in downtown and is setup for private small group tastings. It is an ideal location for visitors – this part of downtown offers several other nearby tasting rooms and plenty of good restaurants. The Andaz Hotel is within easy walking distance and the Archer Hotel (currently under construction) is slated to open in 2017.
The story of how Mark became a winemaker is an interesting one. He was studying bio chemistry and aquaculture at UC Davis and learning how to as he puts it, "raise fish" when a professor convinced him to make a few barrels of wine. His initial professional foray in the wine industry was at Joseph Phelps where he studied phenolic profiles of grapes from all over Napa but kept coming back to grapes from the Coombsville region. This is a somewhat cooler growing region located just east of the town of Napa (but with its own number of unique micro-climates). Mark has been working with fruit from this region since the mid 1990's and has identified some of this appellation's top vineyard sources.
After working at Phelps, Mark started his own label with Erika Gottl in their garage and named it Merus, which in Latin means "undiluted, unmixed or complete" in regards to the wine. This name was an appropriate description of their wines right from the outset – their first vintage in 1998 earned remarkable scores from wine writers and acclaim both domestically and Internationally.
After selling Merus in late 2007 Mark needed his own "projects" to work on. He started a consulting business and now consults for a number of premium mostly Napa based producers. With the success of Merus, Mark also started his own wine label which today includes Acha, Flux and Collide. These labels give him the "fun" of having a wide "latitude of terroir" to source from, by selecting regions in the north part of the state to work with varietals that grow best in their respective locations.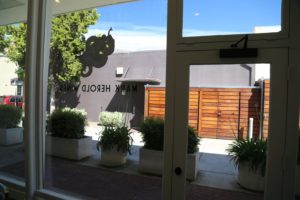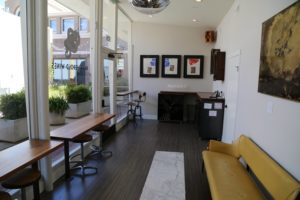 However, the focus of the wines at the Reserve Room are Napa centric – highlighting primarily Cabernet Sauvignon, Chardonnay and Pinot Noir. These are wines that are typically not poured at their other tasting room. Usually between 100 and 400 cases of each wine is produced. Two tasting flights are offered; the Portfolio Tasting features four of their current releases at their small bar. The Chef's Tasting features small plates paired with their limited production wines. Seating is limited to groups of no more than eight guests.
The initial food partnership is with Curtis Di Fede (formerly of Oenotri Restaurant) and currently running Miminashi which focuses on Japanese inspired cuisine. Curtis personally tastes through the Mark Herold Wines served here and creatively comes up with several dishes – each one to pair with a specific wine. Lunches can also be arranged with your tasting.
The tasting room itself is small yet airy (helped in part by the generous amount of windows). Mark Herold sometimes has a late night habit of browsing eBay and several of the furnishings here are from his shopping forays in the wee hours including some old school chemistry stools and a vintage yellow couch.
The 2014 Sauvignon Blanc was sourced from the Blau Vineyard in neighboring Sonoma County. The bouquet is inviting revealing tropical aromas with an underlying flinty or minerality note. The mouth feel is pleasing – it is creamy and rounded. One might think this wine is going to show a riper profile on the palate based on the aromatics but in actuality it has good acidity showing citrus notes. It was fermented in a concrete egg.
The 2013 Uproar is a blend of three vineyard sources in Napa (Atlas Peak, Coombsville and Oakville). A darker fruit aroma shows on the boquet – plum along with a pleasant smokiness and ripe blueberry. The wine shows a satisfying texture on the palate – a good density of flavor if you will. The tannins are dusty and fairly well integrated lingering with notes of toasted oak on the finish. While not as robust as some of the other Cabernets produced, this wine over delivers in quality based on the price.
The 2013 Herold White Label Cabernet Sauvignon is from vineyard sources in both Oakville and Coombsville. Like the other Cabernet Sauvignons we tasted, this wine is very dark – showing a dark ruby color in the glass. On the nose it is highly aromatic with aromas of wet rock, a dustiness, tar and brooding deeper darker fruit notes including ripe plum. This is a robust wine both in flavor and structure and higher alcohol. This wine needs to breathe – it continues to show additional fruit layers on the palate as it opens – nice vanilla and mocha notes show mid to end of palate. Mouth filling robust tannins anchor a long finish.
And there is even another wine for serious hedonists to look for – a wine so rare that Mark only chooses one or two barrels of his best Cabernet Sauvignon lots from all his vineyard sources. He then exclusively bottles this wine in Magnums called the Mastodon.
Cadet Wine Bar is located next door – and there is good cross over between clientele between the wine bar and this tasting room as the tasting room closes right when Cadet Bar opens.
For more information about this tasting room, to join The Reserve Club and to book an appointment, visit: www.markheroldwines.com/VISIT-US/Reserve-Room