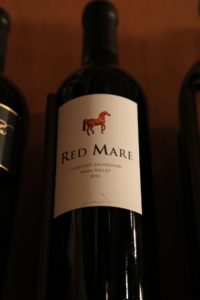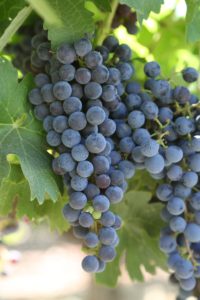 Red Mare Wines was started by Napa winemaker, Anne Vawter (who we originally met at Napa Wine Co) and her business partner Jim Striegel with the release of their first vintage in 2007. Their focus is on a sourcing high quality fruit from premium Napa Valley vineyards while offering the wines at reasonable prices. They only work with vineyards that are farmed organically or sustainable. The first vintage of Red Mare in 2007 was merely 170 cases of a Cabernet Sauvignon. Today they produce around 2,000 cases with the intent to grow this to approximately 5000 cases. Anne sources premium fruit from Coombsville to Calistoga.
Anne's introduction to wine came when she was younger. Her uncle owned a beer distributor in Seattle and was also interested in wine. He introduced Anne's father to wine who would in turn bring home bottles of both French and Washington produced wines. Anne would try them and would offer her opinion on the wines – inherently she has always had a good palate.
She decided to attend college to tentatively become a dentist. Her parents had moved to Benecia, California and because of its location, they would often visit the Napa Valley. Sensing her possible hesitation on a career choice, one day her father asked her if she really wanted to become a dentist. He mentioned UC Davis and their Viticulture and Enology program. At the time, Anne knew nothing about either field, but she applied (three months after the application process had closed for that year) and was accepted.
Upon graduating with a degree in Viticulture and Enology she moved to Napa and started working for St. Supery. A friend mentioned an opening at Paradigm Winery to become their assistant winemaker and work with Heidi Barrett. Anne worked here for four years before timing opened the door to starting her own brand.
Heidi Barrett had been friends with Jim Striegel a wine marketer from Dallas from a number of sales trips she took to Dallas. Jim mentioned to her during one such trip that he was interested in starting his own Napa wine label. Knowing that Anne was interested in starting her own Napa label, Heidi then connected Jim with Anne. It is a good business relationship; Anne handles the winemaking and Jim is responsible for selling the wine.
Initially they were going to use Anne's married name for the label but something more interesting was chosen. Ren Harris the owner of Paradigm often creatively gives his employees bonuses. While Anne was working here, Ren offered to sell her a horse at a very reasonable price – a "red mare". However, he suggested she change the horses name to the name of her new wine and then use it as a marketing tool. Ultimately Anne named the horse in honor of Ren, calling it Paradigm and chose the name Red Mare for her own wines.
The name is appropriate – Anne enjoys horses and in addition, the breed of red mare is notorious for having a lot of energy and as well as not quite fitting in. Anne also enjoys making wines that are not always necessarily the norm – "non cookie cutter wines" as she says, not quite fitting into the norm.
Select Wines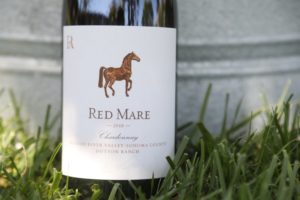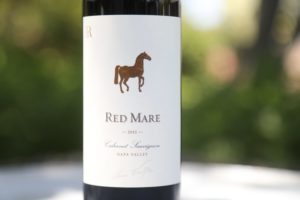 Anne was trained on making red wine and creating blends. As a result, making a white wine for her own label was initially more of a learning experience. She come to enjoy crafting single vineyard, single variety expression of white wines.
The fruit for the 2013 Red Mare Sauvignon Blanc was sourced entirely from the Gamble Ranch, a prominent grower and producer of this variety in Yountville. This wine was fermented entirely in neutral oak barrels. It was allowed to sit on the lees but was not stirred. Aromatically the wine is endowed and well layered. It is floral – with some tropical notes, banana, honeysuckle with citrus elements. The palate is clean, balanced with notes of lime, grapefruit and hints of honeydew melon. It also shows some mineralities on the finish.
The 2018 Red Mare Chardonnay is from the Dutton Ranch in the Russian River Valley of neighboring Sonoma County. This wine is fermented entirely in Burgundian oak barrels – about 15% new. It undergoes partial malolactic fermentation – the wine goes through this secondary fermentation naturally. Deep gold in color, offers aromas of lemon meringue, yellow pineapple, golden delicious apple, other tropical fruits and some sweeter aromatics including hints of vanilla and crème Brule. Also, floral – think springtime in the sunshine in the garden. Silky smooth texture – with a little weight although certainly not heavy – this wine is richly flavored across the palate, but especially so on the finish. It lingers with layered fruit, bright acidity and some very subtle desert spices that last beyond the fruit on the finish. Plenty of fruit but no 'overly' done characteristics – balanced and beautiful.
The 2011 Cabernet Sauvignon is 100% varietal. Each year has its own vintage characteristics, but this year is more outside the norm of a typical Napa Valley vintage. It was a cooler overall year with rain at times during harvest. As a result, it was a more challenging year to make wine. As Anne says, "the wines tended to be leaner – the proper use of oak is especially important during a vintage like this". The bouquet shows elegantly – notes of raspberry, red cherry – more higher-toned fruit. It has a pleasing slightly herbal component – complemented with a smoky element. As the wine opens a somewhat gravelly aspect shows. The palate is mouthwatering with good acidity – a juicy wine if you will. For such a young wine the palate is well balanced. Broad based oak and fruit tannins linger for some time – not dominating but integrating rather nicely into the overall structure. This is a wine and a Napa vintage in general that should age quite well.
The 2015 Red Mare Cabernet Sauvignon Napa Valley offers a delicious smelling bouquet of blackberry (almost notes of blackberry jam), dark plum, boysenberry, dark fig, chocolate, mocha and toasted cedar notes. Well layered aromatically. Smells like a lovely desert baking in a fire warmed house in the middle of the winter. Plenty of fruit shows across the palate including blackberry, plum and ripe cherry. Lingers a little bit savory with both wood and grape tannins – and some notes of cedar and darker spices. Sports a medium grip of tannins – they are noticeable but without any sharp edges. Aged 100% in French oak, of which 38% was new. Sourced from a variety of vineyard sites from Calistoga to Coombsville and was blended with 5% Petite Sirah, 1% Malbec and 1% Petite Verdot.
It can be difficult to locate small Napa producers that over deliver quality at a reasonable price point. Red Mare Wines certainly is one example of this.
Vawters on the Water
Anne and her also winemaker husband Cameron are sailors – in 2015 they took a year to sail around the world with their two children and as of our latest update to this review, they are still sailing having visited Mexico, a number of South Pacific islands and New Zealand. The freedom and experiences of a trip like this are unparalleled – follow along on their voyage here: www.vawtersonthewater.com and read our interview about their experiences on the water with Anne here: www.davestravelcorner.com/interviews/the-vawter-family-vawters-on-the-water
Based on Jim's location and business in Dallas, the wines are fairly well distributed in Texas. They are selectively distributed in about 20 states including through the national chain in select Total Wine & More stores. For more information and or to join their club visit: www.redmarewines.com