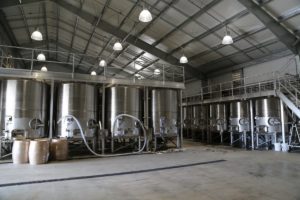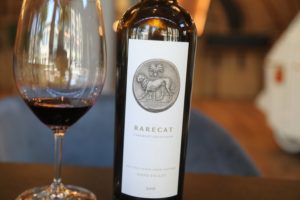 Rarecat Wine was founded in 2009 by long time vintner Sharon Harris. She grew up in the San Francisco Bay Area but was not raised by family in the wine business. However, she recalls her parents enjoying the art of entertaining including a vivid memory of their flaming vodka watermelon drinks. Sharon remembers when she was hooked by wine – while studying for her degree in International Economics at UCLA she signed up for a study abroad program with the intent to learn French. She was accepted to the school's program in France – thinking she would be living in Paris but was surprised when she discovered the classes were held in Bordeaux. She celebrated her 21st birthday in Bordeaux and later she accepted a coveted invitation to spend a day at Château Haut-Brion where she tasted their now iconic 1982 vintage out of barrel and a 1966 vintage. This was the day that she began her love of fine wine and infatuation with Bordeaux and Saint-Émilion.
Sharon moved her family back to Bordeaux when she was in her 40s. She attended the University of Bordeaux for several years enrolling in their D.U.A.D. wine making program to focus on the technical aspect of wine making (the course work was taught in French). Emile Peynaud, the French enologist who "modernized" a number of wine making techniques founded this program. The focus of this program was to highlight the various components of wine, and why those components are in wine – as a result of terroir or from the vinification process.
We caught up with Sharon soon after she returned from an epic wine focused domestic road trip – a 23 city tour in 2018 where she used wine as a tool to connect and converse with a number of communities across a diverse array of topics and to empower women. She was on the road from March through mid-June and drove the entire route herself from the west to east coasts holding various private wine events for corporations, charity, press and wine related dinners.
Sharon was one of the founding members of Napa Valley's Amici Cellars in 1992 (which is still in operation). She and John Harris purchased 80 acres in the hills above Calistoga – across from the base of the beautiful palisades (series of prominent vertical rock formations that are situated in this part of the Vaca mountains). This was originally a ranch for horses and there is some evidence that grapes used to be planted on site. Initially the Hariss's tried to develop vineyards but, ut this was after a land ordinance became law prohibiting vineyard development on slopes over a certain steepness.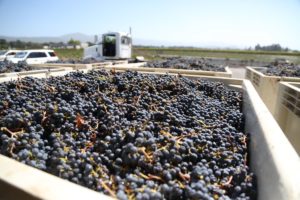 This "Old Toll Road" property is steep and rugged with slopes reaching 30 degrees. As a result, new vineyard development is limited. Two acres of vines were planted in Spring of 2000 and for a number of years the fruit was sold to area vintners. The property sits on the side of canyon – Calistoga is known in the Napa Valley for being among the warmest parts of the valley during the daytime. The summer mornings here can be quite warm – however unlike on the valley floor they are in a canyon which backs right up to Mt. St. Helena and the Palisades. This often ensures for good air flow and windier afternoons – cooling things down and helps balance the warmth of the mornings ensuring a more overall moderate microclimate for their vineyard.
While Sharon has sold her interest in Amici Cellars and the accompanying property, she continues to produce wine from this vineyard (Old Toll Hillside Vineyard).
Sharon prefers wines that are food friendly and balanced and equally as important, have excellent acidity. It is the acidity that gives wines their movement or as she calls this, the wine's "dancing acidity". The focus of Rarecat wines is on single vineyard sources.
Select Wines
The 2016 Rarecat Cabernet Sauvignon Old Toll Canon Creek Vineyard, Napa Valley. The wine is dark ruby in color with a very intriguing bouquet that is well layered with a diversity of aromatics including darker fruit (Santa Rosa plum), mushroom, tobacco, sweaty leather, forest floor, white pepper, sage and some darker spices. Opens to more fruit aromatics as the wine breathes but still retains its savory characteristics. Deftly balanced from start to finish the brightness of the acid carries this wine through to the lively finish. Shows a lovely texture with rounded and well-integrated tannins. Is aging nicely (5 years post vintage date at the time of our tasting) with plenty of life ahead of it.
The 2009 Rarecat Cabernet Sauvignon is their first release of wine from the Old Toll Hillside Vineyard. Several clones of Cabernet are planted on site including one particular clone that is known for its very small production, and small berries with a high skin to juice ratio. As a result, production is extremely limited. Only 250 cases of the Cabernet were made in 2009. The grapes from this particular hillside location produce wines with great structure and very good acidity.
The bouquet is dark, smoky and dusty – with red and black fruit showing. This is less showy than many of Napa's hillside Cabernet Sauvignons and that is always intriguing to our palate. There is a freshness that shows in the nose – not a greenness but perhaps as Sharon describes, has a "spearmint" quality. As the bouquet opens sweet notes of vanilla show but remain as hints in the background. For being so young, the wine is already balanced. The tannins are certainly there, and they coat the palate on the long finish – but these are not coarse rough tannins, instead they are refined and well managed.
The 2013 Rarecat Cabernet Sauvignon Old Toll Hillside Vineyard shows an opulent bouquet brimming with ripe fruit aromatics including blackberry, boysenberry and spicy plum tinged with dessert spices including nuances of clove and dark chocolate. Just a hint of toasted oak in the background. Rounded and rich on the palate features tannins that feel nice – they are fine-grained, noticeable but gentle in their approach. For a rather robust vintage, this is a very balanced wine – unblemished by any harsh edges, seamless but layered in flavor across the palate. Very good acidity – mouthwatering on the finish but as Sharon notes, not a singular tartness but rather a 'sweet acidity'.
Sharon has long enjoyed white wines from Burgundy. She makes two white wines – a Sauvignon Blanc from two clones, sourced from Yountville and a Chardonnay from the Russian River Valley in neighboring Sonoma County. The 2009 Sauvignon Blanc was fermented in neutral oak – aromatically it is quite floral – it is balanced throughout the palate with both good acidity and integrity of fruit.
And in an extremely unusual offering for a Napa Valley based vintner, Sharon oversees wine making in both Bordeaux and Champagne creating a Merlot based wine from Saint-Émilion (from a vineyard near Château Canon – which interestingly is owned by Chanel, the same owners as Napa Valley's St. Supery Winery) and a Champagne.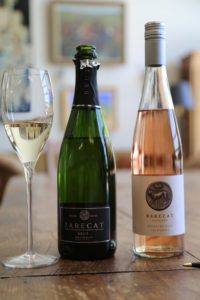 The 2009 Rarecat Chardonnay has great color in the glass; it is golden straw in the glass. This wine was fermented in new French oak. The very aromatic nose (and we were drinking it slightly cool) initially shows honeysuckle and various tropical characteristics. As the wine breathes over time – beautiful holiday spice aromas are revealed.
This wine is so much about the fruit – it dominates. It was fermented in barrel and stirred sur lie – there is some weight and like the Sauvignon Blanc is also well balanced. The wine takes some time to come around – as Sharon says, "we put it in barrel for 18 months and then we come back to it, and it starts speaking to us". This wine needs the acidity to balance the fruit which is has – you almost will think the wine is sweet (both from the fruit and the oak) – but there is no residual sugar. The favorite word her customers use to describe this wine is simply "yummy"!
The 2017 Rarecat Rosé is sourced from a vineyard in Yolo County and is a co-fermented blend of Grenache with a small amount of Viognier. Pretty in the glass it is a salmon pinkish color – the bouquet offers aromas of wild strawberry, dried rose petal, citrus blossom, minerality notes and watermelon. Rounded on the entry through the mid palate shows an enticing acidity complemented nicely by intense flavors. Not tart on the finish but certainly mouthwatering.
—
When deciding upon a name for the wine Sharon focused on the word "rare" to indicate the type of wine she was trying to make. Rarecat is a woman of distinctive or rare beauty. The coin on their label was modeled after an ancient Carthage coin (300-350BC). A goddess, Tanit was worshiped as the principal deity of Carthage. The cat pays homage to mountain lions living in California.
Another wine called R.Cat has no varietal focus or set production limitations. This wine is meant to be affordable and approachable in its youth. Sharon has produced various varieties under this label over the years ranging from approximately 50 cases to 300 cases including Pinot Noir, Syrah and Cabernet Franc.
Sharon is also the co-founder of A Woman's Palate, a wine networking group that focuses on promoting wines made and owned by women (currently from Napa and Sonoma counties) – as well as improving consumer wine education for women.
Mia Carta Napa Valley
Rarecat is part of a small collective of boutique Napa Valley based wineries represented at Mia Carta Wine Lounge in downtown Napa. This space is located at 1209 1st Street next to Rebel Vintners near the intersection of 1st and Coombs Streets. It had a soft opening to the public on May 22, 2021, and officially opened on June 17, 2021.
In addition to the Sciandri Family, this space houses several premium boutique Napa Valley producers including Arthouse Wines, Essere Franco, Ilsley Vineyards, Marston Family, Pellet Estate and Redmon Wines. Sharon learned about the space early on, and then invited several of her friends to join including Redmon Wines and Ilsley Vineyards.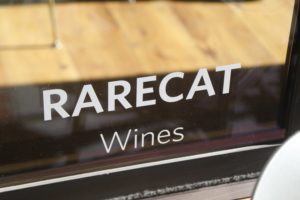 A significant amount of thought and effort went into the renovation of this space. A couple of items inside quickly catch one's eye including the Italian Piaggio "Ape del Vino" or in English, referred to as the Wine Bee. It was purchased in Italy, restored and then shipped over, however unfortunately it was stuck for quite some time at the port of Galveston in Texas before it cleared customs and reached Napa Valley. It is fully functional and is operated by a two-stroke Vespa engine. The back opens up to reveal wine kegs with spigots on the side of the vehicle – making this ideal to take to various wine tasting events. And the 145 piece 'puzzle' of walnut wood built against the back wall is in the three-dimensional shape of a street grid of downtown Napa – complete with an outline of Napa River and a red marking to indicate Mia Carta's location on the map.
Recycled cork from cork manufacturer, Amorim Cork America lines the east wall of the space. If one casually glances at this wall, one will think it's one entire piece of cork, but each piece is a quarter offset, so the lines are hard to see between each of the pieces. With Norm's background as President & Co-founder of Calgary based ZeroSound Systems, his knowledge and expertise were used during the renovation of the interior space. Acoustic tiles are placed on top of the tin stamped metal ceilings – if one looks carefully one can almost see the tiny holes punched in each of these tin squares, which are part of the design to help mitigate noise. The bar and some of the tabletops are constructed from Richlite, a recycled paper/resin composite.
Visitors taste either inside or outside weather permitting (heat lamps are built into the outdoor overhang), choosing flights from any of the vintners or by the glass or by the bottle. This part of the building used to be recessed, set back more from First Street but during the renovation it was expanded, providing more interior space. And a private tasting room is located in the rear of the space.
For those into wine, it is easy to spend an afternoon in this part of downtown Napa – numerous tasting rooms are within several blocks of Mia Carta. For more details about this beautiful space and or to make a reservation, please visit: www.miacartanapa.com
And until mid 2023, Sharon was an owner of the RARECAT Villa. This luxury space was available to rent by discerning travelers and wine enthusiasts and is located within a very short walk of downtown Saint-Émilion. Total production as of our latest update is around 1600 cases with nearly all the wine sold direct to consumer. For more information or to join their wine club, visit: www.rarecatwines.com