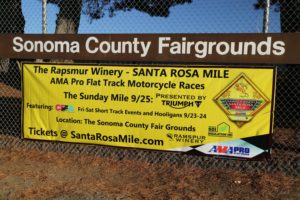 Ramspur Winery is owned and operated by Nancy Otton and focuses its efforts on extremely small production lots of mostly estate fruit (Merlot and Pinot Noir). We have visited with some small producers in the valley – but not too many this small. Their total production is usually under 200 cases.
Nancy is a self made winemaker – half an acre of Merlot was already planted on site when she and her husband purchased the property in 2004. Having no prior wine making experience Nancy has jumped into the business with great passion and energy. She started learning how to make wine (using grapes from the property) on her own, using a "learn by doing" approach. Never formally trained in wine making she picked up all her knowledge by actually doing the winemaking herself.
Nancy's style of winemaking is geared towards showcasing her vineyard's fruit rather than the oak. As a result her oak and aging program uses neutral French Oak. After several harvests she decided to go commercial and built a small winery on the property (one of the smaller physical wineries we've seen in Napa). With such small production she cannot afford to waste any wine and even ages some of the wine in smaller barrels.
Today the property has a total of 4 vineyard acres – the original half acre of Merlot and Nancy's nephew who conveniently owns a vineyard management company in Napa planted 3.5 acres of Pinot Noir.
The name Ramspur comes from two relevant names in regards to the location of the vineyards. Carneros means sheep in Spanish and Ram is another word for this animal and "spur" comes from the point of land that juts out high over the Carneros region. As a result the views from the winery and top of this spur are spectacular and very unique taking in nearly all of the south valley, the San Pablo Bay and beyond. On a clear day as Nancy says, "San Francisco is about a 1/4 of a inch in height in the distance".
Nancy went the extra distance in the packaging for her bottles for her first vintage. Her labels are engraved on a wooden cherry veneer. This is very unique – the first one of its kind that we've seen on thousands of bottles in Napa. With such a small production and not wanting to lose wine due to cork taint Nancy uses the glass Vino-Seal enclosure. She actually hand dipped each one of these in wax before bottling. Nancy will be the first to admit that this type of packaging is a labor of love and very time intensive so future vintages will have a more traditional presentation.
Ramspur currently makes three wines – a tiny amount of Merlot (as in about 2 barrels), a proprietary red called Montage (in part sourced from Pope Valley in eastern Napa County) and a Pinot noir.
Besides using neutral oak for aging to showcase her vineyard's fruit Nancy's harvest decisions ensure her fruit is not super ripe. Case in point is her 2008 Merlot which clocks in at merely 13.2% alcohol. The nose is very distinctive and you know this wine is from her property (several other barrel samples had similar aromas). The bouquet shows white pepper combined with additional cooking spices, sage, dry grass and notes of cherry cola. The spicyness continues on the palate, mostly from the mid to finish. Notes of graphite show towards the smooth balanced finish. Beautiful natural acidity. A very good food wine.
The 2008 Montage is a Bordeaux blend of Merlot grown on the property and several varietals from Pope Valley. Like her Merlot this wine focuses on her fruit rather than the alcohol and comes in under 14%. The mouth feel is soft, rounded and plush. The bouquet is rich and shows leather and black currant. As the wine opens additional fruit aromas come forward, predominantly darker fruits. Leather, tobacco, dark licorice show mid palate with notes of cedar creeping in towards the finish. The tannins are integrated and smooth on the soft finish.
The Pinot noir from this property really shines. 2009 is their first vintage and we barrel sampled the 2010. The fruit shows very well; this is a rich bold Pinot noir with a very aromatic perfume driven nose that shows nice notes of raspberry. This wine has good structure.
With such a tiny production most of the wine is sold direct although Ramspur has very limited distribution in Napa and Lake Tahoe. For more information
NOTE: may no longer be producing.