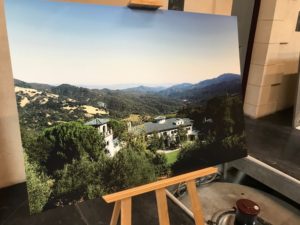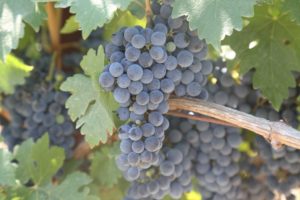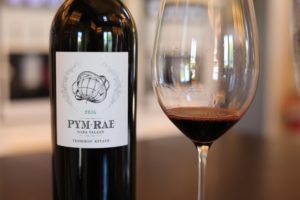 Pym-Rae, Tesseron Estate. In 2016 the Tesseron family (Alfred and his two nieces, Mélanie and Philippine), from France, purchased actor Robin Williams estate at the end of Wall Road on Mt Veeder.
Alfred trained with oenologist Emile Peynaud at the University of Bordeaux, Talence Campus and later moved to and worked in the U.S with the intention to only stay 6 months; ultimately, he stayed for 6 years working in wine and spirits importing, beginning in Florida for a French company and later for an American company. His time was spent traveling the country.
He told us that when looking for a property to purchase specifically in Napa Valley he wanted a small house with a medium sized vineyard but ended up with a large house and a small vineyard. Rather than on the valley floor, he was primarily interested in the hillsides – with the intent to find a site with cooler overall growing conditions. The property at the end of Wall Road on Mt. Veeder is 650+ acres but only about 18 acres are planted to vine. Vintner Robert Craig originally helped plant the vines on the property in 1990 (today primarily Cabernet Sauvignon but also with Cabernet Franc and Merlot).
Pym-Rae was the name that Williams originally gave to the vineyard portion of the estate – choosing to honor his first two children Zachary Williams and Zelda Williams by combining their middle names.
Their first vintage of Pym-Rae was from 2016; after acquiring the property the family had small rounded egg-shaped custom concrete fermentation vats built in France (each one is 264 gallons) and shipped over to Napa Valley. Every fermentation takes place in one of these vats with all grapes destemmed by hand above each vessel. All the wines are produced within a dedicated cellar inside a cave at another winery on Howell Mountain until Pym-Rae constructs their own winery on the property. In 2022 plans were submitted to the county to build an approximately 14,000 square foot cave winery on the property.
A year after they purchased the property, fires severely burned through this part of Mt. Veeder destroying some of their neighbors' homes and damaging vineyards – but fortunately a firefighting team saved the main house. Since the purchase of the estate, the vineyards have received their biodynamic certification from Demeter in 2018. Some of the practices already in use at Château Pontet-Canet were adopted but tailored to this terroir. And the irrigation lines have been removed; the vineyards are now being dry farmed.
The focus each year is merely one wine, a singular expression of the vineyard and that vintage.
The 2016 Pym-Rae is a blend of 76% Cabernet Sauvignon, 17% Merlot and 7% Cabernet Franc. This wine is dark ruby in color; the bouquet is beautiful showing a pleasing balance of both primary and secondary aromatics. It offers notes of raspberry, ripe plum red licorice, white chocolate and a pleasing overall sweetness; these are more delicate aromas which are not showy and overly ripe like the style of numerous contemporary Napa Valley red wines however one can tell this is a Napa Valley grown wine, not Bordeaux. The texture is one of the hallmarks of this inaugural vintage; the tannins are rounded, yet densely packed together and showcase a dry, chalky and long-lasting grip. The savory finish lingers with darker fruit along with notes of tried tobacco leaf and crushed peppercorn. This wine has all the hallmarks of being able to age for several decades.
And the image on the label is a drawing of a planet globe hanging from the ceiling in the entry hall at the property. This was a tribute by Robin Williams to Christopher Reeve, aka Superman and was a prop used in the movie Superman.
The wines are available online through a variety of retail outlets including JJ Buckley Fine Wines and Vinfolio and sometimes are found locally at Bounty Hunter in downtown Napa and at the Oakville Grocery and Oakville Wine Merchant in Oakville. For more information and or to join their members list, visit: www.pym-rae.com
Château Pontet-Canet, Pauillac Bordeaux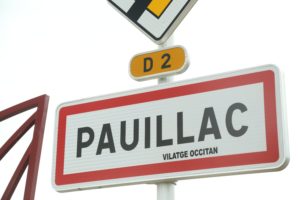 Château Pontet-Canet was purchased by Cognac merchant Guy Tesseron in 1975 (the family still owns Tesseron Cognac, see our notes below). While the property has only had three owners in its history, its heritage dates back to 1705 when Jean-François de Pontet, who held a title at the Court of Versailles, purchased several acres on what is now the estate. Several years later he purchased additional lands in a place called Canet and added his own name, thus creating Pontet-Canet. The gorgeous chateau was built in 1781.
In 1855, the Bordeaux Classification was ordered by Napoleon III; the final classification included some 58 chateaus (today numbering 61). Château Pontet-Canet was classified as one of the fifth growths. Ten years later the property was sold to Danish wine merchant, Herman Cruse, until he sold to the Tessarons. Today the property is overseen by Alfred Tessaron and his nieces Mélanie and Philippine. Former technical Director and estate manager, Jean-Michel Comme, who along with his wife Corinne own Château Du Champ Des Treilles, started at Château Pontet-Canet in 1989. Jean-Michel was an integral part of their operations until he left in 2020. Mathieu Bessonnet replaced him as their Technical Director.
This is coveted real estate – two of their nearby neighbors, a short drive away, are the storied Château Mouton Rothschild and Château Lafite Rothschild and a little bit further, Château Latour. Pauillac, located along the banks of the Gironde, western Europe's largest estuary is less than 10 minutes from their property and the charming little village and often popular with tourists, Bages is about a 5-minute drive from the estate.
Most properties in this immediate part of Bordeaux are small – Château Pontet-Canet is unusual in that the estate has one of the largest productions in Pauillac. The entire property is 81 hectares split into 2 blocks spanning 51 hectares of vineyards including a lower block.
The vineyards are planted to 62% Cabernet Sauvignon, 32% Merlot (close to the river), 4% Cabernet Franc and 2% Petit Verdot. The vines are pruned very low to the ground using the double Guyot method in which each vine is pruned to have two canes and two spurs. The canes are trained in opposite directions along wires. This method is common in parts of Bordeaux but not often used in Napa Valley; one producer in the Napa Valley pruning this way is Elan Vineyards on Atlas Peak. And after growth each Spring, the primary canopy on each vine is trained in a circular shape. The average age of their vines are 45 years old while the oldest on the property were planted in 1939.
Their philosophical approach to winemaking is extremely grounded and takes a holistic view centered around their property; it is primarily rooted in tradition yet embraces contemporary innovation. Regardless, a strong sense of place and purpose also bridges the historical gap.
Biodynamic
In 2004 the first biodynamic trials were conducted on their vineyard (they are one of the pioneers of biodynamic farming in this part of Bordeaux). Later they received their biodynamic certification from Demeter in 2020. They no longer use any synthetic chemical pesticides in their farming. They prepare all their own infusions and teas – and manure comes from cows that live on the property.
For years they would prepare compost teas and other biodynamic preparations in several locations; however, in 2021 they dedicated several spaces within the winery entirely to biodynamic preparations including housing the organic materials used from barks and twigs from willow and buckhorn, chamomile, horsetail among other plants, (all collected from either the property or nearby) and tanks for stirring the mixtures housed on the second floor. Sprayers with holding tanks are driven directly below to receive the teas via gravity flow. This entire setup is extremely impressive and has been very much customized in-house.
Horses play an integral role in their vineyard and harvest operations – so much so that the team eventually replaced dated tiny cinder block box-like stables with modern larger limestone stables and introduced horses to the property in 2008. These have less impact on the soils than tractors. Today about 50% of the estate is managed by some 10+ horses, primarily Percherons (the breed). During harvest, grapes are picked by hand into small crates and loaded onto custom designed in-house horse-drawn carts. And the horses are also used for various jobs outside of harvest including walking among the rows helping aerate the soils and carrying organic sprays and other materials for distribution within the vineyards. They pull special carts designed by the winemaking team and built by their metal workers.
Balanced vines make balanced wines; their intervention in the vineyard is as minimal as possible – today no longer making a green harvest and or needing to remove leaves from the tops or sides of the vines.
—
From the winery on harvest days, looking out among the sea of vineyards watching horses slowly carry the grapes into the winery can be an ethereal feeling – a bit like looking back in time.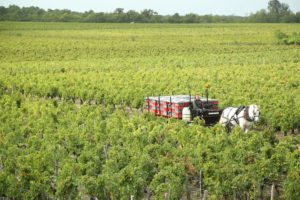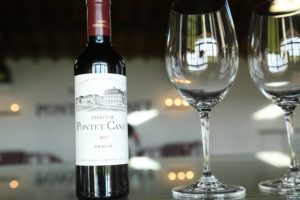 Workers sort the grapes on the second floor of the winery using movable specialized sorting tables and the grapes are then gravity fed into tanks on the lower floor. Two ends of the sorting table are the same design – with small slats allowing for shot berries and materials other than grapes (MOG) to fall through and be discarded.
One of the most unique destemming practices we have ever seen is conducted by hand. Workers take clusters of grapes and gently roll them back and forth on an in-house design flexible metal mesh screen. This system of sorting was already in place at Pym-Rae and was adopted in 2017 for use at Château Pontet-Canet. The grapes fall through the screens into a small hopper and drop into the tanks below. This is a gentle but very manual way of removing grapes from the stems – the stems are then discarded.
The winery was remodeled in 2005 and additional limestone buildings were completed in 2017 including the horse stables. Employee temporary housing is located on the second floor directly above the stables in addition to the full-time employee housing also on site. Sand from the property was used in parts of the construction. A separate space houses both their woodworker and metal workers. At times this part of the winery feels like a small village; around 50 employees are full time but during harvest the workforce swells to over 200 people.
The wines are fermented using non-inoculated yeasts in both large wooden vats; these 15,000-liter tanks are replaced every approximately 30 years and in concrete vessels, all custom designed by the team at Château Pontet-Canet. These concrete tanks are unlined but are treated with tartaric acid, rather than lined with epoxy.
The wines are aged in a variety of vessels including French oak and amphorae custom designed by Jean-Michel called 'dolia'; in part the outside is lined with clay taken from the property. These were first used during the 2012 vintage. The wine typically sees 50% new oak each year, 15% in once-used barrels and 35% in amphora. Unlike most amphora, these have a thin and tapered bottom allowing the lees to stack up vertically in a narrow space rather than spread out in a wider space which provides less contact between the wine and the lees.
Remarkably the estate also features a 200-year-old cellar below ground, where wines aging in once-used barrels are kept, housed in three parallel tunnels. This cellar also contains a small room holding older vintage wines including a bottle of the 1942, the oldest vintage in their private collection.
Looking for additional renewable energy sources the team at Château Pontet-Canet drilled some 65+ wells, each 100 meters deep in search of geothermal energy (at these depths, the water is slightly heated water). This energy now keeps the entire winery at 15°C year round, although in the cellar electricity is limited only to LED bulbs in the ceiling. Electric conduits run underneath the ground delivering energy to parts of the winery as needed.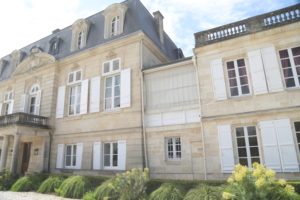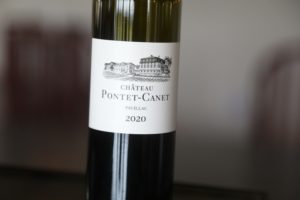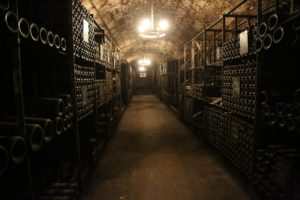 A second label, called Hauts de Pontet-Canet was produced from 1982 until 2015. However, today the focus of their winemaking one wine produced each year, a singular expression of the estate. The 2017 Château Pontet-Canet is 64% Cabernet Sauvignon, 31% Merlot, 4% Cabernet Franc and 1% Petit Verdot; dark ruby in color it offers bright aromatics including raspberry, red cherry, wet slate rock and hints of sage. There is also a more subtle darker spice component. For a young wine at the time of our tasting, everything is already well integrated together on the palate while showing plenty of depth. Flavors of plum and red currant. There is a noticeable freshness to this wine – a lively acidity that dances across the palate from start to finish. Anchored by somewhat gravely, yet fairly supple but persistent tannins. Long finish. Medium bodied. Very age worthy. This wine is 13% alcohol.
We have also enjoyed select older vintages; while telling the story of each vintage, the wines keep their freshness and youthfulness extremely well over time as they age. These are also wines meant to be enjoyed with food – specifically long meals centered around friends and or family and good conversation.
Their wines are sold through wine merchants and brokers. The United States is one of their largest export markets and select vintages can be found at Total Wine & More or K&L Wine Merchants. Sometimes Pym-Rae will participate in select tastings including the annual Appellation bASH St. Helena. For more information, visit: www.pontet-canet.com
Château Pontet-Canet

The Cellar

Winemaking

Tesseron Cognac
Tesseron Cognac's roots date back to 1905 when Abel Tesseron founded Maison Abel Tesseron. He was originally a farmer with vineyards and collected cognac even prior to founding Maison Abel Tesseron. Some of his early stocks of eaux-de-vie are remarkably still aging in the cellar. Abel's son Guy eventually became involved in the operations in 1940 and later Guy's sons Alfred and Gerard took over the business; today the fourth generation, Alfred's son, Noe and daughter Justine along with Alfred's two nieces Mélanie and Philippine oversee the operations.
The winery and distillery are located in the small town of Chateauneuf-sur-Charente, about a 20-25 minute drive from Cognac. Two vineyard sites are located within a short drive of the winery and distillery, one 15 hectares, the other 25 hectares, one in Grande Champagne (the first cru of the Cognac region) and the other in Petite Champagne. The majority of the grapes used in their cognacs are grown on these two estates with Ugni Blanc comprising about 90% of their vineyard and the other two varieties allowed in cognac, Folle Blanche and Colombard comprising the remainder. The property in the Grande Champagne is also used for production. A much smaller percentage of grapes are purchased from select growers. All three varieties are harvested, fermented (to only about 8 to 10% alcohol) and aged separate from one another.
The distillery dates from the 1960s and is used not only for their own distillations but is also rented to other producers in the region who do not own their own distilleries. A number of old copper 'pot' stills are located here all heated by an open flame (no longer wood fired). Until 2003 Maison Abel Tesseron focused its operations on producing product sold to a number of the larger well-known Cognac houses. Starting in 2003, the family released their first cognacs bottled under their own family name, under the Classic Collection.
Blending is an extremely important part of making cognac and the Master Blender (maître de Chai) is continuously blending as the cognac ages and not just for creating the final blends. And Tesseron Cognac has a remarkable inventory of old cognacs (stocks), all stored in glass carboys, the youngest of which are around 80 years old. Some of the oldest of their cognacs are stored in an ancient crypt dating from the 12th century, which also houses some of the oldest cognacs still in barrel, a truly special place referred to as the Paradis Cellar.
The Classic Collection includes 4 cognacs each with additional age: Lot N° 90 XO OVATION (10-year-old), Lot N° 76 XO TRADITION, Lot N° 90 53 PERFECTION and Lot N° 29 XO EXCEPTION. While certainly not noted for rating cognacs, Robert Parker enjoyed Lot N° 29 XO at a tasting in Europe and gave it a perfect 100-point score (the only 100-point score he ever assigned to a cognac). The Signature Collection features three unique cognacs. All their cognacs are 40% alcohol by volume.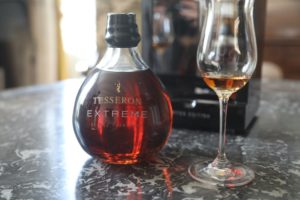 And then there is the Tesseron Extreme, Grand Champagne. This is an incredibly special and rare bottling of the best of their oldest cognac stored in the demijohn (glass carboys) with vintages 100 to nearly 170 years old (the oldest vintage being 1853). And the bottle is also in the shape of a demijohn paying homage to the 25 liter demijohns storing the ancient eaux-de-vie. Extremely limited releases each year are bottled in two sizes including a larger 1750ml.
Both the bouquet and the palate show many layers, revealing themselves even in the short time that we enjoyed this long-lived beauty. Initially offers brown sugar, hints of caramel and dried apricot. Opens to candied orange peel and a pretty hazelnut, almond butter note. An attractive characteristic of this cognac is its velvety and supple texture. Remarkably still shows plenty of fruit across the palate including notes of lemon curd. Not overly rich and it doesn't need to be, but nonetheless is extremely well layered. After the initial fruit finish, a secondary finish lingers with spices, leather and old parchment paper. Besides its dignified age, its hallmark is clearly its exceptional balance.
Those select few who have the opportunity to try this beauty will vividly remember sipping this for the first time and where they first enjoyed it. If Parker ever revised his 100-point scale, he would be forced to give this cognac 101 points for something so exceptional it merits an extra point.
Eglise-Saint-Pierre-de-Châteauneuf-sur-Charente (the church and cemetery are located directly next to Tesseron Cognac)

Chateauneuf-sur-Charente
Narrow streets wind through residential neighborhoods within this medium sized village of about 3,500 inhabitants. Several highlights are worth exploring including the Parish Church of St. Peter and its adjoining graveyard (both bordering Tesseron Cognac).
For park lovers, the beautiful Aire d Loisirs du Bain des Dames is worth a visit; bring lunch and enjoy along the Charente River and its green space and walking trails alongside its banks. The picturesque old town hall building in the center of town is also worth a quick visit.