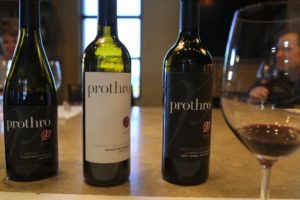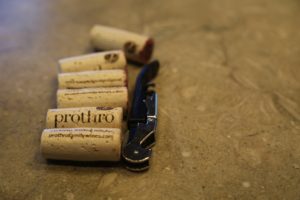 Prothro Cellars was founded by Bruce and Ronda Prothro with their first vintage in 2014. However, their wine story extends back much further than this. Their passion for wine making began in a garage in Los Altos (San Francisco Bay Area). Prior to children. They began making wine in 1991 sourcing from a wide variety of vineyards throughout parts of Northern California. They lined their garage with barrels and small 32-gallon plastic food grade containers and purchased a crusher/destemmer.
Bruce put out the word that he was interested in buying grapes – pre-internet he recalls he spent a lot of time on the phone with various growers and vintners often receiving last minute calls indicating grapes had just been picked with extra fruit to sell. Bruce also recalls he accepted nearly every offer that came across his desk while Ronda remembers she was the one exercising some restraint and reason otherwise their little project would quickly spiral out of control onto their driveway or worse yet onto the sidewalks. As it was, they produced 200 gallons that first year.
One of their early lots was a barrel fermented Chardonnay in an American oak barrel. They tried to emulate the style of one of their favorite Chardonnays from ZD Wines but unfortunately were disappointed in the quality – however, this was all part of their early winemaking education. They borrowed a pickup every time they visited a vineyard, would crush on site and then drive back to their home to begin fermentation. At one point, Bruce purchased fruit from and enlisted the help of a vineyard owner in Santa Rosa on Olivet Road in neighboring Sonoma County. This vintner very helpful in their early days of wine making.
But this vineyard owner was not the only one – David Bruce of David Bruce Winery provided them advice as well as bottles and corks and Dexter and Val Ahlgren at Ahlgren Vineyards, Ken Burnap at Santa Cruz Mountain Vineyards, Kent Rosenbloom and Jeff Cohn at Rosenbloom Cellars all were invaluable in their early days of home winemaking. Both Bruce and Ronda had discovered Pinot Noir and Zinfandel produced by Williams Selyem Winery. After making an appointment they showed up and knocked on the winery door – Bert Williams answered gruffly, greeting them with a salty not for print question but quickly warmed to them once Ronda told him they were home winemakers. After several hours of visiting with Bert, he sent them on their way with loads of winemaking advice and a handwritten note to pick up some of the same yeast stored at a lab that he used for fermenting several of the Williams Selyem Pinot Noir wines.
Bruce and Ronda continued to produce home wine in their garage through 1998. Between raising two young children, their own careers and work travel, life's other obligations took over and they took a long hiatus from making wine. But then later in life with their children grown and on their own, Bruce having just left his corporate job and after relocating, one evening they sat down on their couch and pulled out a bunch of old photos stored in an old box – images taken from when they used to make wine. Immediately they noticed the old photographs had captured their youth as well as the enjoyment from making wine in their garage. They began to dream about making wine again.
They took a trip to New York City and while both were touring the Metropolitan Museum of Art, Bruce received a call from his former employer announcing Bruce would receive a healthy payout through the company's long term incentive program. Bruce told Ronda and before they even left the museum, they decided that this would be seed money towards starting up a wine brand. But this time, making wine to sell.
Bruce began drinking wine in the 1970s and 1980s (mostly domestic wines) but over the years his palate began to pursue primarily European wines. When they began to consider the Napa Valley as the primary source for their new wine brand, they realized they had lost touch with contemporary wine styles in the Napa Valley. They had to 're-calibrate' as Bruce says – so they tried numerous wines – deciding they preferred balanced wines, not opulent fruit forward wines, wines that were not "bludgeoned with oak" – rather were more elegant in style. An ideal wine for Bruce and Ronda is one that has an intriguing entry, an expressive front and mid palate and shows intensity and good structure but not an overpowering finish.
Select Wines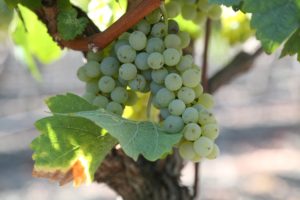 Working with winemaker Patrick Saboe since the beginning of their new venture, they produced their first wine under Prothro Cellars in 2014, a Howell Mountain Cabernet Sauvignon. Every wine is assigned a single word description – relating to both the wine and a personal story. Bruce likes to equate each of the wines with certain actors – and sometimes at tastings, customers will only remember the actor and when ordering wines will refer to that actors' name. For example he finds their Chardonnay more like Audrey Hepburn rather then say, Cameron Diaz.
The 2018 Prothro Cellars Rosé, named attitude, a word used to describe their daughter when she was very young. Ronda recalls when their daughter was almost two years of age, strapped into her car seat she threw a tantrum and was trying to express her anger with a naughty word, but the only word she could say was pink. Light salmon color this wine is a blend of Tempranillo and Mourvèdre from Clarksburg with small amounts of Pinot Noir and Cabernet Sauvignon. Pretty aromatics include strawberry, a lemon zest and mineralities. Supple across the palate with a slight creamy texture – has decent weight for a rosé along with bright acidity.
And as one consumes wine from this bottle – one actually begins to notice the bottle itself. As the level of the wine drops in the bottle, a number of dimples begin to show on the interior. Of the many wines we have tried over the years, this is only the second time we have seen this this type of glassware design from a Napa Valley producers. It adds a classy design element to an already photogenic style of wine.
The Prothro Cellars 2018 Morgaen Lee Vineyard (Yountville) Sauvignon Blanc is an elegant showing both on the bouquet and palate. Thoughtfully made approximately 80% of the wine is fermented in stainless steel tanks, 20% in concrete and then 50% of the wine is put into new French oak and 50% into neutral oak for the aging. Includes a tiny bit of Pinot Gris. Dried grass, lemon meringue and guava aromatics. Not as zippy on the palate as a typical New Zealand grassy greener style wine from this variety – rather shows some weight from the addition of the Pinot Gris yet still features pleasing acidity (but not overly tart).
The inception of the Red Wine Cuvée began with a phone call from Traci and Pat Prothro, owners of Prothro Gallery in Park City Utah – sharing the same last name and a love for wine, the gallery wanted to purchase some of their wines to pour at select events. Bruce and Ronda decide to create an affordable red blend specifically for the gallery and have since continued to produce it each year, changing the cuvée number with each vintage. The 2016 Protho Cellars Red Wine Cuvée No. 3 is a blend of 94.5% Broken Rock Vineyard (a site located just below the Atlas Peak sub-appellation) Merlot with 3% Broken Rock Cabernet Sauvignon, 2% Petit Verdot, and 0.5% Cabernet Franc; offers an elegant bouquet with aromas of red cherry, raspberry and hints of sage and cassis along with cedar notes. Shows plenty of fruit on the palate including blackberry and blueberry with a touch of toasted oak and vanilla on the supple finish.
The 2017 Prothro Stagecoach Vineyards Cabernet Franc Precocious is named in honor of their son when he was young who was often described as precious. The wine is a blend of 95% Stagecoach Cabernet Franc with 2% Merlot, 2% Petit Verdot and 1% Malbec. Sometimes this variety can show some herbaceous notes both on the bouquet and on the palate – not so this wine; offers cherry, dessert spice notes, chocolate, cedar and toasted oak on the bouquet. Has a pleasing weight mid palate with fairly robust and dense tannins lingering for quite some time.
The 2017 Prothro Cellars Cabernet Sauvignon Demarcation is sourced from Broken Rock Vineyard. The bouquet is somewhat brooding or moody if you will – offers a savory note complemented by a variety of darker and sweet spice filled secondary aromas including cloves, vanilla and coffee along with ripe blackberry. Tight chewy tannins anchor a long finish with notes of toffee, toasted oak and coffee grinds. Very good acidity.
The 2017 Prothro Cellars Heritage Reserve Cabernet Sauvignon is from the Beckstoffer family owned G3 Vineyard in the heart of Rutherford. Pretty aromatics – immediately shows notes of tobacco leaf, mocha, toffee, and cedar with ripe blackberry – dusty, almost briary. This wine is well layered on the palate and has the hallmarks for plenty of age ahead. The tannins are still tightly woven in their youth – mouthwatering acidity with vanilla and tobacco notes lingers on the finish.
—
Bruce and Ronda learned that one of the best days to post on social media is the day before Thanksgiving. Ronda and her business partner designed the Prothro label – Ronda posted a mock-up of a proposed label design on their Facebook account prior to Thanksgiving and were surprised to soon find some 175 comments from friends and family. The first iteration on the label was Prothro Family Wines; the Chief Marketing Officer for Facebook at the time, Gary Briggs made a simple comment – remove the 'family wines' so they did. Giving people some ownership of the label design ultimately was a smart move – when they released their inaugural wine, a number of those who had shared in the design process ended up becoming customers.
While they live in Austin, Texas they are both in Napa fairly regularly and more during integral times of the year (harvest and blending sessions with Patrick). The focus of their sales is direct to consumer while slowly building a wine club with plans to cap it off around 200 members – at which point a wait list will be initiated. Both Bruce and Ronda participate in select vintner hosted events centered around their wines and food – often the Austin area but also in other locations as demand allows. For more information or to join their wine club, visit: prothrofamilywines.com