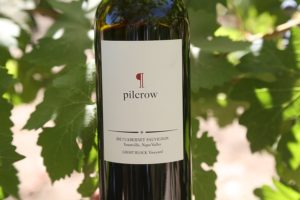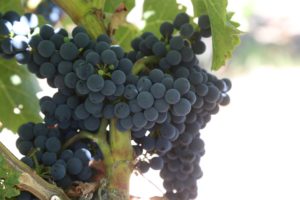 Pilcrow was founded by winemaker Sara and her husband Jonah Beer with their first vintage in 2014. Both have long been inspired by the styles of wines produced in the Napa Valley prior to the 1980s – wines that speak to their respective sites and to the varietal. Pilcrow is their self-described, 'love letter to the Napa Valley' a nod to those who created some of the valley's most iconic wines from the 1960s through the 1980s.
The focus of their grape sources is from non-homogeneous sites – with a goal to produce classic styled, lower alcohol, higher acidity food friendly wines. As Sara told us, "We are picking earlier than most producers" but then Jonah quickly interjected, "we are picking on time"! Or as Jonah described another way, "we are making wines perhaps to please the ghost of Lee Stewart". Lee was founder and winemaker at Chateau Souverain on site of what is now Burgess Cellars and is where Mike Grgich and later Warren Winiarski helped make wine.
Both Sara and Jonah are Napa Valley industry veterans. Prior to founding Pilcrow, Sara spent 13 years at Duckhorn Wine Company overseeing their wholesale markets. And in 2016 she founded True North Wine Merchant – which focuses on importing and distributing premium wines – working with select wineries in Willamette Valley, Columbia Gorge, Burgundy, Piedmont and the Napa Valley. Jonah was born in Indiana but has lived in the Napa Valley since 1998 – his first job was working for Warren Winiarski at Stag's Leap Wine Cellars washing dishes in the tasting room – his talents were too great to stay in that position for long. Eventually he became their Director of Sales. He was with Frog's Leap Winery from 2003 until 2021; at the end of his time with Frog's Leap he was their Vice President.
And in early 2022 Jonah and Kaulig Capital purchased Gabrielle Glass, a premium stemware producer founded in Austria in 2010. After the sale, Jonah took over as CEO at Gabriel-Glas North America.
Initially the focus of the Pilcrow production was using grapes from what is now the Pym-Rae Vineyard at the end of Wall Road on Mt. Veeder.
Pilcrow began sourcing fruit from the Ghost Block Vineyard in 2016. This special site is located just north of the George C Yount Pioneer Cemetery (where George Yount is buried – and from his grave site one can look directly north into this vineyard) in the northern city limits of Yountville. Owners, the Hoxsey family used to refer to this vineyard as the Cemetery Block until they heard a local describe seeing George Yount's ghost wandering through the vines – when deciding on a name of their vineyard and wine label, Ghost Block simply sounded more intriguing than Cemetery Block.
From a viticulture perspective, this immediate part of the Napa Valley is one of the most historical. George Yount, the first western settler in the Napa Valley built a log block house in 1836. This block house is long since gone and the site is currently covered with rows of grapevines. Yount's two-story adobe house also stood nearby, built in 1837. For reference, the first 'western' recorded exploration of the Napa Valley was only 13 years prior in 1823 led by Padre José Altimira, the founder of Mission San Francisco Solano in the town of Sonoma.
While no records remain that show the date of Yount's first non-commercial winemaking – perhaps it was in the early 1840s after his vineyard matured. Records do show that he made some non-commercial wine by the late 1840s. This was the first ever wine produced in the Napa Valley by western settlers.
And Yount also built his grist and sawmills in the vicinity – a mill race where he diverted part of the river to power his grist mill. He also planted the first grapes in Napa Valley (most likely Mission grapes) with cuttings obtained by Mariano Vallejo – in our historical research, we have come across multiple sources indicating varied years when this occurred ranging from the mid to late 1830s – with an 1856 Official Report of the California State Agricultural Society reference to George Yount's vineyard and orchard planted 18 years prior which would have been 1838. Mostly likely the vines went into the ground sometime in the winter of 1838/1839. A historical landmark along Yount Mill Road is the only reminder in this area of this treasured history.
—
From a geological perspective the Ghost Block Vineyard is located on one of the more fascinating sites in the Napa Valley. Geologists Jonathan Swinchat and David Howell detail the origins of these hills in their book, The Winemakers Dance. Their explanation is a simple one which makes a lot of sense when one starts digging into the details and related maps.
The material that forms the Yountville hills previously was in the nearby Vaca mountains to the east of this site. These mountains used to be much taller – pushed upwards by plate tectonics where at times they would no longer be able to maintain their structural integrity and massive slides would occur with huge amounts of rock debris sliding down to the west into what is now the Napa Valley floor.
The remnants of these slides or toe deposits formed the leading edge of moving materials – and along with the Yountville hills, created other knolls in select parts of the surrounding valley floor. And the 100+ year old stone quarry near the vineyard (used to build some of the buildings in nearby Yountville), helped validate this theory. Within the quarry, Swinchat and Howell noticed large rock formations standing vertically pushed into that position by the forces of the slide as it moved into the valley.
One can easily see the dramatic differences in soil simply by looking at the face of this quarry. One side contains strata that is iron rich and reddish in color (the same parent material and rock strata that one finds in the hills of the Vaca mountains directly to the east – and next to this material is volcanic strata.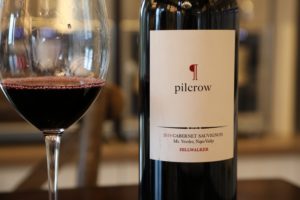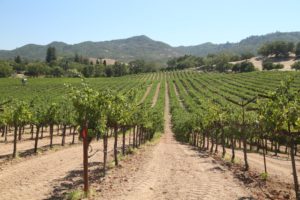 Pilcrow sources merely 4 rows from Ghost Block – but they are long rows and they cut across a variety of terroir. As Jonah told us, he roughly calculated something like 17,000 years of geological history, just between each vine. A spine of rock covered with shallow topsoil runs through about the middle of their four rows – and within merely a foot or two in either direction, the influences of the spine can easily be seen in the grape vines themselves. Directly over the spine and its layer of shallow soils, the vines show dramatically less vigor – but moving off of the spine the vines immediately capture the increased soil fertility and depth – visible in their more vigorous canopies. And moving south, the vines at the edge of the vineyard are influenced by a nearby small riparian zone. Such is the variation across their rows, it is almost like having three different mini vineyard sites. However, of the several vineyards they source from, this site always shows the softest tannins.
This is a rare part of the Napa Valley where most of the landscape on the hills is not planted to grapes – rather cattle graze on the lower slopes and the vegetation is grassland dotted with old oak trees. It is also a favorite spot for locals enjoying peaceful strolls in the country. And for wayward tourists who have gotten lost – perhaps trying to find their way over to the Silverado Trail.
Select Wines
While Jonah helps with the winemaking, Sarah is the primary winemaker. At harvest they want the grapes to be ripe and balanced. They strive to make wine from fruit with a lower pH, higher natural acidity and lower alcohol. Her approach is gentle and completely non-manipulative in the winery – more old school in its feel yet paying close attention to details. She prefers to showcase the varietal and the site – a several days cold soak before fermentation begins and post-fermentation, avoiding any sort of extended maceration. She limits the use of new French oak during the aging. And never fines or filters.
The 2019 Pilcrow Cabernet Sauvignon Hillclimber, Mt. Veeder is dark ruby and nearly opaque in the glass; the bouquet is very expressive and open, offering aromas of plum and a rose-stem like quality, first described to us by Opus One winemaker Michael Silacci when tasting through one of their older bottlings. The scents also show tobacco spice and some herbal notes. This is an elegant bouquet with some aromatic character. It is the antithesis of linearly driven Napa Valley Cabernet Sauvignon wines which focus on ripe fruit and accompanying dessert spices. In fact, our palate was watering before we even tried this wine. It offers more red fruits than dark fruits including of not fully ripe plum, currant, cranberry and Icelandic crowberry (look that one up if you are not familiar with it). This wine features mouth ringing acidity (rather than bell ringing). It lingers savory with light notes of pink peppercorn, a tobacco spice and a tangy/tart nuance accompanied by light gravelly textured tannins.
The 2017 Pilcrow Cabernet Sauvignon Ghost Block Vineyard (100% varietal) is dark ruby in color with a freshness across the bouquet showing aromas of red cherry, raspberry and as the wine opens further hints of dried herbs. There is plenty of depth across the palate with flavors of red berries, currants and cherry. There is a finesse and a balance in this style of wine that is extremely gratifying – revealing the finer nuances of both the varietal and site – characteristics that are typically lost in riper contemporary bottlings from Napa Valley. It lingers with a light grip of tannins; the wine's textural feel is a highly appealing attribute on the finish.

To borrow from the social media world, this is a wine without any Instagram filters. Only 175 cases of this beauty were produced – it is one of the top wines we tried from the 2017 vintage in the Napa Valley.
And this is the first time the Hoxey family has allowed a producer to vineyard designate wine from this particular vineyard. In addition to the Ghost Block Vineyard Pilcrow also sources from the Hillwalker vineyard on Mt. Veeder and the Granite Lake Vineyard on the upper reaches of Howell Mountain.
What's in a name? Turns out a lot; Pilcrow was a good choice for a number of reasons. It refers to the ¶ symbol which denotes a new paragraph – with first documented use dating back to 1440. Jonah is a passionate student of history along with one of his other interests, typography. If you ever meet him, ask about a Wayzgoose or the Printer's Devil – terms used to describe specific typography processes. For those looking for more information about this ancient craft, an intriguing collection of old typography instruments is found at the International Print Museum in Carson (Los Angeles County).
And personally, this name refers to a new chapter in their own lives – Sara had recently left Duckhorn to start both her distribution company and Pilcrow.
International Print Museum, Carson CA

And for the 2017 vintage, they chose the Bodoni Typeface, always attempting to match what they feel is a typeface that best represents that year's wine and vineyard. The typeface changes every vintage.
The wines are selectively distributed including locally sometimes at ACME Fine Wines in St. Helena and online through SOMM Select. And they are distributed through True North Wines to a variety of restaurants and retail outlets. Internationally, the wines have limited distribution within the United Kingdom. For more information or to directly order wines, visit: www.pilcrow-wine.com