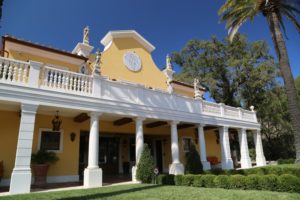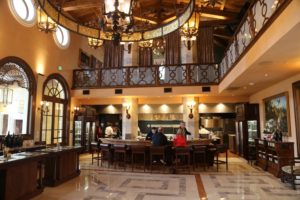 Piazza Del Dotto opened on September 1, 2017; this is the latest winery in the Del Dotto Napa Valley portfolio. The property is in the southern part of the Oakville appellation located slightly north of Yountville; it is 22 acres of which 8.5 are currently planted to Cabernet Sauvignon. The winery was built in phases; phase one included the opening of La Barchessa or in Italian, "the Italian Barn". Referring to a barn in name only, this palatial hospitality center is built like a home for royalty with Italian furnishing (including the grand chandelier made in Florence), paintings and various furniture. Remarkably 70+ containers of construction materials, statues, marble, furniture, doors and other décor was shipped over from Italy. Local vintner, Claudia Fleury was responsible for much of the interior design.
La Barchessa features two floors including a VIP space and several luxurious tasting spaces upstairs. An outdoor terrace offers gorgeous views on clear days – overlooking the property and nearby vineyards.
All the bricks lining the driveway and parking area were hand-laid and were imported from Italy.
Phase two of construction was the cave. The footprint of the cave was initially drilled into the side of a knoll (approximately 10,000 square feet) but it was many months of prolonged construction before the cave was ready to see visitors. As of early September 2018, one of the finer underground spaces in all of Napa Valley opened. The interior cave walls and ceilings are lined with gorgeous marble. Dave brought over Italian stone masons to build the interior (after the initial drilling of the cave's footprint was competed).
Barrels line the edge of the cave walls (no stacked barrels here). And what is probably a first for a Napa winery are several marble barrels – these were imported from Italy and entirely hand-crafted from Carrara marble including the barrel heads. As of our last update, Piazza del Dotto owns two of these barrels. The centerpiece of the cave is the largest room, roughly in the middle; it can be used for sit-down hospitality experiences including some of their culinary pairings.
From a visual perspective, perhaps the most stunning part of the cave is the Piazza del Grotto with its impressive chandelier composed of Madagascar red agate encircled by Venetian glass. A number of hand-painted murals line the ceiling – created by artists from Italy. And if one knows what they are looking for, they can spot several members of the Del Dotto family in the murals.
Real estate and TV infomercial man, now Napa Valley winery mogul, Dave Del Dotto is the visionary talent behind Piazza Del Dotto. He traces his ancestral roots back hundreds of years to family living in Venice, Italy. His Italian heritage plays a big part in the style and décor of his wineries as well as in the actual wine making (using old-world wine making techniques – along with modern wine making styles). La Barchessa is everything a classic Venetian villa should be from the ancient, gnarled olive trees in the courtyard, the marble façade on the outside to the luxurious Italian décor and furnishing inside.
Similar to the other Del Dotto properties, hospitality is a big part of the experience here. Dave believes you learn and enjoy wine through storytelling, not necessarily through rote facts. And combine this with the culinary world and create an atmosphere where guests are comfortable engaging with each other. Ultimately this all blends into a fun environment between both guests and employees – creating memorable experiences that people will share with friends and family.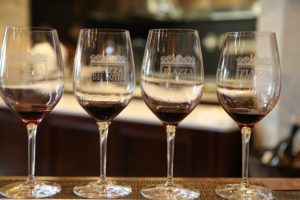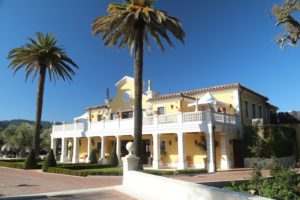 All visits are by appointment; guests can choose from several tasting experiences including a bar tasting or the Poppers offering – where several wines are paired with small bites prepared by their culinary team. The bites are seasonal – often with ingredients sourced from their garden at their St. Helena Estate, the garden in the back of La Barchessa or using their house prepared salumi. Conveniently a salumi curing chamber is located on site and guests can also purchase from a selection of meats stored here.
During a recent visit, select tasty bites for their Poppers experience included Florida frog legs, house cured bacon & black truffle, Sonoma County duck and a Snake River Farms short rib in a potato crust with a grape on top.
Most wineries in the valley offering food and wine experiences are fortunate to have one commercial kitchen on site; Piazza Del Dotto has two sizable and impressive commercial kitchens located inside La Barchessa. Visitors often taste at a counter overlooking chefs preparing food at the primary kitchen. This kitchen features an impressive French made Molteni stove which Dave calls "the Bentley of stoves" perhaps referring to the price but also to its unparalleled performance. In the world of cooking, Molteni is certainly one of the world's great luxury kitchen ranges.
A second kitchen offers outside stool seating at the 'food bar' where small bites can easily and quickly be served. The surrounding courtyard also features a sizable garden planted in raised beds complemented by several 150+ year old olive trees. And in a reminder of when Piazza Del Dotto was going to be called Ca' Nani (House of Dwarves), a number of tiny 'nani' statues are located among the gardens. Additional courtyard attractions include a brick pizza oven (there is never a shortage of food at Piazza Del Dotto!) and a number of live animals including chickens, turkeys and peacocks.
During decent weather, in our opinion, this one of the more relaxing places on the property to hang out.
Guests looking for a more in depth tasting and culinary experience should strongly consider 'Delicacies by Del Dotto'. This experience was originally offered at their Rutherford estate but has since been moved to this property. It is a fun experience, offering barrel samples followed by a sit-down pairing in either one of their upstairs VIP spaces or outside in the courtyard.

Small bites are prepared on site by extremely talented chef, Joshua Schwartz (formerly of Bouchon and French Laundry). Allow about 90 minutes for this experience. While the bites are small – unless you are famished, this tasting/culinary experience makes a nice light lunch, and you typically won't leave hungry. A few selections from a recent Delicacies offering included Wagu Beef, Steelhead and roe and Maine lobster roll on a toasted brioche.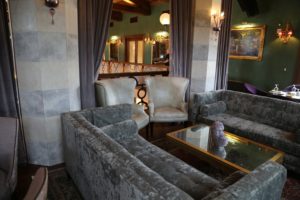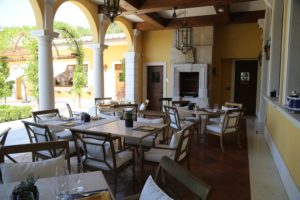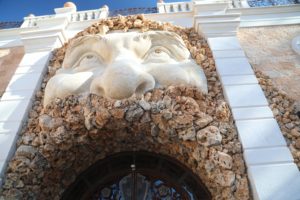 In addition to their Napa Valley winery properties (Rutherford Estate, Historic Napa Caves Estate and Villa Del Lago on Pritchard Hill), Del Dotto also owns select vineyard properties in the valley. These include several vineyards in St. Helena, Oakville and Howell Mountain. And outside of Napa Valley they own a 359-acre premium vineyard in the Fort Ross-Seaview appellation of neighboring Sonoma County called the Cinghiale Vineyard (meaning 'wild boar' in Italian). This terroir can be fairly cold at times as Fort Ross-Seaview is located in the hills directly above the frigid waters of the Pacific Ocean. However, the appellation certainly receives more sunshine then directly at the water's edge due to its elevation – but this is still a very cool place to grow grapes.
Incidentally, Del Dotto is not the only Napa based winery to source grapes from this part of Sonoma County. We have noticed over the years, the wines from Fort Ross-Seaview typically show very good acidity.
Select Wines
The 2015 Del Dotto Cinghiale Vineyard Chardonnay saw 50% malolactic fermentation and was aged in 100% new French oak. It was also aged sur lie. In the glass it shows a rich golden color with tropical aromas including honeysuckle and some toasted oak; as the wine opens, the aromas of toasted oak dissipate and aromas of honey and brown sugar show. The palate is a mix of tropical notes (guava and white pineapple) with hints of citrus including mandarin. Decent acidity but there is also some weight bringing a nice balance to the wine.
And in addition to their still wines from their property at Fort Ross-Seaview, they also make several sparkling wines from this same property.
The 2013 Del Dotto Cinghiale Vineyard Syrah shows a hint of herbal notes on the bouquet including mint and cigar smoke. As this wine breathes a sweetness of fruit on the bouquet becomes more dominant. Very well balanced on the palate – showing somewhat dusty well integrated tannins. Nice acidity.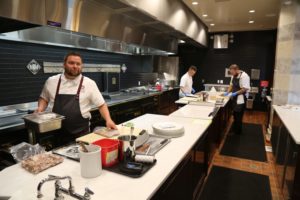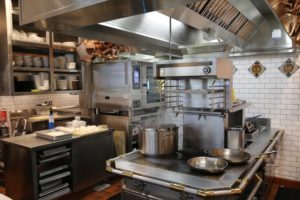 The 2014 Del Dotto Napa Valley Petite Verdot (blended with Cabernet Sauvignon and Merlot) is very dark in the glass. It shows a noticeable sweetness of aroma including dessert spices. There are notes of plum and a spicy pepper as the wine evolves in the glass. On the palate this wine presents both big flavors and big structure. Broad shouldered and somewhat chewy, the finish lingers for quite some time with both wood and grape tannins.
Villa del Lago is a premium Del Dotto owned property high above Lake Hennessey in Pritchard Hill. This property once housed a beautiful home, but this was since been torn down to make way for what at the time was planned to be a high-end 8-room boutique hotel; we don't have any other details as to the status of this or if this has been put on hold.
Villa del Lago produces one wine each year – a Cabernet Sauvignon from vines with very low yields (less than a ton per acre). The 2014 Villa del Lago Cabernet Sauvignon was made entirely with free run juice (no pressed juice). It is a big wine aromatically but is very well balanced both on the bouquet and the palate. Shows bright fruit on the appealing bouquet including notes of dark cherry. Somewhat soft and rounded but still layered on the palate, this wine offers flavors of both darker berries and cherries. Dusty tannins float delicately on the back of the palate with a noticeable but not out of balance. Fairly approachable. Only 400 cases were produced of this tasty Cab.
—
For more information about visiting and their tasting experiences or to to join either their wine club or the more coveted VIP membership, visit www.deldottovineyards.com/visit/piazza
Entrance

Grounds

La Barchessa

Cave

Piazza del Grotto

Culinary

Video: Sommvivant