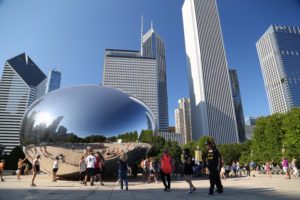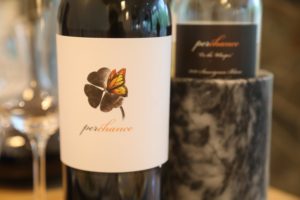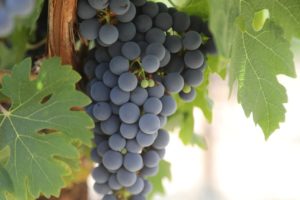 Perchance Estates was founded in 2019 by two couples, Dean and Katie Papadakis and Heath and Cary Fear. The roots of Katie and Dean's interest in Napa Valley began when in 2006 when one of her patients (she has worked as a dental hygienist for 20+ years) mentioned he had recently been to Napa Valley and enjoyed several very educational and enjoyable culinary lessons with a famous chef. Inquiring further, Katie discovered that chef was Thomas Keller. Timing was ideal, as she and Dean were about to celebrate several milestone birthdays. She called the French Laundry and spoke to Charles Billes, who was their Culinary Assistant/Manager at the time (who would later start the acclaimed Souvla Restaurant in San Francisco).
Charles helped arrange a private 2-day one on one culinary course with chef Thomas Keller that same year, culminating with a dinner at the French Laundry. This was their first trip to Napa Valley; each year since they have always returned on their anniversary, making it a tradition to always eat at the French Laundry.
Their trips to Napa Valley have taken on themes over the years; one theme was to visit and taste with 100 point winemakers. One of these trips led them to Envy Winery where they first met winemaker Mike Smith. Katie recalls they spent nearly 3 hours with him that day, tasting through his Myriad wines but also select wines for other brands he consults for.
In 2019 Dean and Katie and three other couples, including Heath and Cary visited Napa Valley and rented a house in a remote location not far from Lake Berryessa. As a result of all the windy roads and not wanting to drive to the valley floor, they invited Mike and his wife Leah to come showcase some of their wines at the rented house. Over the course of the visit, Mike suggested he could potentially produce wine for them, and even better, he had access to parts of Georges III Vineyard. Katie recalls themselves asking, "how can we pass this up".
As we have heard a number of times, often the hardest part of starting a new wine brand is choosing a name that reflects something important as it relates to the brand's story. And with thousands of domestic wine brands, many names are already trademarked. They chose the name Perchance to honor all the by chance events and related decisions that led them to owning a Napa Valley based wine brand.
Through her Chicago connections Katie reached out to creative Mark Weigard, co-owner and founder of Gauge Branding, remarkably a company with strong Napa Valley connections. Mark's partner in the business is Tim Martin, partner in Napa Valley's Tusk Estates. Over the years, Gauge Branding has created labels for premium wine brands including Aileron, La Pelle, Melka and Tusk Estates. And they also designed the label for for Perchance Estates.
Georges III Vineyard
Georges III Vineyard is an important vineyard in Napa Valley not only for the pedigree of the site but it also houses the headquarters of Beckstoffer Vineyard's extensive farming operations (some 4,000 acres between the Napa Valley, Lake County and Mendocino County). Their vineyard land in Napa Valley extends from Carneros in the south to St. Helena in the north. This site was first planted to wine grapes in 1895 by Thomas Rutherford and was purchased by Georges de Latour, founder of Beaulieu Vineyard in 1928. The site was originally called Beaulieu Vineyard #3. Georges III is one of Beckstoffer's six heritage vineyards in Napa Valley; sites identified as producing both exceptional wines but also incorporating rich history. The other heritage vineyards are: To Kalon, Dr. Crane, Bourn, Las Piedras and Missouri Hopper.
Today Georges III Vineyard encompasses the original footprint of the vineyard when it was owned by Beaulieu Vineyard but also additional acreage not in the original footprint including a 4-block southern 'annex' and two other blocks. This is the largest single vineyard holding for Beckstoffer in Napa Valley; the site is 300 acres, of which 250 are planted, organized into 29 unique blocks. The site is planted entirely to Cabernet Sauvignon (multiple clones) across a variety of rootstocks and trellising systems. The property features several soil types including cortina and bale loam and higher clay content in the southern part of the vineyard. Some of the eastern blocks closest to the Silverado Trail are extremely rocky. Conn Creek runs runs the length of the western portion of the vineyard – deepened and widened by the U.S. Army Corp of Engineers in the 1920s.
Beckstoffer Vineyards President David Michul farms the site for uniformity and for maintaining balance in each vine. Beckstoffer Vineyards maintains full in-house farming control of all their vineyards, but will work with clients on a case by case basis basis (IE crop loads, shade management etc). According to David, Georges III provides fruit for some 120+ clients; specific vineyard rows are allocated to clients each year. Perchance Estates sources from three separate blocks in Georges III; one close to Conn Creek and two blocks from a coveted part of the vineyard – the more rocky slightly elevated bench land soils close to the Silverado Trail.
Beckstoffer Vineyards focus on premium sites, coupled with precision farming and a savvy business acumen, has played an integral part in significantly elevating the reputation of the Napa Valley. Furthermore, wines that display the Beckstoffer name immediately carry a certain level of credibility and brand recognition.
Georges III Vineyard, Rutherford
(photographs are all of the allocated Perchance Estates rows)

Select Wines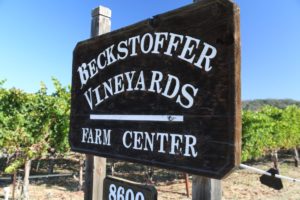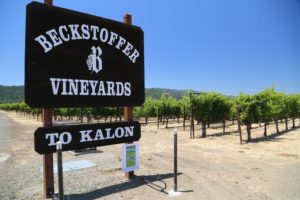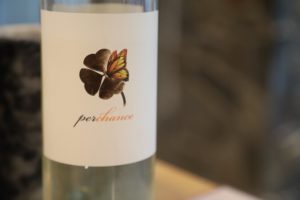 The 2020 Perchance Estate Sauvignon Blanc was sourced from the McGah Vineyard (just south of Beckstoffer's Georges III Vineyard). The owners named this wine, 'On the Whisperer" as initially it was going to be kept well under the radar with the intention to only offer it to customers who had purchased the inaugural release of the Cabernet Sauvignon.
This wine was fermented in stainless steel and aged in for about 8 months in oak. The wine is medium gold in color, immediately offering aromatics of citrus blossom, freshly cut grass, kiwi, green apple and some minerality notes. As the wine evolves in the glass, the bouquet opens to honeysuckle and ripe pear. Wonderfully balanced across the palate, shows a slight creamy texture. Offers flavors of lemon and apple – and a crispness but not a tartness. This wine certainly embraces the leaner varietal characteristics of Sauvignon Blanc but also the sunshine of the Napa Valley. Sauvignon Blanc does really well in Rutherford but its acreage is limited due to the better economics of growing Cabernet Sauvignon.
This wine came about while some of the partners were visiting with Mike at his house and Heath mentioned how much he enjoyed Sauvignon Blanc. However, he prefers more richer tropical aromas and flavors from this variety, and in the future, Perchance Estate may produce a second Sauvignon Blanc, crafted more in this style.
The 2018 Cabernet Sauvignon, Georges III Vineyard Rutherford was their inaugural release. This wine is dark ruby in color; the bouquet offers a diversity of aromatics. The fruit notes are elegant yet riper and include aromas of boysenberry and blackberry. But there is plenty of other aromatic intrigue including some violet and lavender floral undertones along with hints of Asian 5-star spices. The texture is slightly creamy with an ethereal feeling, smooth as satin. The tannins are extremely finely grained, almost chalk-like in their textural approach. Lingers with flavors of plum and darker cherry. This wine is extremely well balanced in its youth.
Perchance Estates also sources from 5 rows in the To Kalon Vineyard (the A2 Block); the first vintage of the Perchance Estates To Kalon Vineyard designate Cabernet Sauvignon is from 2021.
Heron House, Yountville
Perchance Estates was a member of the Heron House in Yountville until December 11, 2022, when the Heron House closed permanently. We keep these notes and photographs for historical reference. This retail wine tasting space in SoYo (South Yountville) featured a select number of small-brand producers who did not maintain their own tasting rooms. Heron House opened the day after Thanksgiving 2019.
Heron House was setup to feel like walking into someone's living room – comfortable, cozy and inviting. The retail portion of the space was open during normal business hours and included mostly locally crafted products including select works of art – reflecting the Steltzner's (the founders) love of art.
Two private tasting rooms were available by reservation. Several curated flights were offered, each containing wines from the various producers represented. Allow up to 90 minutes for a visit. Hours are subject to change, but as of our latest update to this review, this space is daily from 10am until 6pm with the last tasting appointment at 5pm.
—
Private tastings can also be arranged at the two wineries in Napa Valley where Mike crafts the wines for Perchance Estates. Production has been small; initially only several hundred cases but growing to around 500 cases per year. The wines are primarily sold through their 'Join the Journey' allocation list but are also selectively distributed in parts of California, Illinois, Texas, Ohio and Florida. For more information, visit: www.perchanceestates.com