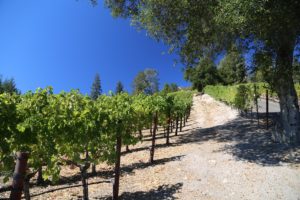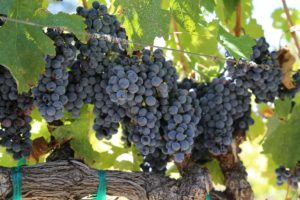 Peacock Vineyard (not to be confused with Peacock Cellars in Arroyo Grande in California's Central Coast) is located in the beautiful Spring Mountain District, just minutes outside of the town of St. Helena. The 6+ planted acres are located at 1,000 feet at the end of a rolling narrow windy and steep hillside road. Founders Chris and Betsy Peacock moved here in 1991 and purchased the site from the owners of Raymond Winery. The Peacock's initially sold the grapes to one of their Spring Mountain neighbors, Barnett Winery (who produced a Peacock Vineyard designate) but then began producing their own wine in 1999 (Cabernet Sauvignon).
Chris and Betsy are very well traveled and are attracted to a variety of interests besides wine including the spiritual world (Chris went to seminary school where he graduated with a degree in divinity), travel and the arts. And their home is built of rammed earth – one of only three vintner homes in the Napa Valley that we know of built in this style (the other two being Dyer and Wing Canyon). This type of construction uses gravel, sand, silt and a small amount of clay rammed into extremely thick walls (provides excellent insulation).
With Chris and Betsy getting up in years, their daughter Rebecca joined the team in 2013, leaving a career in the world of fashion. For 15 years Rebecca owned and operated Les Deux Copines, a boutique women's apparel store in Burlingame, California that focused on French fashion. Rebecca is often on the road marketing the wine, attending dinners and other events.
The vineyard is perched in a stunning location on the side of a saddle which overlooks the lower part of Spring Mountain as well as onto the Napa Valley floor with views to both the north and south from the property. The vines are planted on steep hillside following the curvature of the slope – wrapping around the property with numerous exposures. Sometimes this is above the fog line and all you see from above is a white 'pillow' covering the valley floor. This is prime hillside vineyard real estate located next to other notable vineyards from other wineries. And remarkably, while surrounded by rugged natural hillsides, the vineyard is only located about a 5 minute drive into the town of St. Helena.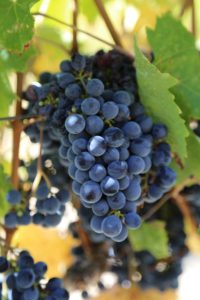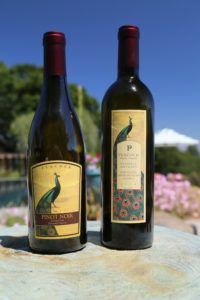 Much of the vineyard is planted to a specific clone of Cabernet Sauvignon although individual block replantings have introduced additional Cabernet Sauvignon clones. They also make a rare (for a Spring Mountain producer) Pinot Noir, sourced from the Russian River Valley in neighboring Sonoma County. And in more recent years they produce a Napa Valley Sauvignon Blanc.
Winemaker Craig Becker has crafted every vintage since he joining the team in 1999. Conveniently, before he became Peacock's winemaker he was already familiar with Spring Mountain grown fruit having previously worked at nearby Spring Mountain Winery where he was promoted to winemaker at age 23. Today he is Peacock's winemaker and general manager. He began his career in the Napa Valley by working for Robert Mondavi in 1996; in 2003 he decided to focus on consulting and today makes wine for a handful of clients. Similar to the work he does for his clients, Craig's focus is on hillside grown single-vineyard produced wines. He strives to showcase the particular vineyard site as well as the varietal characteristics of the wine.
Their wines tend to age very well and continue to show the richness, depth and structure even after many years – yet despite all these focused hallmarks, their wines are always extremely well balanced.
Select Wines
During our initial visit to the property we tried the 2004 Peacock Vineyards Cabernet Sauvignon; this wine is dark and inky in color and is very representative of concentrated Spring Mountain fruit, layered in flavor but not overly tannic. The wine is fairly supple and seamless across the palate featuring an extremely long finish. The nose is elegant and opens the more you leave it in the glass. Mocha, vanilla and fruit make this a very aromatic wine with the fruit following on the palate including cherry and plum with notes of baking spices and subtle hints of oak towards the finish.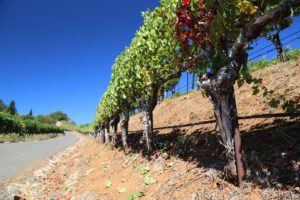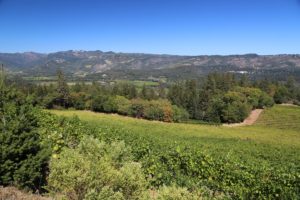 The tannins are definitely there but do not overwhelm, rather they complement this already very well balanced wine nicely. Indigenous yeasts were used during the fermentation and the wine was unfiltered.
In addition to the estate Cabernet Sauvignon, they also source grapes from neighboring Sonoma County for a Sonoma Coast Pinot Noir and a grapes from non estate for a Napa Valley Sauvignon Blanc.
—
One cannot help but notice their labeling; each label features a large colorful peacock with feathers comprising most of the label. You can find their wines at select local Napa Valley based wine shops and they are distributed in certain markets nationally. Total production is merely around 700 cases. A visit to the vineyard is on a very limited basis for serious wine enthusiasts and you will generally meet with one of the Peacocks.
For more information or to join their allocation list, visit: www.peacockvineyard.com
NOTE: this review has been identified as needing a **major** update.
The 20-case Three-Sum lot of Cabernet Sauvignon featuring Peacock, Howell at the Moon and Kelleher fetched $65,000 at auction today! Wow.

Posted by Peacock Family Vineyard on Saturday, February 21, 2015