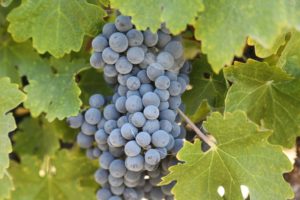 Pas de Cheval. While living in New York, co-founder of Pas de Cheval and now Master of Wine Vanessa Conlin began applying for wine jobs in Napa Valley. She recalls her interviews were promising until the interviewees discovered that she was still living in New York. So, she and her husband moved to Napa Valley in 2010; she did not yet have a job lined up and soon discovered that the prospective jobs she had interviewed for were already filled. Her first job in Napa Valley was working in the tasting room at Robert Mondavi Winery; despite a short stint, she fondly recalls her time working here including with one of her colleagues at the time, Maya Dalla Valle, of Dalla Valle Vineyards.
She was the first non-cellar employee at Arietta Vineyards, followed by 2.5 years at Dana Estates as their Director of Sales and Hospitality including overseeing their mailing list clients. It was during her time here she met her partner in Pas de Cheval, Maayan Koschitzky who would accompany winemaker Philippe Melka for various blending sessions of the Dana Estates wines hosted at Dana Estates. Vanessa remembers the seriousness of these tastings, but that Maayan always introduced his own levity to the gatherings. At one of these tastings, she mentioned the idea of perhaps making her own wine to him.
The idea gelled over the next few years and during a tasting at 750 Wines in St. Helena in 2018 during Premiere Napa Valley she reconnected with Maayan. He mentioned that he might have some vineyards in mind for a potential wine brand. These were premium sites that Maayan was familiar with and had already made wine from.
Maayan's background was initially as a Mechanical Engineer in Israel, but in his mid 20s in 2004 he switched careers and began to work in wineries. In 2010 he and his wife decided to move to the USA, and he applied for winemaking positions in Napa Valley. He was accepted by one small premium producer in the valley but then was accepted for an intern position at Screaming Eagle to work with new winemaker at the time, Nick Gislason. He had never heard of Screaming Eagle, so he mentioned the name to his older brother – who then looked up their pedigree online and quickly realized this was a job too good to turn down. With the intent to only stay a year or two and work a single harvest before returning to Israel, Maayan and his wife moved to Napa Valley.
His first harvest at Screaming Eagle was in 2011 – the same year the new winery was completed; he recalls the tanks had arrived just in time for harvest that year. The amount of time he spent at the winery that harvest was remarkable, and he often worked 20+ hour days over 5 months. As Maayan admits, working at Screaming Eagle as his first job in Napa Valley was a shortcut of sorts. Instead of returning to Israel, Maayan and his wife decided to stay in Napa Valley.
Eventually he was introduced to Cameron Vawter who at the time was the winemaker at Dana Estates. Cameron offered him a job at Dana Estates but then also said he should meet Philippe Melka. Maayan remembers having lunch with Philippe, but Philippe did not have a position for him at the time. Later Philippe called Maayan and offered him a position to join his consulting wine team (Atelier Melka for a year in 2014). That position led to Maayan becoming the Director of Winemaking for Atelier Melka and eventually a partner in the business. Maayan also consults for several international projects including in Australia, Chile and Israel.
While Maayan focuses on the winemaking, Vanessa is involved in all blending decisions and oversees the rest of the business including sales.
2019 was the inaugural vintage of Pas de Cheval. Due to the fires in 2020 and subsequent smoke taint issues, they produced no wines that year. The focus is on three distinctive 100% varietal Cabernet Sauvignon bottlings each year showcasing the terroir characteristics from single vineyard sites in three appellations: Oakville, St. Helena and Howell Mountain.
Vanessa's parents were both actively involved in music; her father was a conductor of symphonies and operas and her mother used to sing soprano. Vanessa is a graduate of the Manhattan School of Music and received a master's in music from Boston University. In an homage to her musical background, the packaging, designed by Tim Martin, co-owner at Gauge Branding, reflects scenes from an opera with an image of a scene presented on each bottle differing slightly from the others. And in the spirit of stimulating conversation and one's imagination, the characters presented are half human and half animal.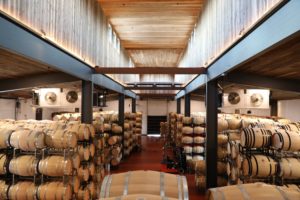 Pas de Cheval refers to a particular ballet step similar to the look of a pawing horse. This visual ties in very well with Vanessa's artistic inclinations and also with the style of wines they strive to create, balancing the power of Napa Valley grapes with an accompanying refreshing elegance. Each wine is named after an operatic term.
Select wines
The 2019 Pas de Cheval Cabernet Sauvignon Prelude (refers to an introductory piece of music, usually performed by an orchestra) is from a vineyard on the eastern side of Oakville with the grapes growing in red, iron-rich volcanic soils. This wine is dark ruby in color with purplish tinges on the rim; the bouquet is expressive of the fruit without being overly ripe and includes aromatics of blackberry, dark licorice and boysenberry. The bouquet is nicely layered with both fruit and some subtle secondary aromatics. Of the three bottlings from 2019, this wine feels the most plush on the palate. It offers flavors of blackberry and licorice and a hint of dessert spices. The tannins roll over the palate smoothly without any harsh edges. Their rounded texture fits into the finish seamlessly, lingering with a light drying character. This wine is a blend of Cabernet Sauvignon clones' number 7 and 337; it was aged for 20 months in 70% new French oak barrels.
The 2019 Pas de Cheval Cabernet Sauvignon Intermezzo (refers to a short musical piece by an orchestra between operatic acts); this wine was sourced from 35-year-old vines located in St. Helena on the valley floor near the lower reaches of the Mayacamas mountains. The vines grow in alluvial soils. This wine is dark ruby and nearly opaque in the glass. It offers dark aromatics including a hint of dried coffee grounds and old cedar box while accompanied by plenty of fruit including blackberry. The palate offers flavors of plum, blackberry and dark cherry with a hint of chocolate on the finish. Vanessa refers to its tannin profile as 'pixelated'; one can certainly feel the grip of these tannins. They are persistent and anchor a long finish. This wine is entirely clone 4 of Cabernet Sauvignon and was aged for 20 months in 75% new French oak barrels.
The 2019 Pas de Cheval Cabernet Sauvignon Finale (a reference to the end of a scene or an opera) is from a bowl-shaped vineyard on Howell Mountain at about 1,800 feet with soils mostly rhyolitic in composition and ash-like. Vanessa compares the soils to something resembling moon dust. This wine is dark ruby and opaque; of the three wines this bouquet is initially the shyest. One knows the fruit is there, it's just not in a hurry to reveal itself. Time will help coax it out, and when it makes an appearance it shows scents of blackberry, ripe plum, a tobacco spice, a hint of chocolate and a subtle note of old cedar box. This wine is bursting with life; it is a robust, muscular and concentrated mountain bottling showcasing depth of flavor and structure. These are dense and persistent tannins with a noticeable but rounded grip, anchoring a dark fruited and savory finish. Enjoying this wine made us think of some of our Texas based, but Napa Valley clients who gravitate towards well-structured hillside Napa Valley red wines paired with something spicy from the BBQ. It was made entirely from Cabernet Sauvignon clone 169 and aged for 20 months in new French oak barrels. All their wines are built to age, but perhaps this bottling will go the furthest.
—
Total production varies each year but is usually 450 cases between the three wines. The wines are sold in a three pack, housed in a handsome box with an operatic theme featuring red theatre curtain 'drapes' on the outside of one side of the box with the inside image that of a rapt audience.
The wines are primarily sold direct, with some limited retail and restaurant exposure, including where we first discovered them at the Oakville Grocery and the next-door Oakville Wine Merchant where several Pas de Cheval bottlings may be available in one of the credit card activated automatic wine dispensers. Locally they are also on the list at the French Laundry and Press. And they are found at Jean-Georges Restaurant in New York. They have also been offered on Wine Access; a company Vanessa worked for until early 2023.
For more information or to join the wait list, visit: www.pasdecheval.wine