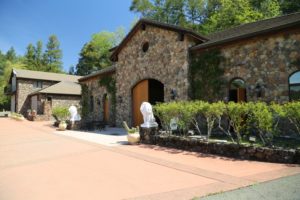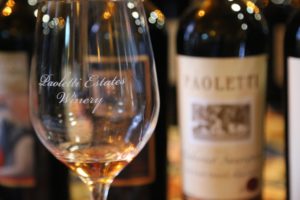 Paoletti Vineyards is a gorgeous wine estate located off the northern part of Silverado Trail just south of the town of Calistoga. They winery produced its first vintage in 1994 and is owned by Gianni & Lilia Paoletti. Gianni purchased the winery property in 1989. He was born in Venice Italy and was trained as a chef starting at the age of 16. He worked at restaurants in the UK and Germany before moving to the United States in 1964. He opened Ristorante Peppone in Los Angeles in 1975 and prior to this he worked at the iconic Valentino Restaurant for a short while in Santa Monica (Valentino's was in operation from its founding in 1972 through 2019).
Everything about the winery speaks of Italy, from the marble scroll engraved with their name at the main gate, to the Italian flag, to the majority of their wine names. The winery is nestled against the side of a hill and features a prominent bell tower. The Carillon located near the main entrance to the winery is the only one of its kind in Napa Valley. A semi circular piece of steel holds 12 golden bells hanging from its underside.
A tasting generally is held in the winery building on a table near the stainless steel tanks – the temperature is usually quite pleasant inside regardless of the time of year. Listen for the crows that sometimes fly to the entrance of the winery – winery staff has been putting food out for them for years. And if you use the bathroom check out all the old winery posters (a number of them are from wineries that are no longer in business).
When you are ready to start your tasting, sit down at the wooden table (usually covered with wine bottles). A tasting typically feature 6 or 7 wines; this is only a small representation of the actual number of wines they make. And unlike most wineries in Napa, Paoletti often offers tastes of older vintages. We've been here several times and have been able to try Merlots and Cabernets up to 8 years old.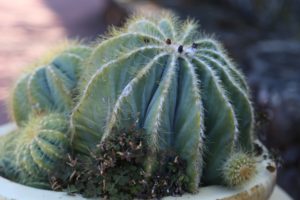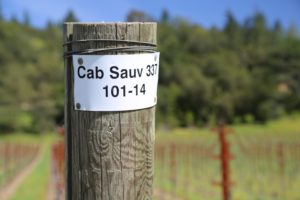 Current releases are highlighted and sometimes select older wines are available for tasting. If you happen to be there during or after wine club members visit, they may have some wine club only wines open for tasting. Following the tasting you will visit the 9,000 square foot cave tunneled 100 feet under the hillside (the entrance is located next to the winery building).
This elegant cave features not only plenty of aging space for their approximately 4,000 case per year production but also serves as a show space for nearly 60 Carrera marble sculptures that Gianni imported from Italy. Most of these are mounted in tiny grottoes throughout the cave. Two busts of California personalities you may recognize are the busts of Ronald Reagan (he was good friends with the family) and of Napa wine pioneer, Robert Mondavi. Other famous personalities including busts of Einstein and Gandhi.
Perhaps the most popular sculpture (especially among male visitors) is the nude bust of Eve. A fine sound system often plays Italian music including opera from Andrea Bocelli. The cave is a popular spot for romantic couples seeking the ambiance of the cave combined with a glass of red wine in hand and the inspirational sounds of Italian love songs. A picnic site is located on the hill above the winery – offering nice views of the vineyards and a small pond on the property.
This is a small operation; sometimes Gianni and Lilia are on site; they often commute up from Los Angeles for long weekends. Their winemaker is usually here during the weekdays.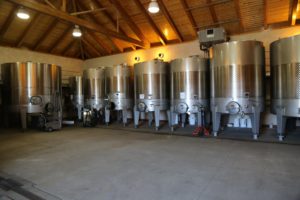 Paoletti owns three vineyards in the Napa Valley: their 11-acre estate vineyard and home of the winery, a 16 acre vineyard on Tubbs Lane just north of Calistoga and 5 acres in the generally cooler, southern part of the valley (Oak Knoll District).
As of of our latest update to this review, Paoletti focuses on red wines, predominantly from Bordeaux varietals as well as varietals from Italy. Out of more then 1000 Napa based wineries and producers personally visited with to date, this is the only winery to produce both a White Malbec and a wine from Nero d'Avola (an Italian variety). In fact they have the only vineyard planting of this varietal in all of Napa Valley. And what is also quite rare in the Napa Valley – they produce a 100% varietal Malbec.
Select Wines
The 2015 White Malbec is a dark salmon colored in the glass (later vintages are slightly lighter in color). At first glance and without knowing how this wine is made, one might almost think it is a wine made from a white varietal allowed to sit on the skins during fermentation. In fact, this wine was not allowed contact with the skins – so it doesn't retain the normal ruby red color of a traditional Malbec. The bouquet is a bit subdued – shows a sweetness of fruit on the palate (perhaps a little residual sugar) – the mouth feel is rounded almost oily at times. Finishes clean with lingering flavors of mandarin orange.
Nero d'Avola is a very important Sicilian varietal and is often compared to the new world Shiraz. Gianni took cuttings from this varietal back from Sicily and grafted them in the vineyard next to the winery. The 2015 Nero d'Avola is dark ruby in the glass. Shows plenty of fruit on the bouquet including dark cherry, dark chocolate and a hint of tobacco leaf. Offers very good acidity on the palate finishing with dry but not coarse tannins. A good food wine.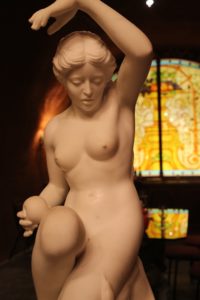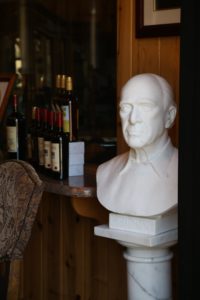 They also make a rather uncommon wine in the Napa area – a rosé of Sangiovese. Paoletti's version is delicious, light and fruity; a great pre-meal wine. One of our favorites is their La Forza which is a blend of Sangiovese and Cabernet Sauvignon. The 2014 Sangiovese shows hints of dessert spices on the bouquet, white pepper and tobacco leaf along with red cherry aromas. This wine is easy drinking – fairly seamless on its palate presentation it lingers with a slight red fruit tartness.
The 2014 Attilio's is an equal blend of Cabernet Sauvignon and Syrah (and is named after Gianni's father). Is ruby in color; shows a sweet character of cherry aromas on the bouquet along with black fruit. Offers an inviting aromatic brightness of fruit on the bouquet. There is a noticeable softness to the palate on the entry with flavors of dark cherries. Full-bodied, it shows an intensity of fruit but without the harsh tannins that often accompany richer wines. The tannins are somewhat dusty, pronounced and linger for quite some time
Also be sure to try the Non Plus Ultra, a Cabernet Sauvignon Malbec blend from "Lilia's Vineyard" in Calistoga.
—
During previous visits, they would offer select tastings (based on preferences) of their vintage port-styled wines – the ones we initially tried were more then 20 years old – a rare opportunity in the Napa Valley to try older wines of this style.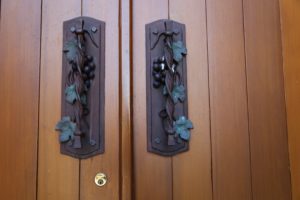 Gianni and Lilia live in Los Angeles; Gianni has operated the very popular Ristorante Peppone in Brentwood Village (just off of the 405 and not far from UCLA) since 1975. He is the founding chef; the Italian focused menu originally focused pasta and seafood – since then the diversity has increased and today features a wide variety of seasonal dishes and as expected, an excellent wine list with a number of Paoletti's own wines. Parking is available via valet with drop off directly in front of the restaurant – the tiny adjoining parking lot is metered with only an hour max per parking space allowed.
A dining experience feels quintessentially old Italian with the dimly lit dark booths and wines strategically placed throughout the restaurant. Also features a mini-art gallery with a number of original oil paintings hanging on the wooden panel walls (all for sale). Also a well-stocked and intriguing looking bar located in a side room next to the entrance is a fun space where guests can relax prior to their meals.
Old school on the reservations – via phone only. Open seven days a week, dinner only. For more information visit: www.peppone.com.
A quote from Gianni in Italian: "La cantina e le vigne. Sogno di una vita dedicata al grande vino" – translated to English as, "The winery and vineyards. I dream of a life dedicated to great wine". And he has certainly done so, with his restaurant and Napa vineyards.
A number of their wines are only made in limited production for wine club members. The Paoletti's like to name many of these wines after family members and often photographs of the individual are depicted on the labels. For more information and or to join one of their two Italian named wine clubs, visit: www.paolettivineyards.com
Winery & Grounds

Cave & Marble Busts

Ristorante Peppone, Los Angeles