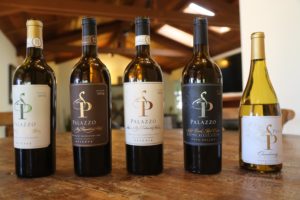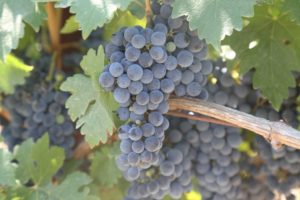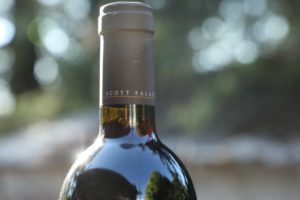 Palazzo Wine. Founder and winemaker Scott Palazzo grew up in an Italian household in La Mirada, Orange County California – wine was part of the fabric of his Italian heritage and was commonly served with family meals. His early interest in perhaps someday following a career centered around wine was piqued while on a three-month backpacking trip at age 19 through parts of Europe in the mid 1970s. He remembers being impressed by the history and ancient buildings throughout the continent – cleverly recalling that the oldest building in Orange County might be one of the earliest McDonald's restaurants (Tustin). Probably not far from reality.
He recalls drinking Mourvèdre but was not yet able to pronounce it properly. Hearing that one could pick wine grapes he rode his thumb up to Saint Émilion (located in the Right Bank) in Bordeaux and found a job during harvest. What was supposed to be only 3 months turned into 3 years. He worked three harvests in Bordeaux for several winemakers and in between work would explore other parts of Europe. His time in France set the tone early for the style and types of wines he enjoys and also gave him both vineyard and wine making perspectives which he later applied when he began building his own brand in the Napa Valley. And it was his time in Europe that turned him on to the elegance of both Cabernet Franc and Merlot.
Full of energy and inspiration after 3 years in Bordeaux he returned to California with the intent of finding a winemaking job in the Napa Valley. This was in the early 1980s – a time when the number of physical wineries was far less then today. He approached some of the well-established producers including Charles Krug and Louis Martini but was not able to find anyone who would hire him.
As it were, Scott's life path took a different direction; he moved back to Southern California and became involved in producing a variety of content including music videos for MTV, Fox Sports and other outlets. He was nominated in 1996 for a Grammy for his work with Oingo Boingo. But wine was never far from his mind. One year he took a 12-month road trip break in a van from the west coast to the east coast, crossing numerous states and Canadian provinces tacking some 16,000 miles to his odometer. Soon after he finished the trip, he moved to Healdsburg in Sonoma County and began to visit vineyard sites – spending two years identifying the sites that would lead him to the style of wines he wanted to make rather than following any trends – gravitating towards cooler weather sites.
Ultimately, he settled on Carneros drawn to its bucolic rolling hillsides but even more importantly, its proximity to the San Pablo Bay – with its cooler days, common morning and evening marine layer and often breezy conditions. All of these characteristics contribute to valuable extra hang time – contributing to the balance that Scott seeks in his wines. Over the years has become intimately familiar with this sub appellation (and at times it reminds him of Saint Émilion).
His business plan was drawn up on a simple notepad – with an initial goal to make a very limited production Merlot based blend. And very important to him – to produce a wine he enjoys drinking. Scott's first vintage was only 400 cases (some nearly 30 years after his first vintages in Bordeaux) and just the one wine – today he produces 5 wines, and his production is around 3,000 cases each year.
For a sole proprietor, especially, to become successful in this business one needs the right amount of characteristic ingredients – a weighted portion of obsession, along with passion, perspective, creativity, personality and last but not least, a healthy dose of energy. Scott possesses all of these qualities. And it is also his attention to detail which defines him (an extremely important quality for a winemaker to ).
His first vintage was in 2003 – a wine he has made every year, the flagship wine of Palazzo – the Right Bank Reserve, Proprietary Red. This is a Merlot dominated wine. When some of Scott's winemaker and wine business friends heard he was launching his brand with a primarily Merlot blend, they did not hold back any punches and told him he was a bit crazy for not creating a Napa Valley Cabernet Sauvignon. Always trusting his gut proved useful yet again – bucking the Cabernet Sauvignon trend – the Right Bank Reserve, Proprietary Red has become a favorite of sommeliers and top restaurants around the country.
But then the movie Sideways came out in 2004 – Scott remembers watching this movie in the theatre with more wine enthusiast friends – when the character Miles began to speak disparagingly about this variety, his friends began poking him and and whispering things that only close buddies can do, like "sorry Scott", "best of luck man", ETC.
Over the years, Robert Parker has become a friend and also an integral part of championing the Palazzo wines. Early on Scott knew of Parker but was not intimately familiar with the power and influence of his words. After finishing his third harvest in 2005 Scott decided it was time to celebrate both another successful harvest as well as the release of his first wine, the 2003 Palazzo Right Bank Reserve, Proprietary Red. He called several of his friends to join him at Press Restaurant in St. Helena for dinner. It just so happened that Robert Parker was hosting a $1500/plate charity event dinner that night, also at Press.
One of Scott's friends brought a glass of the 2003 Palazzo Proprietary Reserve over to Parker's table. A few minutes later Parker strolled over to Scott's table with the glass in hand and asked, "Who is Palazzo"? Scott quickly retorted something like, "that all depends, if you like the wine, it's me, if you don't, there is no one at this table named Palazzo". Parker admitted he had not yet tasted the wine – and that his table had already moved onto tasting Port wines. But he astutely asked, "how much Cabernet Franc is in this wine"? And then asked Scott to send him a sample when he could formally review it at a later time.
Scott's distributor who was sitting at the table (and had previously discouraged Scott from sending in his inaugural release for reviews) was in a state of semi-shock and said something like, "do you know who that is, do you know what just happened?" And then went on to inform Scott about the hundreds of bottles sent to Robert Parker to review each month of which he would only select a very limited number to write about.
Select Wines

It was winemaker Peter Heitz (Turnbull, Shypoke) who first encouraged Scott to make a second series of wines from declassified barrels (rather than selling it as bulk wine as Scott was doing previously). These wines are bottled under the Master Blend Series.
The 2018 Palazzo Master Blend Carneros Chardonnay was barrel fermented (about 18% new French oak and 72% neutral) – all malolactic fermentation was inhibited. The wine is golden in color; offers an elegant bouquet with citrus blossom, hints of freshly picked lemon grass, red apple and an aromatic sweetness of honeycomb. The palate offers a union of both sweetness of fruit and brightness of acidity with flavors of green apple and tangerine. Superbly balanced, yet rich with plenty of depth. And the finish is refreshing – lingering with a zesty liveliness. This is a seafood Chardonnay – Scott recommends pairing with scallops or oysters.
In 2020, the 2018 vintage won Best Chardonnay and Best of Show White Wine at the California hosted Critics Challenge, International Wine & Spirits Competition. But even more remarkable is the fact it won the Wine of the Year, Domestic; this is a very rare event when a white wine earns this coveted honor.
The 2017 Palazzo Master Blend Left Bank Red was aged in 50% new French oak for 16 months. Dark purple in the glass the bouquet opens and lingers with opulent fruit (blackberry) along with tobacco leaf, cassis and hints of old cedar box, white pepper and dried sage. Briary, brambly and somewhat savory. A subtle note of brown chocolate. More fruit shows as the wine breathes. This is a fun wine to smell. Shows flavors of dark cherry and blackberry and lingers with red cherry and berry fruits. Balanced across the palate with great acidity. Grippy gravelly tannins anchor the finish.
The 2016 Palazzo 'Right Bank' Reserve Proprietary Red. This is the 'workhorse' wine for Scott – the wine he started with and the wine that he produces the most of. This vintage is a blend of 68% Merlot, 24% Cabernet Franc and 8% Cabernet Sauvignon. Dark ruby in color, the bouquet is somewhat savory with aromas of spicy Santa Rosa plum, white pepper and dried herbs. Also, a floral component. On the palate, the first characteristic we noticed was its supple mouth feel. Juicy with a mouthwatering finish showing bright red fruit including red cherry and currant. Features a moderate grip of rounded tannins.
Cabernet Franc is a variety that often displays very uneven ripening and even within a short distance in a single row can produce sugar measurements significantly different. Scott's attention to detail in this vineyard equates to as much or more time in this vineyard as compared to the time, he spends in all his other vineyard sites combined. During various passes through this vineyard, he personally cuts off fruit that is not fully ripening during veraison and later fruit that will eventually be over ripe during harvest. He is especially meticulous about selecting only the best fruit from his Cabernet Franc vineyard source.
One day a friend called Scott and informed him that a producer had given up a contract for Cabernet Franc at Truchard Vineyards in Carneros. Scott was on a 6am flight the next morning and as soon as he landed, he immediately drove to Truchard Vineyards. He showed up unannounced and knocked on the door of Tony and Jo Ann's home. Tony answered and Scott soon began rambling about his great interest in Cabernet Franc, offering stories about his time working harvests in Bordeaux and his desire to make world class wines. After talking for some time, Scott noticed Tony did not say a single word, so finally Scott asked if he had any Cabernet Franc to sell and Tony said something like, "I think we could get you some fruit". That was about the extent of their first conversation.
Later Scott toured the entire several hundred-acre vineyard with Tony – when they reached a section of the vineyard with Cabernet Sauvignon and Cabernet Franc Scott remembers his intuition told him this was the part of the vineyard that he would source from. Of all the vineyard blocks they looked at that day, it turns out this was the block of Cabernet Franc that the previous producer had given up the contract on and it was also a block that Tony was using for his own Truchard Vineyards wines. Years later, Tony would tell Scott that he was the only winemaker who 'kicked him out of his own vineyard'!
The 2016 Palazzo Napa Valley Cabernet Franc Reserve is 100% varietal. Aromatically, bounces out of the glass with bright lively aromatics including plum, blackberry and a pretty floral note (lavender and violets). Also notes of dried herbs. Interestingly, over the years, Scott has noticed that if he harvests merely 2/10ths of a percent higher brix, this lavender note will be lost and will not show up in the wine. Talk about precision and attention to harvest detail. Concentrated with plenty of depth; shows flavors of plum and a generous density across the palate with appealing texture. Lingers with notes of red cherry. The tannins are very well integrated with a brightness of acidity lasting well beyond the tannins on the finish.
The 2004 Palazzo Napa Valley Red Wine (tasted 19 years post vintage) is garnet and dark brickish red in color; at this age, the bouquet is dark and brooding and diverse – an aromatic tertiary union of both spices and dried fruits. Its scents include forest floor, a gamey/meaty quality, walnut skin, coffee grinds, sweet pipe tobacco, dark chocolate, and hazelnut along with dried cherry and cooked blackberry. This wine offers flavors of dried blackberries, dark raspberry, dark cherry, chocolate and coffee. The tannins are present but well integrated and their softness a result of nearly 2 decades. The finish lingers with a noticeable and persistent dryness and a flavor of dried tobacco leaf.
The Cuvee Blanc (Palazzo's proprietary white wine) is primarily Sémillon with just a kiss of Sauvignon Blanc. The first few vintages of this wine included more Sauvignon Blanc but over the years Scott discovered he preferred the Sémillon. And initially he was stirring the lees but eventually decided he preferred no stirring – letting the wine sit on the gross lees until finally racking. The first Palazzo vintage of this particular wine was 2010.
This is a highly intriguing wine – for a number of reasons. Its pedigree comes from its age, the site and the fact the vines are not highly managed. Scott spoke of little hand time in the vineyard – pruning in February and harvesting later in the year. Some of the vines are giants, or 'peach trees' as he calls them – up to 10 feet high. All are head trained (ultimately, there is a lack of training in the vineyard as the canes are allowed to fully grow out on the vines) and are dry farmed or 'dry ignored', a phrase coined by Scott.
Located in the Yount Mill Vineyard – an extremely historical part of the Napa Valley. Now owned by the Pelissa/Hoxsey family, this 7-acre block of Sémillon dates back to 1962, planted by their family. It may be the oldest Sémillon in all of the Napa Valley. Scott presses whole cluster and barrel ferments – the wine ages 2-3 years in barrel before being bottled. The 2015 Palazzo Cuvée Blanc Reserve Napa Valley is golden in the glass and features a layered bouquet with a diversity of aromatics including citrus blossom, honeysuckle, white peach and hazelnut as the wine opens further. Shows flavors of ripe pear and red apple along with mineralities. Its saline texture is a highly appealing characteristic – briny and supple, its texture simply glides smoothly across the palate. Has plenty of weight but equally important – is its lively acidity. Finishes with a a hint of desert spice. This is a wine highly worth seeking out – with an appealing price point to.
This wine has both historical and stylistic elements of Kongsgaard and Desante white wines (both Napa Valley based wineries/producers). The perfect pairing from firsthand experience is with manchego cheese. And this is the wine that caught chef Michael Mina's attention. He told Scott, "There is nothing on my menu that this wine won't pair with" – one of the best complements among many, that Scott has received about his wines.
Scott brings an old-world sensibility to both his vineyard sites and in the cellar – opting for less manipulation during the winemaking. These are balanced wines carrying a freshness – a vibrancy if you will. His efforts clearly show. The Palazzo wines are some of the Napa Valley's most premium and hand-crafted wines – but with an accompanying note that rarely fits in the same sentence: these wines are available at a very competitive price point.
The Restaurant Scene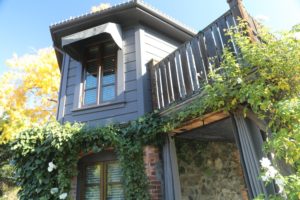 Premium restaurants have always been an integral part of the Palazzo success and their placement list reads like the culinary hall of fame of the United States. Their wines have secured prominent placement from the beginning – first in San Francisco at Gary Danko and Michael Mina restaurants – and later at other accomplished spaces including locally the French Laundry and Meadowood and in New York at Per Se and Gramercy Tavern. Often sommeliers will try the wines and then introduce them to their own chefs. And it was a restaurant where we were first introduced to the Palazzo wine, the Sidedoor Cafe in Mammoth Lakes.
Scott's relationship with the French Laundry has been a long and important one and began because he came from outside of the industry – with a different perspective. His distributor informed him how difficult it was to get wine on their lengthy and premium wine list. In short, he was a bit intimidated about even trying to contact them about the Palazzo wines. So, one day Scott simply dialed 411 (a historical way of locating phone numbers of businesses and residences) and asked the operator for the French Laundry – they offered him the restaurant or the business office. He asked for the business office – and was then connected to head sommelier at that time, Gregory Castells' voice mail. Within 5 minutes of leaving a message, Gregory called him back intrigued by the fact that Scott had mentioned his wine was already in several top San Francisco based restaurants.
They eventually met at a lunch for the restaurant employees – and like Robert Parker had asked, Gregory inquired as to the amount of Cabernet Franc in the blend. He loved the wine – and the French Laundry has carried every vintage of the Palazzo wine ever since. One time Scott was talking to Gregory and invited him to come barrel taste one of his new vintages at Laird Estate (where he was making the wine at the time). Gregory was somewhat taken back – and said something like, "wow, I'd love to barrel sample with you – no one ever asks me to do this" – touched that a vintner would actually invite him to such a tasting.
Moral of the story: intimidated by a coveted wine list or a top restaurant? Your time is better spent seeking a rejection then not reaching out at all.
And later Scott received a call from Thomas Keller asking if he would create an exclusive bottling of Cabernet Franc for the French Laundry. Scott's answer was an obvious one. Later, he remembers visiting with Tony Truchard carrying two bottles of Cabernet Franc he had made for the French Laundry. During the conversation, Tony fortuitously lamented that there were no wines from his vineyard represented at the French Laundry. As Scott noted, talk about the perfect Hollywood written script. Scott recalls this as one of his greatest moments during his wine career – being able to immediately pull out the bottles from the French Laundry and show Tony – with Truchard Vineyards listed on the label.
—
Scott also collaborates on the winemaking for High Dive Cellars (founded by Yoav Gilat) along with fellow winemaker Peter Heitz. Part of a collection of brands that includes Cannonball, Angels & Cowboys and Astrolabe, High Dive Cellars focuses on a single wine each year – a Napa Valley grown and produced 'Left Bank' Bordeaux styled red blend.
After years of focusing on selling to premium restaurants, in early 2020, Palazzo created a wine club. And for tantalizingly few short months, Palazzo maintained their first ever tasting room in Laguna Beach, but closed this in September 2020. For more information, to join the wine club or purchase select wines, visit: www.palazzowine.com